High on Hotels: Innovative Design in the Maldives, Dubai and Sweden
Technology and innovation: two of today's ultimate mind-bogglers. Over time we have seen extraordinary accomplishments in the hotel industry, those that have pushed boundaries and challenged ideas once only dreamed of by imaginative architects and engineers. Internationally, the world's most innovative designs are being snapped up — admittedly, by those with rather deep pockets — investing in ever more lavish, spectacular, but also 'green' and sustainable, attractants for the global travel dollar.
CONRAD MALDIVES
Reached via a 30-minute seaplane journey, the new Conrad Maldives allows guests to experience an array of unparalleled accommodation lifestyles and experiences across two neighbouring islands that are connected by a footbridge. The smaller island, Rangali offers seclusion and tranquility, while the larger Rangalifinolhu offers a more vibrant atmosphere and activities. The associated Spa Retreat offers an over-water escape complete with water villas that feature their own private treatment rooms.
Catering for everyone from the adrenaline 'junkie' to those more familiar with the delights of the beach lounger, this twin-island retreat sets out to satisfy the whims and desires of just about anyone who has ever longed to be castaway on a five-star resort.
Among the activities on offer for those who need a little more adrenaline is the water jet-pack, a James Bond like device that propels users three metres or more above the sea's surface, allowing them to travel at up to 45 kilometres per hour. Naturally, tuition for the uninitiated and even more advanced training for those wanting to develop their jet pack skills are offered. On the other hand, those guests with a nautical bent but more relaxed approach to the resort's maritime setting, can enjoy both islands' superb beaches before dining at Ithaa, a one-of-a-kind, aquarium-inspired restaurant. Set 3 metres below sea level, it offers a 180-degree views of its deep sea surrounds and creatures. Ithaa won a "Certificate of Excellence" from TripAdvisor earlier this year, while the Conrad's other star culinary billing — the Mandhoo Restaurant — offers a somewhat different take on cuisine, with its biodynamic only fare and an array of fine organic wines.
Conrad Maldives works consciously to care for the environment, utilising solar panels for water heating, biodegradable cleaning products and operates its own desalination and wastewater plant.
Even so, the Conrad Maldives is modern in every other way, with guests having the ability to contact just about anyone and anywhere at their fingertips: the 'Conrad Concierge App' makes dining, activities and other reservations a breeze with just about any smart-phone or tablet.
BURJ AL ARAB
Dubai already lays claim to another of World's truly unique architectural icons: the Burj Al Arab — the "billowing sail of the dhow". Unfurling to a height of 321 metres above the island on which it sits, the Burj Al Arab is perhaps the most symbolic of Dubai's skyline towers and lies at the forefront of its transformation from what was — some 15 and more years ago — a relatively little known, Middle Eastern 'backwater' into a modern metropolis at the forefront of Arab engagement with the developed World.
With nearly 2000 square metres of 24-carat gold leaf used to embellish its interior and rare marble adorning both walls and floors, it is little wonder that this hotel has been dubbed one of the world's most luxurious and extravagant. Displaying unfaltering opulence at every turn, guests of the Burj Al Arab can enjoy a portfolio of highlights including the remarkable open-air Assawan Amphitheatre, health and fitness facilities, nature-based spa treatments and even the opportunity to attend a mixology class.
Incorporating 202 duplex suites with private butler service, guests find every room furnished with nothing but the finest, most exclusive, materials. Those who aspire to be 'VIPs', even among the World's travelling elite, can book into the Royal Suite spanning the entirety of the 25th floor, complete with its own private cinema included.
Eight signature restaurants set out to silence any stomach rumbles, cleverly combining world-class cuisine with imaginative environs — from the panoramic sky views and panoply of stars offered on the 27th floor of the Al Muntaha to the subterranean, aquarium setting and passing marine world of Al Mahara. The Al Iwan Restaurant looks as if it has stepped out of the Fables of the Arabian Nights, while the Bab Al Yan offers more conventional, al fresco dining by the sea.
In the meantime, it is kindly suggested that guests let the Burj Al Arab know in advance whether they would prefer to arrive for their holiday or business stay by Rolls Royce or helicopter.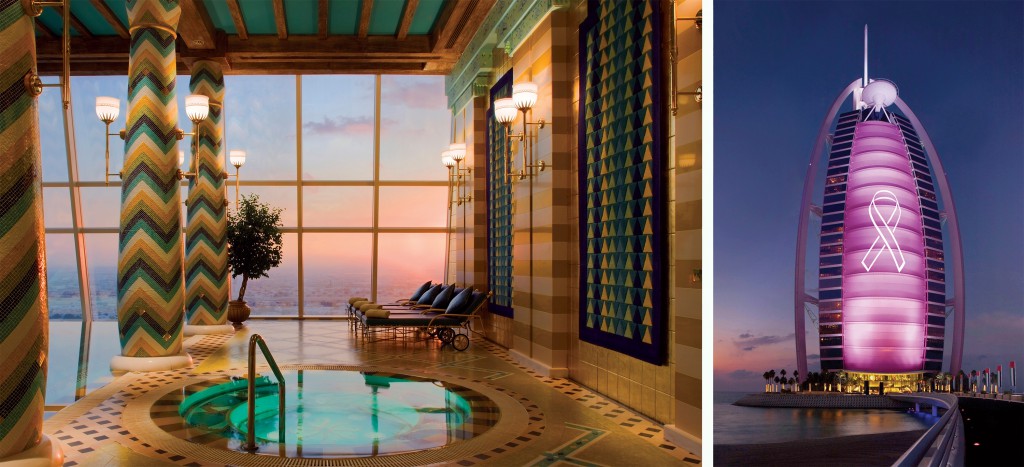 ME DUBAI
Designed by renowned architect Zaha Hadid, ME Dubai is the first of the ME by Meliá brand to open in the Middle East. As if there wasn't enough bling on the Dubai skyline already, the city has added another 95 metre, 'notch' to its skyline belt — the twin towers of the Opus Building that will house ME Dubai in 2016.
Its 23,000 square metres will be occupied by just 100 rooms, including four penthouses with private roof terraces and the brand's signature 'Suite ME'. Regaled in an array of contemporary colours, materials and stylistics references to the space age, the ME Dubai will be ultra modern in every sense of the term
Michelin-star restaurants, showcasing the most exclusive food and beverage brands, will inhabit the hotel, together with a palatial array of furnishings, hand-picked by Hadid, while the "Crest", an uber elegant, sleek, bridge-cum-sculpture spanning a water feature — specially commissioned for the recent 2014 London Design Festival — will also take pride of place within the hotel's grounds.
The full ME Dubai experience will go beyond simple accommodation. Assisted by what is termed an "Aura Manager", guests will be able to receive an exceptional level of personalised service when seeking in-house dining or the services of a tour operator, stylist, even a DJ. Together with the design and ambience of the ME Dubai, this will help to ensure a truly bespoke, and unforgettable, stay.
ICE HOTEL
If the idea of a holiday parked up on a sun-lounger sipping a piña-colada isn't quite right, then there are a few options at the quite opposite  polar extreme. As its name suggests, Ice Hotel, is exactly that. Located in Northern Sweden, it is, precisely as its name suggests, an accommodation and artistic masterpiece carved entirely out of ice and snow.
Strangely, therefore, one of the truly surprising facts about the Ice Hotel is its longevity. Under Sweden's intense spring and summer sun it melts back to almost the level of the river that it originates from, yet every following winter sees around 100 artists and construction staff don their winter woollies to begin the eight-week build of a completely new Ice Hotel. In preparation for this resurrection, ice and snow are harvested as two cubic metre blocks and stored in chilled warehouses awaiting their contribution to this effort. Collected exclusively from the surface and margins of the Torne River — one of Europe's few remaining unexploited rivers — the ice and snow blocks have an almost crystal-clear structure and are free from pollutants, making them incomparable with artificial alternatives.
Despite this cyclical process, accommodation is offered all year round, and some 50,000 visitors make their way to the far north to spend the night in sub-zero conditions, designed to bring about goose bumps from a mixture of both frosty temperatures and wonder at this architectural marvel. As the winner of "The Best Travel Experience in Sweden" (TRIP Global Awards, 2013), guests can choose to spend their stay in either a deluxe suite that features its own personal sauna, an art suite created by a Spanish wood sculptor, or in the Northern Lights room under a shimmering Technicolor facsimile of the Aurora Borealis. In fact, there's a good chance visitors will see the real deal, made even more spectacular with its reflection bouncing off the pristine snow cover surrounding the Ice Hotel in winter.
If sleeping in -5 degrees Celsius conditions sounds a bit extreme, then there are also some warm chalet options available, so that visitors' stays can be tailored to combine a cold night's stay with one or two that are slightly warmer — or to avoid the cold altogether.
Upon checking out or moving to warmer quarters, guests are presented with a departing gift — a diploma stating the date and temperatures (inside and out) on the night or nights they stayed. To celebrate, they can then head off to an icy seat in the ICEBAR and enjoy some congratulatory bubbles made out of an ice champagne glass. Everything at ICEBAR is fashioned completely out of ice, even the dance floor where recent graduates can boogie the night away. Four restaurants are also located nearby.
With no storage or plumbing inside the Ice Hotel (except for the deluxe suites) all facilities are housed in a separate convenience hub, exclusive to the brave residents of the ice-made hotel. A sauna and roaring fire are on offer, while hot lingonberry juice is also on tap just in case one is in need of a slight de-thaw.
With the hotel soon to celebrate its 25th anniversary, the creative heads behind the Ice House design continue to enjoy ice as their chosen sculptural medium, based on the ability to create and continuously modernise this piece of ephemeral art. New on-site facilities are in the pipeline, but the Torne River will continue to provide the foundation for this unique amalgam of natural construction materials and human ingenuity.