Ecotourism in the Mountains of Timor-Leste
The mist appears within half an hour of leaving Dili, drifting in and engulfing the trees as our car climbs the hills that flank the capital of Timor-Leste. For a small island, Timor-Leste is a patchwork of diverse microclimates and geography, and it's not long before the heat and humidity of coastal Dili gives way to the temperate, mountainous interior.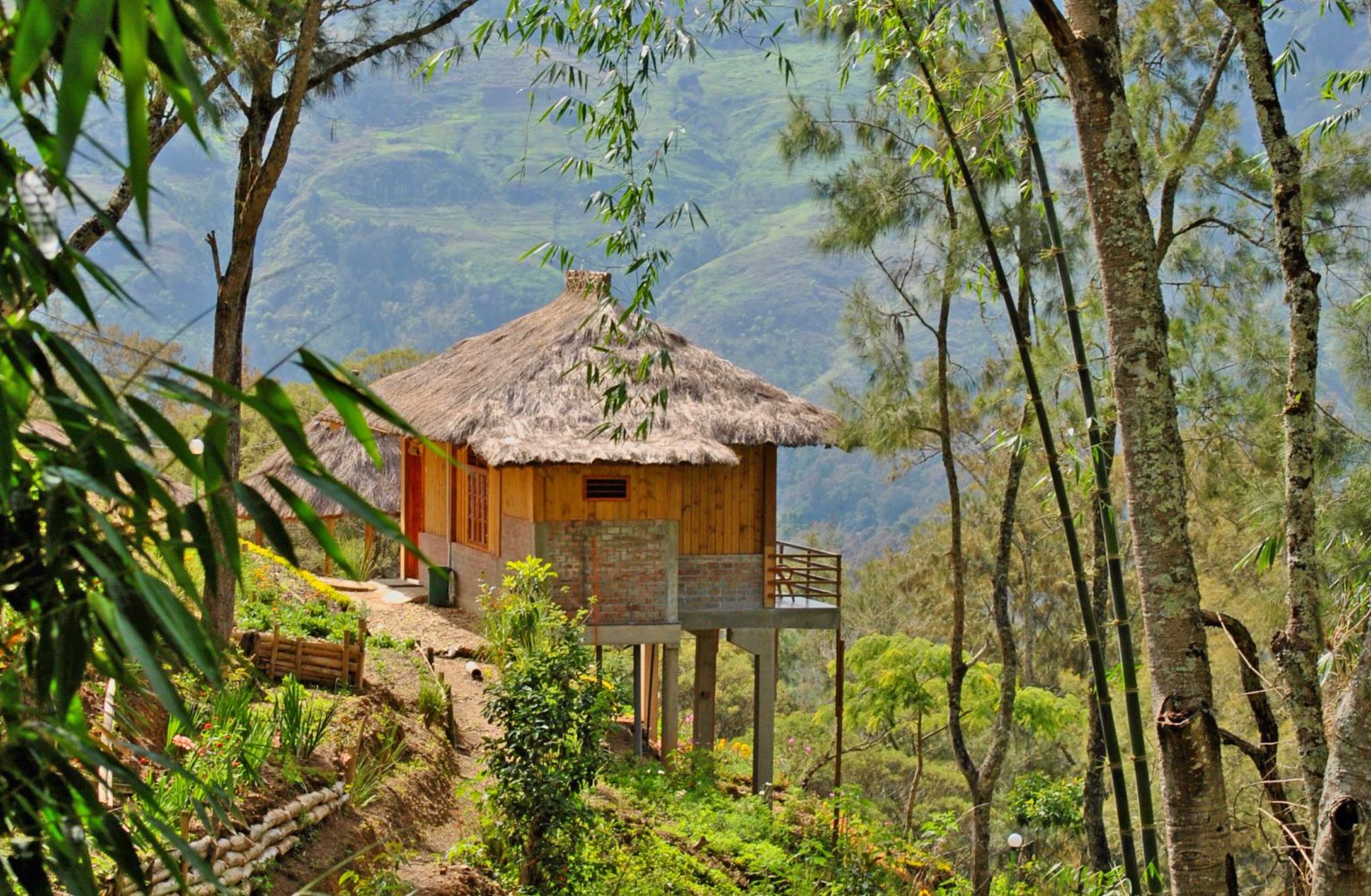 An hour's flight from Darwin (although it feels like worlds away), we have come to Timor-Leste to explore its tourism initiatives and the potential they hold for this developing country. With limited resources and infrastructure, not to mention a fragile (yet beautiful) environment beset by both drought and rain, sustainable and environmentally-friendly options are the focus of many in the tourism sector here. I had heard of an environmental tourism initiative in the mountains, and this is where we are heading.
The drive is breathtaking, winding through picturesque mountains. Behind the wheel is Bella Galhos who, together with Iram Saeed (seated beside her) are the founders of Santana Unipessoal, an organisation that aims to empower and support women and youth by addressing economic, social, agricultural and environmental issues. The cornerstone of this vision is Leublora Green Village in the small town of Maubisse, our destination.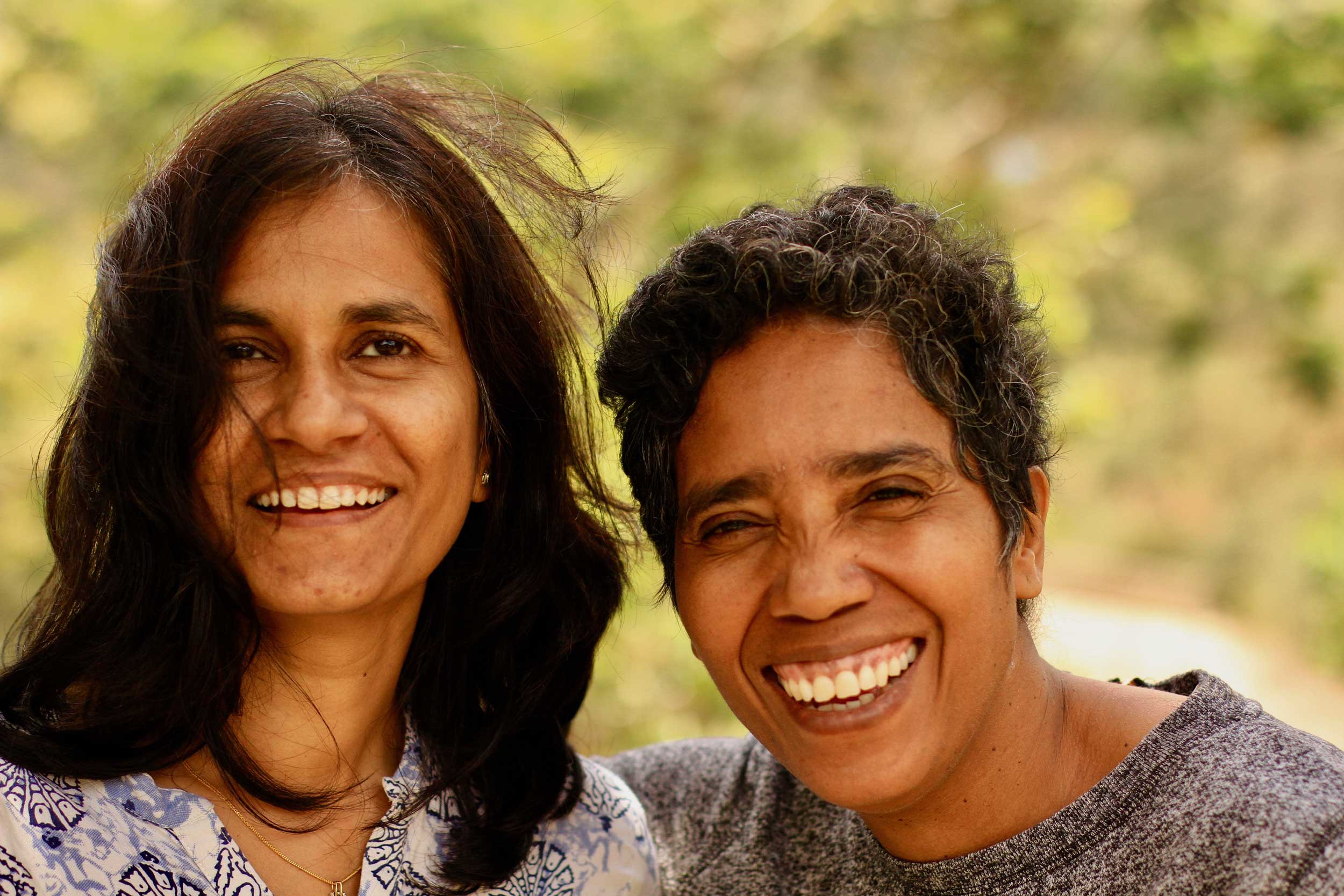 As we wind through the hills they share their story. Galhos is a renowned Timorese activist and freedom fighter, while Saeed is a development professional, who has spent two decades championing the rights of marginalised people. Both share a profound passion for improving the livelihoods of marginalised groups in Timor-Leste.
A tropical downpour arrives (a daily occurrence at this time of year, with the rainy season imminent) so we stop for lunch at a small roadside restaurant in Alieu. An hour or two from Maubisse, Alieu is a small town surrounded by sprawling rice paddies. Rice is a staple food in Timor-Leste, but the majority of the nation's rice is imported and highly subsidised — impacting local farmers. As we order our meals the power cuts out, although this matters little — the restaurant owners, like most people here, prefer to cook over a wood fire.
After more driving we arrive in Maubisse — population 5000. A key settlement for the Portuguese who colonised Timor-Leste in the 16th century (its location chosen because of the cooler climate and rich soil) many of the Portuguese buildings remain in various states of disrepair. The most prominent of these is the Pousada de Maubisse, a grand government-owned guesthouse, perched on a hill overlooking the town. Its exterior, painted white and deep red is now faded to pink in some parts. The sprawling garden is overgrown, except for the topiary bushes, which are immaculate, cared for by some local gardeners. The building was empty when we visited and had been so for the past few years, however it will be reopening for visitors in a month or two.
The houses of Maubisse are small, and constructed with various materials. Some have walls of concrete slab and stone painted bright hues of purple, pink and orange. Some are made from wood or bamboo, while other dwellings are little more than sheets of corrugated iron.
Over half of Timor-Leste's population lives in extreme poverty, existing on US$1.25 day. And only 18.9 per cent of rural households have electricity. Subsistence living is the only option for most people, especially in rural areas where employment is scarce. Farmers sell their crops at the local market, and most houses have a small kiosk or shelf outside, selling necessities like water, engine coolant and snacks to passers-by.
Coffee trees grow abundantly throughout the mountains, on a scale I've never seen before. Although not immediately apparent, every tree belongs to a local villager and each family roasts their own beans, usually over a wood fire. There's economic potential for Timor-Leste's coffee, due to both its high quality and organic growing conditions; coffee currently makes up a quarter of the country's exports (oil and gas comprise half). Much of the nation's remaining coffee makes its way to Dili, where it's served espresso style at cafes and the elegant Hotel Timor — it's delicious, robust and a surprisingly efficient pick-me-up in the tropical heat.
Agriculture is at the heart of Leublora's ideology as it aims to provide empowerment through sustainable farming and gardening, championing a return to traditional practices that were disrupted by decades of conflict and transience under Indonesian occupation. Bella explains, "We integrated family economics, and through agriculture and tourism we aim to empower, and utilise the resources here."
She laments the urban drift by the country's rural population over recent years. "If you travel across Timor you see the same issue. Everyone left all this, went to Dili. In Dili there are no jobs. You can't grow anything."
Although Timor-Leste is now an independent nation, following nearly thirty years of occupation by Indonesia, Bella feels it's yet to see true economic independence.
"Before the invasion, Timor was well known for agricultural self-sufficiency. We never bought food from outside. Today, 90 per cent comes from other countries — food, water, everything. We talk about being an independent country, but we're not independent at all. That's why simple things like growing flowers are so important, instead of importing flowers from Indonesia. For me, coming from a generation that was involved in freedom fighting, fighting for the liberation of Timor, this is insulting. You can never be an independent country when your needs are in the hands of others."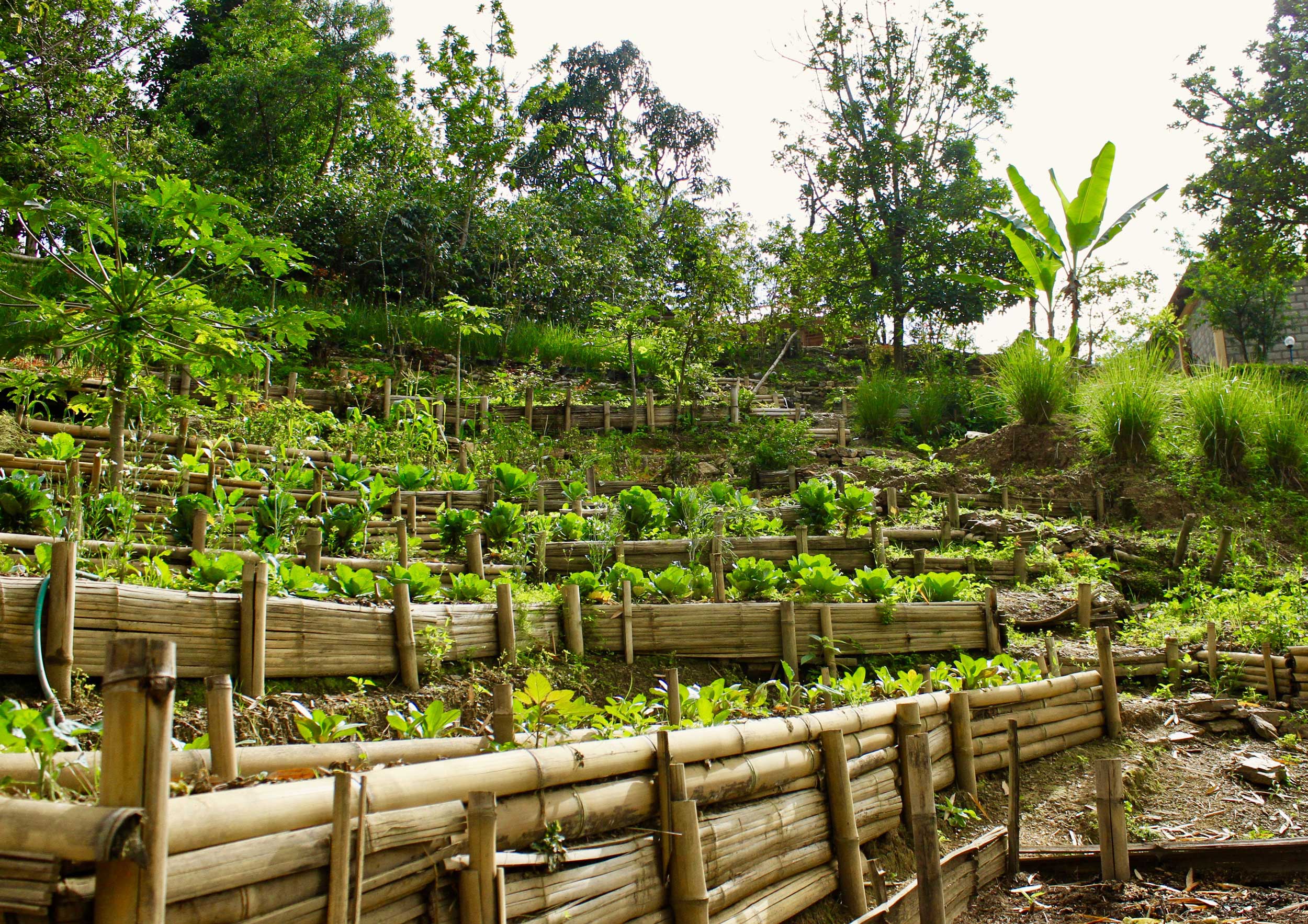 A stone's throw from the main marketplace of Maubisse, we arrive at Leublora Green Village by mid afternoon. We're amazed by the vast number of terraced garden beds, overflowing with vegetables, fruit and flowers. Two accommodation villas nestle into the hillside, and a restaurant overlooks the property.
Tired from a day of driving but calmed by the cool relief of the mountain climate, we settle into our villa. The roof is thatched in a traditional Timorese style, and the wooden walls of our room give it a rustic warmth.
The following morning, with a good night's sleep under our belts, we explore the farm and gardens with Bella and Iram. The property is full of butterflies and bees; the latter are a sign of luck in Timor-Leste. Such luck, combined with hard work and passion, has seen the initiative flourish.
Opening in 2015, the Green School is the first of its kind in Timor and aims to teach children and youth about environmentalism and sustainability through experiential learning and outdoor activities (all free of charge). The playground was constructed using mostly recycled materials. Tyres were donated, and truck tyres have also been used for the steps that descend to the villas.
With 60 per cent of the country's population under the age of 25, Bella and Iram see the youth as the key to change. "By targeting youth and the young ones, you reach adults."
The restaurant and villas followed the school in 2017. Profits from both are invested back into the non-profit facets of the initiative, like the Green School and the Farming Co-op. Members of the co-op tend and harvest the vegetables and their traditional knowledge of agricultural practices is supplemented by new learning.
"We work with local NGOs that focus on agriculture to help give insight and training in how to have better understanding of how to grow food." Crops include lettuce, spinach, beans, corn, carrot, beetroot, fennel, cabbage, bok choi, sweet potatoes, kidney beans, apricots and apples.
The crops grown are all served in the restaurant — cooked by local women Timorese style in woks over a wood fire. We relish the chance to eat fresh vegetables alongside locally-sourced eggs and meat — all our meals are delicious, varied and nutritious. The coffee too is grown and roasted (over wood, of course) at Leublora, and we enjoy it alongside a Timorese version of French toast, rich and sweet, cooked in a wok.
We end up staying four nights: the food, nature and tranquility bestowing a state of unparalleled calm. We explore the surrounding region, securing a local guide to take us to a pristine waterfall flanked by sheets of dark granite. Sunday is market day, and the tiny town swells with people from surrounding villages. Packhorses wait patiently along the streets, women selling fresh vegetables and fruit line the streets of the square, and a soccer match draws a large crowd.
Eventually we must return to Dili — to its heat, humidity and bustle. For US$8 each (the official currency of Timor-Leste is US dollars) we get a ride on the back of a ute fitted with bench seats; as is the style of public transport in rural districts. As we wind back to the capital, the truck fills far beyond capacity with people, chickens and fresh fruit. ACDC blares incongruously out of a speaker. Our bumpy journey along the pothole-riddled road captures the reality of Timor's people, environment and infrastructure and the challenges faced by the small, proud developing nation — and also the potential for change and, most importantly, growth through initiatives like Leublora.