Beyond Cancun: Tulum and Sian Ka'an
Here at Destinations, we're conscious that places aren't experienced in isolation: it's about the journey, too. In the third of a three-part series exploring Mexico's Yucatan Peninsula, we settle into the bohemian enclave of Tulum, and dig deep into the natural wonders of Sian Ka'an.
Some places call to us, even via photographs, and this has been the case for me with Tulum. The highway signs count down the kilometres. I cross the major intersection at Tulum pueblo and continue on towards the coast, reaching a fork in the road. I continue to the right, and cheer to myself as beach and sea come into view. I've made it. A faux road sign, influenced by Tulum's boho yoga culture and photographed a million times by now, reminds visitors to 'Stay Present'. I intend to.
I nudge the car slowly down the narrowing road lined with resorts, restaurants and boutiques, and travellers leisurely strolling and bicycling along. It's jungle to one side and beach on the other — what more could one ask for? I'm headed to the southern end of this otherworldly enclave, to the boutique Encantada. Globe lights, reminiscent of a spectacularly close full moon, identify the hotel. I park out front and am quickly shown to my Gardenview room, Flores, one of only eight individually-furnished suites.
As much as I'm dying to become one of those carefree strolling Tulum denizens myself, it's been a long day, so I default to a light dinner at Ecantada's in-house restaurant. This is nowhere near the compromise it might seem: the resort has a reputation for high quality dining. Though tucked away in the garden, back from the beach, my feet are still in the sand. Light is low, with string lights wrapped around palm trees and glass mosaic candle lamps at the tables. I enjoy a fresh juice of watermelon with a hint of mint, and a memorable, equally fresh and perfectly-balanced ceviche.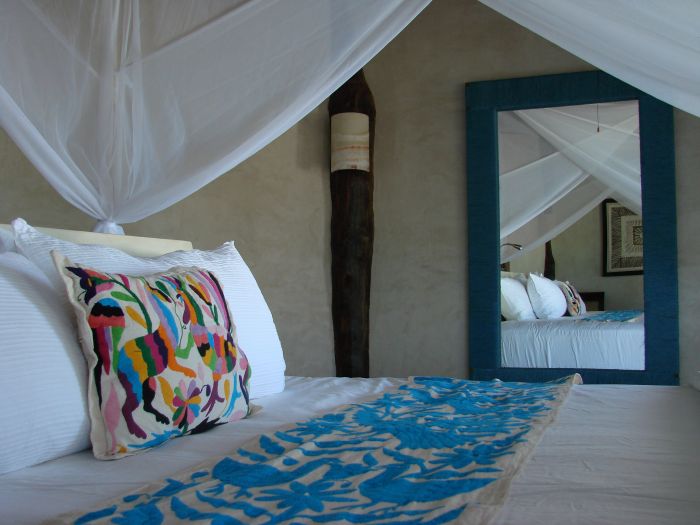 I return to my room, just a few convenient steps away, to crawl into the huge, high, comfortable bed, dressed in crisp white linens and embroidered cushions and protected by a sizeable yet elegant mosquito net. Encantada takes a natural approach: rather than bright overhead lights, like the restaurant the room is lit by candles and egg-shaped mosaic lamps, and air-conditioning is eschewed in favour of maximising airflow. I'm sceptical about this at first, but the ocean breeze enters through the screen doors, billows the white flowing curtains and is circulated by the strong freestanding and ceiling fans, and before I know it I'm falling contentedly asleep.
Come morning, I take the opportunity to settle in, distributing my belongings among ample thick plastered shelves. As I do so, I have the chance to really see what this space is all about. Screen shutters let in light and air, while visible poles are reminiscent of tree trunks. Panels, made of big glass squares, connect outside to inside, providing light but maintaining privacy. More glass tiles, small ones lining the spacious shower, offset the larger ones, the bubbles in the glass and their blue coloration recalling the sea not so far away. Blue pebbles line the sink.
The wooden floor is characterful and the fixtures have a vintage feel — not old and rickety but established and homey. Everything feels substantial: a heavy wooden table and chairs dominate the deck. There's an imperfect feeling to the space, in a good way: it's natural, comfortable, in tune with the Tulum vibe. The conveniences are understated but make a big difference: a big ceramic keg of water, refilled daily, encourages me to stay hydrated without that artificial shock of icy water from a minibar's plastic bottle. Racks inside and out air-dry towels and swimming gear, and a small pool allows sandy feet to be rinsed off. Plenty of power points mean I'm never having to unplug my phone charger to straighten my hair (it's the little things).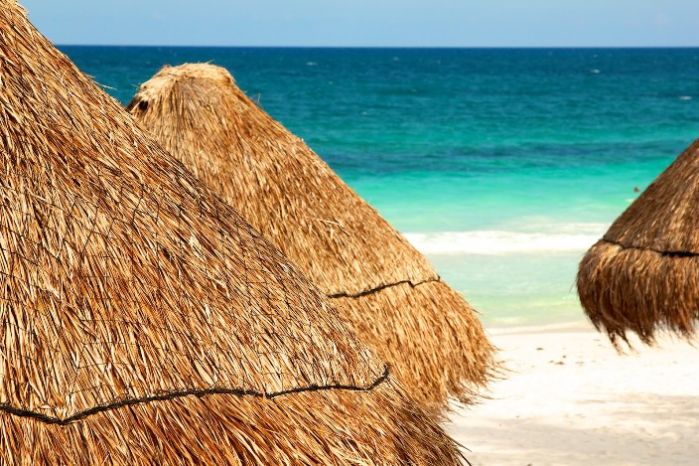 Breakfast time. By now feeling very much at home, I take a seat inside the restaurant, half of which is open to the garden. Glass starfish — Encantada's motif — dangle above the bar, and shelves are filled with an eclectic mix of colourful crockery, traditional skull artworks, board games, and artisanal oils. The sound of milk frothing for coffee is music to my ears, as is the selection of milks on offer — I go for almond. The spread is completed by orange juice, a fresh fruit platter, and flawless fried eggs served with veges, a basket of toast, and conversation: I'm told there are turtle tracks on the beach; they've come up to lay their eggs overnight.
Heading down to check it out, I see short poles signalling where the eggs have been left and roping off the area for their protection. These will become a ubiquitous sight up and down the beach. For now though, I decide I won't beat the view right here, and set myself up, book in hand, on a lounge chair under one of Encantada's palapas. A paddleboard lies on the beach, and faint music drifts across from the beach club two doors down. A crab scuttles across the sand, eyes boggling in the air like a cartoon. Green butterflies flutter overhead and giant ants crawl past. Occasional sellers, too: a man with organic candies and a woman with beach dresses from India — perfect if one needs a makeover to fit into the Tulum aesthetic.
Soon, it's happy hour, which at Encantada runs from one to four in the afternoon. The bar staff — their exceptional beach service emblematic of that at the hotel — help me choose my two-for-one cocktails based on fruit preferences: a Coco Loco it is, followed up by a hibiscus margarita and a distinctive watermelon salad:  jalapeno adds a kick to the freshness of the fruit, while panela cheese provides substance and pumpkin seeds crunch. Encantada's menu is really proving itself: it's unique and indulgent, but clean and healthy. In between snacks, drinks and book chapters, I refresh in the sea, its deep blue-green almost surreal.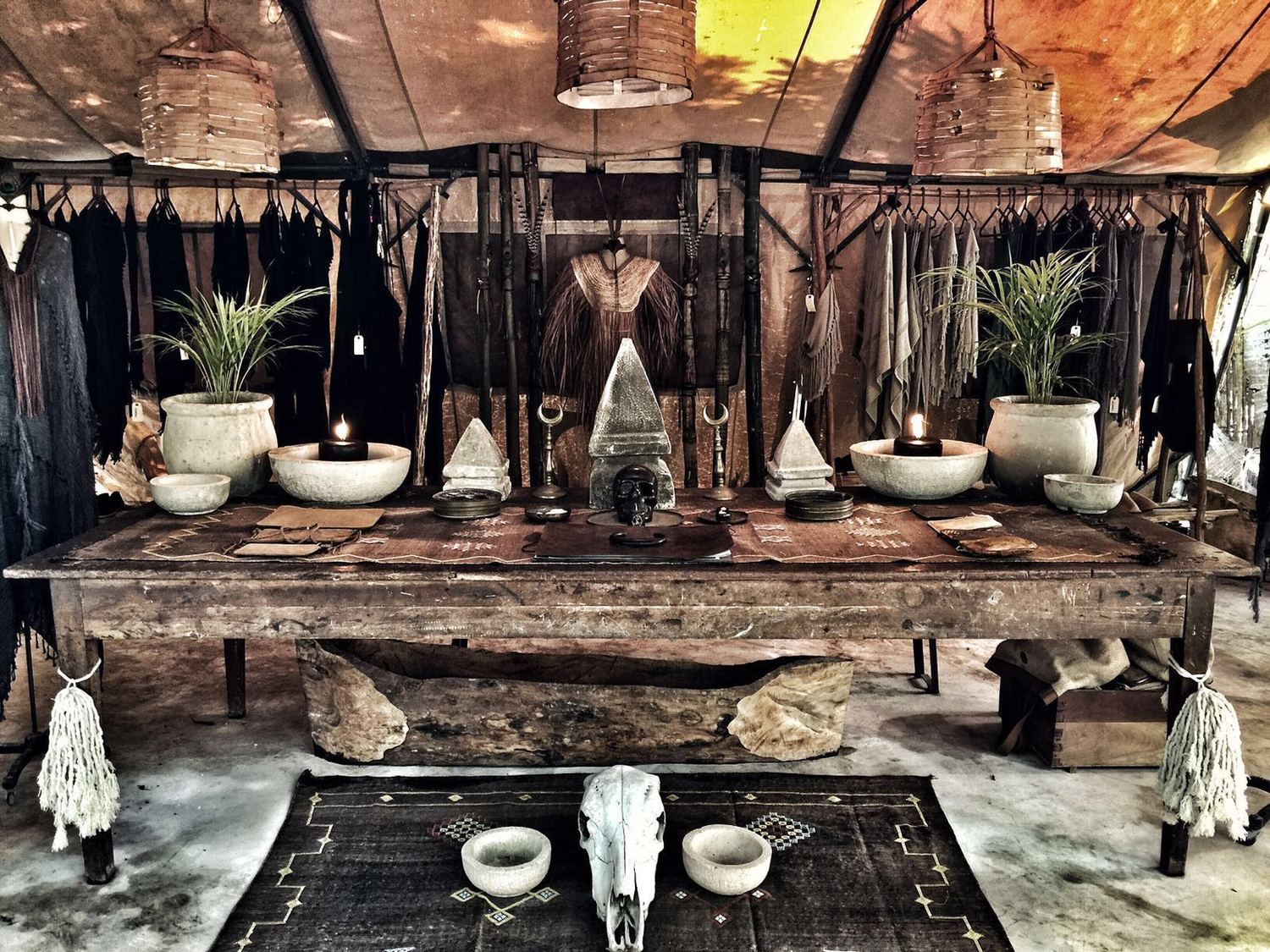 Later, I set off up the beach towards La Eufemia, a taco place recommended by Mexican friends and travel sites alike. Tan people relax and chat on thick candy-striped mattresses, on loungers, in hammocks and at tables. One of the region's iconic bent palm trees is supported by sticks. As I try out a speedily-served cucumber margarita and tacos of fish tempura and pork rind, I think this place would be ideal at breakfast time after a hard night. That said, it's pretty impressive right now. I'm not much one for sunsets, but here, the white sand turning apricot and that sea against lavender clouds and pink light — it's something else entirely.  A pelican swoops low above the breaking waves, and the moon is already bright in the dusky sky.
The staff at Encantada make further restaurant recommendations that are spot on. At Simple, nestled into the jungle side of the road, the name is reflected by a twig-and-tin roof, a concrete wall with sea-themed mural, nets hanging from the ceiling, an open kitchen with seafood on display, and natural wood bar: restaurant and nature seem to be in alignment. A pale rosé  accompanies gigantic soft-shell crab on toast, served in a spicy crumb with tangy and creamy dipping sauces. Further up at Cenzontle, the retro 'secret garden' styling features gnomes and vintage furnishings, somehow both in and out of place in the jungle. Food and drink is all very artisanal: a white wine and herb butter accompanies fresh bread in a brown bag, and house-made beer is served in a cute glass bottle, sediment at the bottom. Complimentary mosquito repellent is a nice touch.
I'm tempted to stick to the jungle theme with a few drinks at local favourite Casa Jaguar, but I have an early morning ahead, instead entertaining myself browsing the leatherwork and fringed kaftans of Caravana and the gorgeous embroidery of La Troupe. Both boutiques draw on local tradition and craftwork, and friendly staff keep the doors open late into the evening. Next morning, making use of Encantada's complimentary bicycles, I set off first thing for the Tulum ruins. I'm at the ticket counter as soon as it opens at 8am — a recommended strategy to avoid the crowds. The grounds are sparse: manicured lawns sprinkled with palm trees surround the ruins, which are populated by large iguanas. However, it's the location that sets the site apart: as the only coastal Maya city, to contemplate an ancient clifftop castle by the sea is spectacular.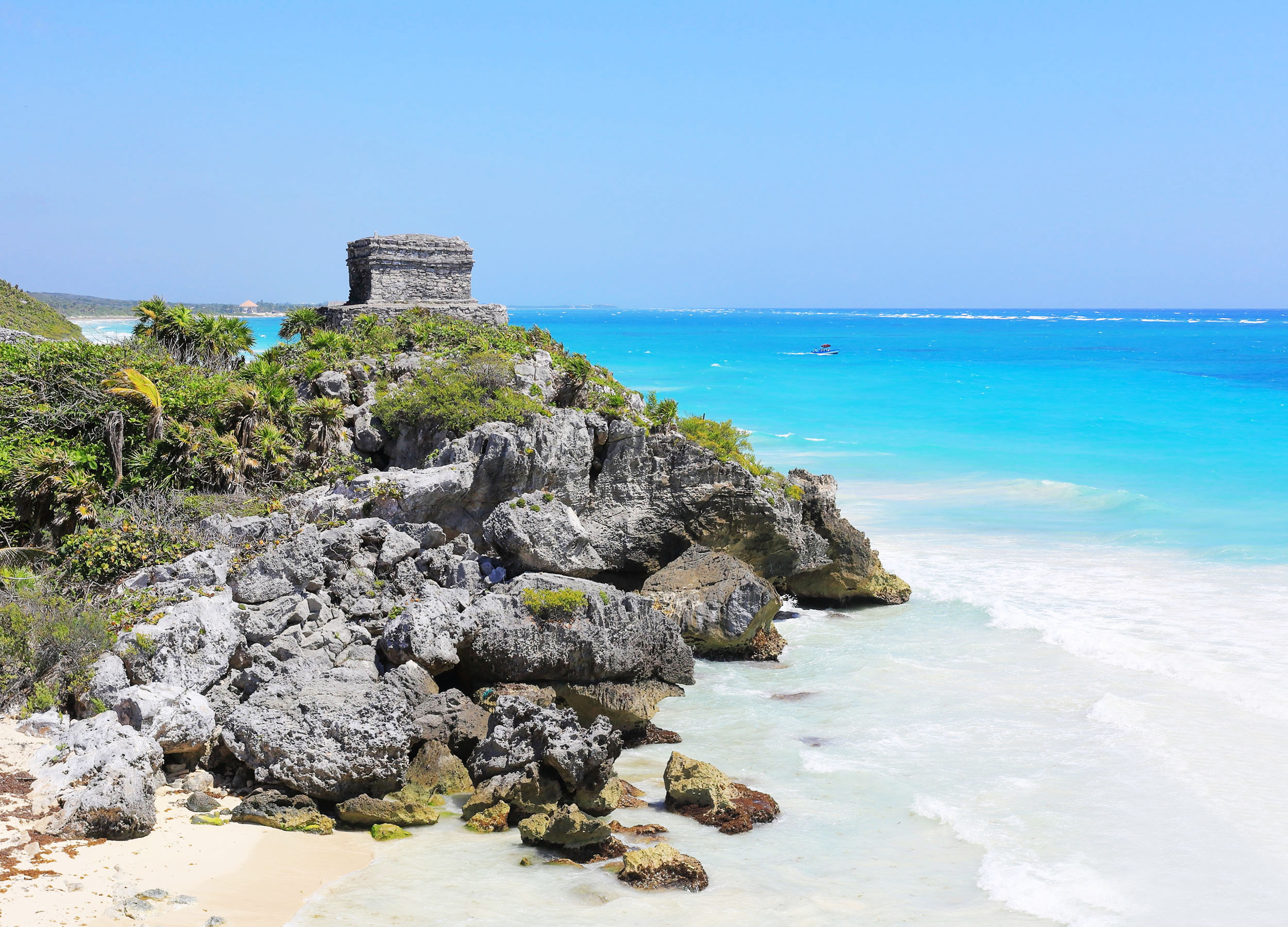 I race back, just in time for my pickup: I'm excitedly headed to the Sian Ka'an Biosphere Reserve — 620,000 hectares of jungle, lagoon and reef — with Mexico Kan Tours. As we make our way in the van down a narrow white gravel road fringed with palm trees, our guides, Tom and Jorge, give a comprehensive explanation of what's in store on this, the Sian Ka'an Adventure tour. There is an emphasis on learning and discovering as well as sightseeing: there are hundreds of different species within the reserve, so we will see what nature will give us today, and there's to be no rushing back to our hotels — we're on holiday, after all — so there will be plenty of time for questions.
We learn that less than two per cent of Sian Ka'an is private property, and there are restrictions in place to ensure natural resources are used in a balanced way: maximum allowable building sizes depend on the plot, and some vegetation, such as palm trees, cannot be removed. Although rangers are on the lookout, these rules don't stop everyone, so it's an ongoing challenge to keep the biosphere intact. For Jorge, who originally hails from Chiapas, Sian Ka'an has been his 'playground' for the past two decades. He notes that political and economic priorities can adversely affect an area like this, but ecotourism is helping to change that status quo.
The van pulls up and we stop to apply our biodegradable sunscreen — important to protect the reefs — before walking down to a small jetty. On the way, Jorge points out varying species of plants and their lands of origin, noting that many are in fact introduced. We observe the holes made by blue crabs, which enable the rain to irrigate this area for the plants: already, I'm starting to see the interconnections that build this sophisticated ecosystem. Reaching the jetty, we are escorted in small boats by locals from Punta Allen — a village by turns focused on fishing and ecotourism — to their hometown. Fishing is regulated by a local organisation, with rules for species and seasons: right now, lobster season has just opened.
Jorge considers mangroves to be the most important species in the world, deserving of careful conservation.
We zoom straight out into the Boca Paila lagoon, discussing the cenotes of the Yucatan Peninsula. There are approximately 7000 of these sinkholes, created as a result of the Chicxulub meteor impact around 66 million years ago. They are all connected via an underground river system, which is what allowed Maya culture to thrive in this part of the world, from circa 2000 B.C. We pause by one of these cenotes within the lagoon: framed by limestone, water 'boils' around it, making its circular shape visible beneath the surface. Jorge kneels on the front of the boat as we creep along, on the lookout for aquatic life as an osprey soars above.
Entering a river, a connecting point between the lagoon and the sea, the mangroves are tall, and a Caribbean whiptail stingray, or chupare, glides through the water. Sian Ka'an contains two of four species of mangroves: black, these tall ones, like olive trees; and red, smaller ones with spidery roots. As we approach the bridge to Punta Allen — it's also possible to reach the town via four-wheel-drive — Jorge touches on the Maya history, telling us there are 23 historical sites within the biosphere, all part of this ancient civilisation of the Yucatan, better known via ruins like Chichen Itza, Coba and Tulum. The deep green water of the lagoon becomes lighter and clearer; sunlight plays on the seabed as we approach the open water.
We glide through another channel, into San Miguel lagoon. Here, the water looks thicker, more opaque, and we must navigate slowly due to rocks beneath. A great blue heron perches on a branch, orange orchids reach up from the red mangroves, and an American crocodile slithers and lurks, eyes just above the surface. The plants get fruity: a bromeliad looks like a pineapple, and we spy a banana orchid. Termites cluster in dark clumps on the trees, and a black catbird, endemic to the Yucatan Peninsula and exceedingly rare elsewhere, makes an appearance.
The boat speeds up as we emerge into the lagoon. Bird Island is pretty self-explanatory: it's a winter and summer migration stop for a huge range of birds, who come here for food, mating, and safety, their inner magnetism bringing them back to where they hatched. During these peak times, one can see all colours of the rainbow hopping around in the trees — today we make do with some perfectly entertaining pelicans. It is a quick hop over to Punta Allen, where a strip of blue appears on the horizon. I get a close up view of the mangroves' tangled roots as we pull ashore.
Walking through the quiet streets, Jorge tells us about the challenges the villagers face, from hurricanes to limited water and electricity supplies. Migratory birds rest on electric poles, an iguana chills in the shade, and a chihuahua does its best at guard dog duties. Stopping in at Fisherman Lodge for lunch, we feast on grilled fish, fried chicken, pasta salad and coleslaw, washed down with hibiscus water. That famous lobster is available as well, for a fraction of the price one would find it up the coast. A short walk across the street and we're at the beach. The sea is a most astounding bright blue, and a beach hut constructed out of a converted boat captures my imagination.
Boarding a boat of our own, we stop for a swim in water that's clear as glass, before heading further out to snorkel among parrotfish, butterfly and damselfish, tongue and doctorfish, needle and trumpetfish, while spiny lobster and a snail try their best to remain camouflaged. We note the different coral formations: purple fans, finger, brain and branch corals. From back on the boat, a loggerhead turtle pokes its head up, and a sea star is visible just below the surface. But we're treated to an extra-special conclusion to the day when dolphins are spotted in the distance: we sail alongside them back to the jetty.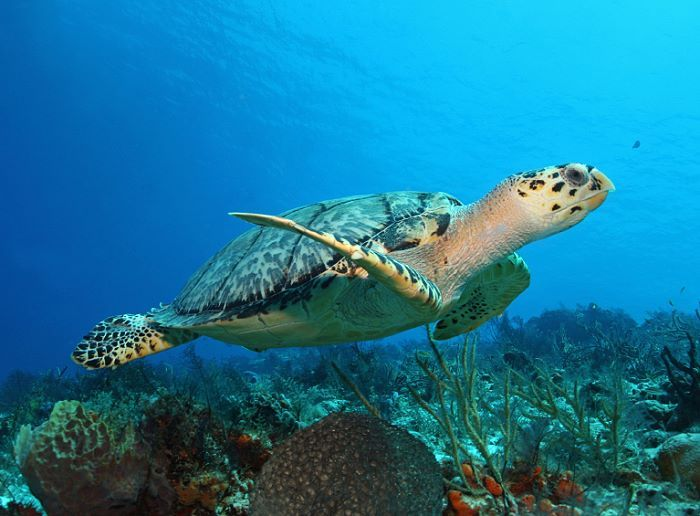 Now having seen Sian Ka'an with our own eyes, Jorge emphasises the importance of balancing tourism impact and awareness, and explains on our return why he considers mangroves to be the most important species in the world, deserving of careful conservation. They are a filter, transforming grey and black water into soil, capturing organic garbage and accelerating its decomposition, and sending nutrients out into the ocean, helping the reef to grow and supporting its wildlife. Every hectare of mangrove has between three and five hectares of roots, creating three to four times more oxygen than the jungle: in fact, without the mangroves, there would be no jungle lining the coastline of Tulum — and no jungle restaurants, bars and boutiques to enjoy.
I leave this tour with a far greater understanding of how the natural and cultural heritage of the Yucatan — from the beaches and reefs, the cenotes and lagoons, the Maya ruins and even the ceviche on my dinner table — represents a delicately balanced system of interconnections generated over millennia, and this realisation makes the place all the more incredible. Somewhat reluctantly, I set off towards my final destination: a luxurious stop at the Belmond Maroma Resort & Spa at Playa del Carmen.
---
Don't miss out on the rest of the 'Beyond Cancun' series, exploring Mexico's Yucatan Peninsula…
Previously:
Next: