Istanbul: Finding Peace Among the Chaos
As my taxi approached the Sultanahmet district of Istanbul, I felt a distinct pull in my chest — was this still the same city that had served for centuries as a magical meeting place of East and West, a cultural mecca of Byzantine and Ottoman influence, and a confluence of culture, art, and architecture? Gazing at the Hagia Sophia and the magnificent Sultan Ahmed, or Blue Mosque, I recalled the words of the great Ottoman architect Sinan: "I saw the monuments, the great ancient remains. From every ruin I learned, from every building I absorbed something."
I was quickly disillusioned with my internal notion that Istanbul was an idyllic, peaceful oasis of history and culture sitting on the edge of the Bosphorus strait, physically and metaphorically dividing Europe and Asia. Upon stepping out of the taxi, I was assailed by a barrage of sounds — tourists excitedly yelling to each other whilst snapping pictures, hawkers selling their various wares (primarily to the aforementioned tourists) and the ordinary commotion of a busy, thriving city.
Istanbul has long been a hotbed of conflict: as a central juncture between continents and an endpoint to the Silk Road, it has been besieged by the Greeks, Persians, Romans, and Ottomans. The city is no stranger to chaos, and on first impression it seemed this still reigned, albeit in a different form. I took one last, longing look at the Blue Mosque, and walked down the hill to my hotel, unsure in the midst of the commotion what to expect of the rest of my visit.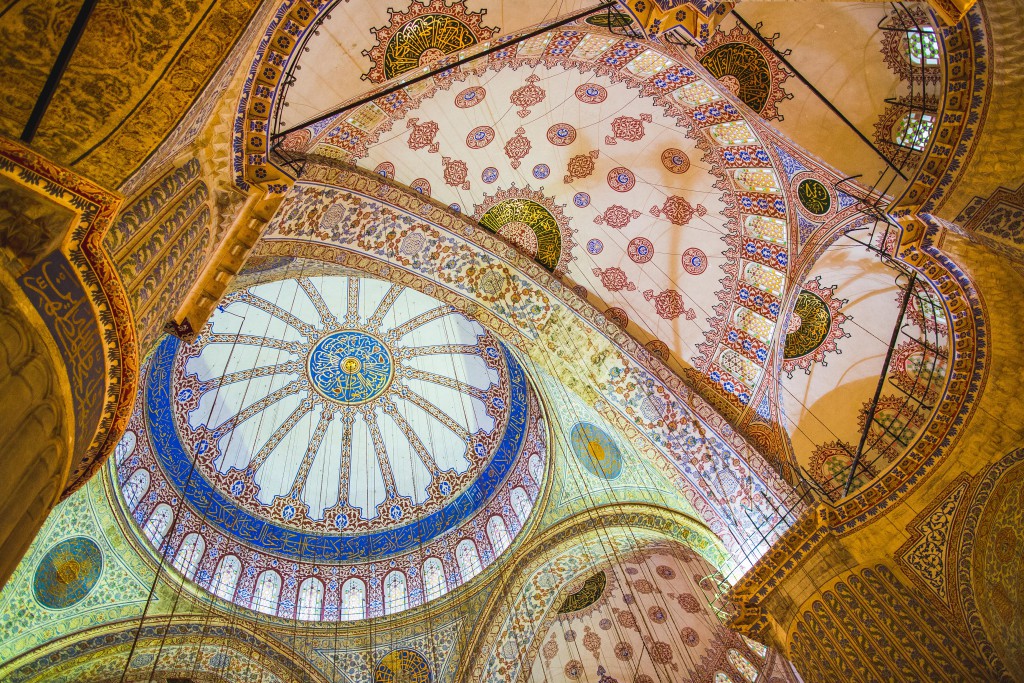 The Four Seasons Istanbul at Sultanahmet, the site of a prison from 1918-1919, now serves as a serene enclave nestled against Istanbul's historic city centre, adjacent to several UNESCO World Heritage Sites. As I walked through the large arched doorway to the interior of the hotel, I was greeted by intricate woodwork, beautiful Ottoman rugs, tiles designed by respected Turkish artist Hafiz Mehmed Emin, and an open-air courtyard framed by a lush garden.
I arrived in my well-appointed room, complete with a mezze platter and a scattering of oranges and apples. After taking some time to collect my thoughts, I left my room to get the lay of the land. I marvelled at the intricately designed Ottoman tapestries and tile work that adorned the walls throughout, before relaxing with Turkish tea inside the hotel's glass pavilion in the middle of its courtyard garden. Turkish tea, long considered a symbol of hospitality, is ubiquitous throughout the country, and is offered to guests upon arrival at many destinations. The ambience was one of elegant simplicity, with a respect for the traditional Ottoman culture.
That night, I had an amazing meal at the hotel's restaurant, 'Seasons'. Upon arrival, I was presented with a delectable mezze platter of shrimp and two dips of yogurt and red pepper, followed by my main course — Köfte, or Turkish meatballs. The meal was delightful, but little did I know, the best was saved for last. I ordered the pistachio crème brulee, a fusion dessert with a cream filling and baklava crust pounded thin, with a touch of pistachio ice cream. Followed by a strong, thick Turkish coffee made from freshly roasted beans, it was the perfect ending to my initial day of adjustment to Istanbul.
After a restful night's sleep, I spent the day exploring the neighbouring UNESCO Heritage Sites, including the Blue Mosque, Hagia Sophia, and Topkapi Palace. At each turn, I was presented with relics of Ottoman and Byzantine architecture and culture. From the majestic domed ceilings of the Blue Mosque to the intricately tiled and brilliantly coloured domes of the Harem at Topkapi Palace, the character and detail was incredible. Scenic, yes; serene, hardly: jammed against fellow tourists, I felt corralled at each site.
This theme would be repeated over and over at the city's major attractions — from the elaborate and beautifully lit Süleymaniye Mosque, to the colourful Spice Market (reminiscent of those I had explored in India), to the underground Basilica Cistern. The tourists — almost uniformly armed with 'selfie sticks' — were pervasive, and though just as much of an outsider, I felt the desire to stand apart from their throng. A rare moment of serenity was found inside the magnificent Yeni Cami (New Mosque), where I was allowed to observe a full prayer service. It was the first moment of the trip outside of my initial hotel sanctuary where I felt fully at peace, merely an observer to another culture's holy traditions.
I set out the following day to my next destination, which appeared to be a relative oasis amongst the chaotic hustle and bustle of the city. Sumahan on the Water, originally built to distil raki, a potent local liquor, now exists as an 11-room, 13-suite boutique hotel on the Asian shore of the Bosphorus strait. The tranquil retreat offers rooms with water-facing views, sumptuous food, and unparalleled relaxation. I arrived via ferry and was shown to my room, 'Kuleli', where I was greeted with a local Turkish red wine and a calming view of Istanbul from afar.
I ventured to the hotel's restaurant, 'Tapasuma', where I had a splendid meal including seafood-stuffed zucchini blossoms, grilled calamari, monkfish casserole, and a sea bass stew. Knackered and satisfied, I fell asleep to the sound of the waves from passing ships crashing against the shore below. I spent the following day lounging around the Sumahan grounds, relishing their space and calm. Another local wine — white this time — and an incredible sunset over the Bosphorus Bridge served as an added bonus to this much-needed respite from central Istanbul's tourist-filled sites.
I took the opportunity to experience the hotel's hamam, or Turkish bath, which was rejuvenating, invigorating, and, at times, a tad painful. A traditional Turkish bath consists of an initial stint in a relaxing, steam-filled room, followed by a deep body scrub and a massage. To say that the amount of skin exfoliated from my body by the intense scrub was shocking would be a complete understatement; unsurprisingly, I felt like a new person by the time I left the spa.
The following morning, I took the hotel ferry to my new apartment in Karaköy, a bohemian port neighbourhood northeast of the main city centre. Located in the Beyoglu district of Istanbul, Karaköy has plenty to offer — charming cafes, restaurants, and bars; museums; local art and, best of all, relatively few tourists. Over the following few days, I explored the neighbourhood and surrounding areas, filled with bustling tea shops, eclectic antique purveyors, and an assortment of incredible food.
While only a short distance from the city centre — separated by the Galata Bridge — the neighbourhood felt worlds away from the cosmopolitan chaos around the major mosques and palaces. In particular, a visit to nearby Balat, in the Fatih district, cemented this feeling. The traditional Jewish quarter, Balat is full of character, lined by rows of colourful houses, quaint shops, and intimate restaurants. I spent hours wandering these cobblestoned streets and tiny alleys, content to simply explore and discover the neighbourhoods' nooks and crannies.
No visit to Istanbul would be complete without visiting the famed Grand Bazaar, a dizzying array of sights, smells, and shops as far as the eye can see. From shops offering traditional Turkish tea and the famous Turkish Delight, to lamps, spices, clothing, pottery, and jewellery, the market offers every good a traveller could possibly desire. After exploring the bazaar, I took a tip from a local travel writer and found my way to an unmarked door at the end of a series of alleyways. Upon paying a small bribe, I was shown to the roof of a han, or local storefront, with a panoramic view of the hectic Grand Bazaar below.
On departing the chaos of the Bazaar, I decided to treat myself to one last hamam at the superb Haseki Hürrem Sultan Hamami, renovated in 2011. While the hamam itself was set in the hectic Sultanahmet district, the inside was a peaceful reserve with massive marble domes and remarkable interior architecture. After my initial scrub, I relaxed with a cold glass of blackberry juice, admiring the architecture and enjoying the atmosphere. I was summoned for an aromatherapy massage, which was the perfect send-off from a city that had exceeded my initial expectations by leaps and bounds. There truly was serenity, relaxation, and a deep sense of culture to be found in Istanbul — all it took was a willingness to embark on a journey to find it.