Pilgram's Path: the Camino de Santiago
Emilio Estevez's The Way is a film that has immortalised the Camino de Santiago pilgrimage as a life tick for thousands of people every year. Through sharing the personal journey of each character, Estevez reveals just a few of the many reasons people walk The Way of Saint James.
There is an overweight Dutchman looking to shed some kilos and get closer to his wife; a Canadian determined to quit smoking while searching for answers in the aftermath of an abusive relationship; an Irishman plagued with writer's block and an American who's lost a son.
Although The Way is partly credited with the Camino's soaring popularity over the last decade, the film speaks one line that all pilgrims come to understand; "no one does the Camino by accident."
Pilgrims have walked the Camino for more than a thousand years. Many routes cross borders from Portugal, France and beyond, but all lead to a single church in far western Spain called Santiago de Compostela, where it is said the bones of the apostle Saint James rest. The most popular route — the French Way — spans 790 kilometres of green woods, dusty plains and mountain peaks. This route is usually walked, but some pilgrims choose to cycle or even ride horseback. However you take the trail, every pilgrim is motivated by their own reasons to be there — even if those reasons are not yet clear.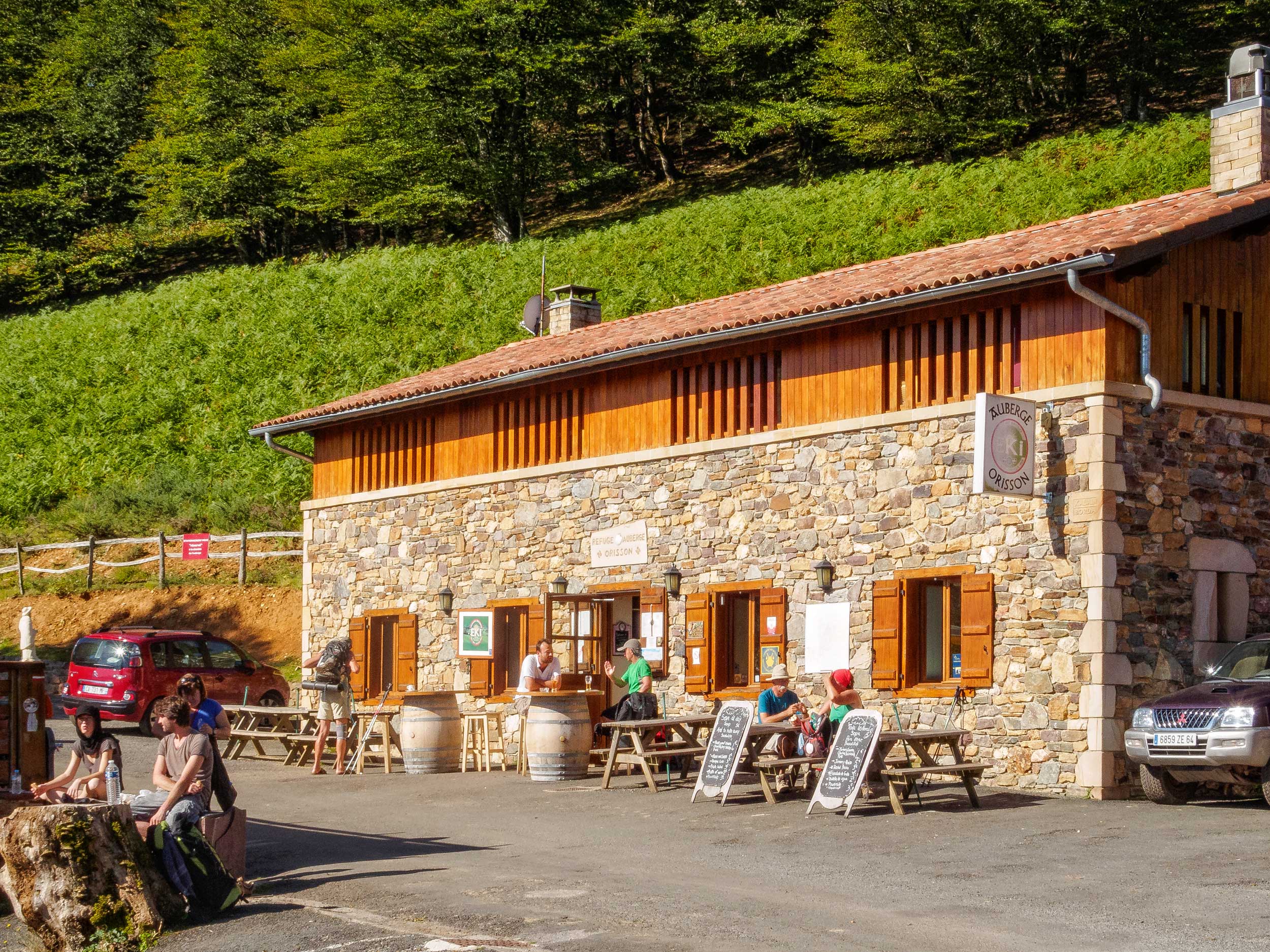 The French Way starts from St Jean Pied De Port and this is where our group of nine sets out on Route Napoleon — a centuries-old trail built by pilgrims to avoid the bandits infesting a lower and easier route, and once used by the 'Little Emperor' to march his armies into Spain. Our destination is an auberge or inn, renowned for breathtaking views of the French-Spanish border; lush pastures and high mountain ridges dotted with the stone cottages of local farmers who keep their chimneys smoking in these early days of spring.
The nine-kilometre trek to Orisson Refuge is the first and the shortest of our 800-kilometre journey. Lucky for us the road climbs 250 metres through a blanket of cloud where we're surrounded by the sounds of cattle bells and neighing horses grazing in vast paddocks behind the fog. The road — now little more than a slippery goat track — continues over steep inclines that send cyclists scrambling. The light drizzle thickens to sleet at each summit, marking the first sign of an impending snowstorm that would hit this notorious leg of the walk two days later.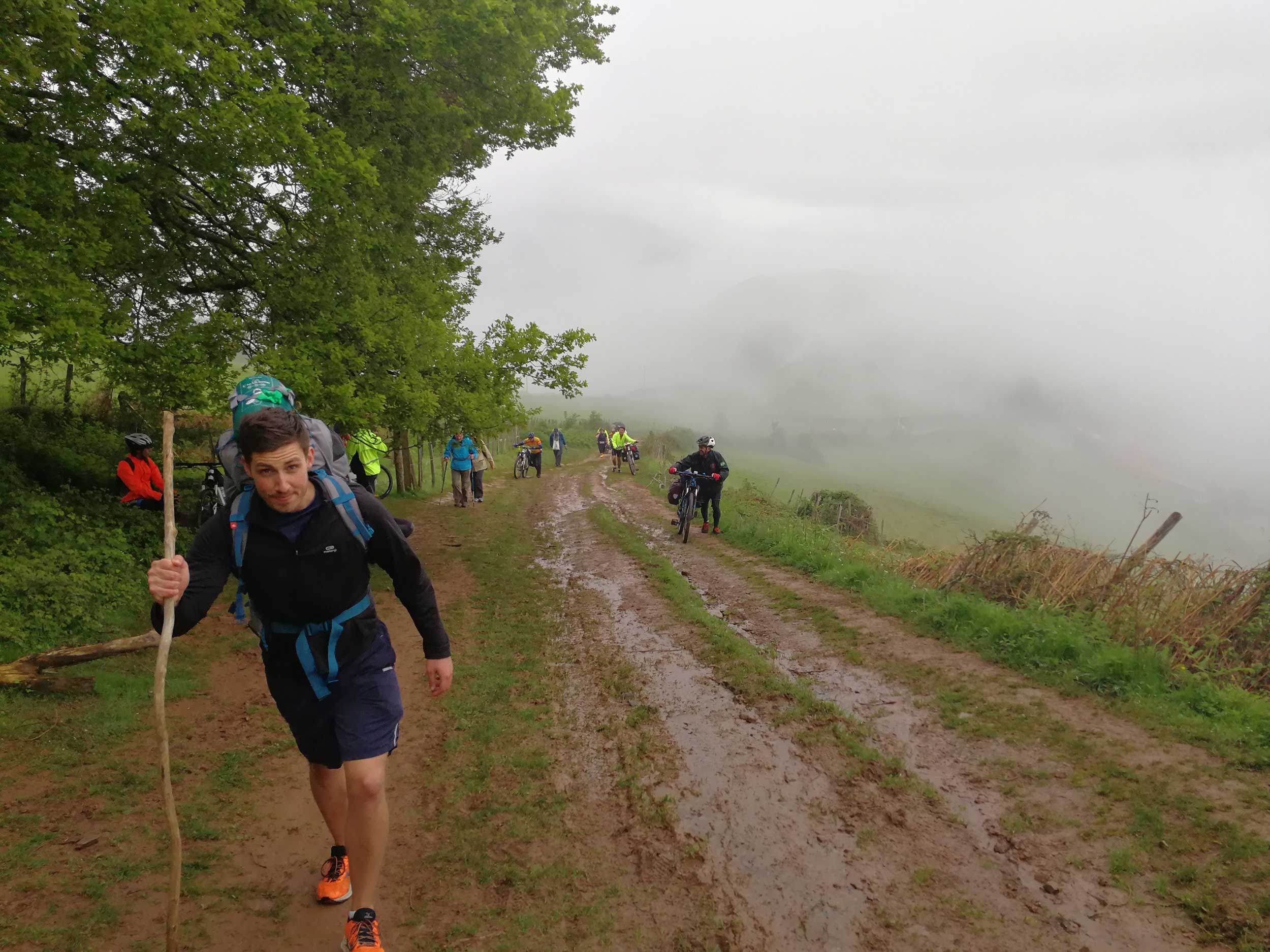 We arrive at Orisson around lunchtime; muddy, damp and happy the first day is done. People who arrived ahead of us have already started ditching layers, resting their bags and walking sticks against the stone wall of the auberge while patiently waiting to fill their empty water bottles at the outdoor fountain. As it is on the road, "Buen Camino" — meaning good walk or pleasant pilgrimage — is passed between travellers and sparks conversations about the day, the road ahead and their lives back home.
Tomorrow's trek, a 14-kilometre hike up and over the Pyrenees mountain ranges through clouded hills, muddy trails, mossy woods and international borders, will lead us to the great church at Roncesvalles. At this point, many pilgrims will feel close to — or be in — a state of hypothermia. But tonight in the foothills of southern France, we are dining in the heated halls of Orisson Refuge. The inn is full, so after a warm shower and settling into their bunks, no one is late for the dinner — served at 6:00pm sharp.
We sit down at long dining tables set with jugs of local wine, while huge vats of pea and ham soup are brought out with a ladle to share. The room's atmosphere warms with a three-course meal served by a family of welcoming hosts. All pilgrims relax as if the inn were a second home.
Once our bellies are full, a young barmaid stands. Her Spanish hair is thick and black, and her face is both welcoming to visitors and hard to those who push their luck. Speaking in English on behalf of the inn owner, her father (who has taken a seat to the side) she explains the pilgrim tradition that happens each evening in Refuge Orisson. "Stand up and tell us where you are from, and why you are walking the Camino."
At the front of the long table, 74-year-old Mattieus from Switzerland stands first. Not only is he the oldest in the room by a decade, he proudly announces this is his fourth time walking the Camino. The first three walks he completed with his wife, and since they had planned to walk again before she passed last year, he is here today to keep the promise. Everyone applauds — this was a hard act to follow.
Next to speak is a group of Americans who met while walking the Camino individually a few years earlier. They'd stayed in touch after returning to their normal lives, and the shared experience kept them craving to walk again. This time, though, they would start and finish together.
The group of token Australians — us — stand one-by-one to open up to this group of pilgrims. Together we are walking for the 'experience', but individually we are marking milestones; my father of retirement, reaching 60 and giving time to spiritual exploration. My brother and I are in our late twenties and haven't seen each other for two years. We explain that we're here to make some memories with our dad "as dutiful sons – and to make sure he survives the Pyrenees in one piece."
After a laugh and applause, we sit down and listen to people of all ages, countries and lifestyles stand and share their reasons for travelling the Camino. Some are motivated by the challenge; others are here to reconnect with religion, nature or people. Those who have overcome trauma or sickness to be here tonight openly share their reasons without embarrassment or shame.
When it's the turn of a middle-aged English woman sitting by her husband, she stands and shares with the group the serious back operations that have plagued her life over the last five years. She'd planned to walk the Camino the previous year but was hit with more complications. This year, though, is her time to "smell the roses and enjoy the moment." Everyone claps.
Last to stand is a young, shy girl from Sweden travelling by herself. She sat close to the front and asked for more time to think about her response. She finally revealed she was "here to find herself," but her demeanour made it clear she had a lot to think about over the course of her journey.
Listening to each person intently, the owner Jean-Jaques Etchandy now stands to close out the night. We all lean in to hear some words of wisdom from someone who's heard all the reasons before. "Buen Camino!" he shouts, then gets back to work while we all laugh and applaud.
People linger over their conversations and wine before leaving the warmth of the dining room and heading to their bunks. The night outside is pitch black covering the view, but tomorrow the morning sun will shine through the thick clouds and steam the morning dew on Orisson Valley.
For all those sleeping at the inn the road ahead holds more walking, blisters, rough sleeps, countless bread and jam breakfasts, centuries-old churches, new friends, local food from local people, hidden experiences and much more. Although we're all here for different reasons, it's hard to disagree that the Camino has a strange way of helping those who travel it find what they're looking for.
Refuge Orisson was converted from an ancient shepherd's hut in 2004 and is the first stop on the French Way of the Camino de Santiago. Nightly accommodation is 36€, and priority is giving to pilgrims arriving on foot, so it pays to arrive early.