The Four Kings of the East: Diving Raja Ampat
I first heard of Raja Ampat from a diving buddy of mine. It was one of those destinations whispered about by avid scuba divers over a few cold beers, its mention so often followed by a moment of silent wonder and reflection.
One flies to Jakarta, so the story goes, and then travels the length of the world's largest archipelago, leaving 'civilization' behind on arrival to the island of Papua. There one will find a paradise like no other. As a traveller already taken by the many faces of Indonesia, I was determined to visit, but its remoteness kept it just beyond my grasp for years — until now.
From the top deck of the Alila Purnama, I watch tiny, unassuming Sorong, Raja Ampat's big smoke, fade beyond the horizon as we motor west towards one of the most dramatic sunsets I've ever seen. The sky is an explosion of colours — reds, violets, indigos and peach plumes — framed on either side by the deep blue of the sea and the inky darkness of night. The waters around us are calm, shimmering in the dusk, and my fellow travellers, cocktails in hand, are awed into a collective silence. It's an unforgettable start to an unforgettable journey.
A beautifully-constructed liveaboard built in the style of the traditional twin-masted phinisis that once plied Indonesia's trade routes, the Alila Purnama, or 'Full Moon', is operated by Alila Hotels & Resorts as one of the most lavish in Asia. A member of the coveted Secret Retreats collection, she has just five spacious cabins, including a sumptuous master suite with its own soak tub and panoramic balcony; a crew of 14; expansive decks cooled by the trade winds; a fleet of tenders and paddle boards; and a barman who never ceases to impress with his knowledge of vintage sundowners. I'm immediately convinced that there's no other way to explore this special locale.
Raja Ampat, which means 'Four Kings', takes its name from the  four main islands of an archipelago that counts more than 1500 isles, cays, and shoals — including Cenderawasih Bay, Indonesia's largest marine national park. It has wide open seas and fresh air; uninhabited, jungle-encrusted islands; powder white sand beaches; pods of resident dolphins and manta; and locals bound by both Indonesian and Papuan blood. However, people come to Raja Ampat for one thing: to dive.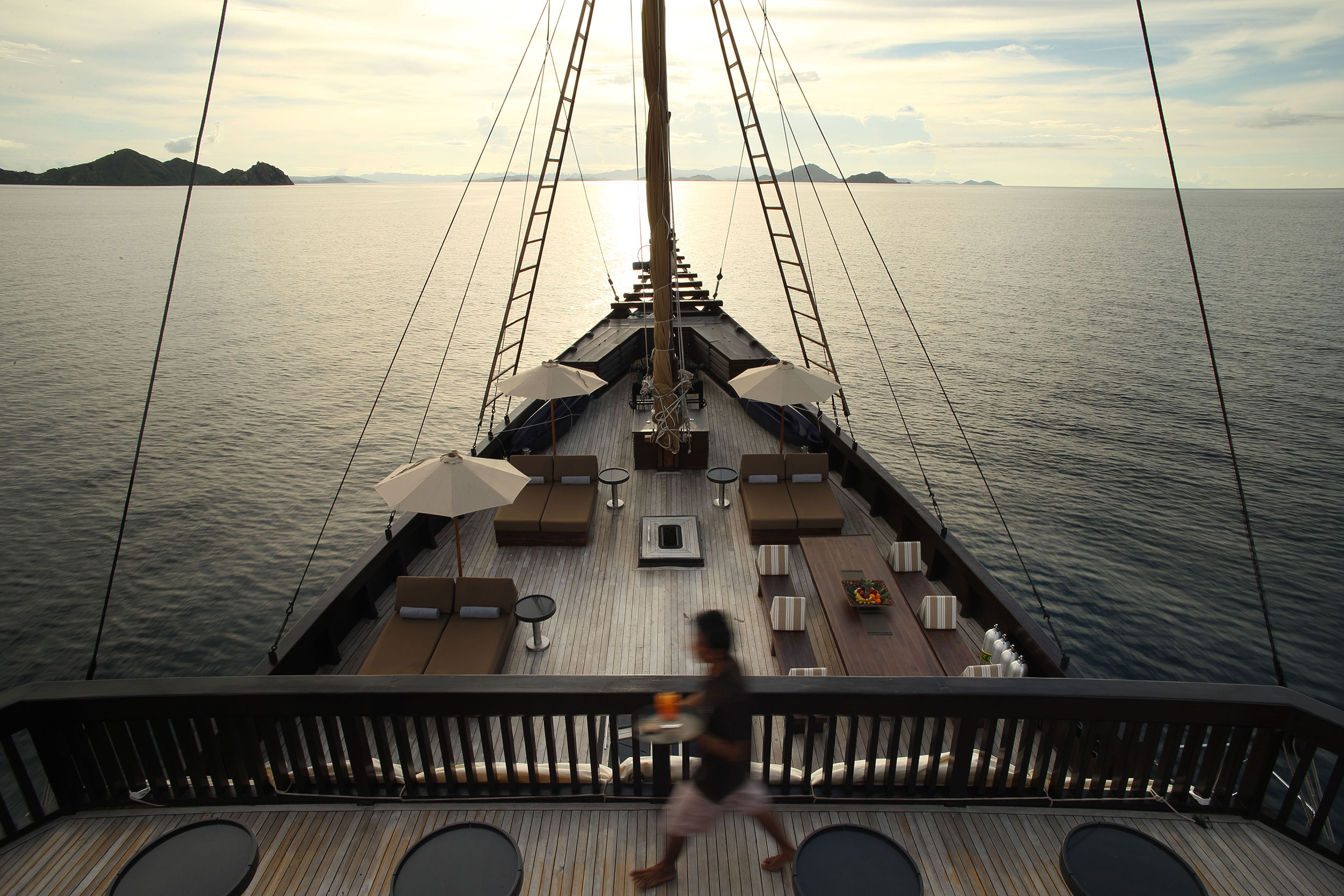 The Pacific and Indian Ocean currents which flow through this geographic bottleneck breathe life into kaleidoscopic coral gardens, which have proven resilient against the bleaching and coral disease encountered around the equator. This is a garden of extensive fringe reefs, meadows of sea grass, life-protecting mangroves and wave-pounding drop-offs, from which the upwelling of nutrients seed and nurture an abundance of life. To put things in perspective, the Caribbean is home to a total of 70 coral species. Raja Ampat has 450 and counting. This, combined with a blissful lack of human interaction, ensures it is home to the greatest marine diversity on the planet, resulting in some pretty sensational dive experiences.
Alila Purnama's general manager, a charismatic, world-wandering Spaniard named Mario, doubles as the ship's senior dive instructor. Along with his trusty sidekick, Zhou 'Tiger' Taige — a young Chinese dive instructor from Hangzhou — he leads challenging yet exhilarating twice-daily dive excursions (two of us also enjoy a night dive as part of our Advanced Open Water course). From Balbulol Lagoon — a series of shallow, sun-kissed pools nestled in a labyrinth of limestone islands — to the whipping currents that swirl around Nudie Rock, popular with schools of jackfish; and Yillet Island, loved for its dramatic wall dives, every dive site offers its own challenges and its own adventures. This is not the Maldives or Australia's Great Barrier Reef, but an unruly frontier churned by powerful currents and teeming with so much life that the water can often appear murky.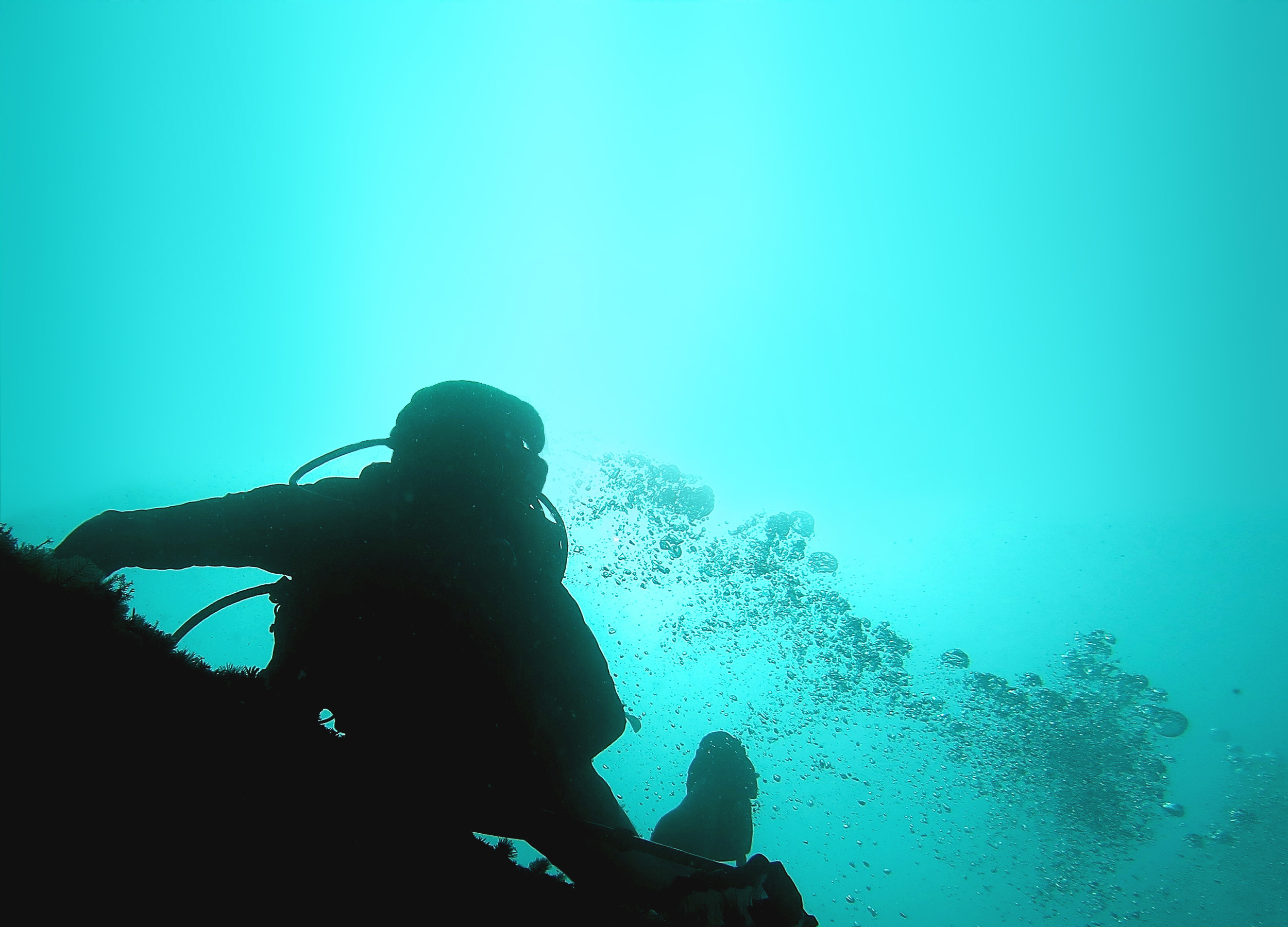 I'm joined on the Purnama by four other guests: Sayan and Tina, a young couple from Bali who still have that honeymoon vibe seven months in, and acclaimed Spanish painter Miquel Barceló and his Thai wife Rose, a notable chef. It's the perfect balance: we have disparity in age, cultures and backgrounds, but are drawn together by a love of exploration and by the wonder of Raja Ampat. Although Rose and Tina are new to diving and spend much of their time in the tutelage of the ever-smiling, ever-tyrannical Taige (promptly nicknamed 'Tiger Shark' by me and Sayan), they are soon diving with the rest of the group, tracking the samba sways of reef sharks, lingering over forests of tree coral in key lime, lavender and peach melba; and learning to adjust their buoyancy in the sometimes formidable tidal currents.
At the Boo Windows, we trace a wall punctuated with vibrant soft corals and nudibranchs to a series of submerged 'windows' in the limestone base of the tiny island. Here, we hook on to rocky outcrops and join inquisitive plate-sized batfish and the odd camouflaged wobbegong shark as we soar in the wake of the following current. Off the coast of Tomolol Island, we dive deep to enter Eddie's Cave, and emerge again in a vast coral garden popular with shoals of glass and lion fish. I don't know who Eddie was, but I'm sure he couldn't have been prouder.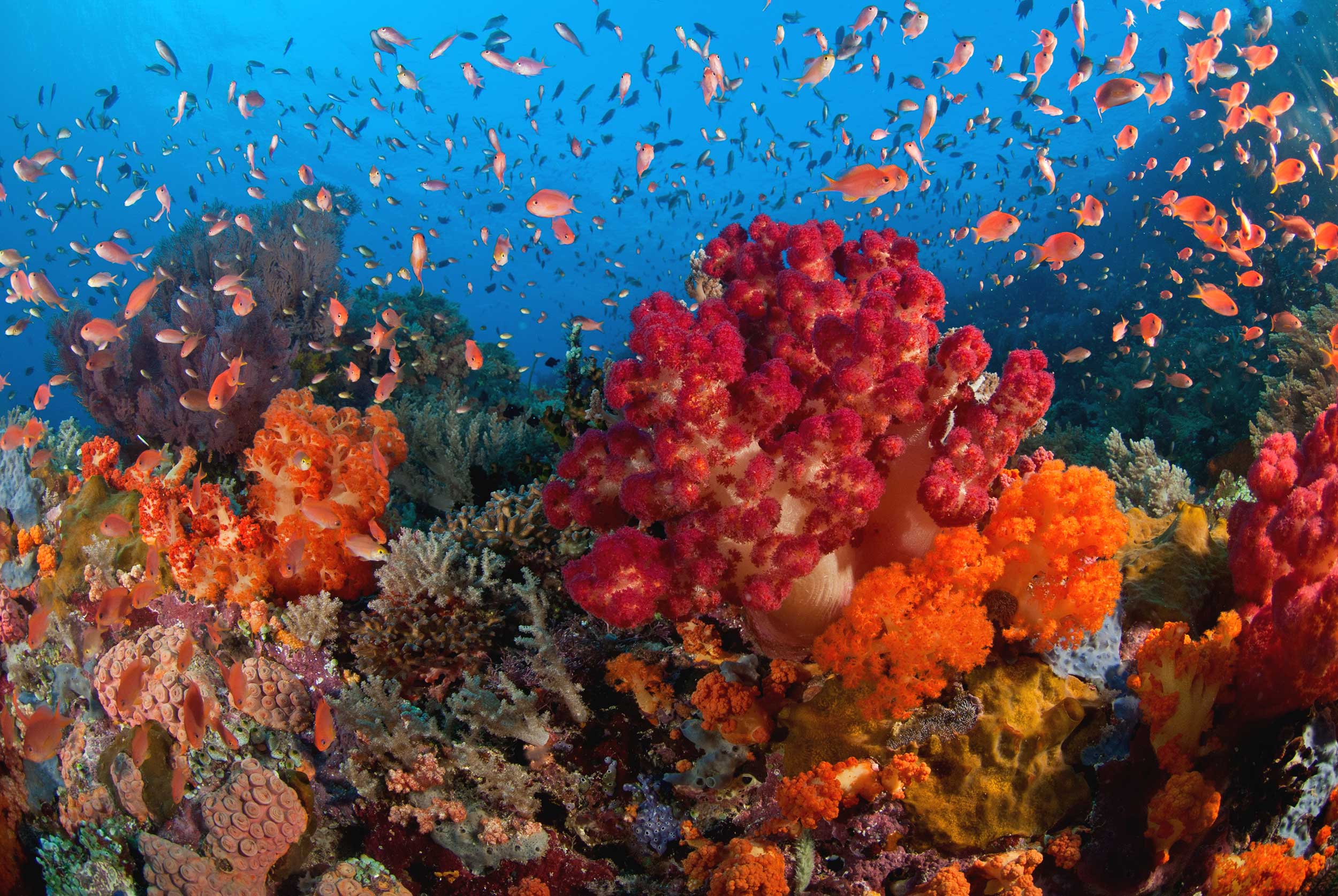 However, it's not all about diving. Many afternoons we make for a desert beach — there are literally hundreds to choose from — and the ship's company sets up camp, complete with chilled towels, snorkeling gear and umbrellas. At one deserted cove, I stumble across a ranger's camp, interrupting an early dinner. Three young Indonesian rangers live here for three weeks at a time, patrolling at night in search  of illegal fishing boats. On another, we pass through pearl farms protected by the Indonesian navy en route to the cavernous Tomolol Cave on the island of Misool, a sacred place for both the island's Muslim and animist communities. We wade into the dark recesses of the cave, donning head lamps before diving through a submerged tunnel into another cave, that in turn opens onto a lush hidden garden, framed by stalactites the colour of alabaster. Afterwards, we chase the sun home, the nimble tender skimming across the mirror-like waters of a tidal estuary as the final rays of light crown the island's distant peaks.
Each day we return to the ship and a smiling crew who dish out fruit cocktails and warm towels, relieving us of our gear like beaming butlers. Evenings climax with gourmet dinners with distinct regional twists, often using seafood brought by passing local fishermen. Rose even commandeers the kitchen one night to cook up an authentic Thai feast. The ship has a tiny library and shaded sun loungers on the foredeck, perfect for naps between dives, and there's always time for cocktails and toasts to herald each arriving sunset.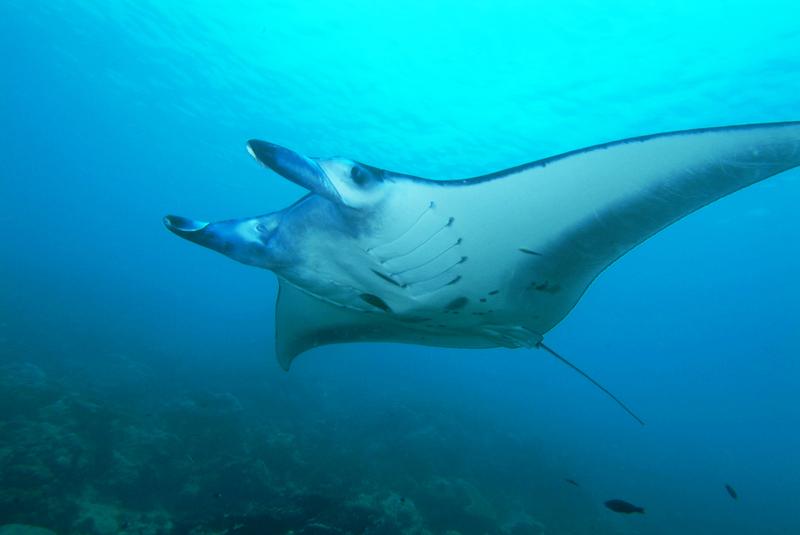 After a week cruising and diving in Raja Ampat, we're transfixed, but Mario saves the best till last. The sun is already scorching by the time we leave the Alila Purnama, bound for a dive site called Manta Sandy. Here, at 15 metres below, we hook on to dead coral outcrops while fighting the turbulence of a strong current, and watch graceful manta rays the size of Mini Coopers and their shark and turtle associates visit a 'cleaning station', where cleaner fish nip away at parasites and dead skin. With an effortless wiggle, the huge manta soars over us like a great bird of prey. We follow two smaller mantas — this time equipped only with snorkels — as they swim just below the surface, their movements infinitely graceful.
Finally, Mario's pièce de résistance is destination dining at its best. We are ferried across a darkened bay towards a beacon of light that turns out to be a deserted beach clearing, where burning torches ring a dining table decorated with fresh flowers. Under a startling canopy of stars, my new friends and I marvel at the captivating beauty of Raja Ampat, thank the various gods for its isolation, and raise a toast to the mesmerising underwater paradise of the four mythical kings who once ruled this tiny, enticing corner of the globe. Long may they reign.