On the Trail: Central and Southern Oregon
Here at Destinations Magazine, we're conscious that places aren't experienced in isolation: it's about the journey, too. In the third of a four-part series exploring the state of Oregon, we delve into the natural wonders, epicurean delights, and craft beer scene in Eugene, Grants Pass and Bend.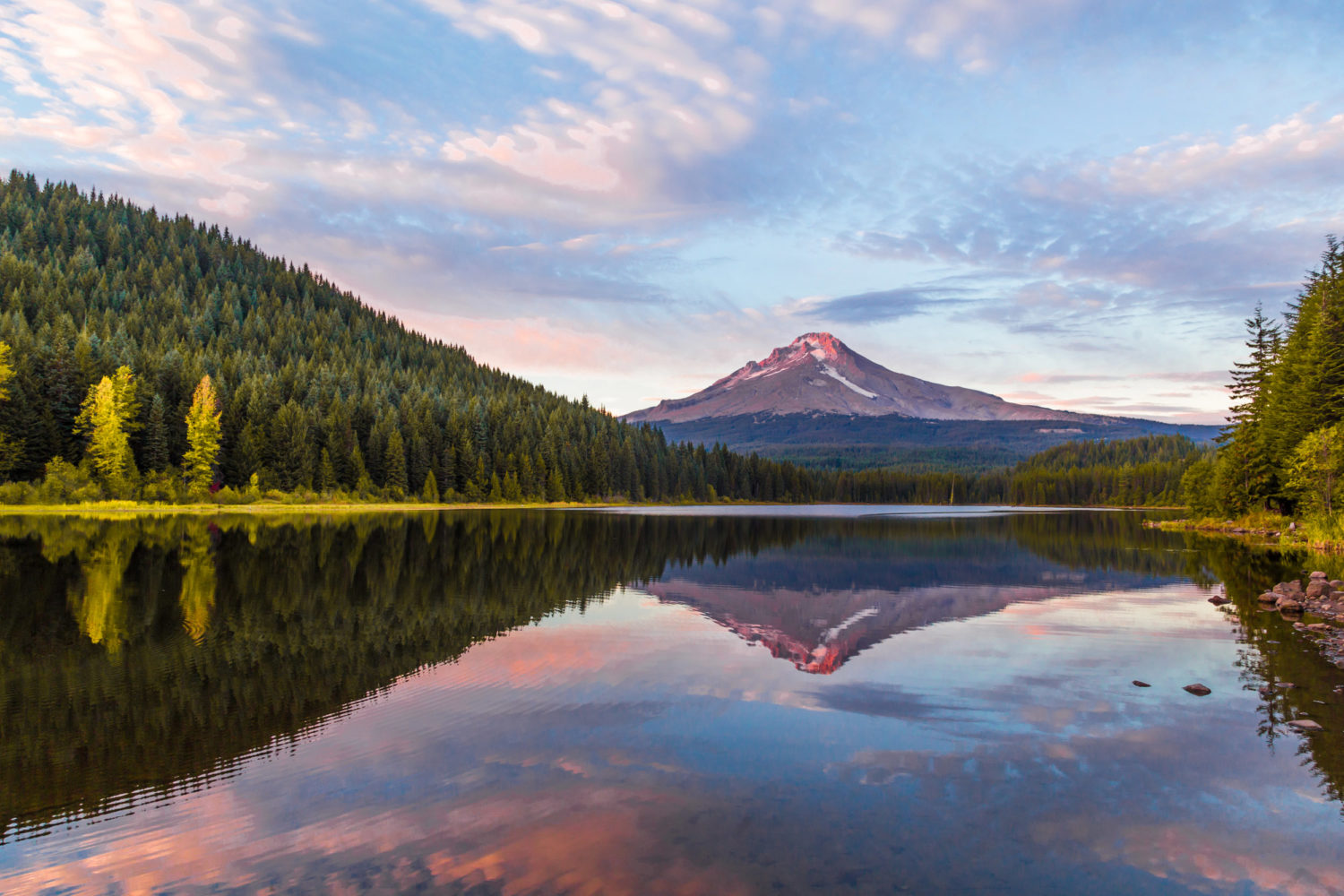 Train lines appear and disappear along the road and we forge deeper into the forest, trees becoming taller. Before long, we're pulling up at Ninkasi Brewing in Eugene. Named for the goddess of brewing, Ninkasi has grown exponentially since its establishment in 2006, from 1000 barrels per year to 100,000, including big batches and more obscure releases. This is an ideal environment for brewing, with Eugene's water supply — flowing directly from the Cascade mountain range — requiring no filtering. Flavour comes from this water, and of course, the hops, hand-selected from the Willamette Valley for each brew. Originating just a couple of hours away, the hops are fresh as can be, used shortly after harvest.
On the sunny tasting room patio, our group washes down quesadillas and tacos from a nearby food truck with a beer flight escalating in hop bitterness, comparing notes and nominating favourites as we go. Ginger & Juice is a farmhouse-style saison that is fruity and slightly peppery, while Helles Belles is a lager in the Munich style: light, sweet and malty. Dawn of the Red is a perfect balance of tropicality and bitterness; and the Hop Cooler and Total Domination provide different takes on the increasingly popular IPA. Some of those fresh hops are available to drop into the glass for an aroma infusion. Ninkasi's mission is to 'perpetuate better living', which it's done by creating a culture around beer. Ninkasi imagines its customers out enjoying the Oregon environment — hiking, skiing, swimming — then getting together afterwards for a refreshing brew. Sounds like the life to me.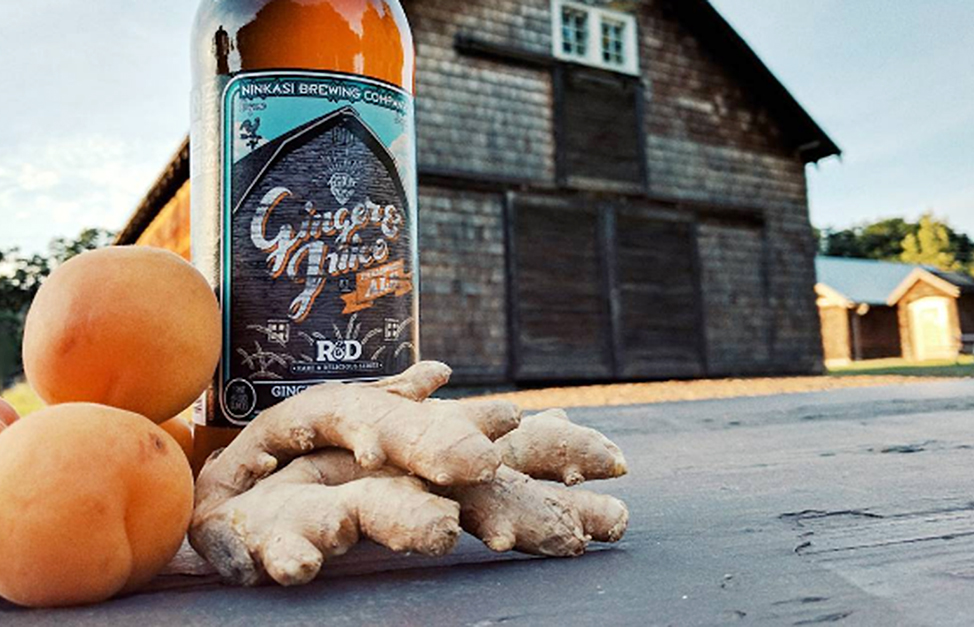 Turning south, trees and mountains dwarf even the occasional multi-storey building. Arriving at Grants Pass, we're ready for more beer, this time at the niche Climate City Brewing. At the other end of the scale from Ninkasi, Climate City produces a couple of hundred barrels per year, and is just breaking into local and regional distribution. Acacia Cooper, a rare female brewmaster, talks us through her process as we taste some of her creations: one deliciously sour and salty, another an aromatic blonde. It's interesting to hear a first-person account, emphasising the personal, creative, and experimental aspects of the brewing process.
We stop for dinner at Taprock Northwest Grill, modelled after an artsy vacation lodge. Large bear sculptures greet us, and we step over a salmon-filled river inlaid into the sidewalk before walking through a large, heavy, bronze-sculpted door. We enjoy the view of the Rogue River before settling in to moreish Tillamook cheese triangles, deep fried with marinara sauce; salad with blue cheese, candied hazelnuts (another Oregon speciality), and Dijon vinaigrette; and cedar-grilled salmon with lemon, asparagus and baked potato. Pointing this direction and that, our server explains the origins of the wines on offer, paired perfectly with each course. There's a Kriselle sauvignon, Roxy Ann pinot gris, and Quady North syrah, all originating in Medford, about half an hour east; and a pinot from Deer Creek, the same distance in the opposite direction.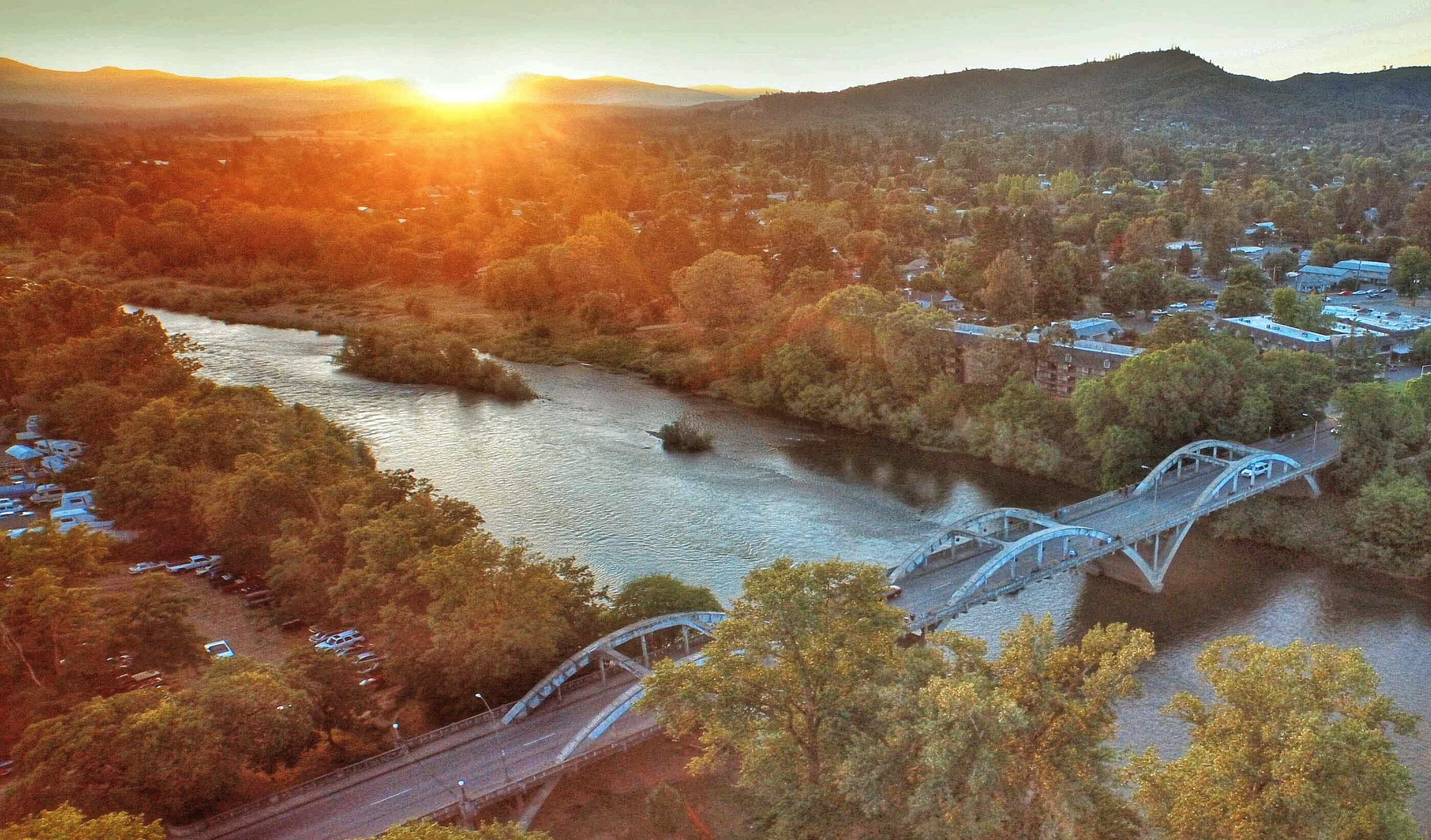 Our home for the night is the iconic Weasku Inn. A riverside fishing lodge, its character is palpable from the moment the neon sign — a fish jumping from the water — emerges out of the darkness. It's a place steeped in history: Clark Gable mourned his wife here, and Walt Disney was a regular, along with several presidents. The staff recall one old man who walked in and began weeping at the memory of seeing a young Shirley Temple bounding down the stairs. We sit outside around the fire pit, drinking local Troon rosé, toasting marshmallows for s'mores, and snacking on soft, fresh chocolate chip cookies.
My room, within a log cabin, combines contemporary and traditional touches: large wooden ceiling beams are illuminated by spotlights; a comfortable sofa faces a huge gas fireplace bordered by large stones; a flat screen TV sits atop a heavy wooden dresser. Paintings border on kitsch but are ideally suited to the space, as is the duck figurine resting on the mantle. I crash into the super comfy bed, loaded with pillows, soft sheets, heavy blankets and a quilt. I wake to the sound of the river.
The plains open up as we turn off at the quaint town of Gold Hill. Cattle graze on fields of multiple shades of straw and green, and a red barn sits, door askew. The cone of Mt McLaughlin rises in the distance, behind the layered silhouettes of lower ranges. We return to the path of the Rogue River, following it through to Cascade Gorge. A school bus pulls over, kids on a field trip to the river. The soil lining the highway takes on a red tinge, echoing the autumn colours of the occasional non-evergreen trees. Approaching Union Creek, the trees grow taller, the forest denser, and we turn off towards the Natural Bridge. In the carpark, a hippie sleeps in a car loaded with bongo drums and hula hoops, and older couples clip leashes to small dogs. We walk down a shady path in the brisk morning air, drawn towards the sound of rushing water. It boils up out of an underground river and speeds white and cold over the rocks.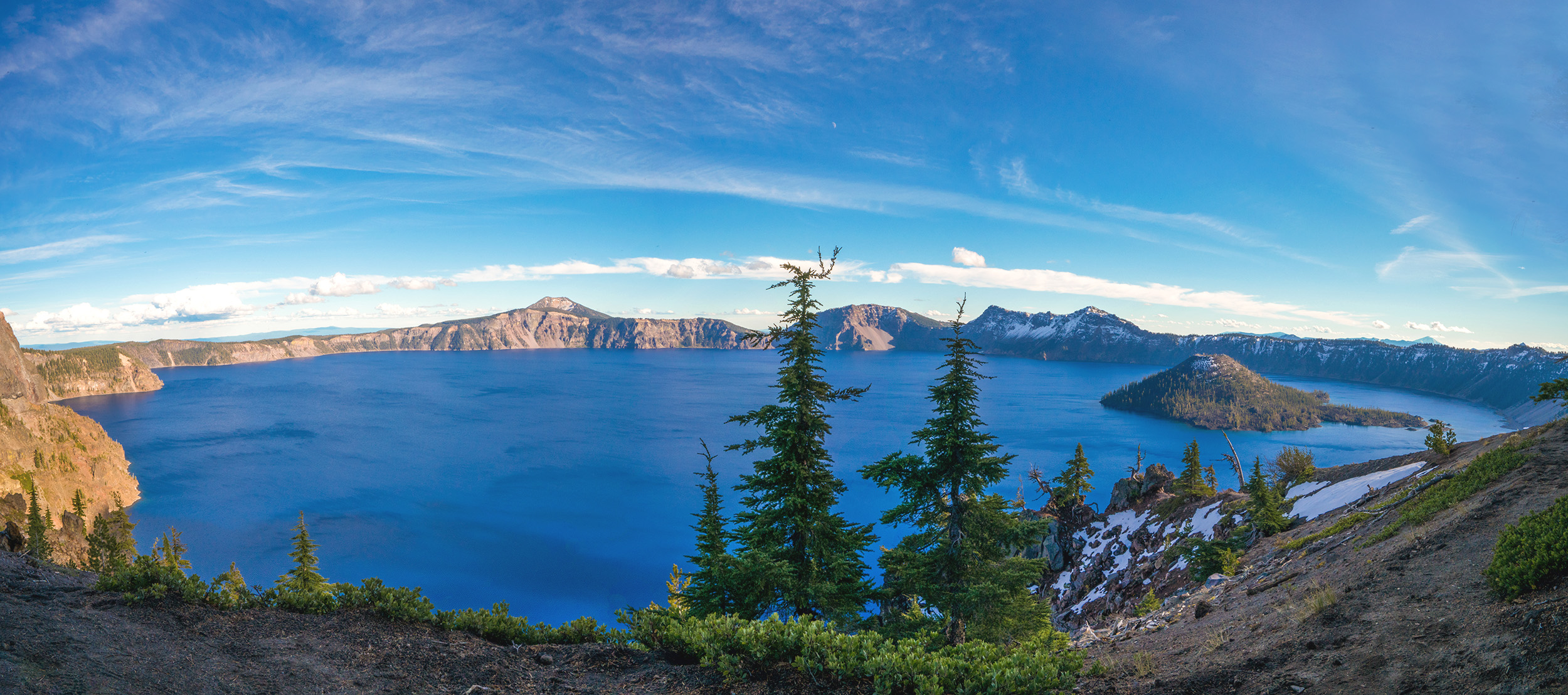 We pass through Union Creek, home to some cabin accommodation, a café famous for its pies, and an ice cream store. What more could one need? Though it does seem like a place I'd have to watch out for Yogi stealing said pie from a windowsill or picnic table. We officially enter Klamath County and Crater Lake National Park, which clings to the side of a mountain. Winding up towards the rim, we become level with the tips of the tallest trees. The view of the caldera lake is miraculous: its bright blue doesn't even look real, and I can barely wrap my head around its depth, the greatest in the States. However, the buildings are almost as much of an attraction as the outdoors: under soft lighting, we sit in leather chairs by the lodge's oversized stone fireplace for a picnic lunch and warming hot chocolates.
Departing, we circle around the west side of the crater, rising again above the treeline. Deep earth minerals released in the eruption that created the lake have oxidised to create rose and orange shades among the grey rock tumbling down the hillside. Exiting north, the ground is littered with pink alpine flowers and yellow-green grass, creating strange hues in the sunlight. Bare grey tree skeletons and charred black trunks mix with the green as we turn onto a long straight road, stretching to infinity.
Arriving in Bend, we stroll through tree-lined streets, past aspirational Craftsman cottages to the industrial estate and Let It Ride E-Bike Tours, the smell of roasting coffee in the air. After a quick tutorial on the basics of electric bikes, we're off. Our first stop, Boneyard Beer, has a tough vibe and takes its tasting menu seriously, offering only tasting glasses and 1.8-litre takeaway 'growlers' — no settling in for pints. We backtrack to the Deschutes River, where, we learn, locals anchor to listen in to concerts across the way, complete with floating kegs and BBQs. Regardless of whether there's a concert on, floating down the river is a major summertime activity, with three channels catering to adventurous floaters; whitewater kayakers, surfers and paddleboarders; and wildlife.
Zooming across the river, we stop in at Ten Barrel Brewing for a snack and another brew. Mac and cheese is given a southwestern twist — with chipotle cheese sauce, lime sour cream, tortilla strips, and fresh coriander — while steak and gorgonzola nachos are decadently loaded. Chicken wings are crispy, tender and spicy, served up with celery, and blue cheese or ranch dressing. A couple of snifters of spiced Big Ol Pumpkin beer, or a blueberry mint kombucha cocktail with sake puts out the fire.
Next morning, it's back to the river with Tumalo Creek Kayak & Canoe. Our guide walks us through loading ourselves into the vessels, and before long we're paddling upstream. It's hard work: my arms ache as we crawl past now-familiar landmarks, but I soon get into the rhythm. Ducks accompany us in the river, and pedestrians and cyclists watch from the banks. The sunlight is warm and the water refreshing. We turn around and glide casually back, finishing up just short of the rapids. Stopping by Sparrow Bakery to refuel, we sample their legendary ocean roll, constructed of croissant dough, cardamom, and vanilla. Paired with a cold brew coffee from Back Porch, it's simple and delicious.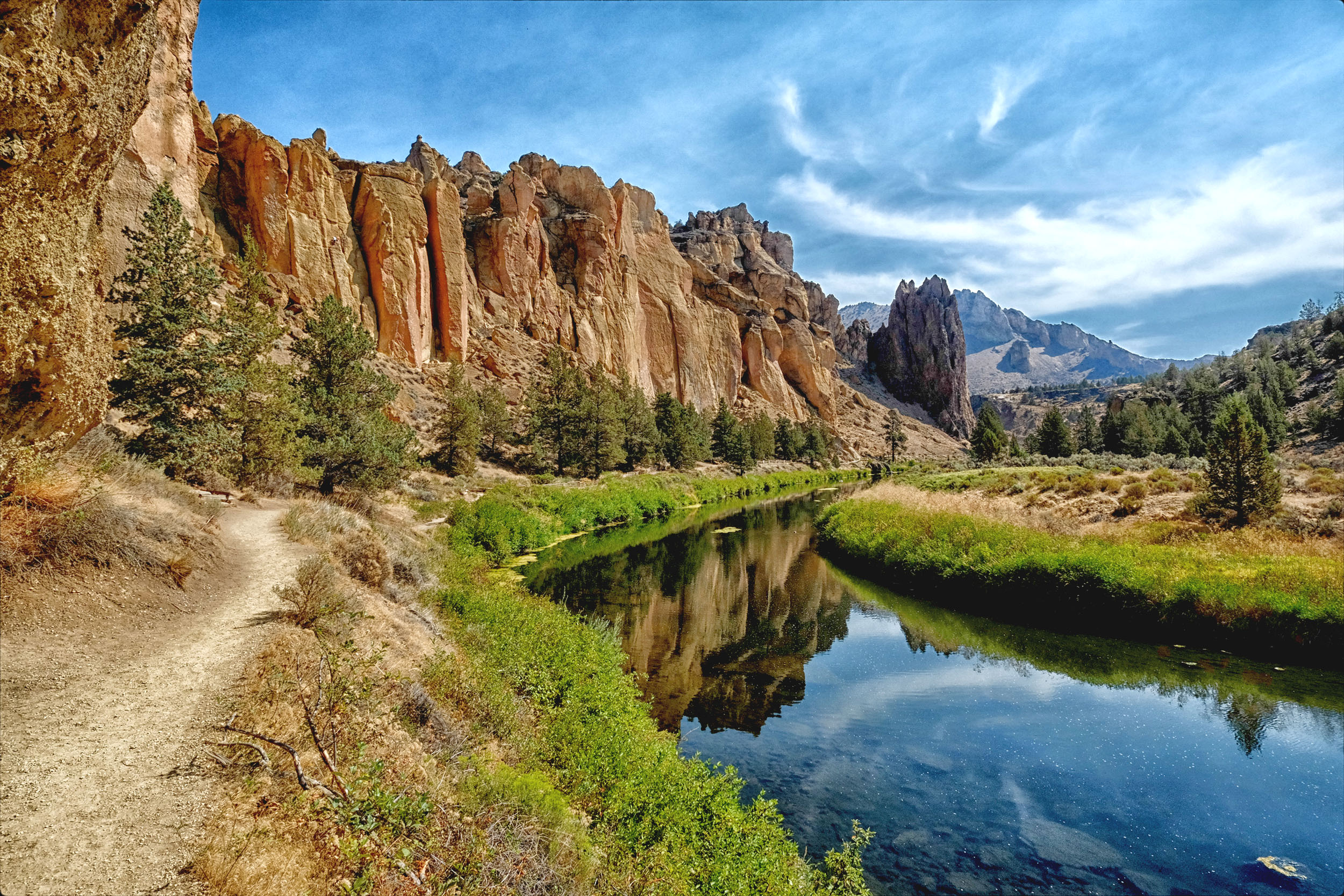 Baby alpacas elicit coos of delight as we turn off towards Terrebonne to pick up lunch from a café housed in the old train depot. The horseshoe game outside is played with real horseshoes: they clank into the metal pole as we throw near miss after near miss. Freight carriages sit dormant on train tracks mere steps away. As we approach Smith Rock, a US flag flutters in the wind, bales of hay are stacked up, and birds soar high over jagged red rock: I feel vicariously patriotic.
At Smith Rock, we find another view that's too scenic to exist outside of a landscape painting. Native grasses and wildflowers mix with evergreens against warm-coloured sheer rock faces. Rustic fences and dirt tracks zig zag up slopes, and a French bulldog is carried up the final stretch by his minder. We lunch at picnic tables looking out at this surreal vista: ahi tacos with seasoned fries, fresh slaw and avocado; pork belly with coriander, cashew and hoisin in lettuce wraps; and naturally, more kombucha.
The Oregonian intersection of spectacular landscape with top-quality local produce strikes again. One last look, and we set off for our final destination: Portland.
Dominique travelled to Oregon from Auckland via San Francisco courtesy of United Airlines.
---
Read the rest of the 'On The Trail' series exploring the state of Oregon:
On The Trail: McMinnville, Oregon
On The Trail: The Oregon Coast
On the Trail: Portland, Oregon