Tokyo: City Guide
Tokyo is a captivating city that will pick visitors up, whirl them round, and leave them starry-eyed and wondering how soon they can return. This city guide will be a helpful tool for first-time visitors looking for an overview of the delights Tokyo offers.
Nature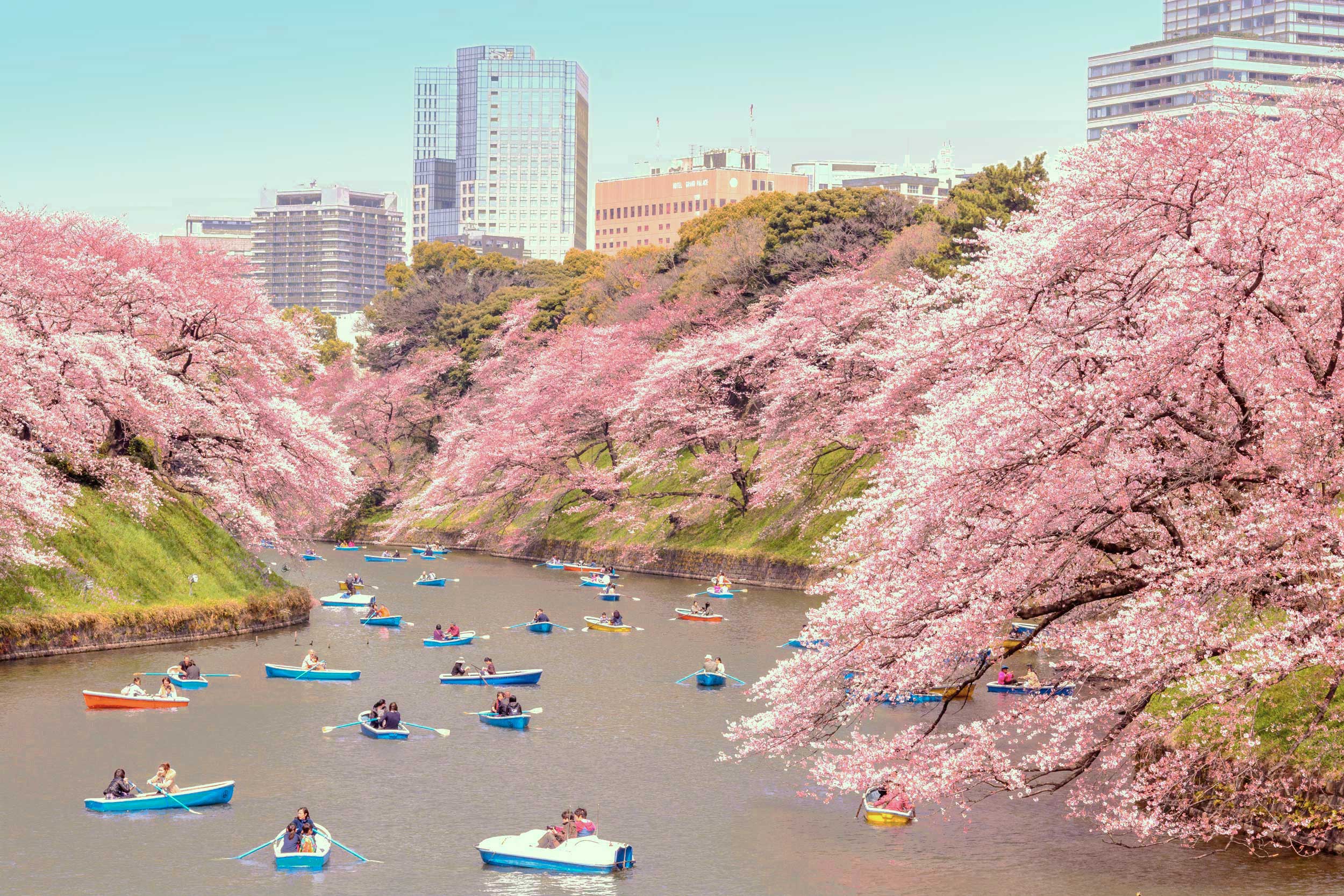 Tokyo may be one of the world's most populous and densely built-up cities but, with gardens and parks everywhere, it is easy to find a pleasant place to wander amongst nature.
Visit the Shinjuku Gyoen National Garden, with its distinct Japanese, French and English areas, set against an impressive city backdrop, or stroll through the tranquil grounds of the historical Imperial Palace. Don't expect an abundance of colour in winter months, but there will be plenty of solitude. The sakura cherry blossoms mesmerise when they're on show.
Entertainment
Every type of entertainment a traveller can dream of is on offer in Tokyo: Shinjuku heaves with restaurants, karaoke and whisky bars, many open 24 hours; Roppongi is the expat area known for its night spots; Ginza has shops galore; the street stores of Asakusa showcase souvenirs and local goods. The aptly named Rainbow Bridge leads to Odaiba, with its theme parks and attractions, including Legoland and the Palette Town ferris wheel, which is stunning when lit up at night. Tokyo Disneyland is a little further afield, but easily accessible.
Culture and Sport
Temples, shrines, palaces — Japan's tangible history is available to be marvelled at. A multitude of museums showcase the city's heritage, art, architecture, antiques, innovation and more. There is even a museum dedicated to toilets. Get along and watch sumo wrestling, night horse racing or rugby, or a live performance of Kabuki theatre, classical music or modern dance.
Taking place towards the end of February, the Tokyo Marathon is a big deal with locals and visitors lining the streets to support runners with chants and cheers. Once the wheelchair athletes, elite crew and serious lot have rolled by, the delightful costume brigade arrives. A mind-boggling array of outfits passes by: dragons, animals, fairies, food as well as characters ranging from Minnie Mouse to Batman. Many wear wacky hats and others morph into their favourite pop icon or celebrity. It's a mission enough to run a marathon in lycra, let alone doing it dressed as an aubergine, coffee cup, beer can or Michael Jackson — great fun to watch.
The Unusual
Harajuku is the destination for those who enjoy the quirky and curious. The delightful Tokyo youth culture is embedded in Takeshita Street, where bizarre fashion and good-hearted camaraderie collide. Giggles pervade the air and it all makes for an exceptional people-watching experience. Crêpe shops line the street and one cannot help but be tempted by their enticing sugary pink facades and sweet, fruity creamy treats — be sure to try one. A great way to dust off the residue of last night's whisky.
The Japanese love fashion and take pride in their appearance, whether it's being immaculately groomed top to toe, or flaunting more outlandish attire with over-the-top makeup and extravagant accessories. Either way, they know how to attract attention. Shoe designs and heel heights that defy belief and sensibility are common on every street, with head-turning trends seen everywhere.
Souvenir, antique, flea and farmers' markets can be found all over the city. The renowned tuna auction at the Tsukiji fish market is the place to be at crack of dawn — being there very early (3am) to register is imperative. Tourists are welcome to wander the market stalls and enjoy wonderfully fresh sashimi from the huddle of restaurants near the market entrance.
Shopping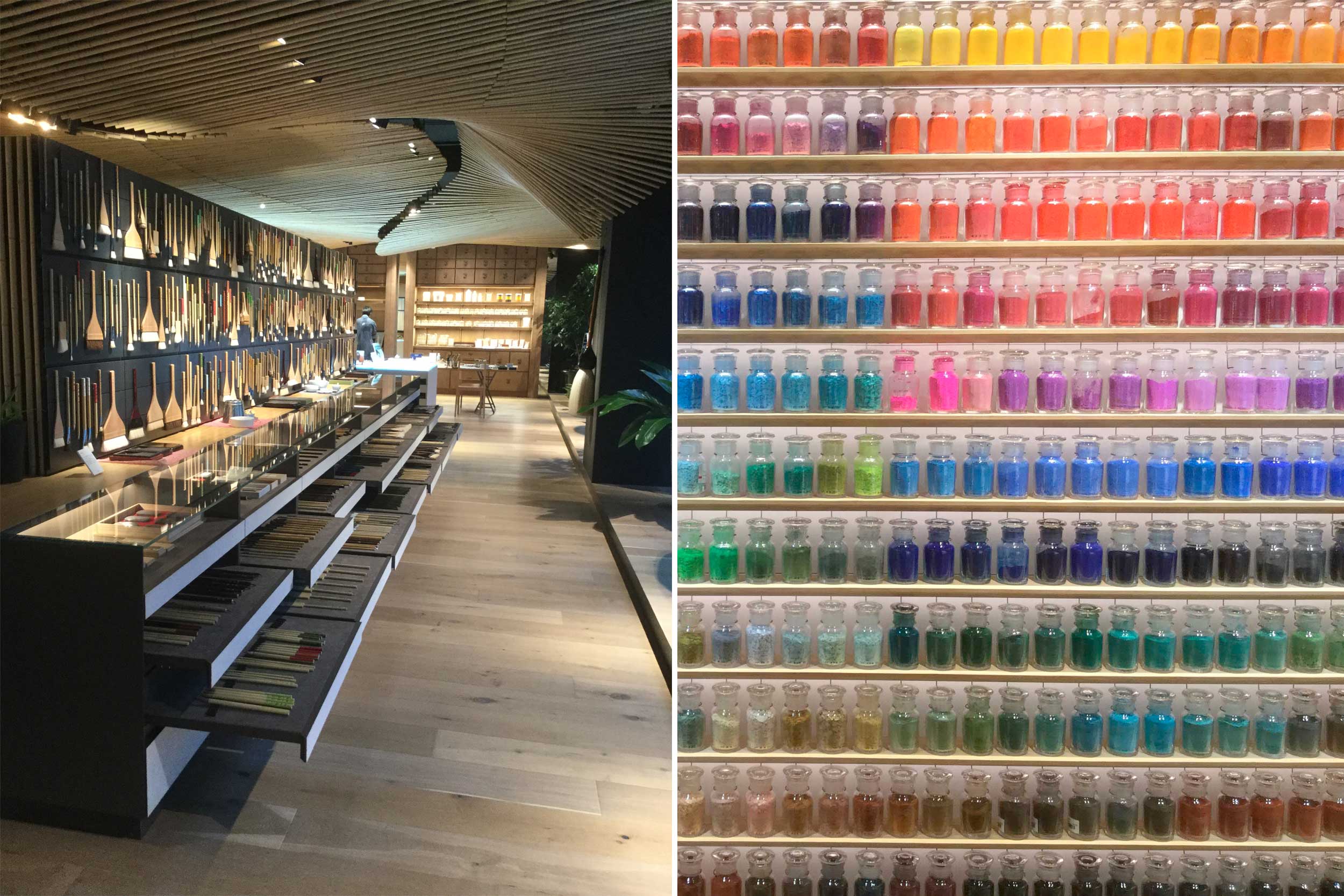 Tokyo presents an overwhelming choice of shopping areas. It is hard to escape retail, but window shopping can be a most pleasurable experience for those on a budget as the Japanese are masters in the art of window dressing.
For creative visitors, a trip to Pigment in Shinagawa is a breathtaking experience. In a peaceful part of town, surrounded by canals, sits this sleek and beautiful place; an amalgamation of art shop, workshop and museum. The building is modern with an eye-catching interior of wood, glass and undulating bamboo slats. One wall holds a huge array of vials containing vibrantly coloured pigments that captivate the senses. Another wall is cleverly patterned with brushes of all shapes and sizes, an aesthetic and practical way to show off the huge range for sale.
As well as selling pigments, rare ink sticks, animal glues, special papers and other materials used in traditional Japanese art, there is a large workspace where visitors can try out materials and learn techniques from the staff. Like wandering through a fascinating laboratory, even those who don't consider themselves 'arty' are sure to be impressed by making a visit to this stunning shop. Closed Mondays and Thursdays.
Getting Around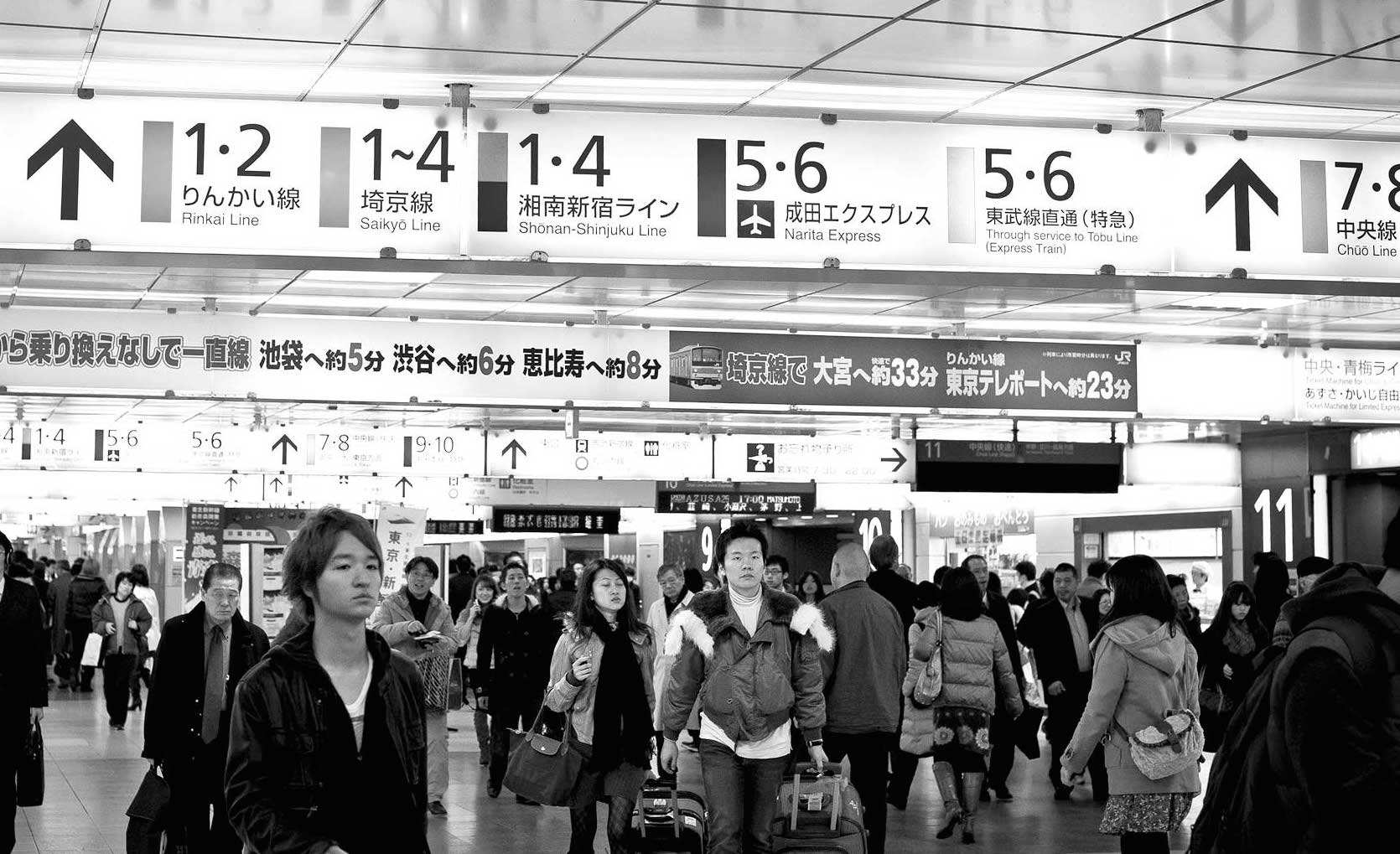 Getting out and about around Tokyo is surprisingly easy thanks to its enviable and highly efficient mass-transit system. However, navigating the larger stations is no simple exercise, even with the comprehensive maps and signage on offer. Shinjuku Station is the busiest in the world, with dozens of platforms, over 200 exits and endless underground passageways that link to other stations without having to step outside. Several million people use this station every day. Being one of them is quite something.
Noting your entrance/exit number is important but, even so, getting lost is highly likely at some point. There are plenty of underground shops to tempt and amuse visitors looking for a way out amidst the hustle and bustle.
Purchase a SUICA card: this prepaid smart card gives access to the full transport network, not just in Tokyo, but throughout Japan, making travel very simple. Touch on and off, top up as needed — 3000 Japanese yen will be enough for four to five days travelling all over Tokyo.
The trains are excellent, and there are also buses, a network of water buses and plenty of taxis that are not too expensive. The Yamanote line is great as it loops the city and many of the stops en route lead directly to some of Tokyo's sightseeing highlights. Be aware that there is no 24-hour public transport service. Trains and buses will leave on time; this city operates by the clock.
From the airports, Narita and Haneda, the city can be accessed by train(s) although the Limousine Bus is a cost-effective and very efficient option that leaves regularly and takes visitors to major hubs around the city.
Who This is For
Tokyo is for travellers who love the big city experience; those who enjoy immersing themselves in heritage, culture or nature; those who thrive on shopping; those who get a kick out of the quirky and unusual.
When to Go
There isn't a bad time to visit, as the city offers so much to do regardless of what the weather is doing.
January and February may be the colder months of winter, but are usually sunny and dry and can be unseasonably warm, as was the case in 2017. It'll be less crowded at this time of year, but no less charming. It rarely snows in the city, but there are ski resorts in the vicinity. The first signs of spring sneak along in March, when cherry blossoms burst into life, and May is likely to bring some of the finest weather of the year. Golden Week, a series of four national holidays held in late Spring, marks a busy time of celebration and generally sunny days.
Although it's the start of summer, June is when the rainy season begins, but the sun returns in August, which is normally the hottest month of the year. Typhoons can also whoosh through and it can be a more expensive time to visit. The rain can be a nuisance in September and October, and it will generally be hot and humid through these late summer months. The months of November and December bring cooler, dry weather and this is a great time to visit for those who like autumnal crispness and gardens full of colour.
Spring and Autumn are perhaps the most favourable in terms of weather and overall tourist numbers.
Where to Stay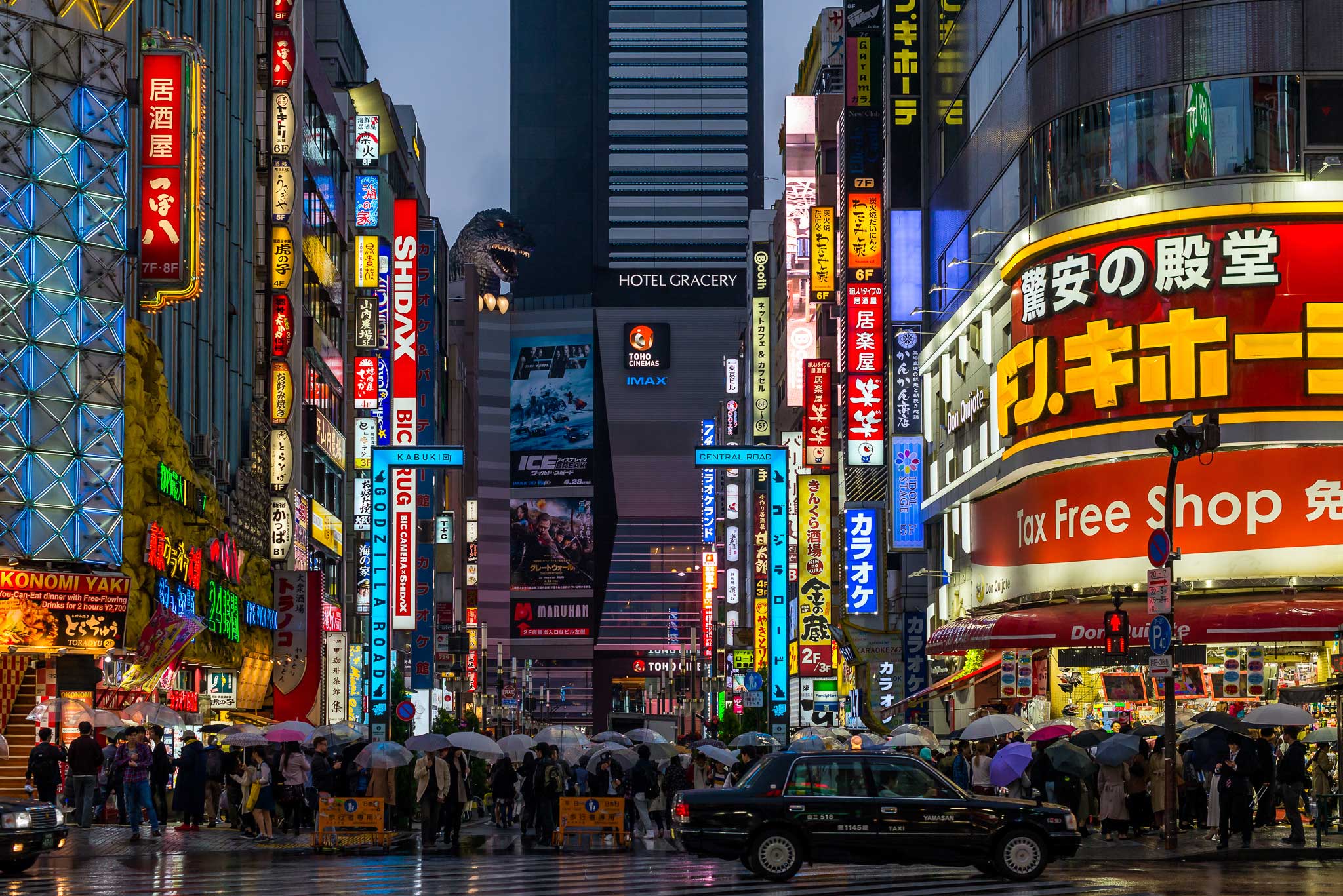 Hotel Gracery Shinjuku (opened in 2015) is an excellent choice for travellers seeking a well-run and comfortable accommodation option. It is ideally located with magnificent views across the city in all directions. The hotel is fresh and modern, streamlined in operation and clean in presentation, although the rooms are on the small side. Book a twin rather than a double if travelling as a couple, as it's worth the little bit extra to get more space, especially if travelling with a reasonable amount of luggage. The bathrooms have innovative and space-saving designs and function very well. The hotel offers separate smoking floors and even an entire 'ladies floor' where only women are permitted and the rooms have extra amenities especially for female guests.
The hotel building is easy to pinpoint on account of both its height and the large Godzilla head on the lower rooftop that draws plenty of stares. Being able to find one's hotel in this way can be a real advantage in the maze that is Shinjuku.
Overall, this is an affordable, accessible place to stay with ultra friendly staff and a good restaurant that caters for all tastes. There are many more eateries just outside the door, including a raft of Italian restaurants, which the locals love.
The Hotel Gracery brand caters very well for tourists and is part of the Fujita Kanko Group which runs a wide variety of hotels and brands around the whole of Japan. Hotel Gracery Ginza and Hotel Gracery Tamachi are other options in different parts of the city.
Staying at a traditional ryokan (inn) is another accommodation option that provides an authentic experience, with tatami mats, sliding doors and communal bath areas, although they are difficult to find in Tokyo these days.
ESSENTIAL INFORMATION
Most shops and hotels will take credit cards but many restaurants, bars and smaller shops and outlets will only accept cash.
Manners are an intrinsic part of Japanese culture – greetings are important, wearing shoes inside is rude, slurping noodles and soup is polite, tipping is a no-no, as is being late. Brush up on etiquette before travelling.
Until 1868 Tokyo was called Edo. Today, the people of Tokyo are still usually referred to as Edokko.
A Japanese translation app can by handy as few people speak English, although those who do will be keen to converse with you.
Taxi drivers rarely speak English so it's a good idea to have the destination written down in Japanese script for ease of communication.
Hygiene is a serious business; Japanese toilets are elaborate machines with state-of-the art gadgetry including warm seats, music and all manner of cleansing features. Public toilets are generally immaculate. Visitors may come across a traditional Japanese-style toilet, a ceramic pan in the ground, which means squatting.
Free public wifi networks are available at international airports, major railway stations, and selected food and convenience stores. 'Japan Connected-free Wi-Fi' is an app that enables easier access to the wifi networks.
Even with mobile access to travel information, physical maps are helpful.
Narita airport sticks to its core business of getting people on planes. Visitors shouldn't expect to find a raft of shops, eateries or bars to amuse them in departure areas.
USEFUL LINKS
http://fujita-kanko.com/properties/