Melbourne: City Guide
With its picturesque skyline and quick accessibility, Melbourne is a city that is easy to fall in love with. It's a place where old meets new in the best possible way. From the centre to the outskirts, it offers visitors a fabulous slice of just about everything.
Nature
Melbourne is known as Australia's Garden City because of the number of parks and quiet, green spaces to escape to. Birrarung Marr (which loosely translates to "river of mists") is Melbourne's newest major park. Located on the north bank of the Yarra River near Federation Square it incorporates various terraces where the public can wander at will. Events and festivals are hosted here, and the Upper Terrace gifts awesome views of the city. The Federation Bells, a beautiful installation of 39 upturned bronze bells on the Middle Terrace, is well worth a visit; they ring out three times a day (8:00am, 12:30pm and 5:00pm) with different compositions and are striking to look at as well as charming to listen to.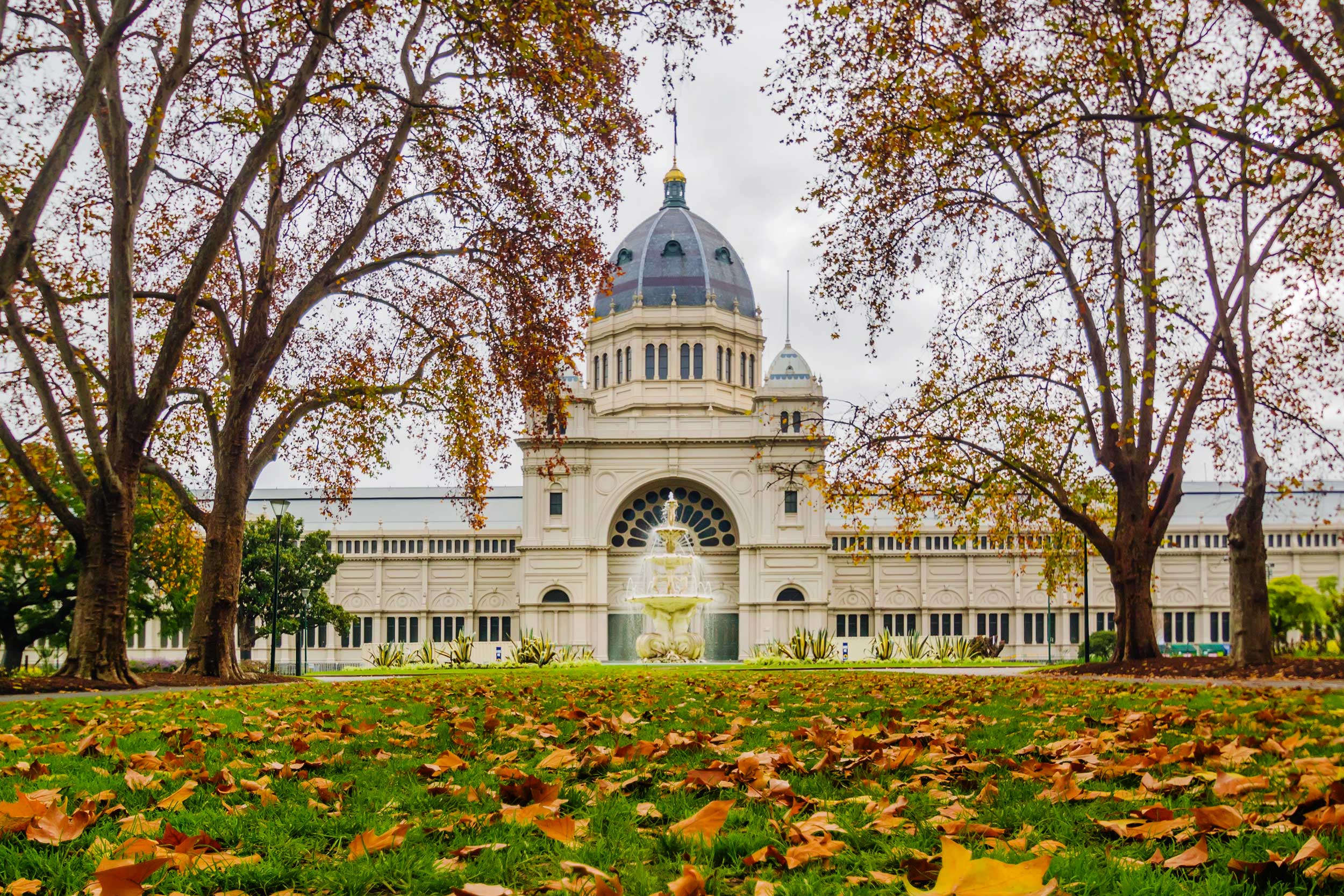 The Royal Botanic Gardens, south of the river, is part of the larger Domain Parklands and contains a huge collection of rare and beautiful plants, a children's garden, a tropical hothouse and herbarium. Take a guided walk or use the Garden Explorer, a great hop-on hop-off option which makes exploring the beautiful 38-hectare Victorian-style gardens easy.
Fitzroy Gardens is another Victorian-era garden with pathways, elm trees, flowers, shrubs and extensive lawns. There is a model Tudor village, sculptures and fountains, as well as Cooks Cottage (Australia's oldest building). A wonderful space for a leisurely and contemplative amble.
The World Heritage-listed Carlton Gardens includes the Royal Exhibition Building, the Melbourne Museum, and the old Moreton Bay Fig Tree, which served as an important meeting place, particularly during the 1920s to 1940s. There are ornamental lakes, elaborate fountains, mature trees and flowerbeds.
Beyond City Limits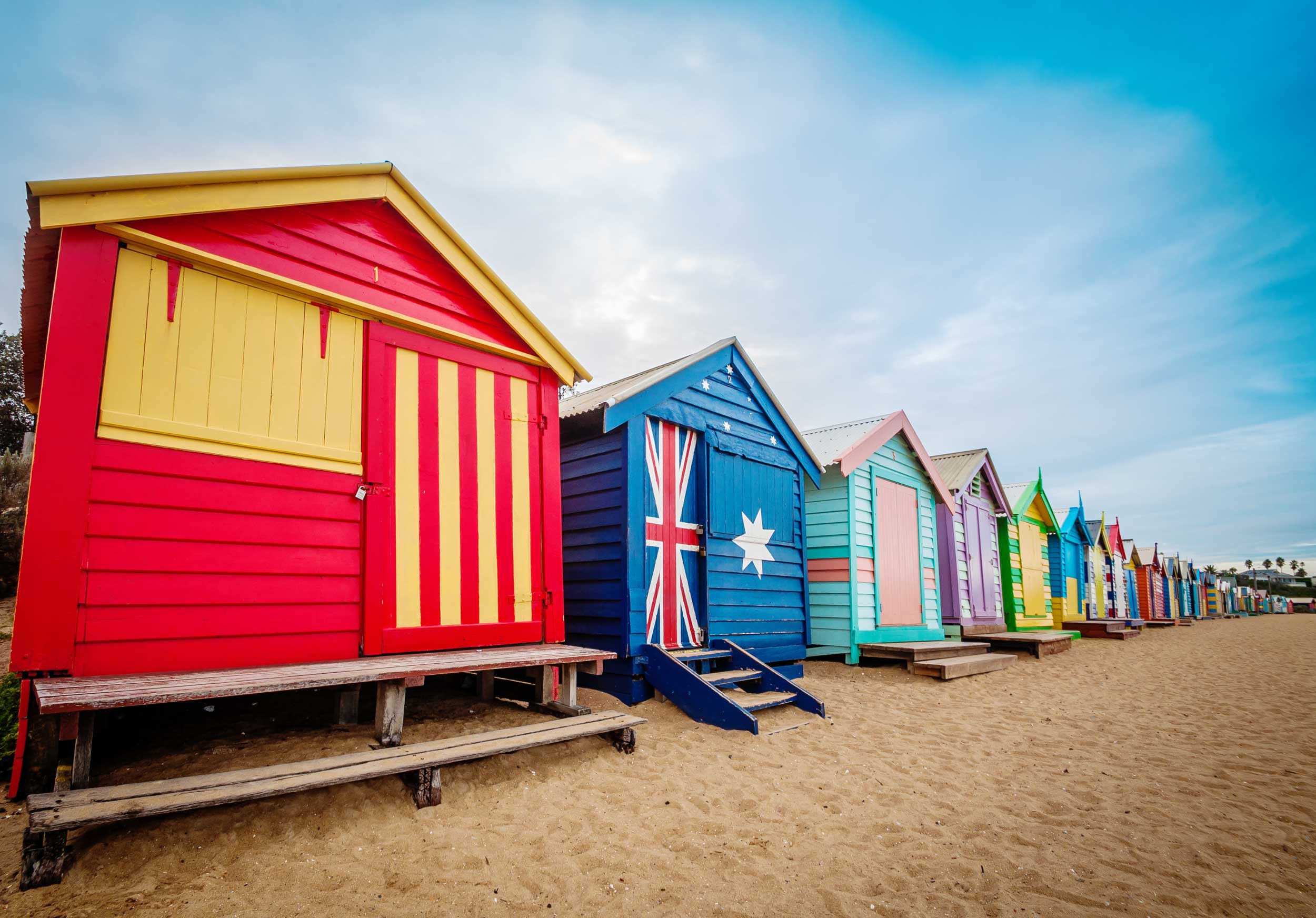 The coastline that embraces Port Phillip Bay stretches from the Bellarine Peninsula westward to the Mornington Peninsula east of the city. When en route to the Bellarine from Melbourne, stop awhile to enjoy the revitalised waterfront area in Geelong which features Jan Lennard's famous and quirky bollard sculptures. Along with grass, sand, sea and space to play, there's an enclosed swimming area complete with diving boards and pontoons. Look across to the You Yangs, a distinctive series of ridges rising above the Werribee Plain; it's an impressive sight.
Heading east from Melbourne, the road to the Mornington Peninsula mostly hugs the coast and is dotted with delightful townships. Plenty of colourful bathing boxes are scattered along the beaches; built at the end of the 19th century with modesty in mind, these days they are used as a base for happy beach-goers. Head past St Kilda (stop at the market on the Esplanade on Sundays or have fun at Luna Park en route), Brighton, Black Rock (home to Royal Melbourne Golf Club), Safety Beach and on to Rye. Enjoy lunch at The Baths a little further on in Sorrento; bewitching views, relaxed atmosphere and an excellent menu and service.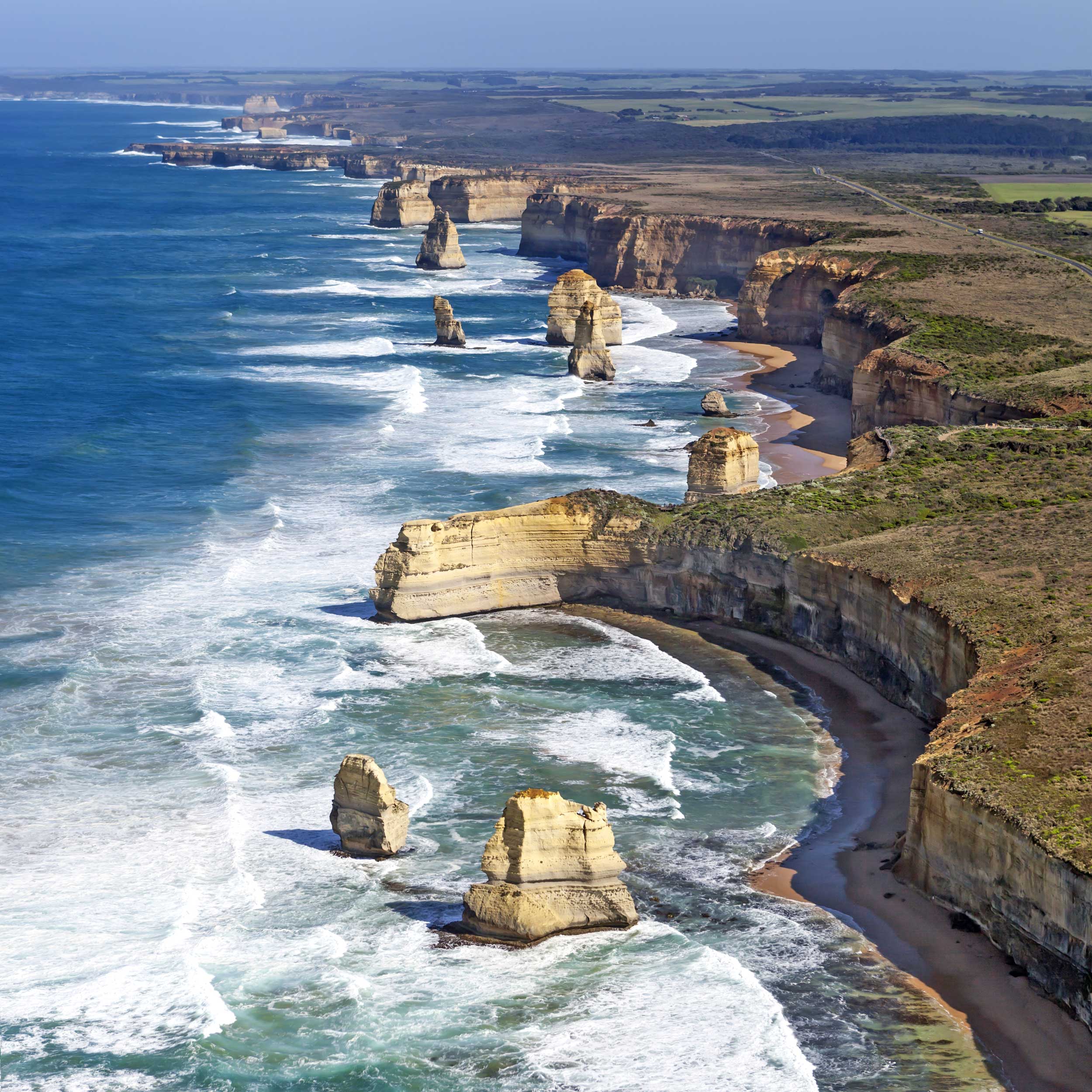 The Great Ocean Road runs along the southern coast to the west of the city. It's a whopping day trip but, with planning, it can be done. Bypass Torquay and head straight for Anglesea. Keen surfers will want to branch off to Bells Beach for a stunning birdseye view of pumping waves awash with surfers. Stop at Lorne for a coffee. Apollo Bay is a good place to break the journey for lunch. Splurging out for a helicopter ride with Apollo Bay Aviation is the perfect way to get an unparalleled view of the Twelve Apostles without the added drive towards Port Campbell and back. Saves time, if not dollars. Ideally, allow a few days for this trip; the charming townships, panoramic views, surging surf and delights of nature to be explored down the side roads are best taken slowly.
Eating And Drinking
There is a treasure trove of great eateries tucked away down Melbourne's famous laneways. Head to Lygon Street for Italian food (alas it's become a little commercial so choose carefully). Try the Greek Precinct if souvlaki and baklava beckon, or wander up and down Chinatown to check out which Asian flavours appeal most in the moment.
The iconic Young and Jackson Hotel, opposite Flinders Street Station is a must. There are various eating and drinking options within this beautifully restored building, as well as big screens for sports fans. Look up Chloe's Bar to share an ale and/or meal with the famous painting of its namesake.
The City Wine Shop in Spring Street stocks a huge array of top wines from Europe as well as the best from local producers. Select a bottle to take away or sit and enjoy it at the bar. Open for breakfast, lunch and dinner this wine bar is small and fine, and so is its "round the clock" food menu. The front is always lively, and in the back room join other diners at the long table for relaxed and friendly dining.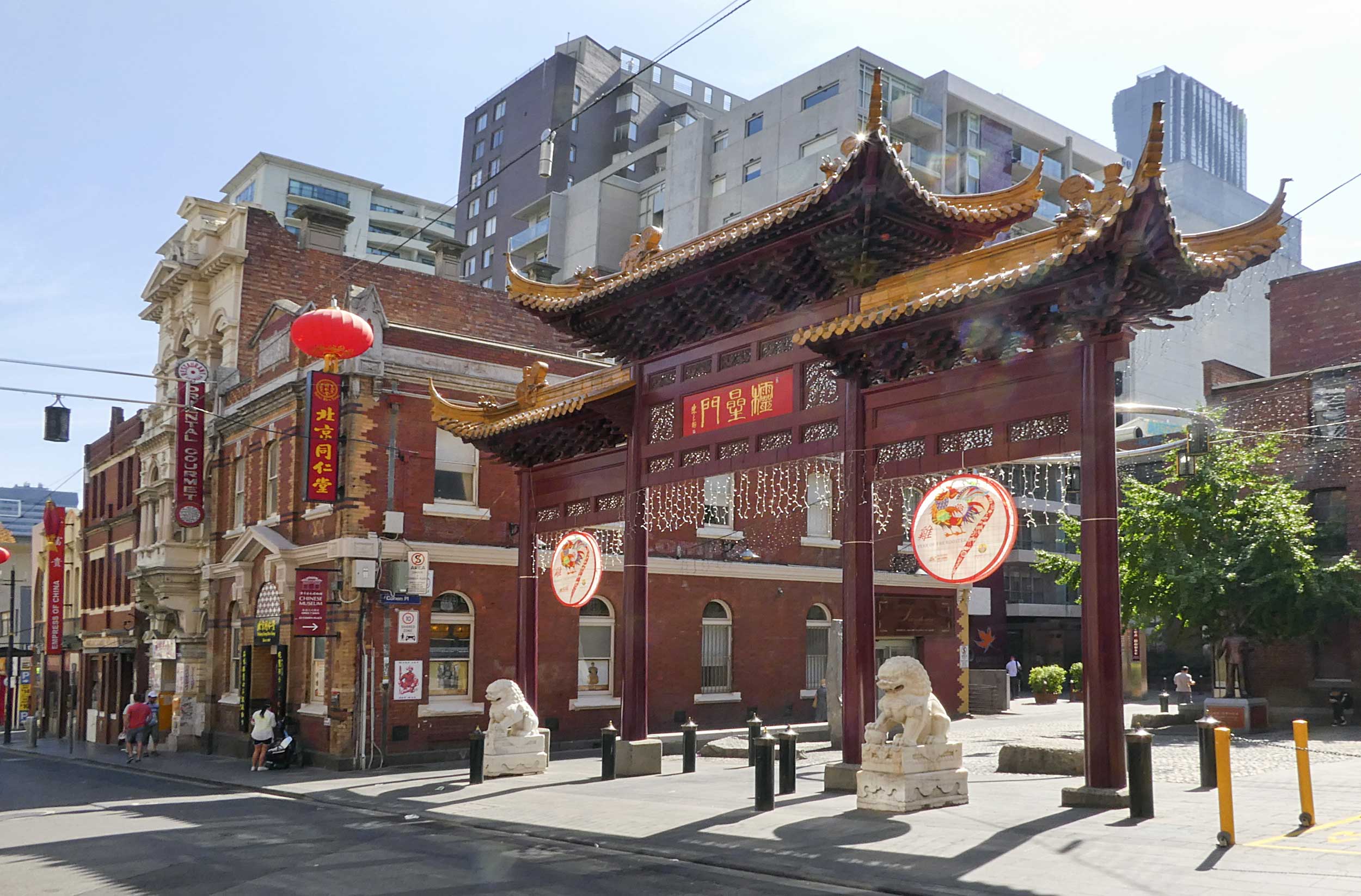 Rice Paper Scissors on Liverpool Street offers South East Asian flavours, hawker style. There's also a branch in Fitzroy. The menu, which reads like Asian fusion poetry, is designed for shared eating. They operate a wait-list for dinner service, no bookings.
Campari House in Hardware Lane is a diverse hospitality experience set over four floors. Eat Italian-style at the street level Dining Room; head upstairs to the charming Lounge Room for a specialty cocktail; or keep climbing all the way to the legendary Rooftop Bar. Fantastic city views make the trek up the stairs worthwhile. Heaters and a retractable roof mean the weather can do what it likes. A great bar menu to go with the happy relaxed buzz amidst the city skyline. There's Rooftop Trivia every Sunday from 3:00pm during the winter season with happy hour specials and prizes. Heaps of fun.
Shanghai Dumpling House in Little Bourke Street, is known for its delicious dumplings and offers a huge array of Chinese dishes. If there's a queue at the door (which there often is) order while waiting. The food comes fast, and guests are moved through swiftly. Great for hungry people in a hurry, and perfect for a quick bite before catching a show at Her Majesty's Theatre nearby.
Culture
Melbourne has long prided itself as Australia's culture capital. The National Gallery of Victoria (NGV) offers two separate Galleries: the NGV International, located in the Melbourne Arts Precinct; and the Ian Potter Centre NGV Australia, located at Federation Square. The former showcases an impressive permanent international art collection as well as hosting temporary world-class exhibitions. The latter houses the gallery's Australian art collection.
ACMI (Australian Centre for Moving Image) in Federation Square is dedicated to film, television, video games, digital culture and art. It's the first centre of its kind in the world, bringing the realm of the moving image to life through workshops, screenings, special exhibitions and live events. Open daily from 10:00am.
Her Majesty's Theatre was built in 1886 and then restored and refitted in 2000 — it's a sumptuous place to see a top-notch show.
The Melbourne Recital Centre opened in 2009 in the Arts Precinct showcasing a variety of musical genres from classical to jazz, cabaret to rock.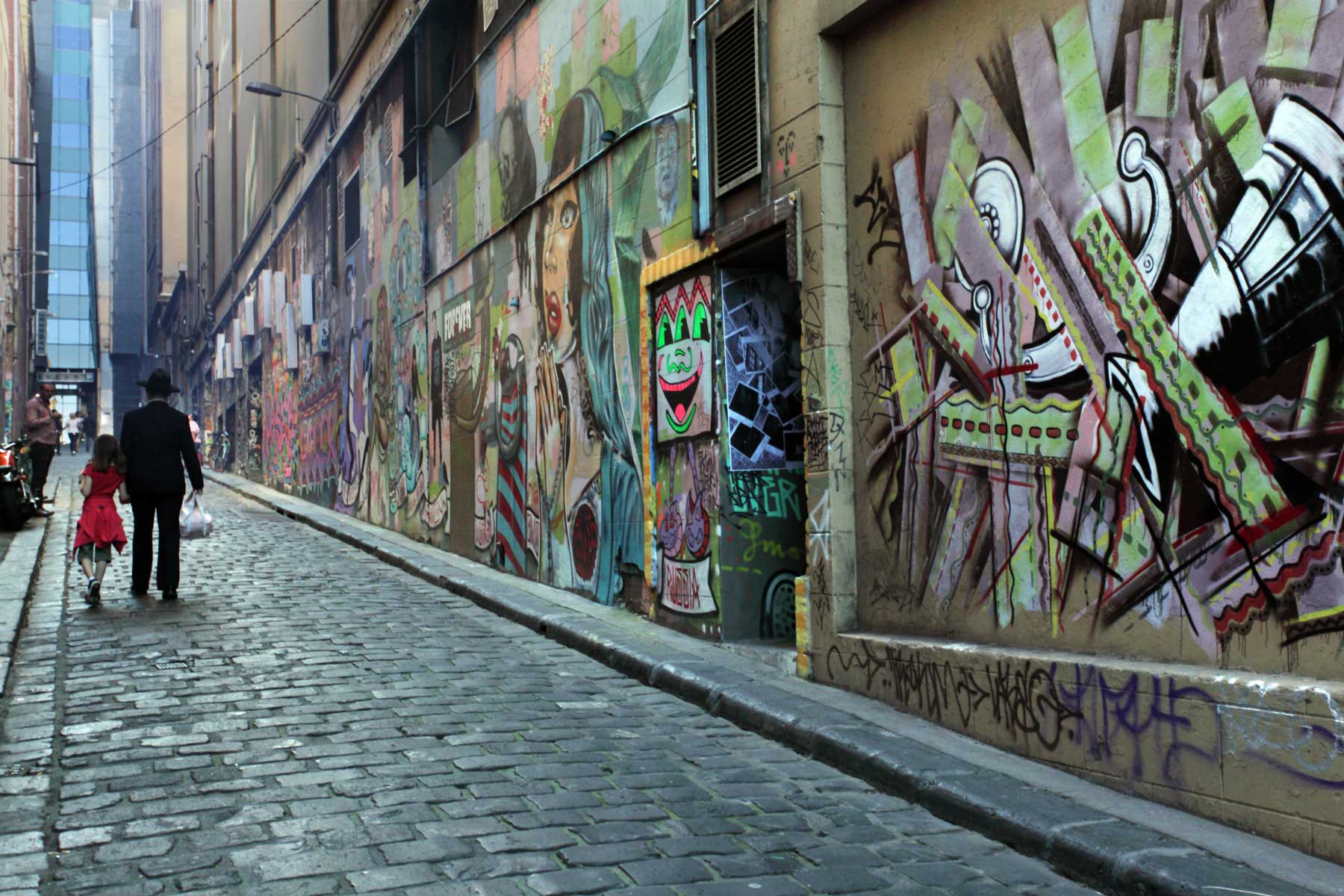 Melbourne is known for its Laneways that sprawl throughout the city. Hosier Lane is the most renowned, but each laneway offers something different. Meander and marvel at the street art, the architectural aspects, hidden doorways, secret passages, rundown facades and ramshackle staircases. There's graffiti and scrawl as well as incredibly clever and skilled artwork. Rejuvenation and dilapidation go hand in hand. Look up, look down, look all around for a riot of colour, originality and messages of all description.
Pop into St Paul's Anglican Cathedral on the corner of Swanston Street and Flinders Street; the magnificent interior exudes rich colours and there are impressive construction details throughout including marble, glass and glazed tiles. Visitors are welcome to experience the quiet sanctity — obtain a $5.00 photo permit if wishing to take photos for personal use during visiting hours (not during services).
Shopping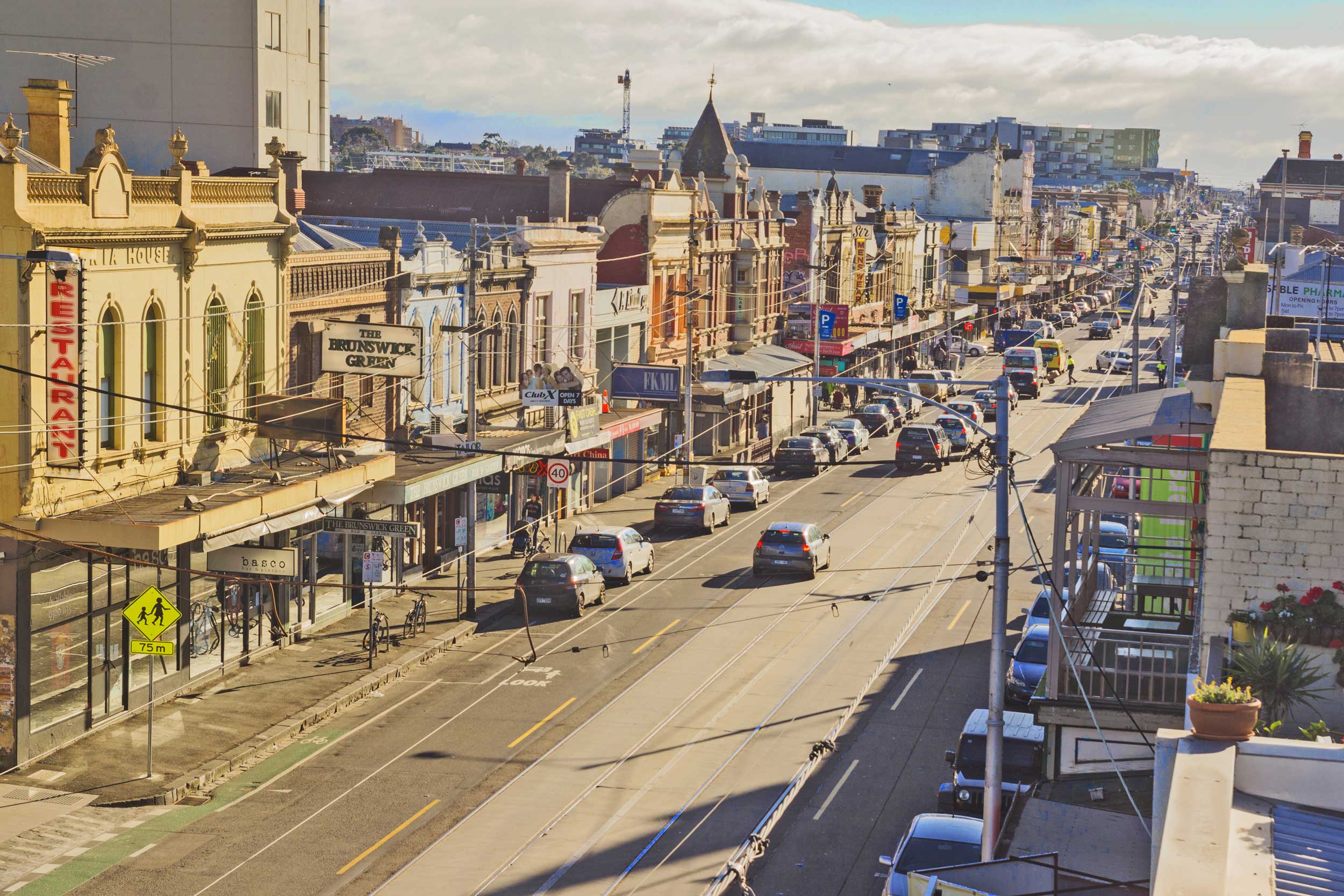 In the central city, the big department stores (Myer and David Jones) sit alongside familiar chain stores and boutiques. Charming shops and high-end fashion boutiques are hidden down arcades and alleys, and retail behemoth Target makes one-stop budget-style purchasing a breeze.
Melbourne and markets go hand in hand. Queen Victoria Market is the largest and best known (including the Night Market on Wednesdays) but there are plenty of smaller markets worth a visit. Camberwell Markets in the east is for those who love to spend Sundays rummaging amongst pre-loved goods.
For outlet shopping bargains try Bridge Road in Richmond or one of the city's four DFO (Direct Factory Outlet) stores. These can be hit and miss, but great for those with time to fossick. Sydney Road in Brunswick is an eclectic retail strip, the longest in the southern hemisphere.
Southgate is good for clothes and gift shopping when exploring Southbank.
Sport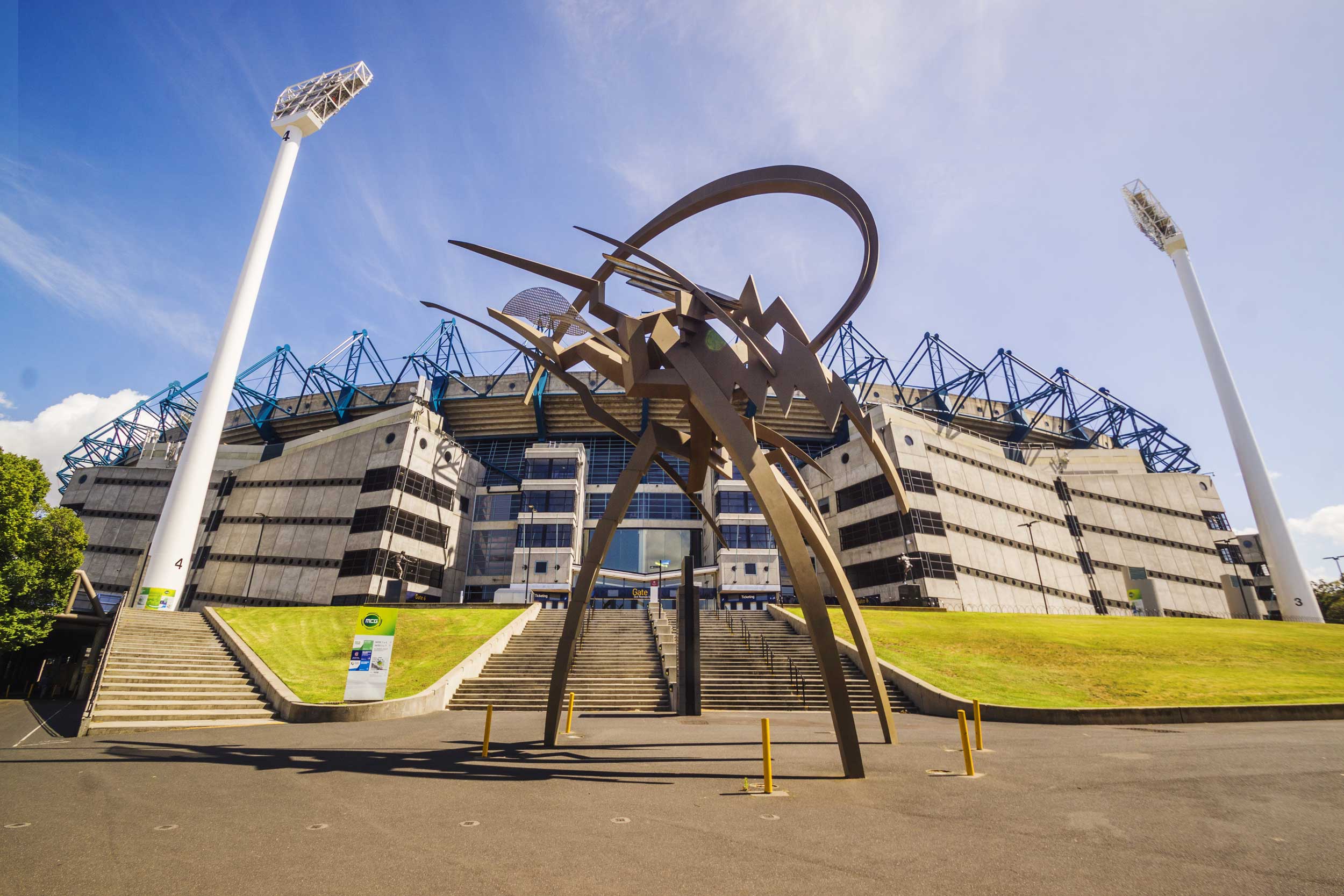 Melbourne's sports calendar is packed with world class events.
The Australian Tennis Open is held at Melbourne Park (which includes Rod Laver Arena) every January. Motorsport fans should visit in March when the Australian Grand Prix kicks off the International Formula 1 Championship.
Melbourne is AFL country, aka Aussie Rules football. During the season (March to September) fans are out in force on game day and the flowing tide of young and old heading to the match with team colours and glee is easy to spot. Even those without an iota of knowledge about the game will be fascinated.
With three eminent racecourses, namely Flemington, Caulfield and Moonee Valley, a day at the races in this part of the world is a spectacle, particularly on the first Tuesday of November when the city stops (it's a public holiday) and all attention is on the Melbourne Cup. Worth taking up an invitation if the chance ever presents itself.
Getting Around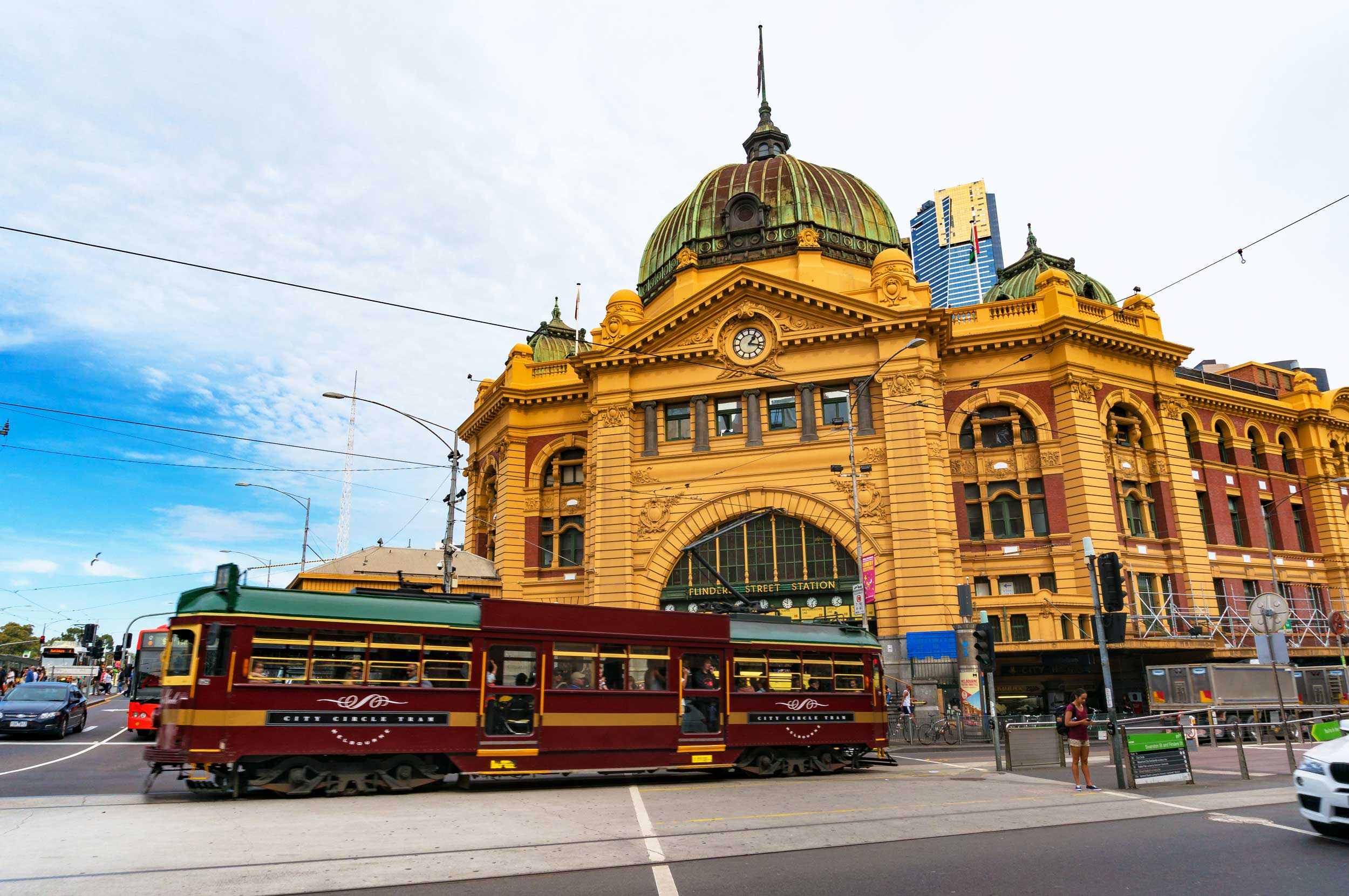 From the airport, take the SkyBus into the city. It operates 24 hours, cost is AUD$19 one way and leaves every ten minutes. A taxi will cost from around AUD$55, including fees and tolls. Public transport is a cheaper option but not as convenient.
Trams make getting about the city centre easy; no payment required within the free zone. Being flat, walking around Melbourne isn't onerous and, if need be, hopping on a tram is always an option as they run so frequently. There are plenty of trains and buses.
Hiring a car is an easy and affordable way to maximise getting out and about beyond the city borders. Pick up and drop off at the airport is stress-free. Roads and motorways are easy to navigate, although traffic in town can be busy, and there are quite a few one-way streets to get to grips with. Parking buildings are everywhere.
Who This Is For
Melbourne is a city for those who enjoy urban offerings but relish the opportunity to easily get out of town and experience the landscape and solitude. The peace of the countryside is not far from the buzz of this exceptional city which exudes style and authenticity and more than a hint of Europe.
When To Go
Blue sky days are plentiful, but Melbourne can get very hot in summer months, especially January/February. It can also get very chilly in winter, when a coat, scarf and gloves may be a blessing. Temperatures can fluctuate hugely within a matter of hours, especially in spring (September to November). Layers and an umbrella are recommended.
Where To Stay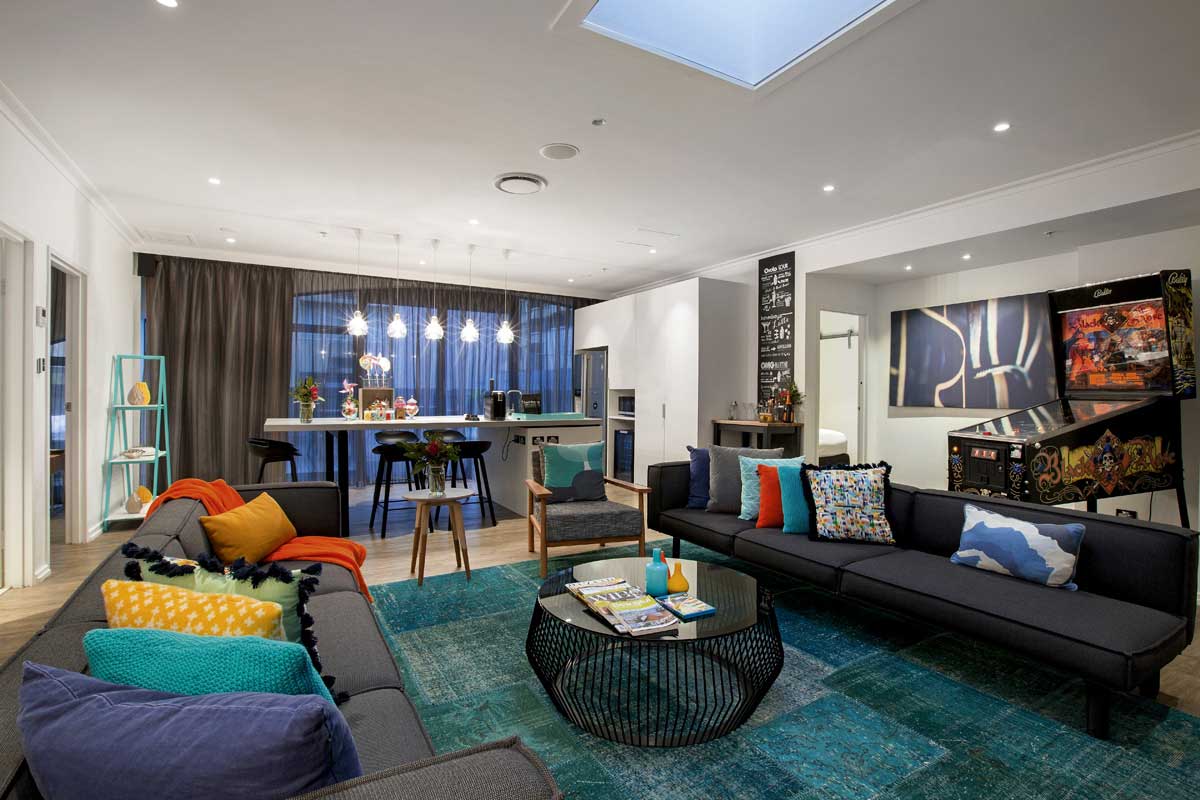 Ovolo Laneways is a funky apartment-style hotel superbly located on Little Bourke Street. Everything is provided, and if a guest has forgotten a vital personal item like a razor or tweezers, it will be delivered to the room. A snack bag greets guests upon arrival, and the mini-bar is free and topped up daily; this doesn't constitute an endless supply of alcohol, but it is nice to be able to pluck a wine, beer or juice from the fridge at the end of a day out-and-about, without having to angst over that extra cost on the final bill.
Each evening, between 6:00pm and 7:00pm, the Happy Hour fridge is open and guests are free to connect and imbibe in the reception area. There are large jars of lollies and tea and coffee, help-yourself style, any time.
Breakfast is a continental buffet on the fifth floor. Grab a paper, relax in a colourful chair and get set for the day ahead. If the weather allows, eat outside on the balcony. It feels like being in a friend's home and it's all included.
Ovolo offers hospitality that is enticing and high quality, created with the traveller in mind; great amenities, quirky artwork that reflects the Laneways ethos, as well as colour, panache and little touches that make life easy. Discounted parking can be organised nearby if required.
Other options are The Crossways Hotel (in the same vicinity as Ovolo Laneways), Fraser Place Apartments and the Adelphi Hotel.
ESSENTIAL INFORMATION
The city's population is 4.9 million, and the city caters well for both its residents and tourists.
Trams are completely free in the 'free zone' — a brilliant way to get about the central city.
Be prepared for fluctuating temperatures.
Melbourne boasts the highest number of cafes and restaurants per capita than any other city; choice is vast, decisions not simple.
Melbourne has been ranked the world's most liveable city every year since 2011 by the Economist Intelligence Unit (Vienna second, Vancouver third) — it's not hard to figure out why.
Melbourne has a striking skyline that looks great viewed from any angle. Be sure to view it from the various vantage points around Port Philip Bay and do look upwards when within the city centre — the buildings themselves are impressive and attractive without being flashy.