Dunedin: City Guide — Part Two
Dunedin has plenty to amuse and delight visitors when it comes to art, culture and entertainment, with some great eateries spread across the city to help keep energy levels up. Wander, browse, discover and enjoy all that this wonderful city has to offer.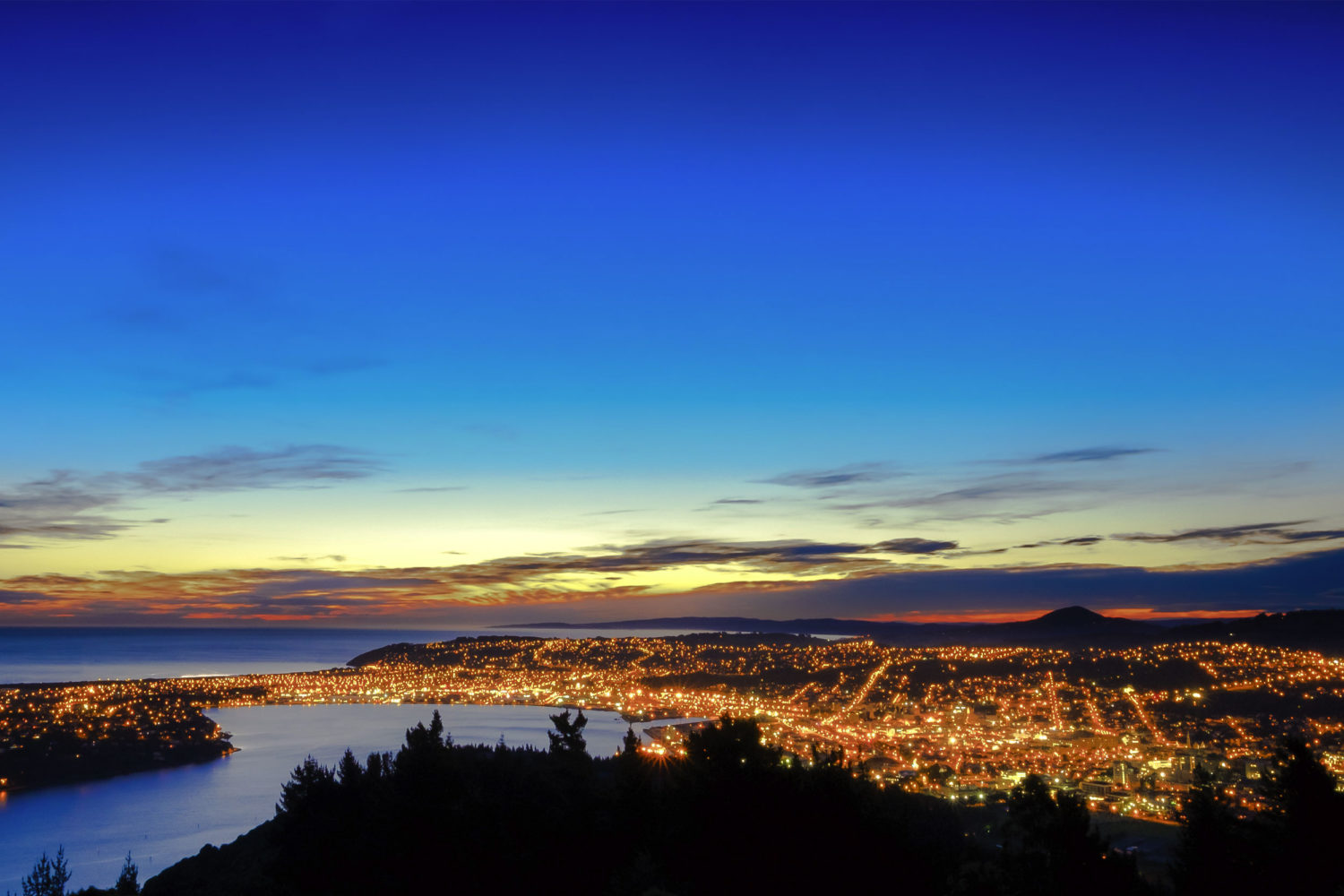 Culture
Dunedin Public Art Gallery
Established in 1884, and New Zealand's first public art gallery, this small but tasteful gallery houses a wonderful selection of artworks from around the world, as well a special collection of acclaimed local artist Frances Hodgkins' work.
There are events, talks and changing exhibitions throughout the year. Admission is free. Enjoy a coffee and doughnut at Café Nova next door.
Otago Museum
This museum is beautifully curated, housing a wonderful array of treasures and artefacts from New Zealand and across the world. Nature, maritime, animals, cultures, history — it's all here. There's an ancient mummy, moa skeletons, model ships and much more to keep visitors amused.
In the Tangata Whenua gallery, a large waka is a focal point and visitors can learn about Māori arrival, ancestry and achievements.
Tuhura is a fascinating science centre within the museum — interactive displays, fun learning environments, a planetarium and a tropical forest with live butterflies.
Entry is free, a charge applies for Tuhura. Open from 10:00am to 5:00pm daily.
Toitū Otago Settlers Museum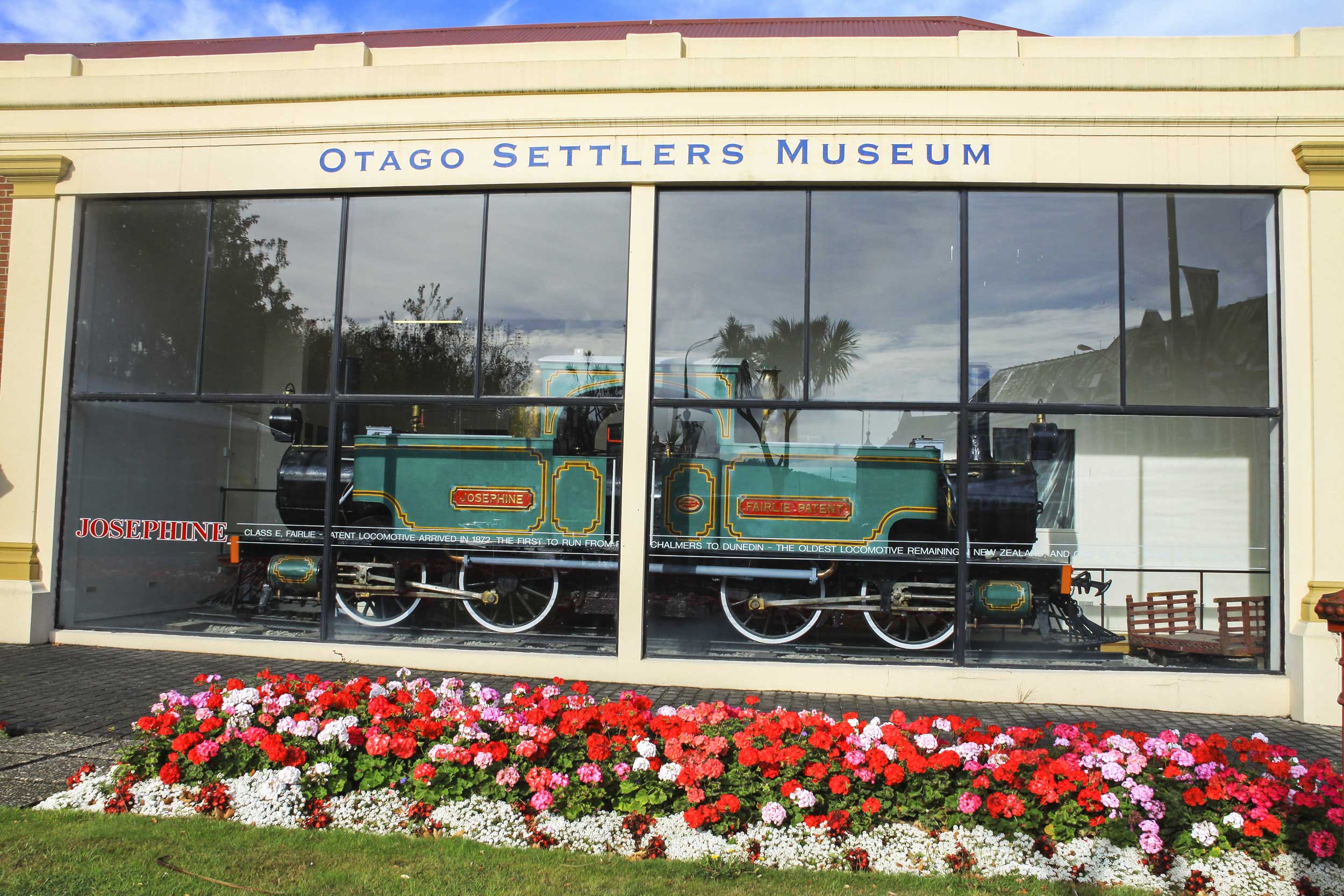 Not to be confused with the Otago Museum, this one is located in the heritage district and is dedicated to the lives and times of those who settled in Dunedin and environs. With a social history focus, the displays showcase the character, culture, technology, fashion, art and transport that has shaped the city. The galleries are themed, with lots of interactive displays, and visitors are taken on an utterly fascinating journey through time.
Visitor hosts dressed in black provide helpful information along the way and are happy to answer any questions. Admission is free. Charges may apply to special exhibitions.

The Unusual

Baldwin Street
Regarded as the steepest street in the world for a long time, Baldwin Street was rather dubiously pipped in July 2019 by a street in Wales which now holds the record. In any event, it's an unlikely tourist attraction that draws dozens of people daily. It's no mean feat to conquer the gradient of 35 per cent on foot. With kerb-side steps instead of a footpath, and asphalt instead of tar (the very top part being concrete for extra non-slip safety!), it takes around ten minutes to walk up 350 metres for those who are game. People live on the street and driving up and down is quite an experience.
Dunedin Street Art Trail
The Warehouse Precinct is a creative hub where local and international street artists showcase their world-class artworks in the public spotlight. Buildings in the area are adorned with all sorts of attention-grabbing, thought-provoking and whimsical art. A face looks down from an alley; an animal looks up from a wall; pop art spills from corners; and cartoons shout out from brick walls.
Pick up a map and take the self-guided walk (approximately 90 minutes).
OCHO Chocolate Factory
For chocolate lovers, OCHO (Otago Chocolate Company) is the place to go for an authentic bean-to-bar craft chocolate experience. Visit the new factory in Robert Street to see cacao become chocolate bars, learn the unique story about how this boutique business became so successful and indulge in bespoke tasting.
Brewery Tours
Emerson's and Speight's are iconic local breweries, and both offer behind-the-scenes tours of their state-of-the-art breweries and workshops. Follow the brew process from start to finish and, afterwards, enjoy a tasting session. Summer and winter tours available, check the websites for times.

Entertainment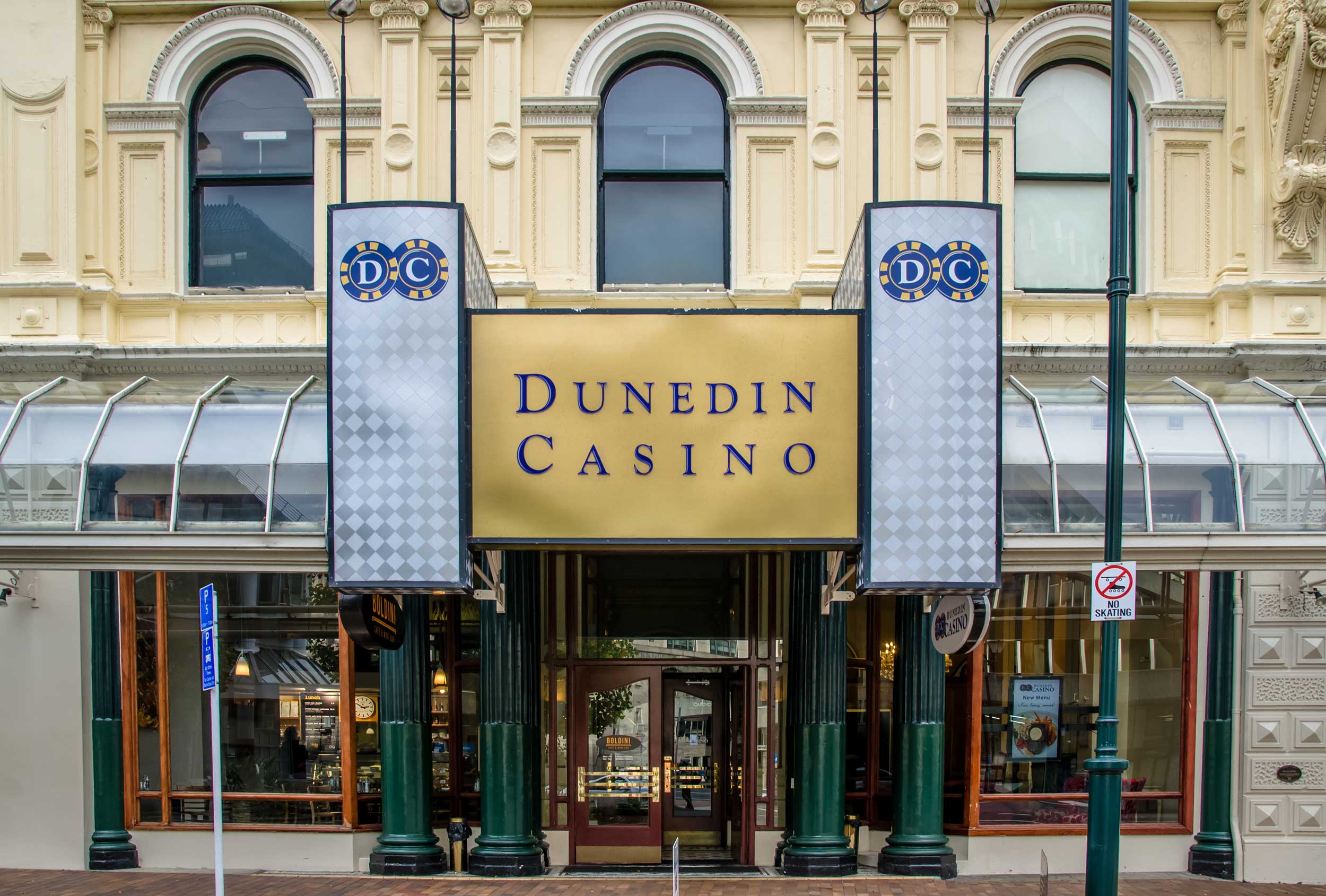 Mention the Octagon, and everyone will resonate — this is the heart of the city and, as its name suggests, is an eight-sided plaza. While mostly pedestrianised, it's also a transport hub. Made up of various quadrants, there are restaurants and bars, civic buildings including the Town Hall and Information Centre, and a statue of the Scottish poet Robert Burns presides over things.
There's a vibrant music and theatre scene in the city with a number of nightclubs for all ages, some specifically targeted for students. International concerts and major sports matches take place at the excellent Forsyth Barr Stadium which has a covered roof if required. Watching a ballet or live show at the elaborately decorated Regent Theatre in the Octagon is a treat. It's also used as a cinema during film festivals.
For a sophisticated gaming experience, head to the Dunedin Casino in High Street.
The Baaa on Great King Street is a sports bar and grill, ideal for lunch, dinner and/or a drink or three. Popular with students and locals, it's perfect for watching a big sports game in like-minded company. There's a gaming and betting area for those keen on a pokie or punt.

Eating and Drinking
Dunedin has many excellent eateries dotted around the city, here are a few suggestions.
Bacchus is a small but fine and long-established wine bar and restaurant upstairs in one of the city's oldest buildings on the Octagon. Superb food, a great wine list and a stylish setting make this a premier dining destination. The entrance is in Stuart Street.
Etrusco at the Savoy is perfect for a lively Italian experience in a heritage building, and Del Sol serves authentic Mexican dishes. Both are in Moray Place and sit in that "can't go wrong" territory.
The Craic Irish Tavern in the Octagon offers Irish favourites alongside traditional New Zealand food and drink. Enjoy fabulous game and seafood dishes (try the Blue Cod) served in an intimate environment. Stay cosy inside by the fire in winter or spill out onto the pavement on a sunny day.
CBK (Craft Bar & Kitchen), also in the Octagon, offers comfort and relaxation and a wide choice of Kiwi craft beers. Specialising in smoked meats and stonegrill, it's a great place to get serious about a hearty feed and genial conversation. Open for breakfast and family‑friendly.
Boldini Wine Bar and Café, located within the Scenic Hotel Southern Cross, is a popular café offering a wide range of food and wine to suit all tastes and appetites. Choose from the cabinet or order off the menu. A great place to watch the world go by. Open 7:00am to 5:00pm.
The Maharajas is a new restaurant on Great King Street offering Indian cuisine, mainly from the north. The flavours are exceptional, the food plentiful and the service excellent. Ideal for a large group. Check their specials and get in before the secret is out!
The Good Earth Café, opposite the main entrance to the University, serves all sorts of innovative food delights, with an emphasis on high quality organic vegetarian meals. The coffee is excellent, and the atmosphere casual and cheerful. Open daily till 4:30pm.
Try Nichol's Garden Café in Andersons Bay; great food served in a bright open setting amongst the vast garden centre and fabulous gift shop.
There are excellent cafés along the St Clair Beachfront with superb sea views.
Simple and satisfying, cheese rolls are an institution in this part of New Zealand, and most cafés serve them. Try them.

Shopping

The main shopping streets spread from The Octagon with the majority of the leading retail outlets to the north, on George Street. All the familiar high street shops are here, plus several malls where it's easy to while away the time. In and around Princes Street is where the more-quirky shops are found. There are plenty of shops and emporiums selling vintage goods, pre-loved wares, retro items and antiques. Shop on Carroll has an eclectic mix of clothing and collectables and, with eye-catching window displays, invites leisurely rummaging.
The local fashion scene is well known, and there are independent boutiques throughout the city. The famed University Bookshop will keep book lovers amused, there are shops selling all things Scottish, and it's worth hunting out some of the beautiful studios and workshops where artisan jewellers create exquisite pieces.

Getting Around

There's an extensive bus network servicing the city, connecting its centre to the outer suburbs. Two bus companies operate (GoBus and Ritchies). Pricing is the same and based on zones. Use cash, or a GoCard for cheaper rates if staying a while.
The alternatives are taxis, Uber or, for the brave, Lime scooters.
Dunedin is cycle-friendly with a network of cycle lanes running throughout the city centre and plenty of mountain bike tracks for serious bikers.
Hiring a car is convenient but can be pricey, check around for the best rates. The roads are easy to navigate, with a one-way system through the city.
Momona Airport is about 25 kilometres west of the city and takes 20-30 minutes. The best way to get to/from the airport, if not hiring a car, is by airport shuttle — there are several companies offering services for a set price, but be aware they drop off other passengers en route so it can take time. It's not a bad idea to book a shuttle in advance, before arrival.

Who This is For

Anyone who loves history, the outdoors, nature and wildlife. Those with Scottish ancestry. People who enjoy well-preserved heritage buildings and learning about the past. It's an excellent gateway to the wilderness that surrounds the city and well worthy of a stay.

Where to Stay

The Scenic Hotel Southern Cross is a long-established high-quality hotel located in the heart of the city. It has been extensively refurbished, bringing a modern touch to this historical building which dates back to 1883. There are 178 comfortable rooms and suites, some with mezzanine. A sense of prestige and composure is apparent throughout the hotel. Offering guests great service and comfort is a priority, and the friendly professional staff will ensure a serene and happy stay.
Convenience is a key factor in choosing this superb hotel as a base – it's a short walk to the Octagon and an ideal place from which to explore the city. There are excellent bars and restaurants within the hotel complex, as well as the Dunedin Casino for entertainment just a few steps away.
Bella Vista Motel on Great King Street is an excellent option towards the northern end of the city. In the process of full refurbishment, the motel offers a range of accommodation options for corporate and leisure travellers. It's within walking distance of the University, and most of the Dunedin attractions, as well as the Hospital.
Hosts Robyn and Garry go the extra mile to ensure a comfortable and welcoming stay. They love dogs and are pet‑friendly, a big plus for those travelling with pet pooch. There are loads of eating and drinking options on the doorstep, as well as a first-rate wine shop. It's a great base for a family stay and ideal for those visiting children at the University. Free wi-fi, smart TV, efficient heating and plenty of parking.
ESSENTIAL INFORMATION
It gets cold in winter and hot in summer – bring layers. Coat, hat, scarf and gloves are essentials in the depths of winter. Snow is rare but not unexpected in a cold snap.
Dunedin is a student city, so don't be surprised to see "Scarfies" out having fun on the town, especially during Orientation Week (February) and Graduation Weeks (May and December).
There is so much to see and do in Dunedin — a single visit simply won't be enough. Visit the Information Centre on the Octagon for full information about everything the city has to offer.
If doing the acclaimed Otago Central Rail Trail (between Middlemarch and Clyde) or travelling through The Catlins area to the south (spectacular), be sure to spend some time in Dunedin before and/or afterwards to round out a full Otago experience.
Head up to Signal Hill Lookout for wonderful panoramic city views from the top and a monument to the New Zealand Centennial of 1940. An easy drive or a walkable hike for the fit seeking a great workout.
Read Part One.