Dunedin: City Guide — Part One
With its picturesque harbour, heritage buildings and coastal wilderness, Dunedin exudes charm, tradition and natural wonders. It's a city of "firsts" that welcomes and captivates; from castles to wildlife, visitors will be impressed with the raft of offerings amidst a quintessential Scottish flavour that is easy to love.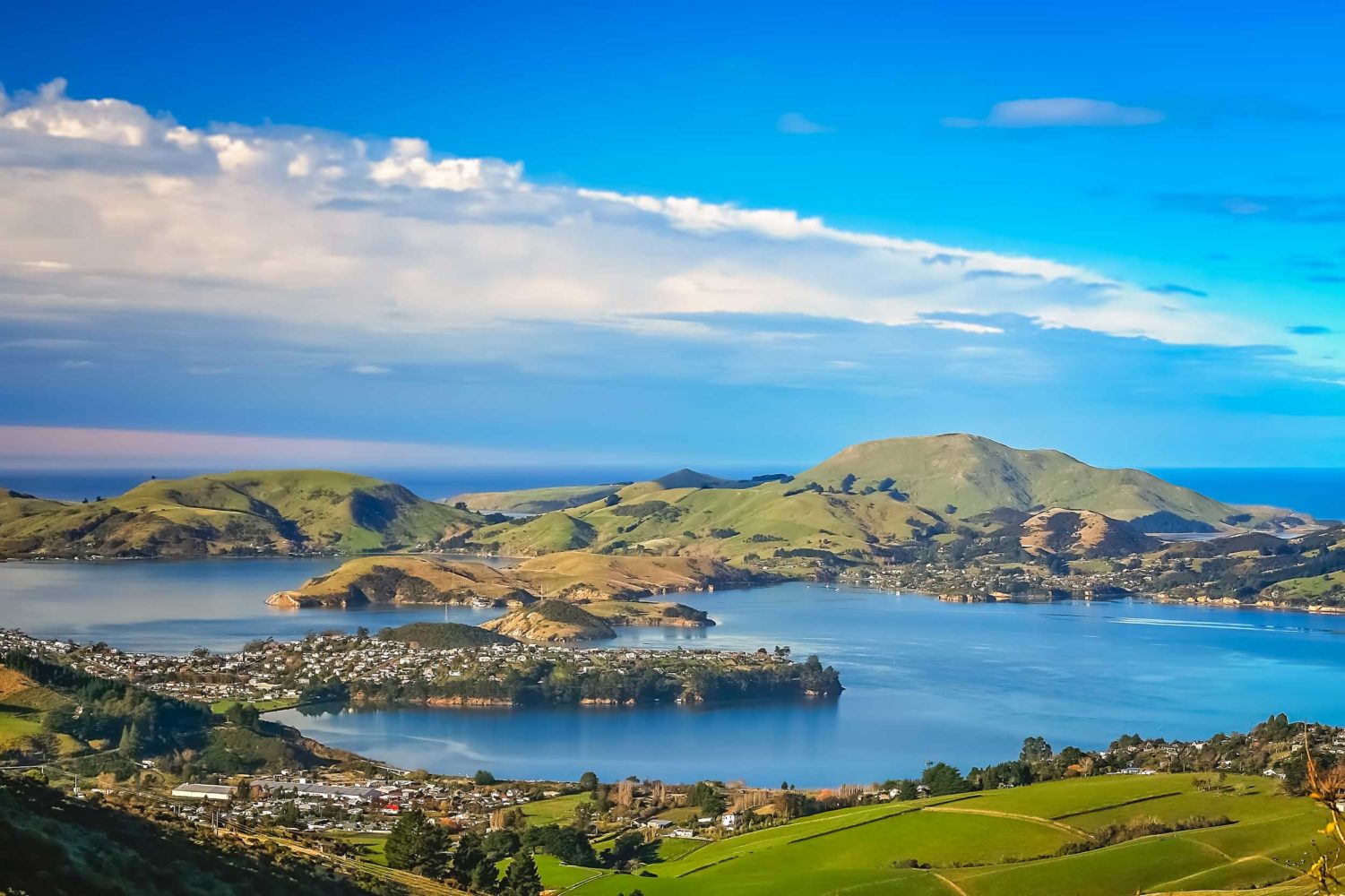 Nature
The Coastline
Dunedin is not top of mind as a beach destination, but the beaches in this part of the world are truly stunning. The water may not be warm, but what these beaches lack in tropical appeal is made up for in spades with raw beauty.
St Clair Beach is a magnet for hardy surfers; close to the city, but far from being urban. The waves roll in like clockwork, slapping up against St Clair Hot Water Salt Pool, an outdoor family-friendly pool that has been in operation since the late 1800s. A café operates year‑round on site. The pool is open for the summer season from October 1 to March 31.
Further east along Otago Peninsula is Allans Beach. Incredibly remote, yet barely 45 minutes from town, the final part of the drive along the tranquil inlet is impossibly picturesque. It's just a short walk from the car park to the rugged beach where sea lions and penguins are often spotted. Swimming is dangerous; respect the wildlife; people are few and far between.
The harbour side of the Peninsula is more sedate. Pass through small townships to reach the Royal Albatross Centre at Pukekura/Taiaroa Head (less than an hour from the city); it's the only place in the world where Royal Albatross nest and breed on a mainland. Book a tour to see these majestic birds; watching them fly overhead, with their three-metre wingspan, is quite something. The headland is home to much wildlife, including the Little Blue Penguin and the Centre offers the opportunity to watch these delightful creatures in their natural environment each evening. Gazing out across the surging ocean from this place is like standing on the edge of the world.
To the northern side of the harbour lies Port Chalmers; a vibrant village full of arts and antiques, this is where the cruise ships dock. Continue onwards for lunch at Carey's Bay Historic Hotel where old-fashioned charm combines with modern dining appeal. Built in 1874 from locally-quarried bluestone, there are various bars and eating areas inside and out, with plenty of seafood on the menu.
Picturesque Port Chalmers. Photo by Lara Belova
Coast-hugging Aramoana Road is a winding but easy and flat drive that will astound with its peaceful scenery and sea-green hues. To arrive in the tiny settlement of Aramoana (35 minutes' drive from Dunedin) is like being transported to another time and place. Sleepy and isolated, it's hard to imagine the terrible massacre that took place in November 1990. There's a mix of quirky homes and vintage caravans that appear to have been planted in situ years ago. The Aramoana Mole (sea wall) juts far out to sea, with rugged beaches on either side and water pounding all around. It's startling how secluded and vulnerable standing here feels.
For even more remoteness and isolation, head further north to Murdering Beach, Long Beach and Purakaunui. Mount Cargill Road, winding its way over the hill, gives splendid views on a clear day.
South-west of Dunedin is Brighton and a cluster of surrounding settlements. Well-kept secrets, they offer another perspective of the southern beaches and waters of this part of the Pacific Ocean.
Closer to the city, south-west of St Clair, is Tunnel Beach. Access is via a track across private farmland. Walk down past sea-carved sandstone cliffs, rock arches and caves, and prepare to be amazed when reaching the "tunnel" with its 72 hand-cut steps leading to an enclosed beach where the sea swirls wildly and waves crash fiercely onto the rocks. Commissioned in the 1970s by local politician John Cargill to enable access for his family, an expedition to this tunnel is a must for those who are reasonably fit and stable on their feet and enjoy a good dose of fresh sea air. Take care not to slip if it's wet. The ruins of the family home, Cargill Castle, lie derelict to the north, overlooking the ocean (not accessible to the public).
Gardens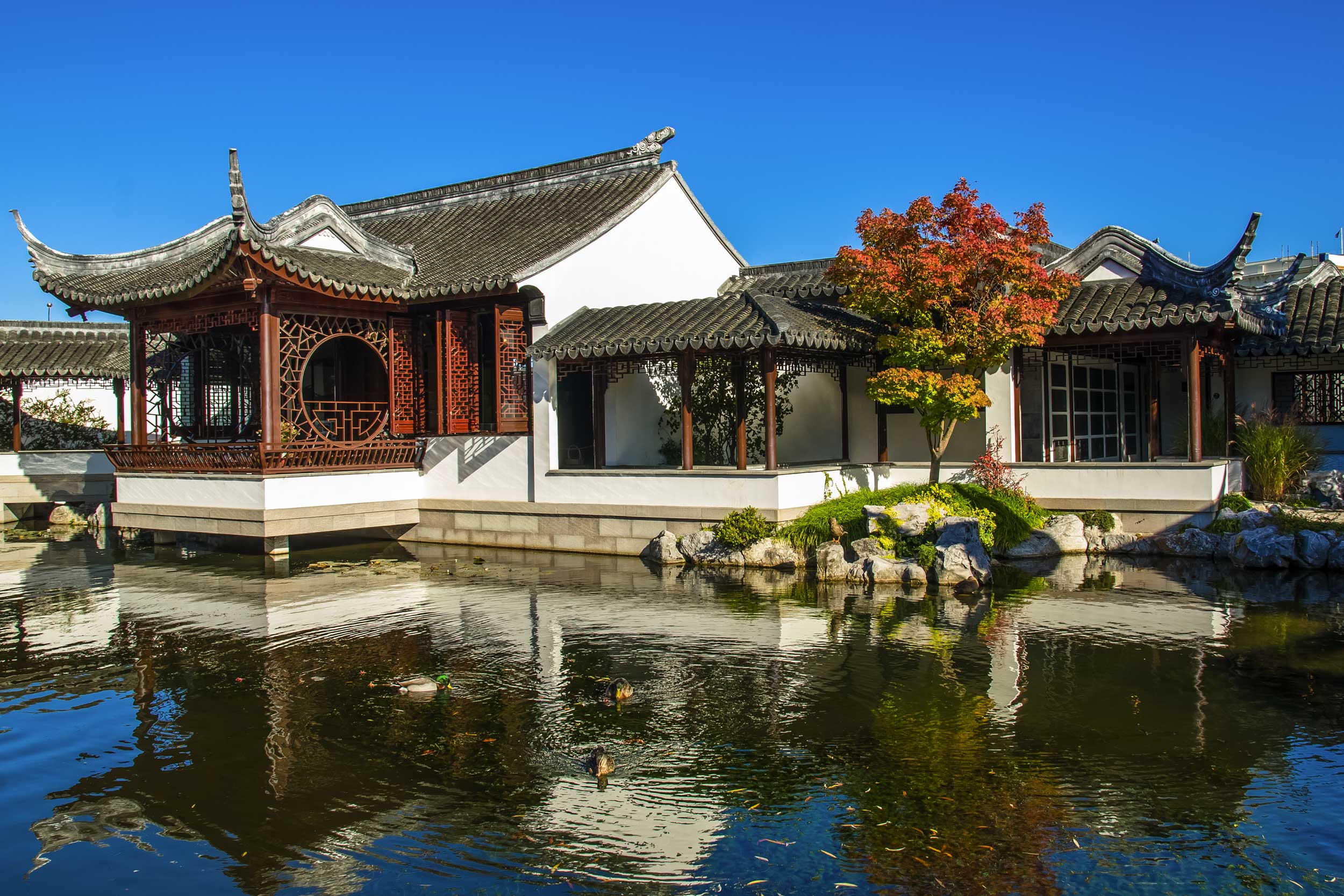 A visit to the Dunedin Chinese Garden is a serene experience. Opened in 2008 it's a perfect miniature of a traditional Chinese landscape painting and celebrates the city's sister relationship with Shanghai. Constructed on site by artisans brought from Shanghai, it changes with the seasons and is the only truly authentic Chinese garden in the Southern Hemisphere. There is a teahouse and gift shop within the complex.
The Botanic Gardens, New Zealand's first (established 1863), is a Garden of International Significance. A wide range of horticultural and botanical collections are housed here, including native plants and a Rhododendron Dell. There are many aspects to the gardens; the Winter Garden (a heated Edwardian glasshouse), rose and herb gardens, a duck pond, playground, band rotunda, a Japanese garden, statues, sculptures and an ornate fountain, as well as bush walks, an aviary, a café and a visitors' centre.
History and Heritage
The Railway Station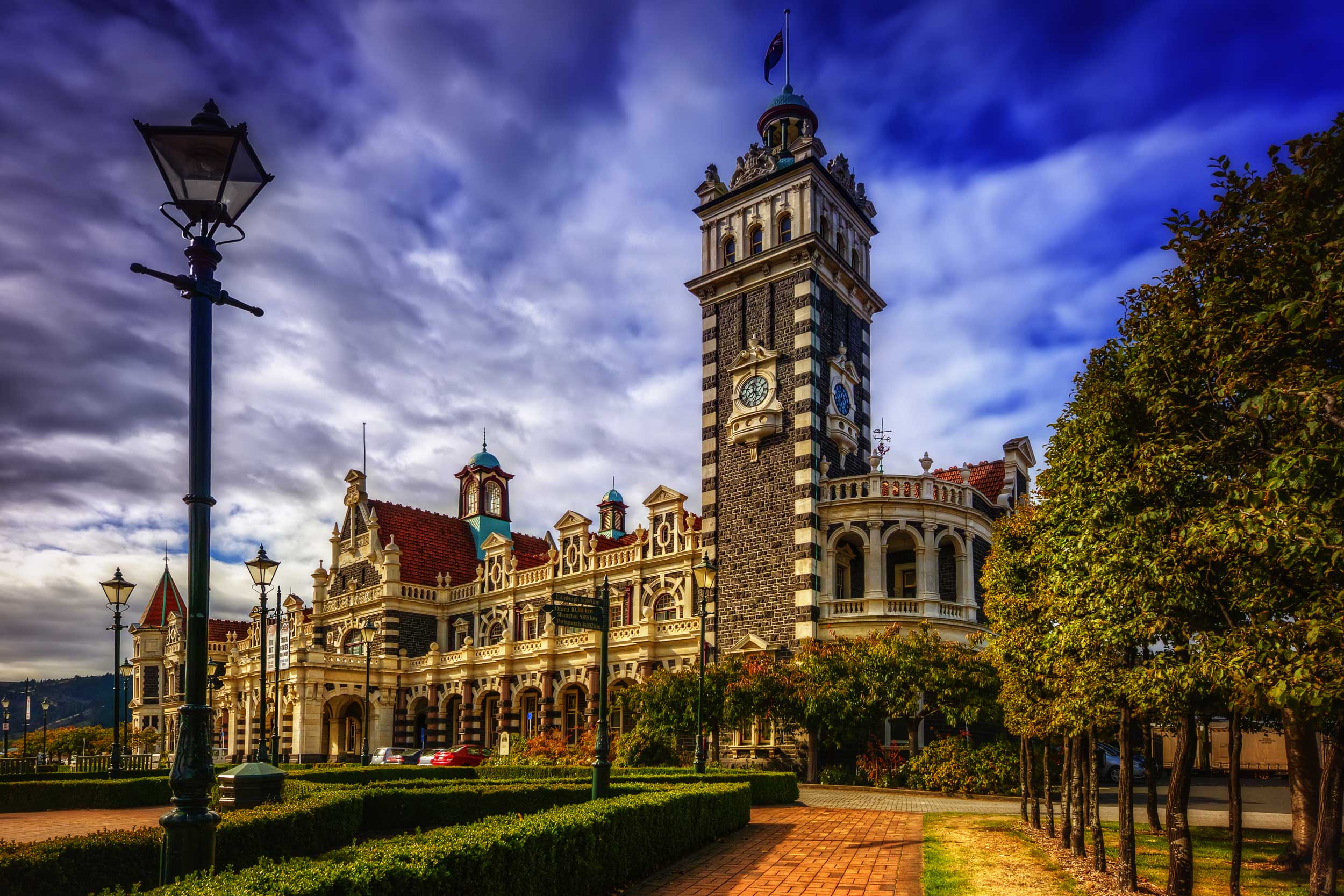 Opened in 1906, this is New Zealand's most photographed building. Designed in Edwardian Baroque style, it is striking inside and out. Built of basalt and white Oamaru limestone, at one time it was the busiest railway station in the country. These days it serves as a terminal for sightseeing train trips; take a train through the Taieri Gorge (ten tunnels and many bridges) or travel up the coast on the Waitati Seasider (operates daily December to March and when cruise ships are in port).
The entrance hall is elaborate yet simple, and the light that flows through is entrancing. The Otago Art Society operates on the first floor with a gift shop, permanent collection and various galleries and exhibitions. A farmers' market operates outside the station on Saturday mornings.
The New Zealand Sports Hall of Fame
Established in 1990 as part of the celebrations to mark New Zealand's 150 years of organised settlement, the Hall opened to the public, from its base in the Railway Station, in July 1999 and is a remarkable tribute to New Zealand's greatest sports men and women (160+ inductees). Names of note include: Bob Skelton and Linda Jones (horse racing), Colin Meads and Don Clarke (rugby union), Murray Halberg and John Walker (athletics), Richard Hadlee and Martin Crowe (cricket), Bob Charles (golf), Mark Todd (equestrian) and many more.
Visitors are transported back to unforgettable sporting moments and get an insight into the lives of many of New Zealand's sporting heroes.
Larnach Castle
This iconic piece of Dunedin's history sits proudly on the Peninsula, surrounded by its exquisite gardens. Rich in history, the Castle dates back to 1871 when it was built by William Larnach, an Australian banker and New Zealand cabinet minister, of Scottish descent, who led a bold and erratic life which ended in suicide. After his death, the Castle was used as a hospital for the mentally ill, a base for shell-shocked soldiers and a nuns' retreat. Following a long period of vacancy and neglect, it fell into a state of virtual ruin, before eventually being purchased by the Barker family in 1967. They have lovingly restored it through the years, creating a wonderful place to visit at any time of year.
First Church of Otago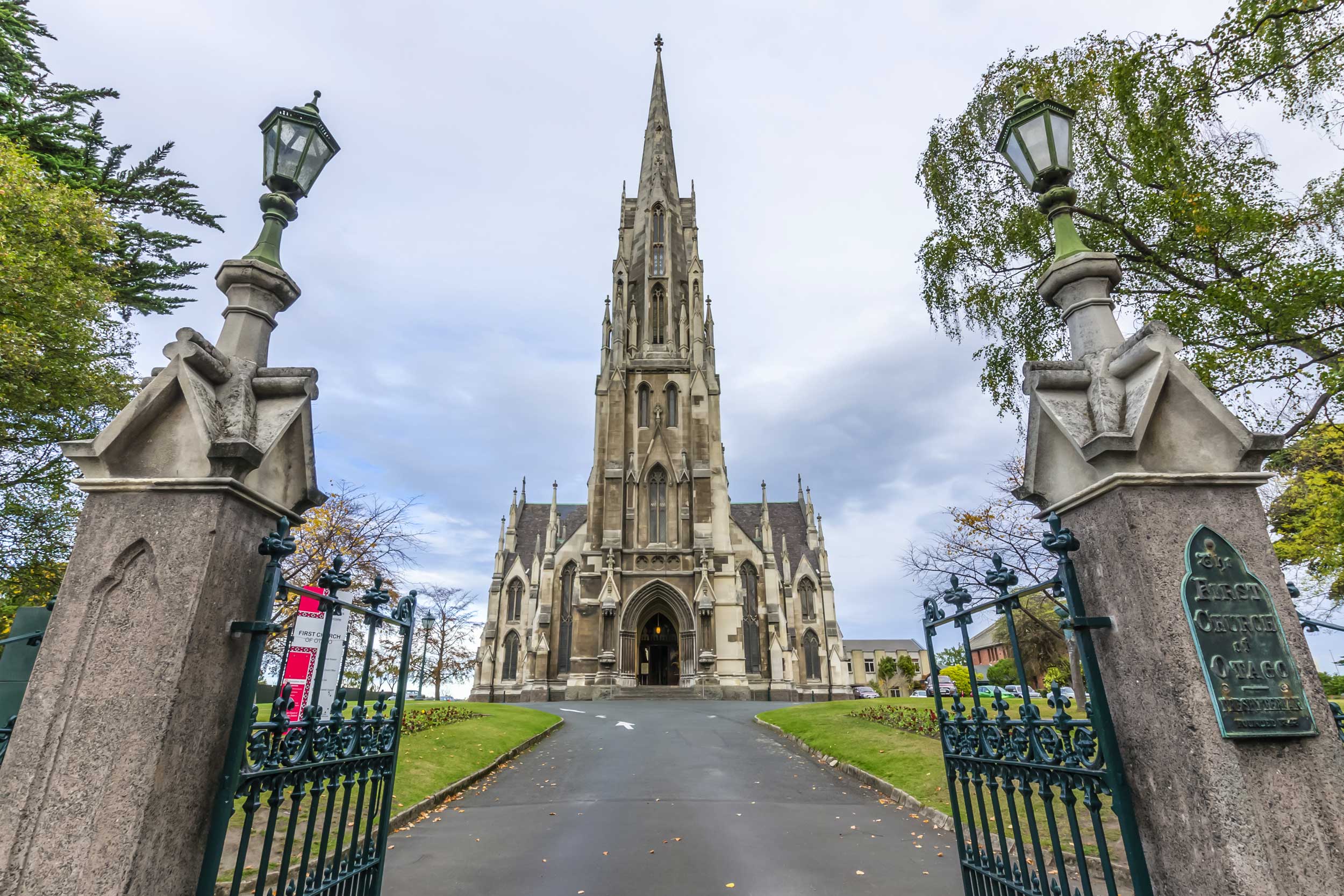 Since November 1873 this Presbyterian church has dominated Moray Place; it is a magnificent example of Neo-Gothic architecture. Restoration work, including on the impressive spire, was completed in July 2018. The interior is pristine and peaceful, the stained-glass windows impressive and the pulpit is a work of art. A Heritage and Visitors' Centre displays all sorts of artefacts, past and present.
The University of Otago
Founded in 1869, New Zealand's oldest university offers programmes in Health Sciences, Humanities, Commerce and Sciences. It's a thoroughly modern learning facility with a deep‑seated history, offering a vibrant student lifestyle. More than 20,000 have studied here through the years, including 63 Rhodes Scholars.
Wandering through the campus is highly recommended; the striking Clocktower, architectural grandeur and lovely gardens make great photo backdrops, and the sense of history and academia is compelling.
Olveston House
This beautiful historic homestead, built by the Theomin family, is now a stunning museum. Furnished as it was during their residency between 1906 and 1966, it is full of fine furniture, fabrics, artworks and items collected from around the world. Rich in colour, opulent in style and with many exotic touches, it was built with every modern convenience of its day, even central heating. Each room has its own flavour; earthy tones in the library, turquoise tiles in the bathroom, a lemon and black palette in the kitchen/service area and dusty pinks in the card room.