A Weekend Escape to Australia's Central Coast
I'm ensconced in my favourite spot on a chaise longue, one of two, overlooking the beach. The early morning sky takes on a ripe apricot glow as the sun begins to climb. Sunbeams strike the dark rocks of the Killcare headlands, painting them gold. Rows of blue-green waves rise up like moving folds in rumpled taffeta, then peak and smash on the shore sending long tongues of white froth racing up the sand. The foam is iridescent in the bright morning sun.
Fishing boats chug over the humps and hollows of the heavy swell, heading for a reef where waves are breaking in a thin white line. A dark smudge on the distant horizon marks the suggestion of a ship, while yachts with tall white sails lean this way and that. Whale-watching boats cluster around a dark shape. Humpbacks regularly migrate along the New South Wales Central Coast and given that there are two powerful telescopes at Killcare Beach House, this is a perfect spot to watch them.
In these last few days, I've fallen in love with this beautiful holiday home on the Bouddi Peninsula. It's a location that's close enough to Sydney to be manageable for a long weekend but worlds away from the hectic pace of big city life. The Bouddi Peninsula — part of Bouddi National Park — is an area rich in Aboriginal history. Around a hundred historical sites relating to the Guringai people have been discovered on the peninsula.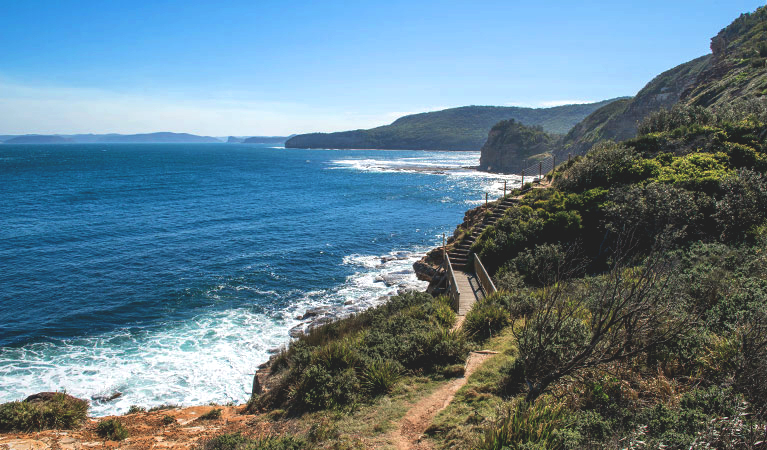 We enjoyed taking the scenic 90-minute, 100-kilometre route around the deep inlets of the Brisbane Water National Park. For those in a hurry, there's a seaplane connection from Rose Bay to Hardy's Bay just over the hill from Killcare.
The beachfront house, marketed as a holiday rental by Luxe Houses, is generously provisioned. Every room — including all five bedrooms, the children's bunkroom and rumpus room — opens onto spacious balconies with magnificent ocean views. The beds are festooned with pillows, Italian throw rugs and linens, and fine, sensuous wools that echo the colours of the landscape. In addition to the five bathrooms, there are two outdoor showers for de-sanding prior to entering the house or swimming pool.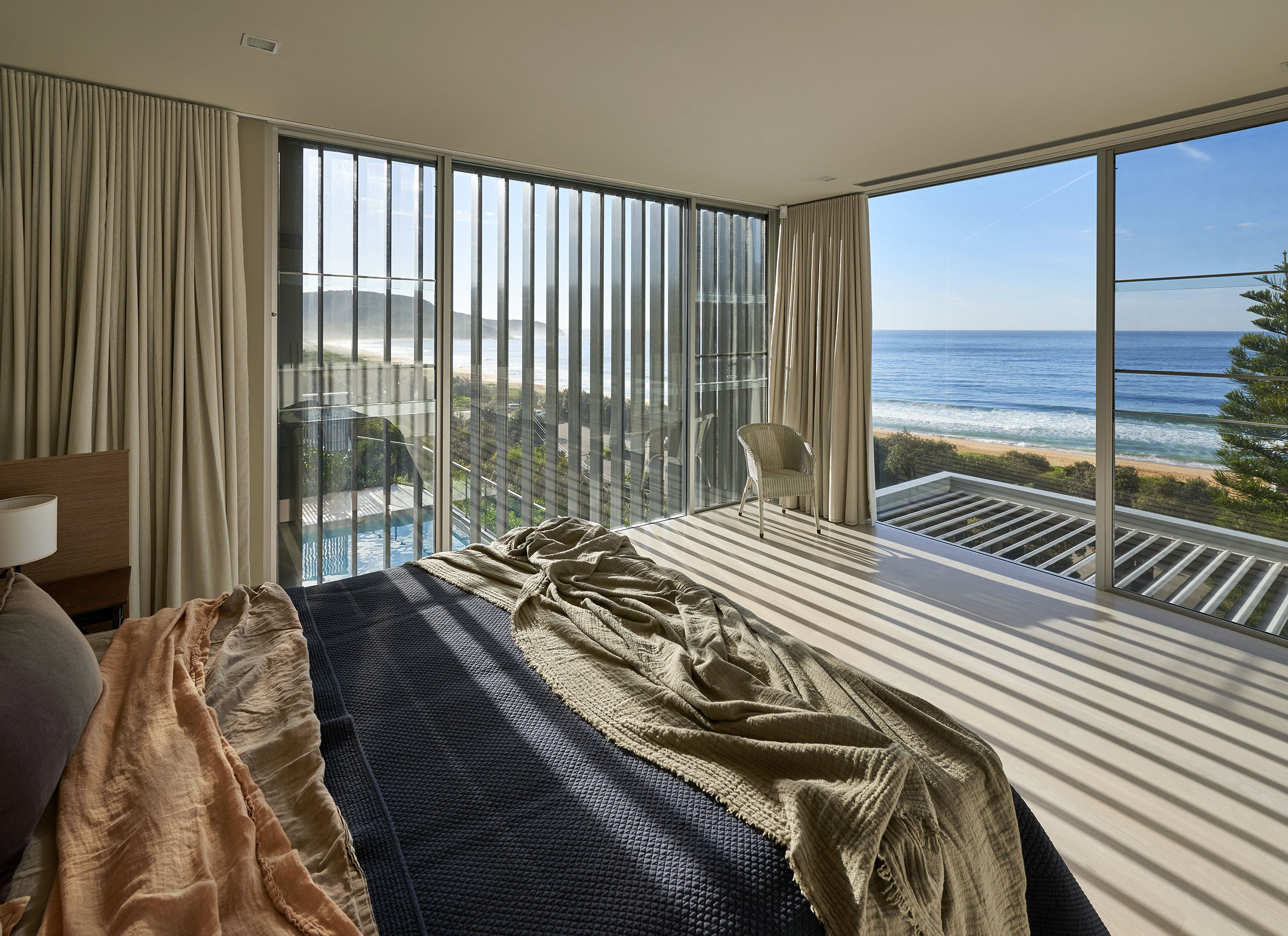 Despite its size and elegance, Killcare Beach House is unpretentious, its grey-green exterior making it hard to spot from a distance. It merges quietly, peacefully into the landscape. The all-glass frontage and elevation allow guests to sit and drift in a reverie, watching the ever-changing moods of the ocean, sand and sky. The place is soothing and the sound of continually lapping waves has a soporific effect, like white noise. The stately Norfolk pine out front is a magnet for birds — a raucous flock of parakeets are regular visitors. They settle at the top of the tree, weighing down the slender branches in a most precarious manner. I've also spotted a kookaburra — an exciting event for a foreigner — and some parrot-like birds with brilliant plumage.
Over the course of the weekend, we hiked along spectacular coastal tracks linking a string of pristine, jewel-like beaches, and learned about the fascinating geological phenomenon of tessellated pavement: sandstone rock that has been fractured over millions of years of weathering and erosion into rectangles resembling a tiled pavement or mosaic floor. I found myself wondering how I could prise them loose and take them home. How wonderful they would look as garden paving.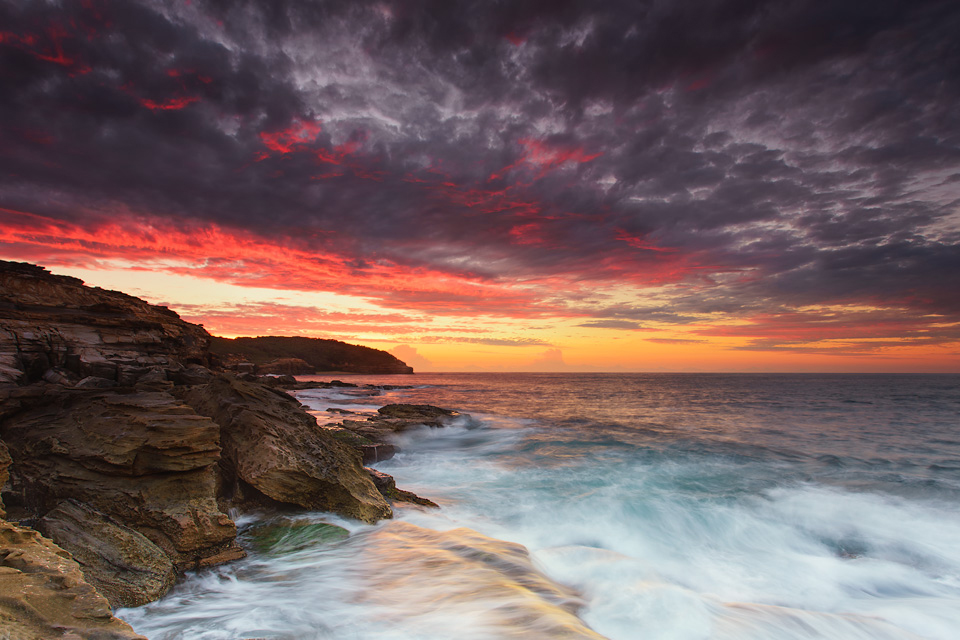 The peaceful expanse of Putty Beach — so called, due to it being the colour of fresh putty — was also an ideal walking spot. The tranquil beach is tucked in between a pair of rocky headlands where waves thump the rocks, leaping metres into the air in walls of white foam. At 1.6 kilometres long, it's the perfect distance for a stroll at dawn and dusk.
While Killcare has the feeling of seclusion, there's plenty to do here with an aquatic playground for all ages on the doorstep: surfing, paddle-boarding, kayaking, boating, sailing, fishing, diving, cycling, whale-watching and hiking. Over the hill, Hardy's Bay is more heavily populated and offers a general store, wine shop, art galleries and boat charters in addition to a few more eating options.
A note for those who enjoy sophisticated dining: Killcare is home to Bells restaurant, the residence of award-winning chef, Stefano Manfredi. Chef Manfredi is rated so highly, well-to-do Sydney-siders often catch a seaplane there just for lunch. For casual dining, it's wise to join the locals who gather for lunch at the Killcare Beach Kiosk. We sat in the sun and ate delicious fish and chips, watching children playing in a sheltered rock pool as if it was summertime. The air temperature was a balmy 23-25 degrees Celsius in July — delightful, considering that July is mid-winter.
On our last night, misty rain began to fall as we climbed the steps to the house after our sunset stroll. The decision was easy. No restaurant could possibly compete with the ambience and panorama of Killcare Beach House, so we dined at home. The metres of bench space allowed all of us to be involved in dinner preparation. The two 'chefs' in the family on one side bossing the two 'sous chefs' on the other side, dialling up tunes on the sound system that reminded us of past holidays, easy laughter — we delighted in just being together, rebonding after too long apart.
---
Justine stayed at Killcare Beach House courtesy of  Luxe House and travelled there with Jucy Rentals.