Putting On the Ritz-Carlton
Entering the Ritz-Carlton at Dubai Marina, spaces are vast yet comfortable, with Istana-style carved wood ceilings and Arabian fretwork over onion-shaped windows.
A safari down chandeliered passageways leads to a marble maze where the spa and fitness centre stretches through an extraordinary labyrinth of heated mosaic beds, saunas and steam rooms, relaxing rooms with minted water, hot and cold plunge tubs, and even a large lap pool. Among the gardens leading to the hotel's private beach and draped private pavilions, one of four large pools even has a six-metre waterfall.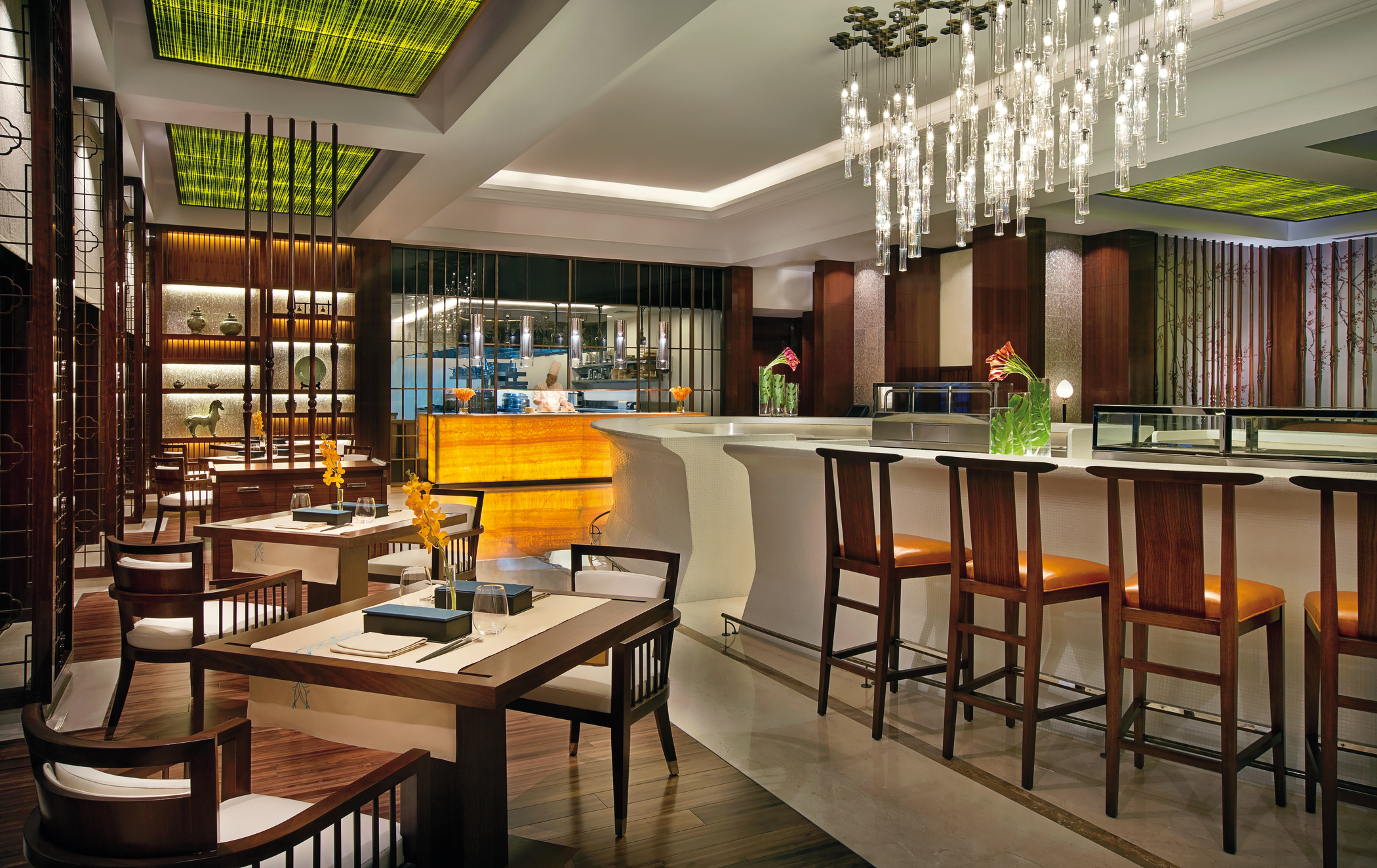 Food at the Ritz-Carlton's Blue Jade restaurant has earned it the title of top Asian restaurant in Dubai. I can only imagine the competition in this land of excess. We tried a dish handed down from the chef's 90-year-old Vietnamese grandmother: lemon and ginger-marinated sea bass wrapped in lotus leaf and baked soft and moist. A recommended ginger-infused sake was the perfect partner to fresh sashimi. Even breakfast in the Caravan restaurant was a culinary journey, following the spice route from the Mediterranean, through North Africa, the Middle East, and down to India.
Our brief stop in Dubai was to end in a caravanserai, without stepping outside the hotel gardens. Amaseena is a collection of open Bedouin pavilions, lit by flares and draped in orange and red, with low seating and access to a delectable trail of Arabian food. From the grains and spices, to barbecues with lamb, kebabs and whole fish, it was a sensuous, sensual assault, made Aladdin-like by men reclining with polished hookahs, serviced by a black-clad keeper of coals, whirling his thurible to deliver red-hot charges to the smoke-shrouded pipes. The Ritz-Carlton delivers an authentic taste of the Middle East, in true Dubai style.