Growing Younger in Crete: Greek Food, Wine and Conviviality in Elounda
Crete is a land of legends, and legendary hospitality. One sublime summer evening in Elounda, we were treated to both. Our Greek friend and host at Solfez Villas, Nikolas Lygeros, was horrified when I asked if we could contribute to the dinner party he was hosting for us. "It's just as well I am Athenian," said the 6-foot Greek with a mane of shoulder-length curly hair. "If you said that to a Cretan, he would probably shoot you," he observed, with a wink and a dazzling grin.
Having seen all the bullet-ridden road signs scattering on the island, I wondered for a moment if this was more than just an idle comment. I tried to explain it was a polite Kiwi custom to bring a plate, but he was appalled at my suggestion. "Just come as our friends," he said. As we feasted on the fruits of the land prepared for us by Cretan chef Ypapandi Velimvasaki, Nikolas told us the legend of Talos, who it's said strode around the island of Crete three times a day, casting boulders at any ship-borne invaders who threatened the island. There was ample ammunition for the huge winged bronze giant, the mythological protector of Crete, as the landscape is strewn with grey and orange rocks.
However, Talos is not the only legendary figure who hails from these parts. Zeus himself, the mighty King of the Gods, is said to have been born in the Dikteon Cave on the Lasithi Plateau beyond Elounda, an area famous for its ancient white-sailed windmills, which are currently being restored. Beyond being a land of gods, Crete is also the land of the ancient Minoans — the earliest recorded civilisation in Europe, dating back to the 27th century B.C. The magnificent Minoan palace at Knossos is only an hour's drive from Elounda.
With all this history surrounding us, it's clear that tradition is an important aspect of Cretan culture — and that goes for the food, too. Nikolas, who arranged the magnificent banquet on our behalf, said Ypapandi's dishes were traditional Cretan fare, coming "from generations back, like a legacy handed on from mother to daughter." Although some, like the stuffed grapevine leaves and the kleftiko lamb, could be found in variations in other areas of Greece, the differentiating factor is the land on which vegetables are grown and animals raised. "This is what gives the final grandeur and intensity in taste" in Cretan products, Nikolas suggests.
"Crete's inhabitants are proud, hospitable, hard working and would never leave a guest hungry or thirsty," said Nikolas, and this was clearly apparent at dinner. There were seven of us at Nikolas's villa next door to ours, but the feast could have fed 30. We learn that Greeks favour mezethes plates, especially when eating with friends or family — this entails ordering a variety of small plates of various tastes, similar to the Spanish tapas, rather than a single main course.
Slow cooked kleftiko lamb. Fried pork. Dolmadakia (stuffed grapevine leaves and zucchini flowers). Fava beans with olive oil and onions. Fried zucchini and egg plant strips. Tzatziki (fresh yoghurt with ground cucumber, lots of garlic, olive oil and salt). Handmade pasta noodles with Cretan athotyro cheese. Snails cooked in rock salt, olive oil and rosemary. Greek salads with feta, olives, tomatoes, cucumber, onion and oregano… The dishes just kept marching down the steps from the kitchen to the table set up outside by the infinity pool.
The food was all homemade from everyday ingredients, cooked in the finest Cretan olive oil and simply presented, but hugely flavoursome with an incredible intensity of taste. Ypapandi, a lovely Cretan lady who spoke no English, had spent the entire day preparing the 12 traditional dishes for us. We thanked her with the international language of many smiles and hugs, along with a few tears of gratitude. She shrugged it off in the wonderful, self-effacing Greek fashion I have been trying to perfect ever since. Nikolas told me Ypapandi was accustomed to cooking for Greek weddings, where 800 is a small wedding and the guest list often exceeds 1000.
To accompany the feast, oenologist Emmanouela Paterianaki presented a selection of her magnificent organic Cretan wines, grown in the semi-mountainous area near Melesses, in Heraklion prefecture. The crop is all hand-harvested due to the steep terrain, and varieties and production are controlled by an appellation system similar to those used in France. The vineyard produces 60 per cent red and 40 per cent white wine, all proudly organically grown. Domaine Paterianakis also has accommodation for 'wine tourists' in three luxurious suites and offers guided tours around the vineyard with wine tasting and educational courses.
Like many Cretan enterprises, the grape-growing and wine-making operation is a family affair, which dates back four generations. Emmanouela's father George, a civil engineer, followed in the footsteps of his vineyard-owning brother when he was 40, and now runs Domaine Paterianakis along with the four talented women of the family — his wife, a lawyer, and three daughters: a chemical engineer, a civil engineer, and oenologist Emmanouela, who is in charge of the winemaking. Beautiful and effervescent, Emmanouela is a traditionalist, adhering to the philosophy of the cork rather than modern screw cap bottle seal.
After a chorus of "Kaliorexsi." the Greek equivalent of bon appetit, and "Giamas" – 'good health' – we tucked in. Emmanouela's choices were superb, each wine complementing, enhancing and balancing the cuisine. We sampled a Melissinos dry white made from 70 per cent rare Cretan thrapsathiri grapes and 30 per cent sauvignon blanc, followed by a Melissinos dry rose from Cretan kotsifali and French syrah varieties, finishing with a Melissokipos dry red from kotsifali and mandilari grapes.
We three Kiwis dined with Nikolas; villa manager Hippocrates, whose father owns the construction company, Ioniki Domiki, that built Solfez Villas; and his wife Elli, a swimming instructor — all warm, charming, industrious people. They treated us like old friends, members of their family. A few glasses of Emmanouela's excellent red later, the conversation turned to the vast tourism potential of the island.
Elounda's development began in the 1970s, when the first 5-star hotels were established. Built on the hillside around a picturesque fishing village and beaches with emerald waters, Elounda is now frequented by celebrities, royalty and filmmakers. Restaurants and high-end jewellery and fashion shops abound, but the village has maintained its slow-paced, rustic charm.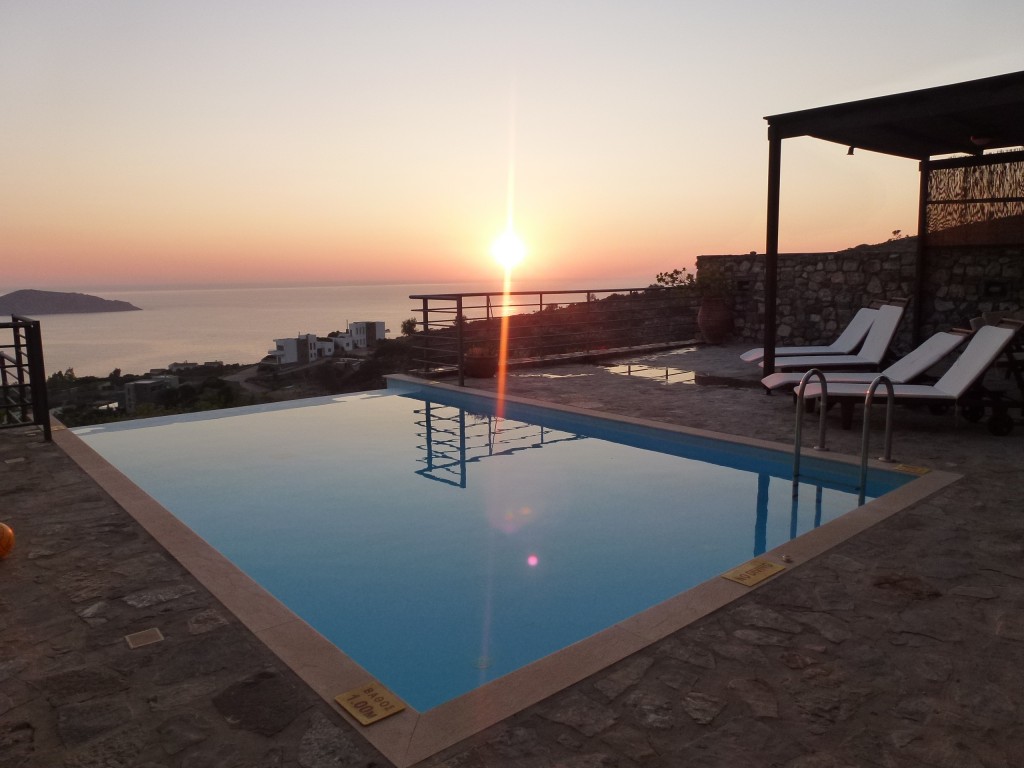 Nikolas, e-marketing manager for the Solfez complex, said the four self-contained villas were originally built in 2009 for sale, but are now rented as vacation accommodation, mainly to overseas families and groups of friends. Perched on the hill above dazzling Mirabello Bay on the northeast coast of Crete, the luxury three-story villas feature balconies on each floor. Our villa was superb, accommodating six people in three double bedrooms with two bathrooms, a full kitchen and laundry.
The villas are completely private, separated by massive feature walls, made from the local orange and grey stone excavated during construction. Each has its own infinity pool overlooking the bay and a huge tiled outdoor entertainment patio with table, chairs and loungers, as well as built-in BBQs and a garden growing Greek vegetables. A full-service approach matches these thoughtful touches: we had arrived late in the evening after driving from the airport in the Cretan capital, Heraklion, to find Nikolas had stocked the fridge with fresh fruit, Cretan wine, cheese, bread, terrine, honey, nuts and other delicacies.
After 24 hours at Solfez Villas, we realised Nikolas was an exceptional door-opener with invaluable local contacts. No sooner had my husband Chris expressed an interest in golf and daughter Sophie and I inquired about spa treatments, than we were whisked next door to the five-star Porto Elounda Golf and Spa Resort, where our wishes were granted. Nikolas introduced Chris to the golf pro at one of the top courses in Crete, while mother and daughter met Elli, manager at Six Senses Spa — ranked one of the world's leading spas by Condé Nast.
Chris toughed it out on the golf course in the 36-degree heat and glare of the Cretan sun, but Sophie and I were happy with our choice to luxuriate in the cool, pure hedonistic heaven of the exquisite spa, with its soothing fountains, soft lighting and luminous pools. Masseuse Christina worked such Swedish magic on my shoulders and neck, I was smiling serenely for days.
Another night, following Nikolas's recommendation, we dined at a modest-looking taverna just a short drive away. From the outside, Taverna Akrohoria presented as a humble, family-run restaurant with a few rooms to rent upstairs — but the view over the Aegean Sea and Mirabello Bay from the outside dining area was divine.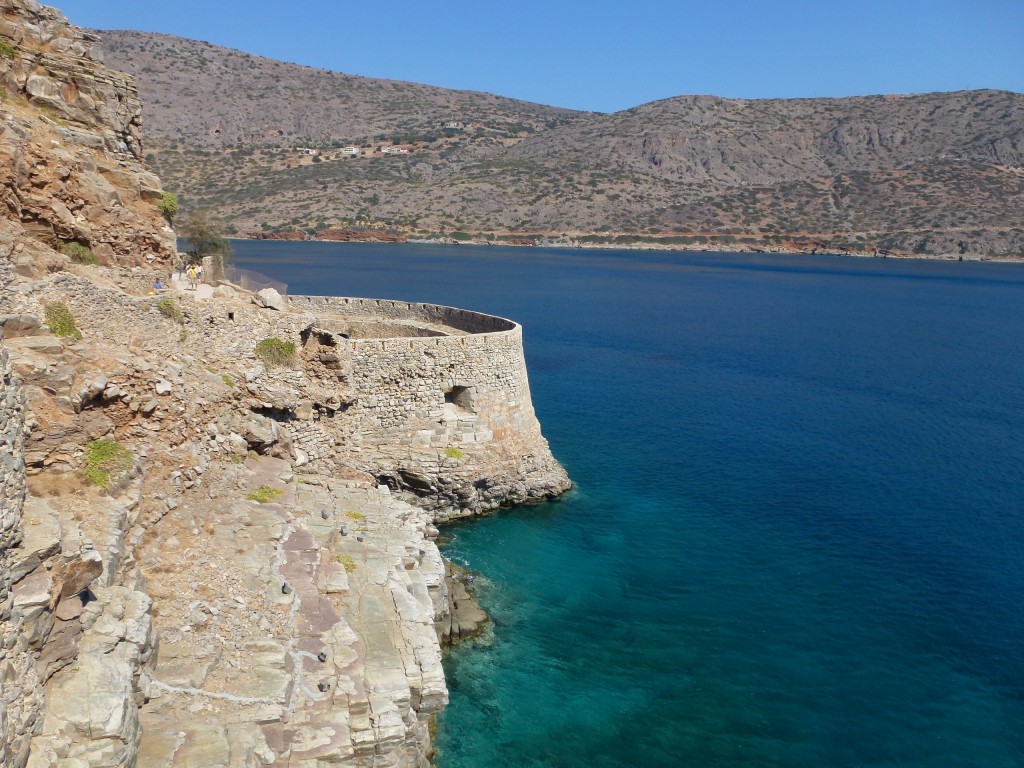 We soon realised we were in the presence of another gifted Cretan chef, Emmanuel – one of the friendliest, warmest people on the planet. He didn't speak much English and the only other table was a large Greek family, so we ended up in the kitchen where Emmanuel dolloped spoonfuls from each pot onto plates for us to try. Within 15 minutes of ordering, Emmanuel's angel-faced sons were eagerly bringing us a succession of dishes, including vine leaves stuffed with a vegetarian mixture, lamb meatballs, cheese puffs, sautéed aubergines, capsicums, onions, and sweet peppers, spinach pies, zucchini flowers stuffed with rice and herbs, tzatziki, and a tomato, feta and cucumber salad.
Once Emmanuel, his wife and two sons knew we were from New Zealand, they showered us with extra dishes on the house, in honour of the Kiwi contribution to the Battle of Crete — this saw us enjoying baklava, terrine, a plate of fat grapes literally exploding with flavour and juice, and Emmanuel's homemade raki, the local firewater. The dishes were wholesome and full of flavour, rather than the prettily-arranged plates of French cuisine. No frills – just authentic, Cretan cuisine prepared by a lovely, hard-working, humble man, who grows and makes everything he serves in his taverna, from the lambs and goats to the feta, olive oil, vegetables, wine and raki.
The next night, we debated dining elsewhere, but ended up back at Akrohoria. We just had to try Emmanuel's pork with fresh herbs and the zucchini patties. We were greeted like royalty, and after the main courses, Emmanuel brought us divine crystallised melon, baklava . . . and more raki. Nikolas later informed us that Cretans hold the distinction of being amongst the longest-living people on earth, a factor they attribute to their diet – and the raki. So the longer one stays in Crete, the younger they get.
Crete is truly blessed . . . climate, history, landscape, food, wine, beaches, but ultimately it is about people, experiences shared, ideas exchanged, and friends made.