Playing Polo in Dubai
And we're off. The reins in my left hand and the mallet swung over my right shoulder, we canter towards the pulu (ball). I half rise in the saddle, my eyes on the two tall metal goalposts ahead, and swing the mallet towards the ground. It connects, though the ball stops short of the goal line. I am nonetheless elated: two hours ago I had not even seen a mallet up close. I turn the gelding I am riding to do a victory lap around the field while Steven Thompson, our instructor and the founder of the Dubai Polo Academy, looks on in amusement.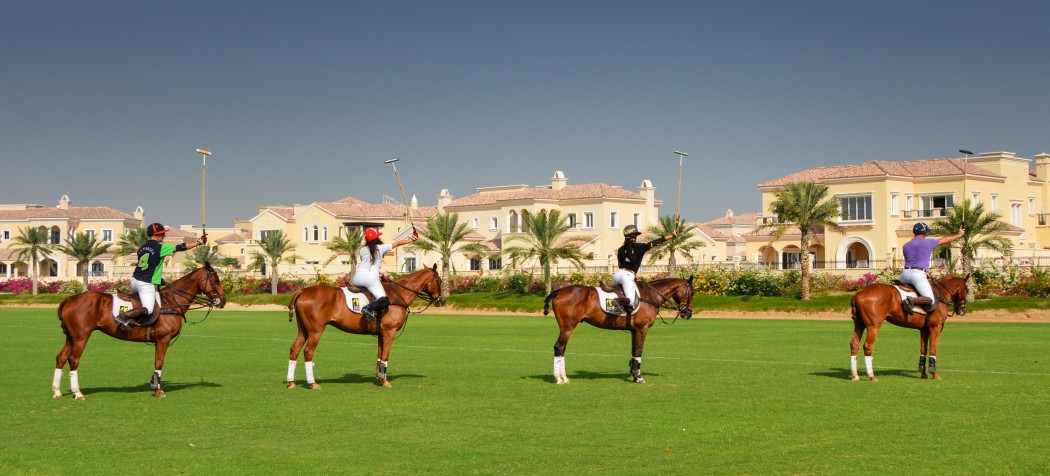 As I come back around to the group, I smile to myself, too; given the prestigious history of this game, there are probably a few other-worldly figures as well, who would also cast a bemused look on this scene. It is often said that the history of mankind is carried on the back of a horse, and it is no different with polo. From King Darius of Persia to Genghis Khan, Alexander the Great, and the Mughals of India, the polo pony has carried many a great name from history on its back. However, polo has become a lot more accessible over its 2000-year history. No longer reserved for kings and cavalrymen, the game is played today by both professionals and amateurs. At facilities like Dubai Polo Academy, anyone can now have a go at the 'sport of kings'.
We begin our lesson sans horses, on the ground, in order to learn the basic manoeuvres with a polo mallet. Steven shows us how to twist our bodies and swing the mallet in a backswing, over our heads and straight up into the air in front of us. It is immediately evident why this first part of the lesson is conducted un-mounted. He approaches one of the students who has just completed a perfect golf swing and remarks laughingly, "your follow-through just knocked the horse out."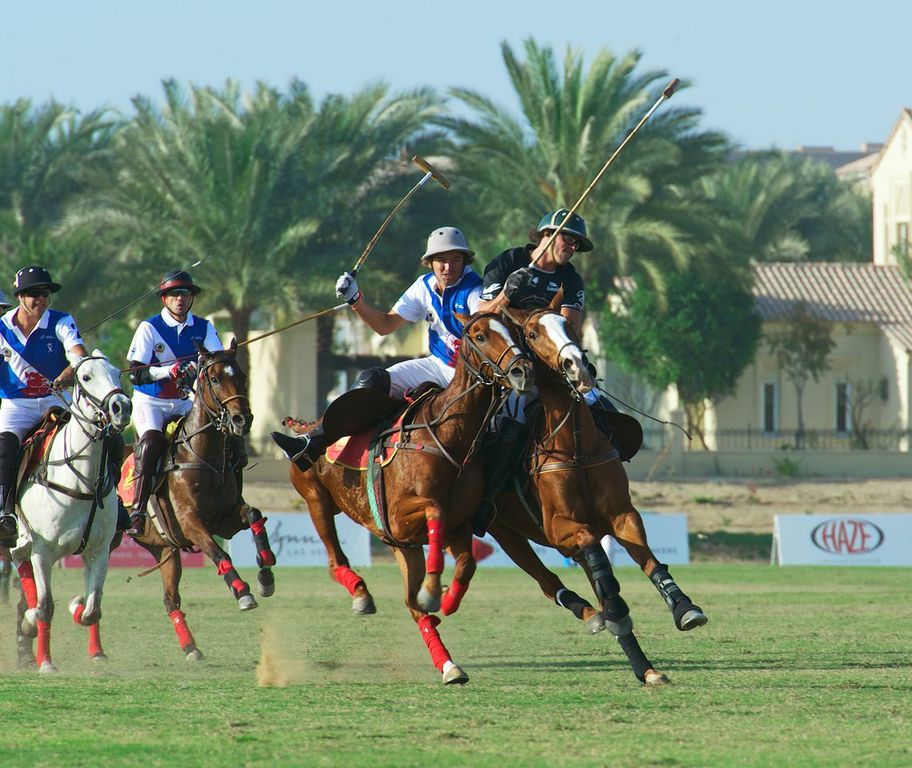 When we are no longer a danger to ourselves or the animals, we are allowed to mount the ponies. My horse is a lean, ten year old dark bay gelding called Jasmin, with a beautiful shiny brown coat and a perfectly plaited tail. It's definitely love at first sight. Once we're in the saddle, Steven teaches us the hand and leg movements required to give the horses instructions. Although we have all ridden before, the polo techniques are new to most of us. Unlike the instructions that are given in other riding disciplines, polo riding seems less about telling the horse what to do and more about simply allowing it to do its job. As Steven puts it, "The horse as an animal is one of the most efficient creatures on the planet. What makes it inefficient is human interference."
Once we are all transitioning smoothly from a walk to a canter then back to a walk, Steven starts to bring other aspects of the game into the lesson. We are soon riding around taking turns at hitting the ball, or – quite often, as it turns out – attempting to hit the ball. The game is certainly not as easy as the professionals make it look.
It is easy to see that Steven, with his cheeky grin and even cheekier disposition, truly loves what he does. His journey to Dubai is evidence of that passion. In his early 20s, Steven walked out of a well-paying corporate job in London to become a polo groom earning 80 pounds a week and living in a caravan. He has absolutely no regrets about downsizing: "I truly believe that either you can sell your soul to a corporation and the money is meant to compensate, or you can do a job that you are passionate about… spending every day enjoying life and being content, albeit broke." He credits his years grooming horses as being formative, allowing him to learn more about the industry at grass roots level. Having found that he had a talent for training young horses, he spent some time travelling the world, riding young polo horses for their first seasons in New Zealand, Australia, Mexico and Argentina. He took those skills back to the United Kingdom, where he took a lease on a stable yard in the heart of the Home Counties' polo country. Strange as it may seem, that is where the current Academy began.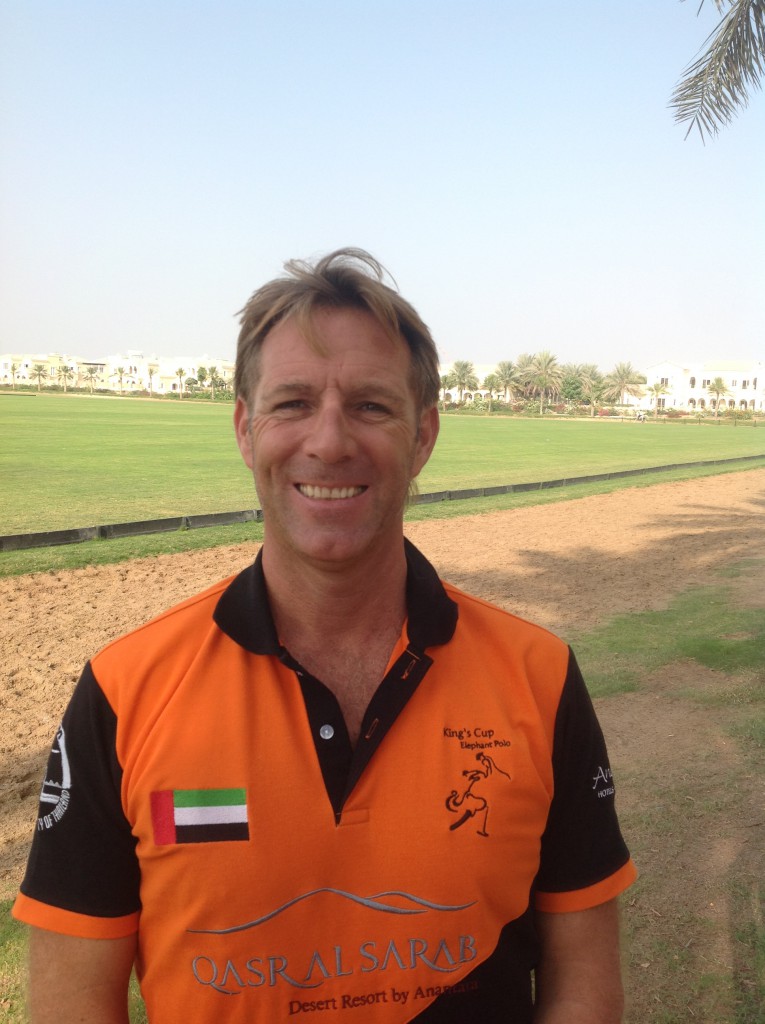 After one of his English clients relocated to the UAE, Steven went over to Dubai to conduct a weekend polo course in 2005. Just six months later, he found himself heading back permanently with all his horses, and he has not looked back since. "As one of the most aspirational destinations in the world, it was only fitting that Dubai should have its own polo academy. From the minute we opened the doors, we were booked out," Steven tells us.
The majority of the horses at the academy have been imported from Argentina, with the remaining sourced from within the UAE itself. The Academy has horses to suit all levels of ability, shape and size, so everyone is catered for, even those with little to no riding experience. The horses used in the lessons are all trained under the same regime to ensure they can respond to inconsistent directions given by different riders. They are trained repetitively in every aspect of the game: acceleration, deceleration, turning, and so on. Once they have started to understand each aspect clearly, all the elements are pieced together. Initially the trainee horses are involved in slow-moving games to allow them to 'find their hooves' without being overwhelmed and panicked by a fast-paced environment. However, the match horses at the Academy are specifically trained for competition purposes.
We are able to witness this difference first hand when we settle after our lesson on the Academy's verandah to watch one of the matches in progress. After more than two hours of riding around wielding a mallet, the Academy's bar — all mahogany and leather, reminiscent of an old English club-room and its well-mixed cocktails — provide welcome refreshment. The first goal is soon scored and the player, dressed in a bright red polo top, turns his horse to do a victory lap. I can't help but laugh.