We cannot help but beam back. The smiles stay on our faces as we leave this traditional Balinese compound home and follow Penelope Williams, executive chef and owner of Bali Asli, on the rest of our trek through the village, Gelumpang, that neighbours her cooking school and restaurant.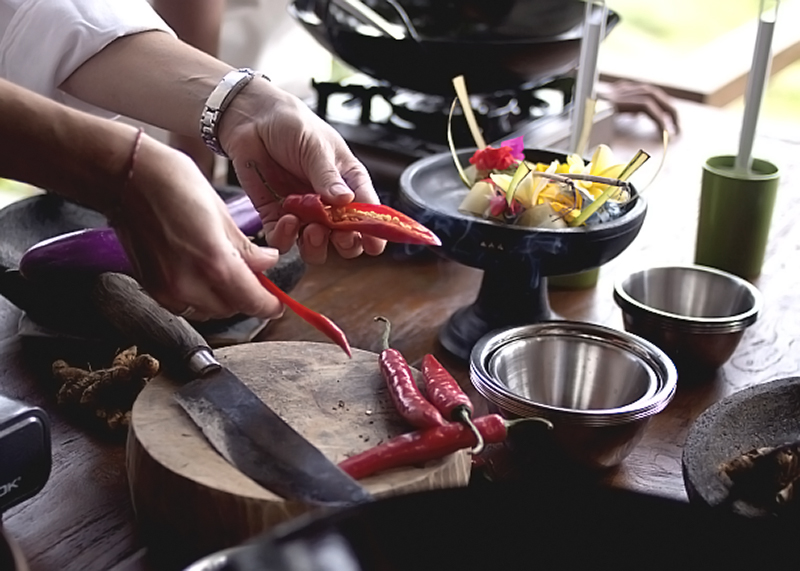 Our glimpse into Balinese village life takes us past a man perched up a palm tree preparing tuak, a Balinese liquor. A woman precariously balances a large load on her head while expertly navigating the uneven ground. Villagers wash their clothes in the river, while young girls shyly rush past us and young boys excitedly rush up to us.
Bali Asli, which means 'authentic Bali', is a cooking school and restaurant that offers visitors just that. Guests can choose from a variety of unique Balinese cultural experiences that go beyond the kitchen — fishing, rice ploughing, market trips or a village trek are part of the cultural menu.

Watch: PixelHunters take an aerial look at the beauty of Bali.
Having cooked at top restaurants in London and Sydney, Penelope came to Bali for a short stint to work at one of the luxury resorts in Candi Dasa. As all good love stories go, the temporary stay turned into a number of years, and then a permanent relocation. Penelope's passion for the vitality and freshness of Balinese cuisine, along with her frustration at the lack of genuine Balinese food accessible to foreigners, gave rise to the Bali Asli idea.
As we make our way up the dark stone staircase that marks the entrance to Bali Asli and pass through the carved timber doorway at the top, we are left breathless — and not because of the stairs we have just climbed. The restaurant — a long, earthen-toned space with communal wooden tables — opens seamlessly out onto an expansive wooden deck overlooking lush green wrinkles of paddy fields that extend as far as the eye can see.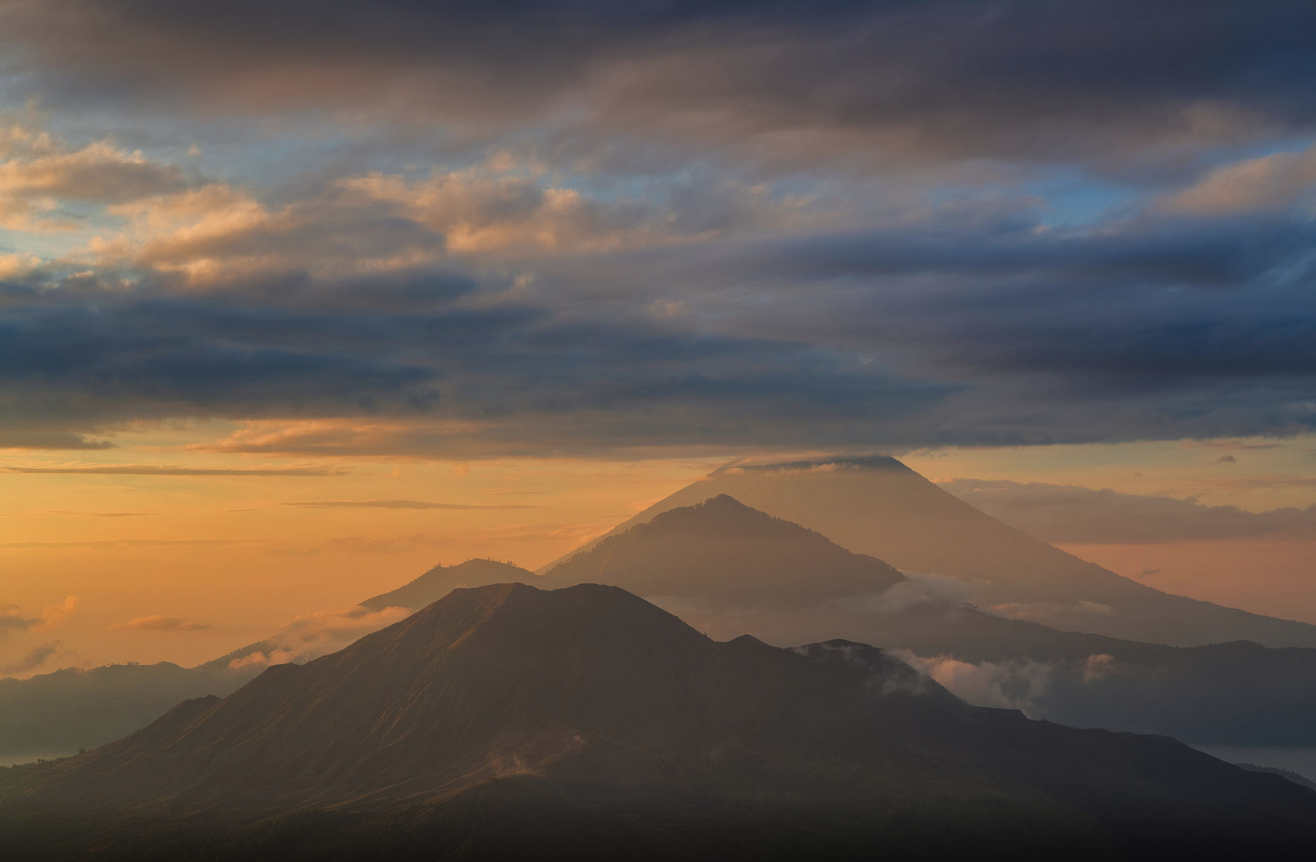 Bali's most sacred mountain, Mt Agung, rises like a mystical guardian in the distance, its peak only just visible through the wisps of drifting clouds. We stand on the deck, doe-eyed and lost in the tranquility that surrounds us.
Not only the views, but also the food and knowledge served at Bali Asli stay true to Balinese traditions. Before we begin cooking, Penelope gives us a tasting tutorial on the key ingredients that form the basis of Balinese cuisine. She explains in particular how integral it is to get the subtle balance of sweet, salty and sour flavours correct. With her expert guidance, we prepare our own Balinese feast. There are no electronic appliances: everything is prepared by hand, using good, old-fashioned elbow grease, a ulekan (mortar) and an anak, or pestle.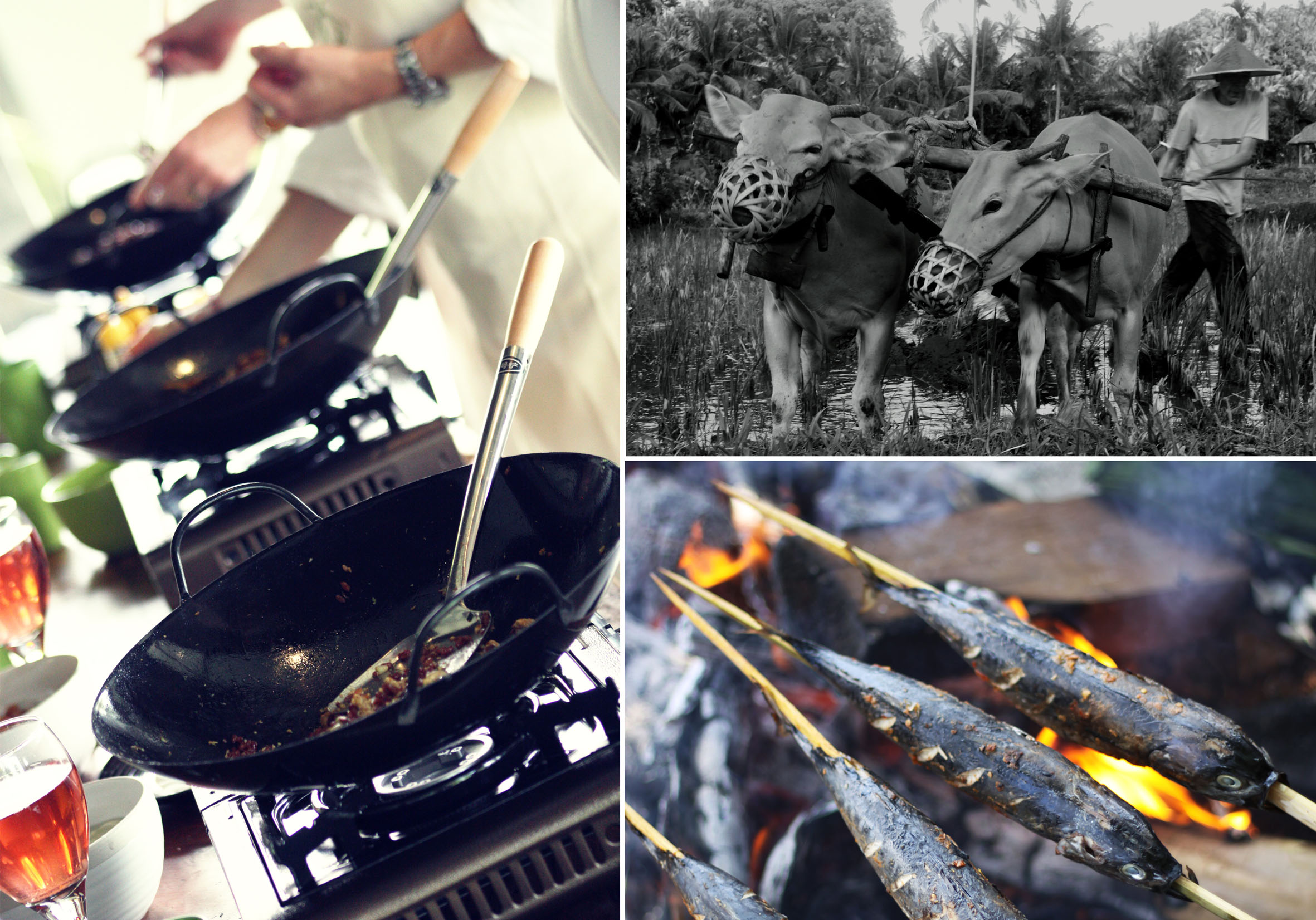 The ulekan, with its wide, shallow surface, allows us to make quick work of reducing our ingredients into a bumbu, the vibrant red spice and herb mixture that forms the cornerstone of a variety of Balinese dishes. We use it to season chicken satay on lemongrass skewers with peanut sambal, spiced fish wrapped in banana leaves and cooked on the outdoor coal oven, spiced tofu parcels steamed in a traditional basket, urab paku — a salad made with fern tips, Bali limes and coconut — and the staple Indonesian rice dish, nasi goreng.
We sit down to enjoy our communal feast — the traditional Balinese way of having a meal — accompanied by cocktails made from arak, purchased by Penelope from the Balinese farmer we saw earlier. With the vastness of the green valley spread before us, we cannot help but reflect on the day we have just had and conclude: this is the real Bali.