Highlights of Myanmar in 14 Days
Myanmar is a country that has been undergoing notable change since declaring its independence in 1948. Rich in history and natural beauty, Myanmar is a patchwork of diversity, being home to over 100 ethnic groups amongst its population of 53 million people.
Now under the de facto leadership of Aung San Suu Kyi, leader of the National League for Democracy, Myanmar is being welcomed into the tourism spotlight, following in the footsteps of its neighbours Thailand and Laos.
It is possible to visit the highlights of this wonderful country in around 14 days, or even nine days for those who are short on time. Below are two suggested itineraries, which can be used as a starting point for planning a trip.
9-Day Tour

14-Day Tour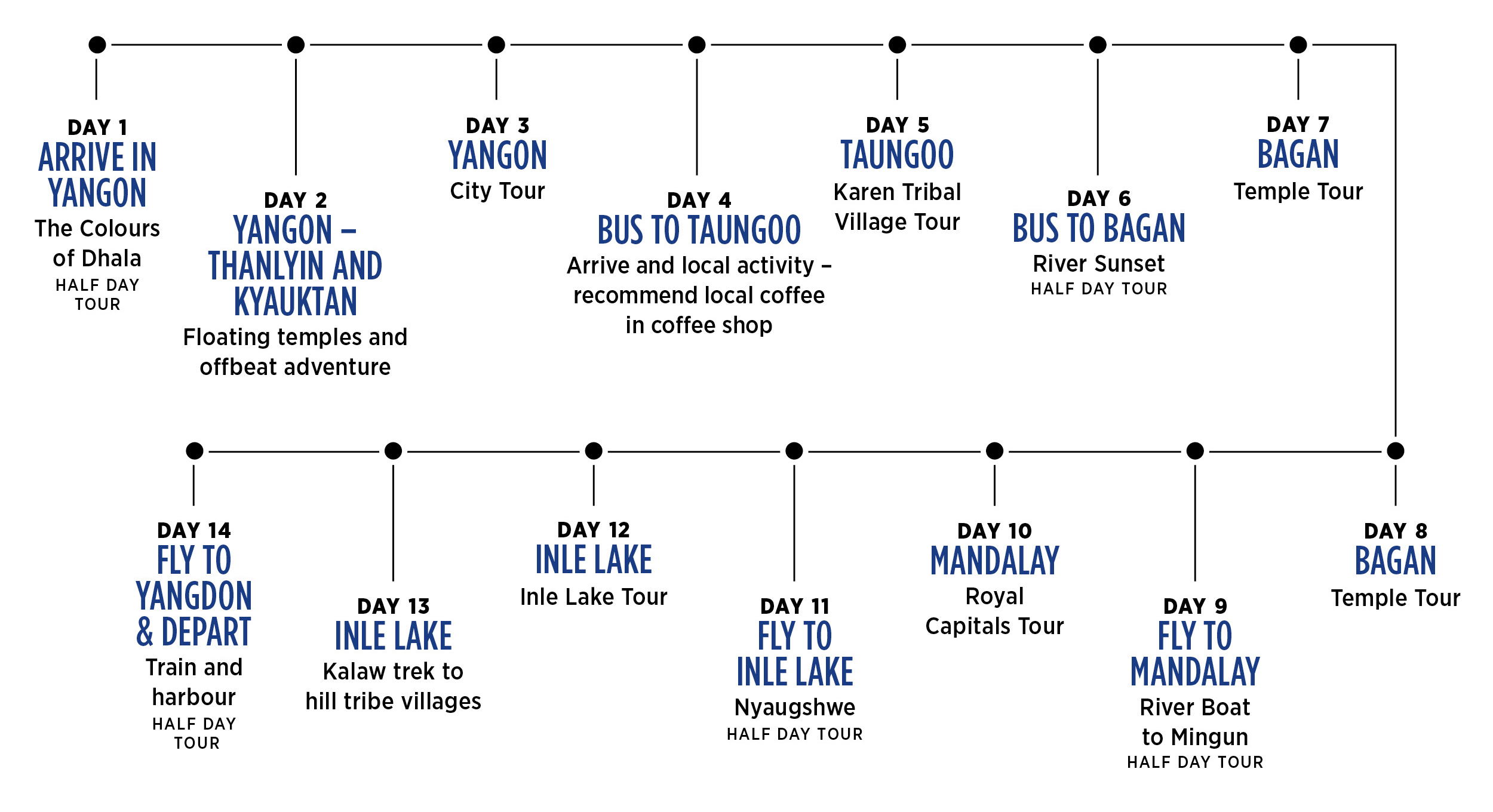 ---
Yangon (Southern Tip)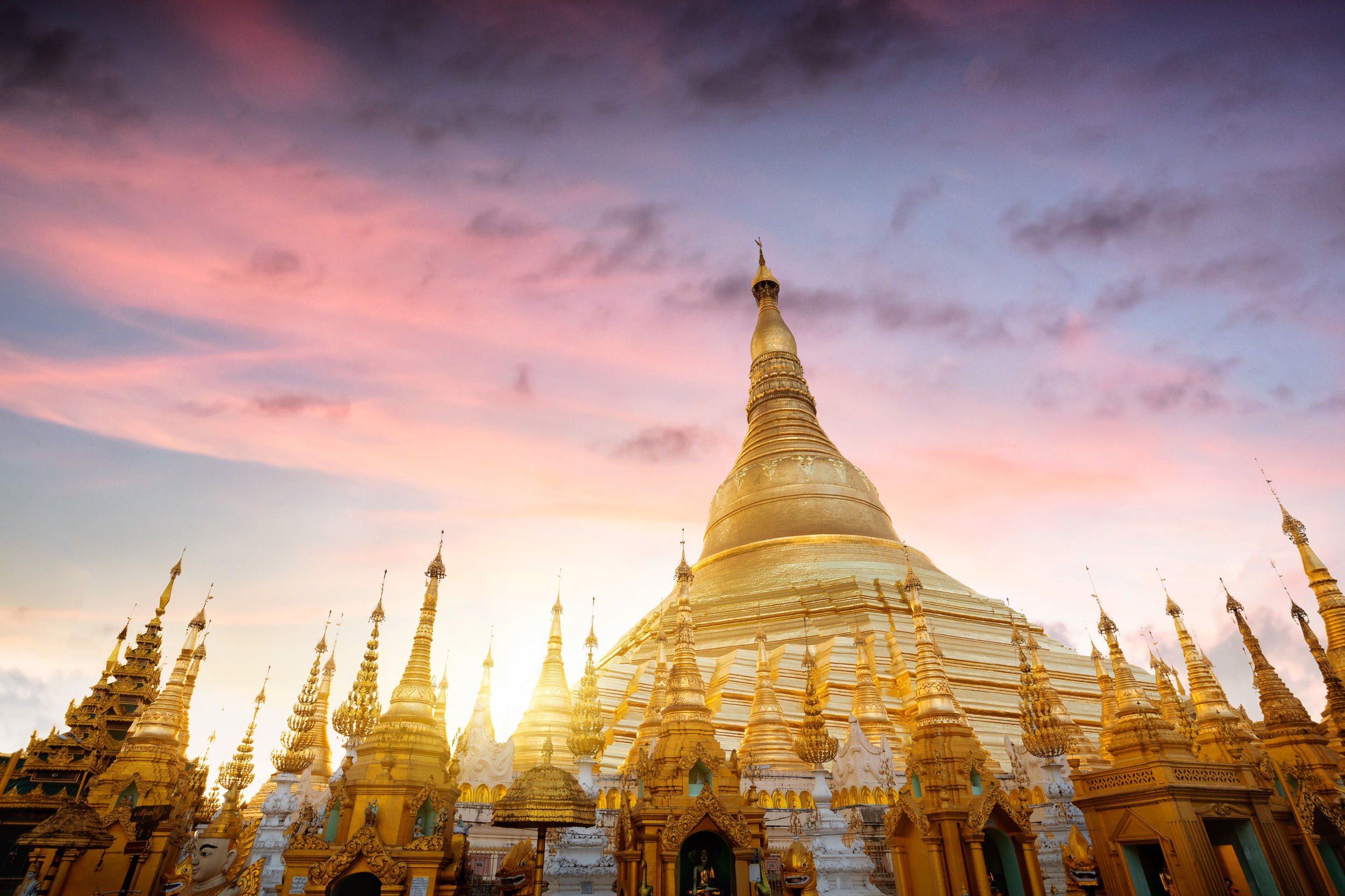 Yangon, Myanmar's former capital and largest city, is unapologetically hectic. The traffic-congested streets and pavements populated by the hoi polloi move as one from early morning until late evening. The faded grandeur of the downtown colonial district has an endearing charm that spreads across a city of startling contradiction, with temples, lush vegetation and modern glass-fronted offices existing side by side.
Exploring Yangon's colonial past is key to understanding its more recent heritage and the renovated Strand Hotel (1901) makes a great starting point. Morning coffee, afternoon tea or a sundowner across from the Yangon River evokes a time when the Customs House, General Post Office and Railways Headquarters, all easily accessible on a walking tour, would have been visited daily by merchants, officers and gentlemen.
Getting there: Around 90 per cent of international flights arrive at Yangon airport. Nearly half a million people pass through the airport each month, with 4200 flights a month linking to 22 international destinations.
Shwedagon Pagoda
The jewel-encrusted Shwedagon Pagoda dominates the cityscape and has long been the spiritual home of Yangon, with the 2500-year-old temple standing as the beating heart of Buddhism in the country. Said to contain more gold than the vaults of the Bank of England, dawn and dusk are the best times to visit and to wander this oasis of spiritual calm.
Getting there: The pagoda is best visited on foot. The rewarding walk is less than two kilometres from downtown and affords the opportunity to view city life along the way. The single tourist entrance to the Pagoda takes visitors past artisan workshops lining the steps approaching the temple's lower level.
Yangon River
With the luxury of a spare day, a boat ride to the southern bank of the Yangon River is extremely rewarding; taking a water taxi allows for conversation with curious locals going about their daily routine. The brightly painted wooden boats arrive in Dhala, a relatively rural outpost with bamboo houses. Shopping in the laidback market before visiting the Moe Goak Buddhist monastery adds another dimension to a visit to Yangon.
Getting there: Boats to Dhala leave from the jetty on Pansodan Street and tickets can be purchased from the tourist area. Be aware of intimidating rickshaw touts on the boat — it is best to arrange terms directly with a driver once away from the jetty, in the village.
---
Bagan (Central West)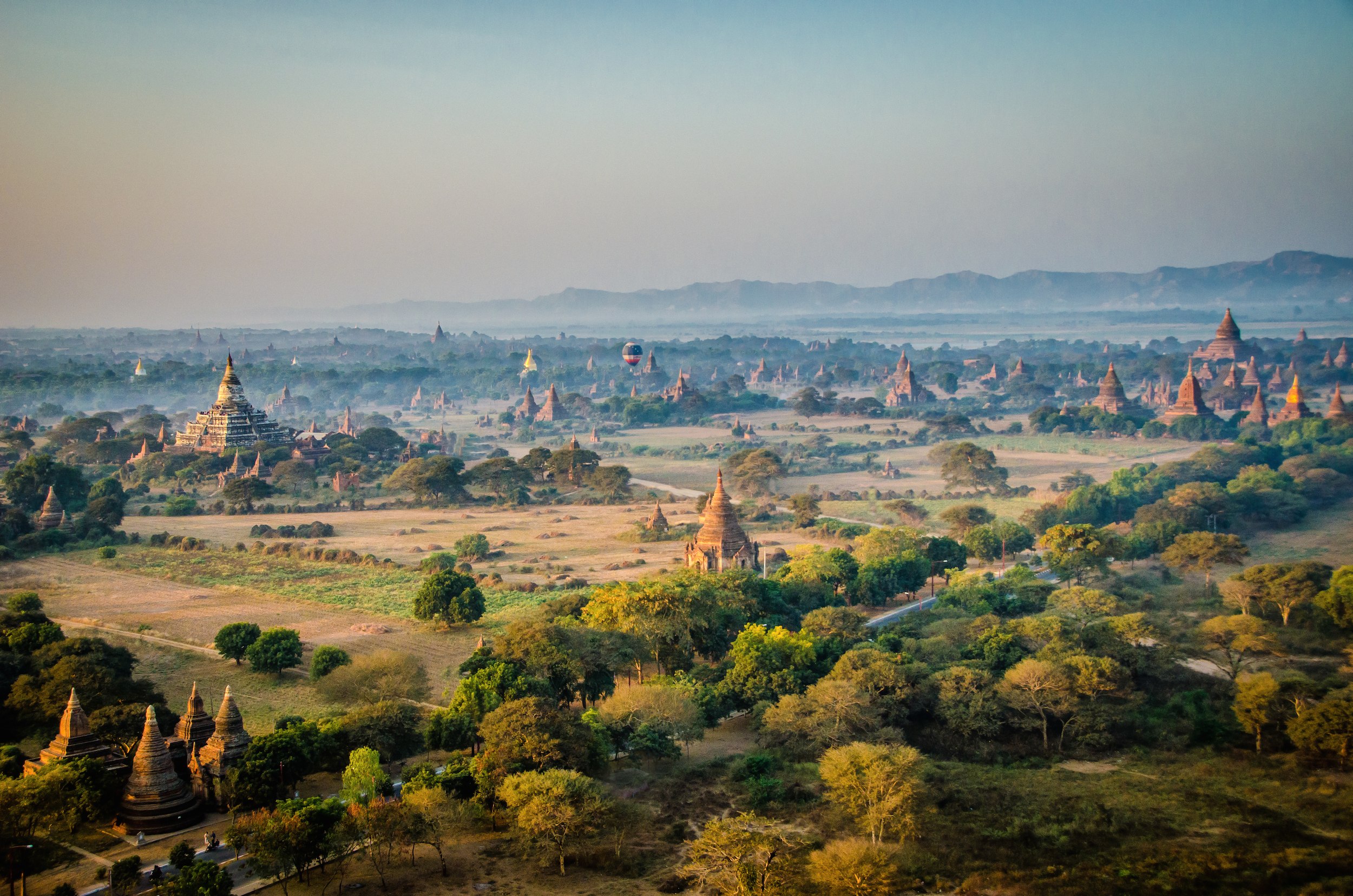 Myanmar's showpiece of architectural achievement, the temples of Bagan, lies on a 50-kilometre-square plain in central Myanmar. In one sweeping gaze, hundreds of temple spires can be seen rising from the sands of the plain, the earliest of which dates from the 9th century. At its height, this kingdom was home to over 4000 temples and was a key destination for Buddhist pilgrims.
Getting there: Bagan is reached by a one-hour flight, an 8-10 hour road trip from Yangon, or by boat along the Irrawaddy River from Mandalay, which takes up to 10 hours.
Temples of Bagan
Being short on time, tourists usually visit the five most impressive temples, which are also the most historic. Take an early morning trip to Ananda Pahto to witness its 52-metre high golden hti (ornamental pagoda top) rising in the dawn mist above the encroaching emerald canopy, as it has every morning since it was built in 1100. The four other top sites at Bagan are Dhammayangyi Pahto, Pyathada Paya, Sulamani Pahto and Thatbyinnyu Pahto.
It is possible to visit the highlights in one day, incorporating dawn and dusk, but it is preferable to allow 2-3 days or longer. Many of the relatively minor temples contain frescoes, some carefully restored, and statutes of Buddha, which are well worth viewing.
Getting there: Exploring the area by bicycle is popular. Alternatively, a romantic horse and cart, or a car and driver, can easily be arranged through any hotel. Note that in Bagan only, tourists cannot hire a self-ride motorbike.
Karen Tribes
On the outskirts of the central Myanmar town of Taungoo is the wonderfully rustic Myanmar Beauty Guest House, home to affable proprietor, Dr Chan Aye. An incredibly knowledgeable man, he can arrange transport and permits for an overnight stay in one of the nearby villages of Ngwe Daung or Shwe Daung, Karen tribal villages hidden amongst teakwood plantations. The journey into the seldom-visited forested mountains some 40 miles from Taungoo is an experience in itself. The overnight stay is in village accommodation, which is also where Dr Aye administers free medical care to the local residents.
Getting there: Enquire at the Myanmar Beauty Guest House.
---
Mandalay (Central)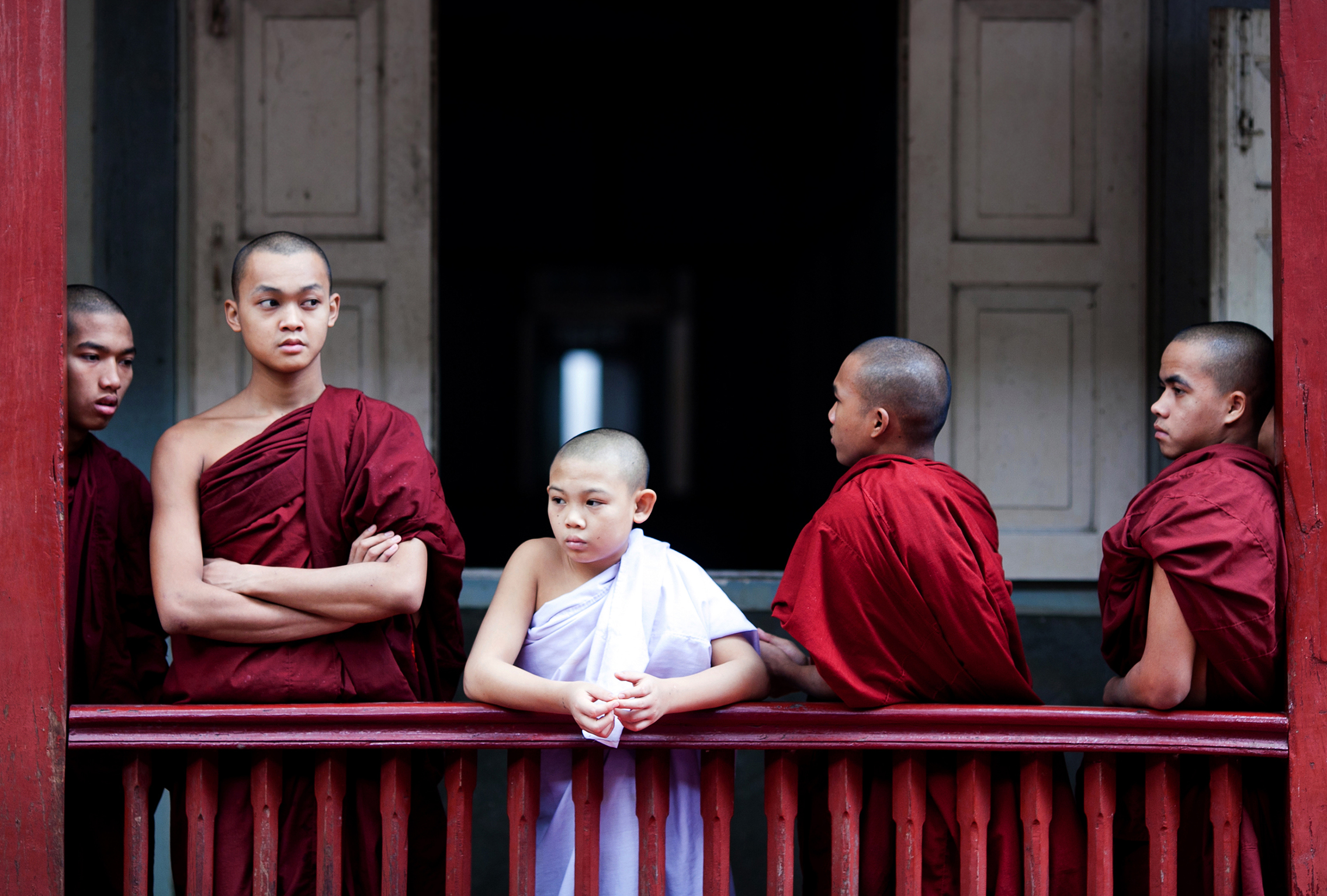 The Irrawaddy River is the lifeblood of Mandalay and has been for this important north-south trade centre for over 150 years.
Mingun
One hour upstream from Mandalay is the settlement of Mingun. The Mingun Paya would have been the world's largest pagoda had the earthquake of 1819 not damaged it beyond repair. It remains quite a climb; the summit gives incredible views over the Irrawaddy River, with other white and golden pagodas emerging like dragon's teeth from the surrounding trees below.
Getting there: Tourist boats to Mingun leave from the Mayan Gyan Jetty at 9am and return at 1pm daily. The jetty is just a few minutes' taxi ride from the town centre. Alternatively a local boat can be chartered at any time from the same jetty. 
Amarapura: U Bein Bridge
Easily accessible overland from Mandalay at Amarapura is the remarkable U Bein Bridge, which spans Lake Taungthaman. At almost 1200 meters in length and over 200 years old, it is the longest teak bridge in the world, constructed using local wood. Stroll across the bridge to watch fisherman casting nets into the lake or to chat with the locals who use the bridge to travel between the villages separated by the lake.
Amarapura: Mahagandayon Monastery
Also at Amarapura, to the east of the river, is the teaching monastery of Mahagandayon where novice monks and nuns practise Theravada Buddhism. A strict daily routine revolves around prayers and religious study, but it is the mealtimes that prove mesmerising to outsiders as hundreds of robe-clad monks wait in line for their daily meal. Afterwards, there is an opportunity to engage in conversation with the students, as they enjoy practising their language skills, allowing visitors to learn something of monastic life.
Getting there: U Bein Bridge and Mahagandayon Monastery are both located at Amarapura, which is 20 minutes by car from downtown Mandalay. A car and driver can be arranged through hotels and guesthouses.
---
Inle Lake (Central East)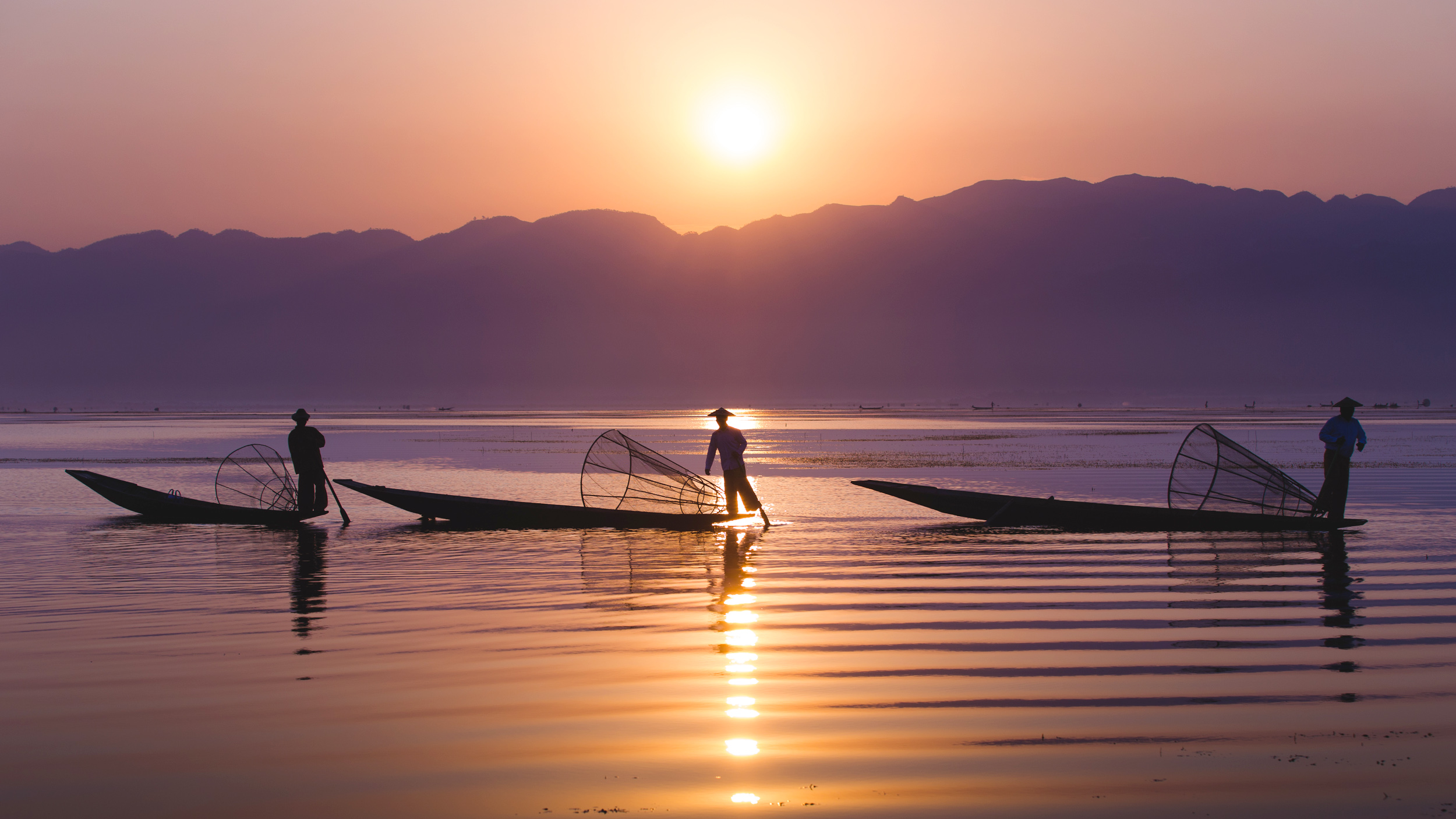 Life in the Shan Hills district of Myanmar revolves around Inle Lake (or Inle Sap), the 22-kilometre-long freshwater lake. Communities thrive and work on the water, and wooden houses balance on stilts with small boats parked outside. Much of the lake boasts impossibly lush, floating gardens laden with produce, providing both self-sufficiency and a cash crop.
Long boats, each hollowed from a single tree, skitter on the lake's surface. Fishermen skilfully use the unique Intha technique of rowing with one leg whilst balancing upright on the other, thus leaving both arms free to cast their nets. Inle Lake is both serene and enchanting, never more so than at sunrise and sunset when the mist falls low and unfurls across the mirrored surface of the lake.
Getting there: Independent trips are easy to organise locally through hotels, guesthouses or travel agencies.
Tribal Markets
On a five-day rotation between lakeshore villages, ethnic groups including the Pa-O and the Paduang make their way down from their homes in the hills to sell their produce at the local market. Spices, vegetables, livestock, carvings and handicrafts appear for sale. It's hard not to become lost amongst the shouts, smells and haggling between locals.
Getting there: Hotels and guesthouses will know the location and dates of the tribal markets and can arrange transport, as can any local travel agent.
Women and Culture
Lake Inle offers the chance to see Kayan women wearing towers of brass hoops around their necks: an ethnic necklace of pure singularity. More commonly seen is the beautiful body art painted using sandalwood paste. Delicate leaf-shaped illustrations are typically seen encrusted on the face. In the fields close to the villages on the lakeshore, such as Than Taung, agriculture moves to the land, where it is predominantly the ladies, wearing traditional hats, who are engaged in the back-breaking task of planting fields of rice under the midday sun.
Getting there: When booking a lake tour it is possible to request the inclusion of a visit to some of the many small villages that connect to the main lake by means of narrow canals.
---
Who This is For
Myanmar can be seen from the luxury of a fully hosted tour or explored independently. Either way, visitors should not expect everything to run smoothly or work perfectly, but accept that change happens, sometimes for the better. Myanmar will appeal to resilient travellers who want to gain insight into what life is like in a Southeast Asian country before it becomes developed for tourism.
 When to Go
Like most of mainland Southeast Asia, the rain falls mainly from May to October and temperatures are lowest from November to February, rising between March and May. For most, this means the best time to visit is between November and February, with the least rain and less intense heat.
ESSENTIAL INFORMATION
Air travel is an option between the major cities and tourist destinations, but is expensive compared to bus or train travel. For destinations along the Irrawaddy River, travelling by boat is a good option.
Some regions of Myanmar are not open to tourists — always check before travelling, especially to remote destinations.
Local public transport is plentiful and often crowded. It consists of buses, minibuses, taxis, open pick-up trucks and pedal-powered trishaws.
It is increasingly possible for discerning travellers to stay in privately run guest houses and hotels where the majority of the accommodation fee will stay in the private sector, rather than lining government pockets.
Tipping is not the convention, but giving a small gift for a kind service is not uncommon.
Avoid exchanging money at official exchange counters. The better rates are found in hotels and travel agents, with larger denomination notes attracting more favourable rates. Outside of Yangon, the US dollar is sometimes the only exchangeable currency.
ATMs can be found in Yangon. However, outside of Yangon, paying with a credit card or finding a working ATM is far less likely.
USEFUL LINKS
https://www.gov.uk/foreign-travel-advice/burma