48 Hours in Budapest
Hungary's capital and most populous city, Budapest's rich history, Gothic architecture, and 12th-century thermal baths make it one of Eastern Europe's most interesting cities. The city was formed when Buda and Pest, two small cities separated by the Danube river, combined in 1873.
Two days is far from enough time to experience the city, but for those visiting for only the weekend, it is possible to get a feel for its appeal in 48 well-planned hours. Below is a suggested itinerary for visitors looking to sample the best of the city on a compressed schedule.
Day One
Morning: Bus Tour
Head towards the Chain Bridge on the Pest side of the Danube embankment to buy tickets for the once-around-the-city, hop-on-hop-off bus tour, such as Big Bus Budapest. Although undoubtedly a tourist service, this convenient, reasonably priced tour (around 22 euros) provides an efficient way to quickly see Budapest's highlights, with pre-recorded narration.
The bus tour will take in sights including: Buda Castle (the coronation site of most Hungarian kings); Fisherman's Bastion (a viewing terrace on the Buda bank of the Danube named after the guild of fishermen who defended the city walls); Parliament Building (built in Gothic revival style); and St. Stephen's Basilica (named in honour of the first King of Hungary). Alight at Gellert Hill for a panoramic view of Budapest.
If time permits, use the bus ticket to take a river cruise to Margaret Island, a popular recreation area in the middle of the Danube. Alternatively, visit the National Gallery (on Szent György tér 2) to view the impressive collection of Hungarian art.
Lunch: Marvelosa, Lánchid utca 13
After a walk in the Castle District, stop in for lunch at Café Marvelosa, which is on Lánchid utca near the funicular and the Chain Bridge. Try the grilled paprika chicken breast served with Hungarian noodles and spinach, or the goulash, a traditional stew made with meat and vegetables spiced with great shakes of paprika.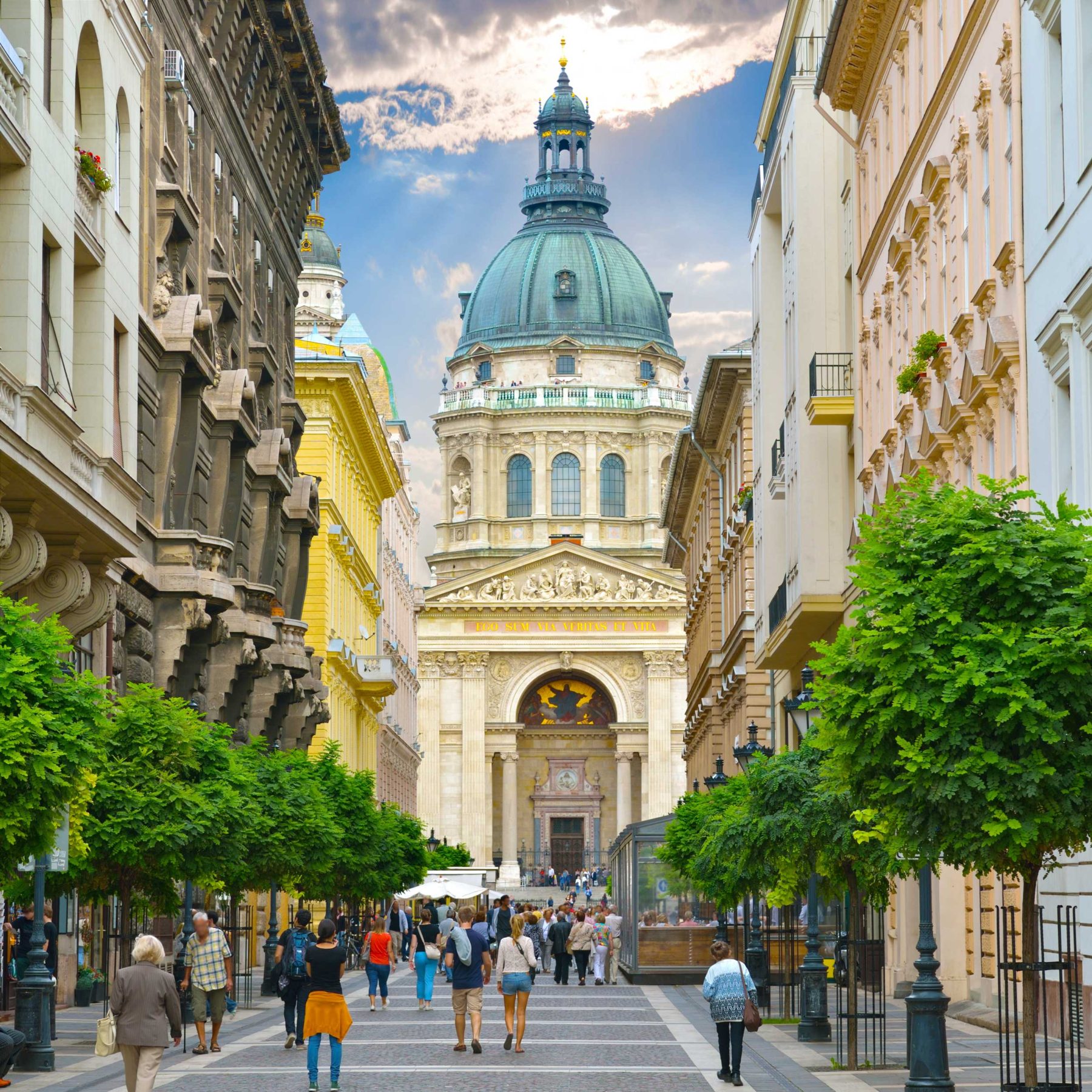 Afternoon: City walk
After visiting Parliament and St. Stephen's Basilica, explore the shopping area of Váci utca, known during Budapest's Golden Age in the late 1800s as the place for wealthy urbanites to see and be seen. Although lined with designer brand stores today, Váci utca also houses shops selling Hungary's Herend porcelain and handmade Halasi lace. Featuring 60 kinds of stitches, Halasi needlework is world-renowned.
Evening: Dinner at Gerloczy Café
Rest weary feet by settling in for a few house draught beers in the al fresco dining area of Gerloczy Café. Two blocks from Váci utca (just off Varoshaz utca at Gerloczy utca 1), the café is reminiscent of a turn-of-the-century brasserie, and serves excellent food. Try the duck liver, a local favourite, with port wine cherry and pepper cuvée. Note that the café also rents out small, clean rooms upstairs. As in most European cities, locals choose to dine late.
For evening entertainment, enquire at a tourist information centre or search the city's events calendar to learn what festivals are occurring. Many events, such as food and wine shows, will have tickets available for events the same evening.
Day Two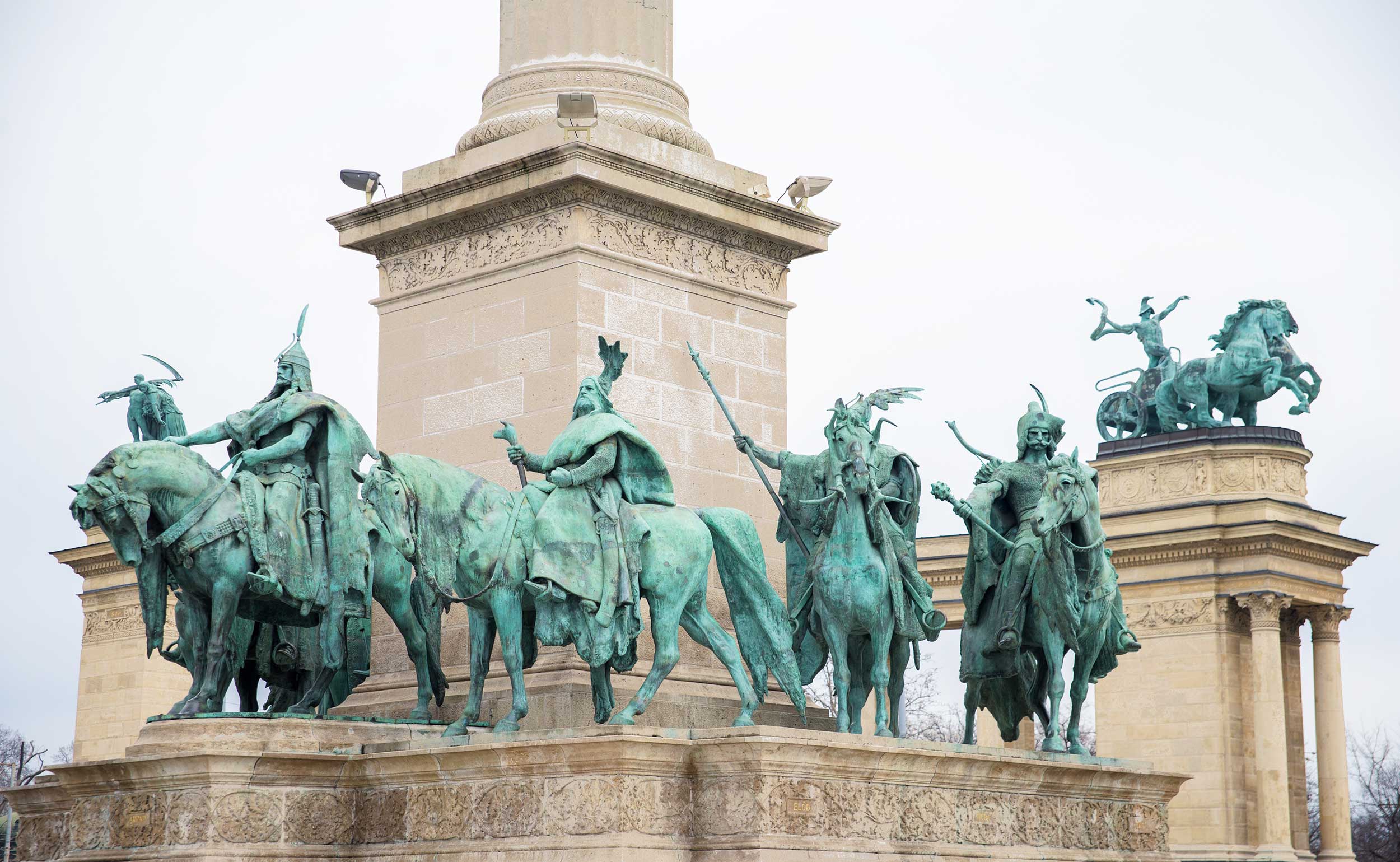 Morning: Thermal Baths
Slip into Hungary's ancient customs by starting the day with a visit to one of Budapest's thermal baths, with historic Gellert, Rudas, and Szechenyi baths being popular choices. Szechenyi Baths, a favourite with locals, is one of the largest with 21 pools. Located in the City Park just past Heroes Square, Szechenyi Baths can be easily reached with a hop-on, hop-off bus ticket (consider buying a two-day ticket if wanting to travel by bus both days).
After a refreshing and relaxing bath, take in the towering Millennium Monument with a stroll through Heroes Square before walking back downtown via Andrássy út, past the majestic embassies and thriving local cafés to have lunch.
Lunch: La Perle Noire, Andrássy út 111
Dine at the award-winning La Perle Noire in the fashionable residential district, west of the City Park. Enjoy European cuisine that draws on French and Hungarian traditions and La Perle's impressive wine list, which calls upon Hungary's 22 wine-growing regions. End the meal with a glass of Tokaji wine, a sweet dessert wine, which is the country's most well known varietal.
Afternoon: House of Terror Museum
Dedicated to the victims of the Nazis, and the later Soviet occupation of Budapest, the House of Terror Museum is a solemn and sobering experience. The museum is located in the former headquarters of the Soviet secret police at Andrássy út 60.
Step from Andrássy út to nearby Franz Liszt Square to enjoy a late afternoon aperitif in one of the many terraced cafes. Sample Hungary's national drink, Pálinka, a fruit brandy typically flavoured with apricot, pear, plum or cherry. The square will most likely be filled with locals sitting at similar cafes, relishing the simple delights of sitting outside with a drink and some light snacks that constitute the aperitif culture.
If time allows, the State Opera House, built in the late 19th century, exhibits some glorious neo-Renaissance architecture that is worth visiting. A 45-minute tour provides an insider's guide to the building's secrets and legends.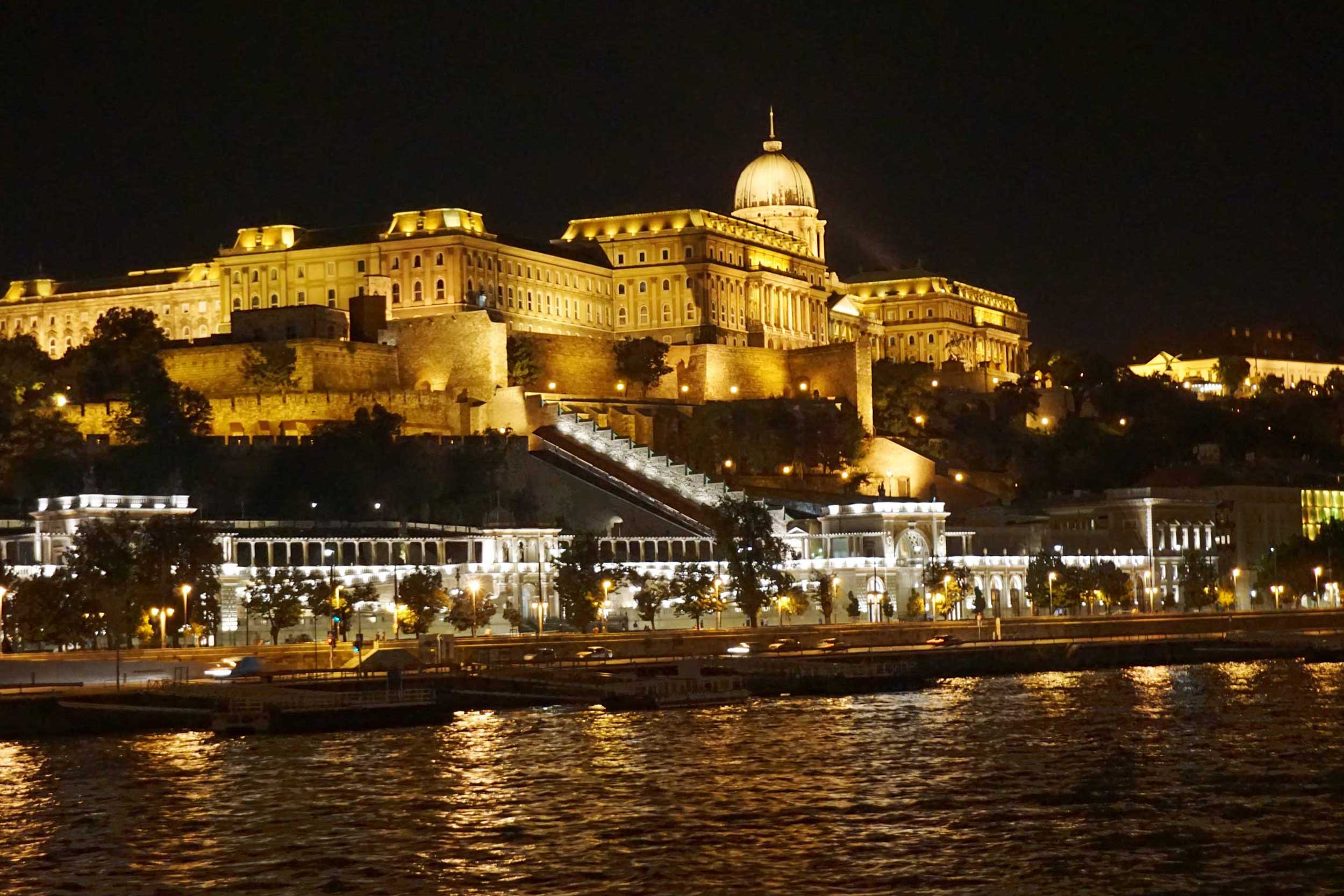 Evening: Night River Cruise
An evening river cruise on the Danube allows visitors take in the night-time panorama of floodlit Budapest. Lights along the embankment cast a fairytale glow, with Parliament Building and Buda Castle being exquisitely lit. Choose from a one-hour cruise (ideally followed by a late dinner at Babel Restaurant at nearby Piarista koez 2) or a candlelit dinner cruise. Buy tickets from the dock in front of the Marriott on the Pest side of the river.
Who This is For
Budapest is an expansive and architecturally rich city that is best enjoyed by those who love to get to grips with a city by walking its streets.
When to Go
The shoulder seasons of spring (from April to mid-June) and autumn (mid September to late November) will see mild weather and fewer crowds than in summer. May and October can be beautiful in Budapest; the onset of winter in the latter month also means hotel prices are lower.
ESSENTIAL INFORMATION
Hungary is in the European Union but does not use the euro yet; the currency is the forint. It is possible to pay a bill in euros but expect to receive change in forints.
Instead of staying in a hotel, consider renting an apartment in the city centre. Many spacious apartments, housed in architecturally designed buildings, are reminiscent of Budapest's Golden Age.
Don't leave Budapest without purchasing some Hungarian paprika. Ranging from hot to mild, in eight varieties, paprika can be found in the Great Market Hall or from numerous street vendors throughout the city.
USEFUL LINKS:
www.visitbudapest.travel/budapest-events