The Wild South: The Catlins and Curio Bay
The first in a two-part series discovering eastern Southland, New Zealand's rugged and wild southern coast.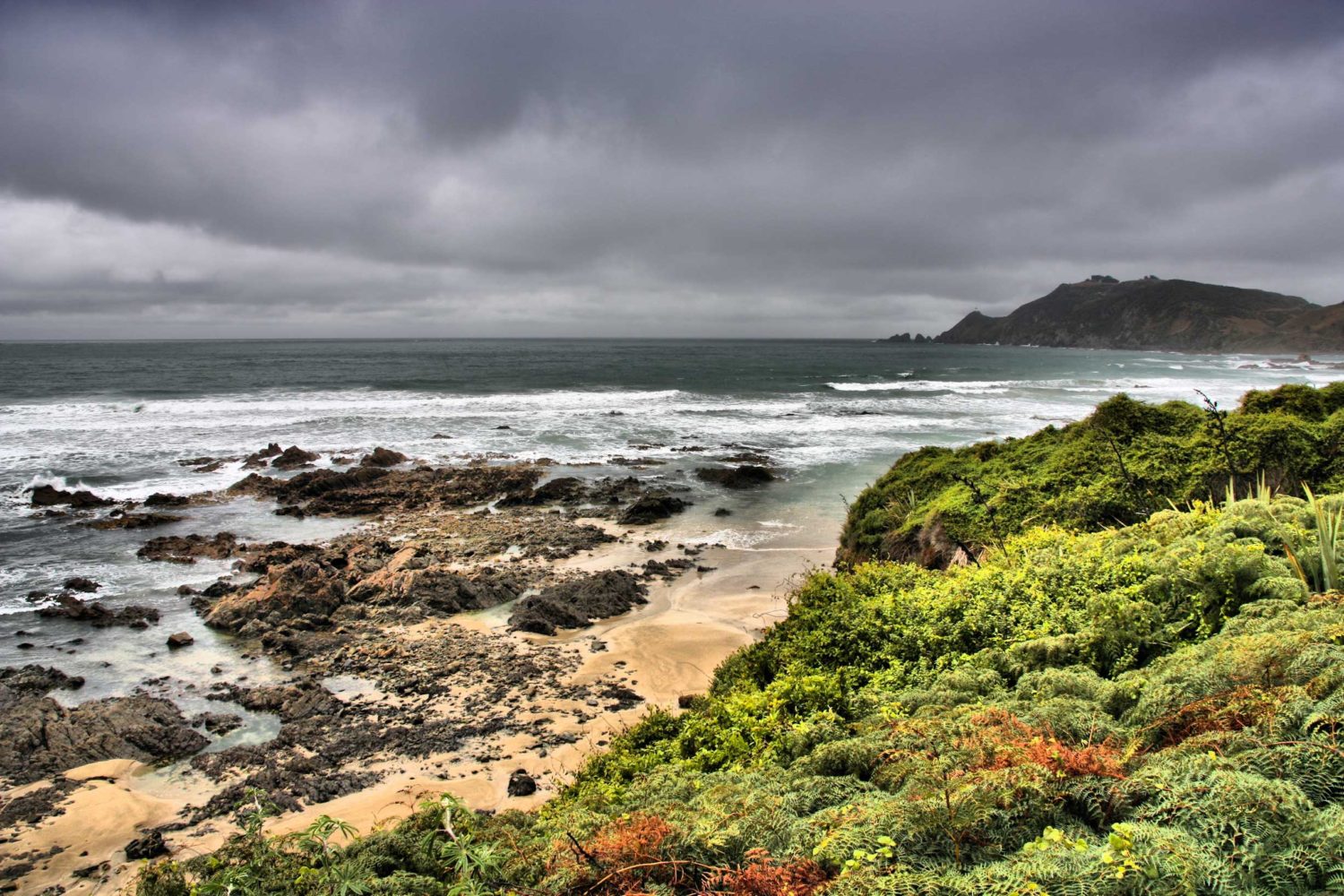 To talk about Southland with a New Zealander is to incite a wistful look and an expression of longing. "I hear it's beautiful but… I haven't made it down there yet," they often say. The promise of rugged landscapes and icy Antarctic blasts make Southland a destination that appeals primarily to adventurers and nature lovers, with picturesque Fiordland National Park and its majestic mountains to the west and The Catlins with its wildlife and windswept townships to the southeast.
Embracing our newlywed adventurous spirit, my husband and I embarked on a five-day driving tour of southeast Southland in early wintertime. We began in mountainous Queenstown, driving a leisurely three and a half hours southeast towards Curio Bay, before looping back towards the salty town of Bluff and over to Stewart Island.
Landing in Queenstown, just an hour's flight from Auckland, we drove south on State Highway 6 in the cool morning shadows of The Remarkables, jagged and imposing against a pure blue sky. We skirted along the edge of glassy Lake Wakatipu before the road began to wind, the mountains lost their stature and the land became verdant, earthy patches of tussock becoming fields of kale and hillsides dotted with sheep.
Our crossing from Otago into Southland was signalled by our arrival at Croydon Aviation Heritage Centre in the village of Mandeville, two hours' drive west of Dunedin. Within the walls of a simple grey hangar lay the largest collection of de Havilland vintage aircraft in the southern hemisphere, including the Fox Moth and Tiger Moth, sitting resplendent with their bright paintwork. I gingerly inspected an airworthy replica of the Pither, a 1910 homemade monoplane created by the curious English immigrant Herbert Pither. Whether Pither took flight before the Wright Brothers in 1903 remains a point of contention.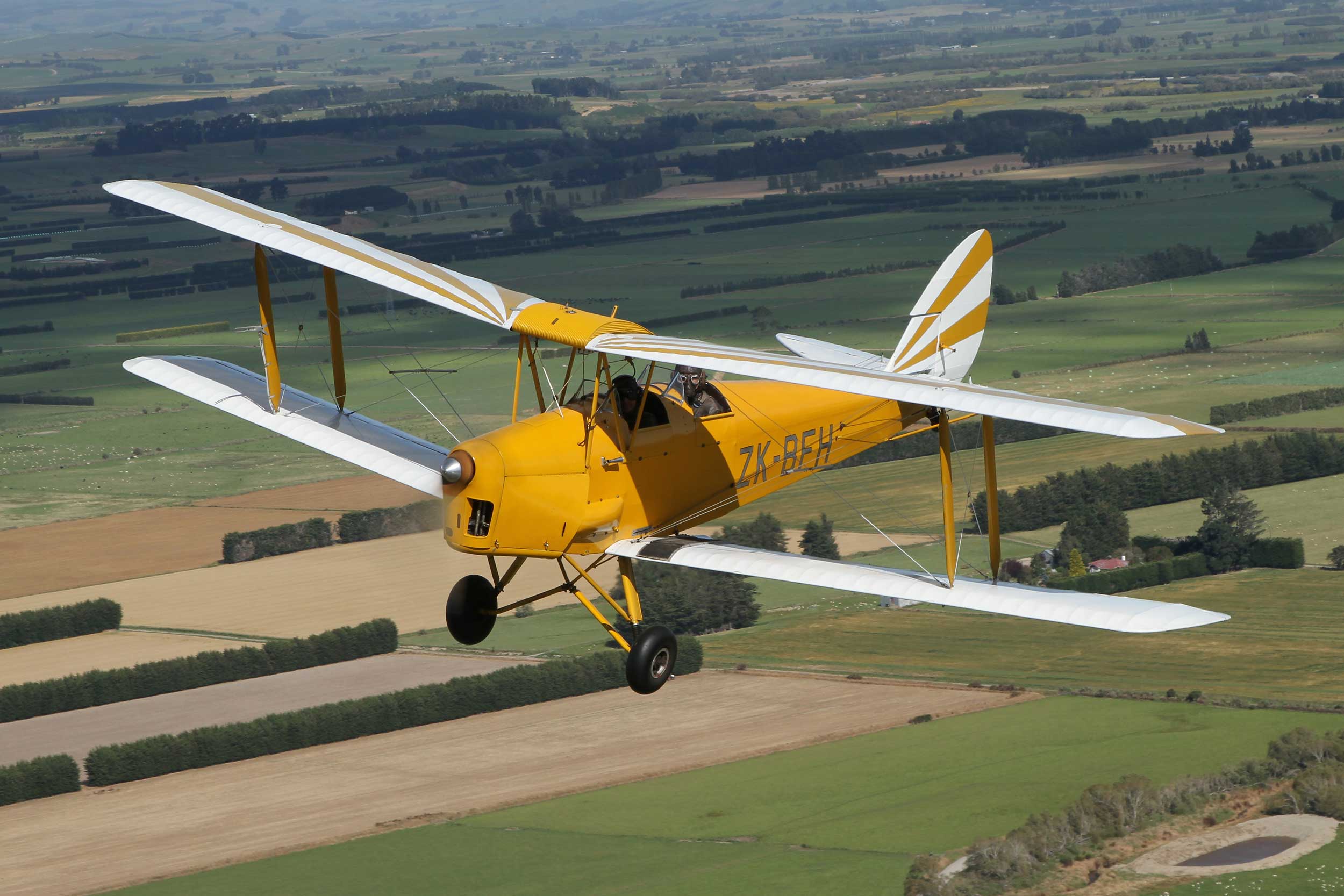 Keen to stretch my legs after the drive, I suggested a detour to Dolamore Park on the lower slopes of the Hokonui Hills, where I'd read about a viewpoint that promised views across to Bluff Hill and Stewart Island. A one-hour return walk took me steeply uphill through leaves wet and glistening from a late morning shower, with clear views to Gore, our next stop, just 13 kilometres away. The town was smaller than I'd expected, just a cluster of residential streets encircled by farmland.
To arrive in Gore is to be greeted by a quintessential New Zealand country town — a settlement bisected by a seemingly endless road, with a tractor dealership and a row of forgotten retail stores, their windows displaying outdated garments hanging from the limbs of dusty mannequins. Several large road signs declared Gore the 'world capital of brown trout fishing', with images of cartoon fish being easily plucked from the Matuara River.
The fortunes of urban Gore's 10,000 inhabitants are inextricably tied to farming and forestry, although in the late 19th century gold mining was the attraction, with the population peaking around 1867 as many Chinese and Europeans arrived hoping to strike it lucky in the gold dredges along the Waikaka River.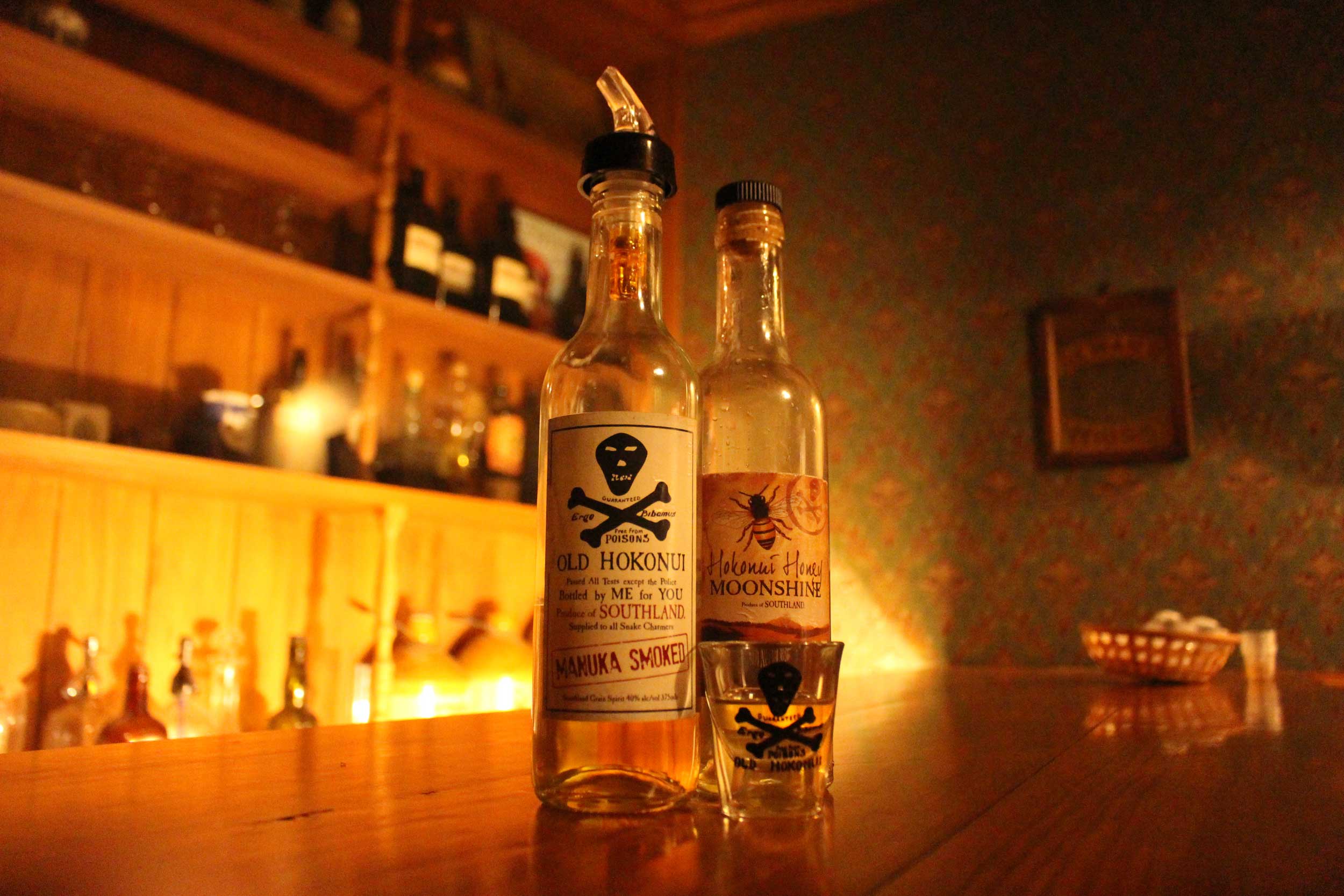 A visit to the small but well executed Hokonui Moonshine Museum reveals the town's colourful past. Irishman Owen McShane is credited as the area's first and most notorious producer of moonshine — produced from cabbage trees — with his 'Chained Lightning' liquor believed to be the undoing of many whalers and seafaring men in Southland. After McShane's untimely demise, Scottish settlers were quick to take up the mantle. In 1870, the McRae clan brought whisky-making to Southland, flouting the rules of the prohibition era by creating what would later be known as Hokonui Moonshine — of which I can attest the honey-smoked variety is particularly delicious.
A sharp gust of wind signalled a change in the weather and Gore's blue skies quickly turned to a grey soup, with fierce rain forcing a retreat indoors. Checking into The Reservation B&B, we were warmly greeted by hosts Jayne and Bruce Moffat who pride themselves on bestowing 'Southland hospitality' on their guests.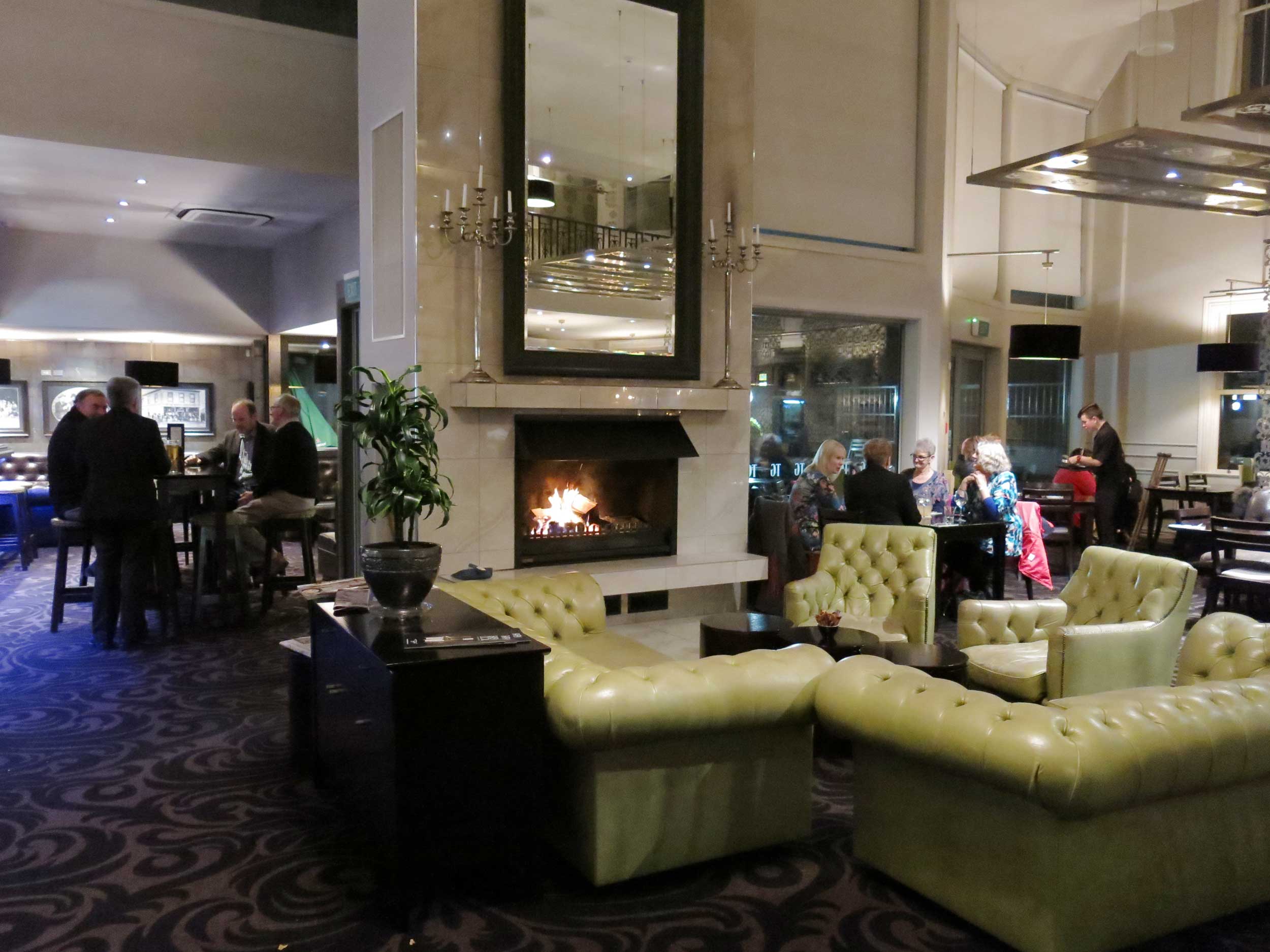 The warmth and peace of their purpose-built accommodation was all-enveloping, and I made use of a fleecy robe while I read about the history of the area. Bringing me some milk to make a warming cup of tea, Jayne suggested that we have dinner at The Thomas Green Public House, a gastropub that Bruce informed me served a noteworthy beef wellington.
Built in 1906, the pub is named after Gore's first mayor. Its cavernous interior features high ceilings and dark wood panelling, with an intricate metalwork curtain creating a private dining area behind an arrangement of spearmint-coloured leather sofas. A beautifully presented beef wellington and glass of pinot noir in front of a roaring open fire rounded off a perfect New Zealand winter's day.
We woke the following morning to a hearty breakfast spread and sampled Jayne's homemade yogurt while she and Bruce shared their love of Gore, the place they've called home for 24 years. The tiny town seems a natural fit for Bruce, who had previously spent nine years living on a remote high country station. True to his farming roots, he and Jayne keep alpacas, goats and sheep on the site and encourage their guests — particularly foreign guests who've never seen such creatures — to feed and interact with them.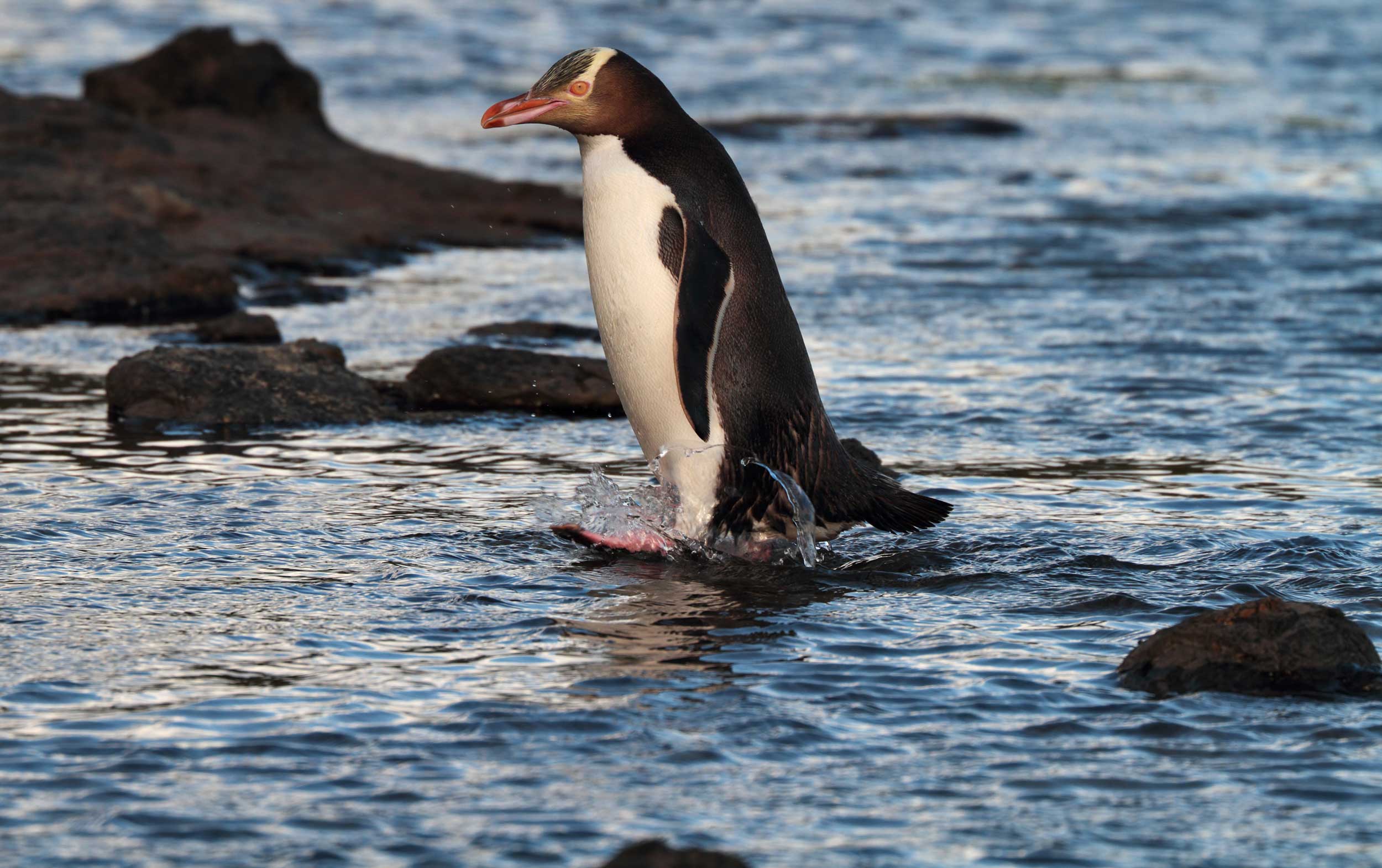 Departing Gore, we headed 100 kilometres southeast into The Catlins towards Nugget Point, a popular destination for spotting fur seals and shy yellow-eyed penguins, one of the world's rarest penguin species that is unique to New Zealand and the sub-Antarctic islands. The gloomy, late-morning sky above State Highway 1 burst open with flashes of lightning, with rain streaking violently across the windshield. The sheep standing stoically on the hillsides were illuminated by a succession of rainbows, one appearing after the other — more than I'd ever seen before.
Beholding Nugget Point Lighthouse on a stormy winter's day was quite unforgettable. Built in 1869, the lighthouse's viewing platform suspends visitors over enormous wave-eroded 'nuggets' of rock strewn across the ocean, like huge stones thrown into the ocean by a careless hand. Enormous swells pounded the rocks below, fierce and unsympathetic. It wasn't difficult to imagine the hope that the lighthouse's singular beam would have brought to sailors navigating these dark waters some hundred years ago.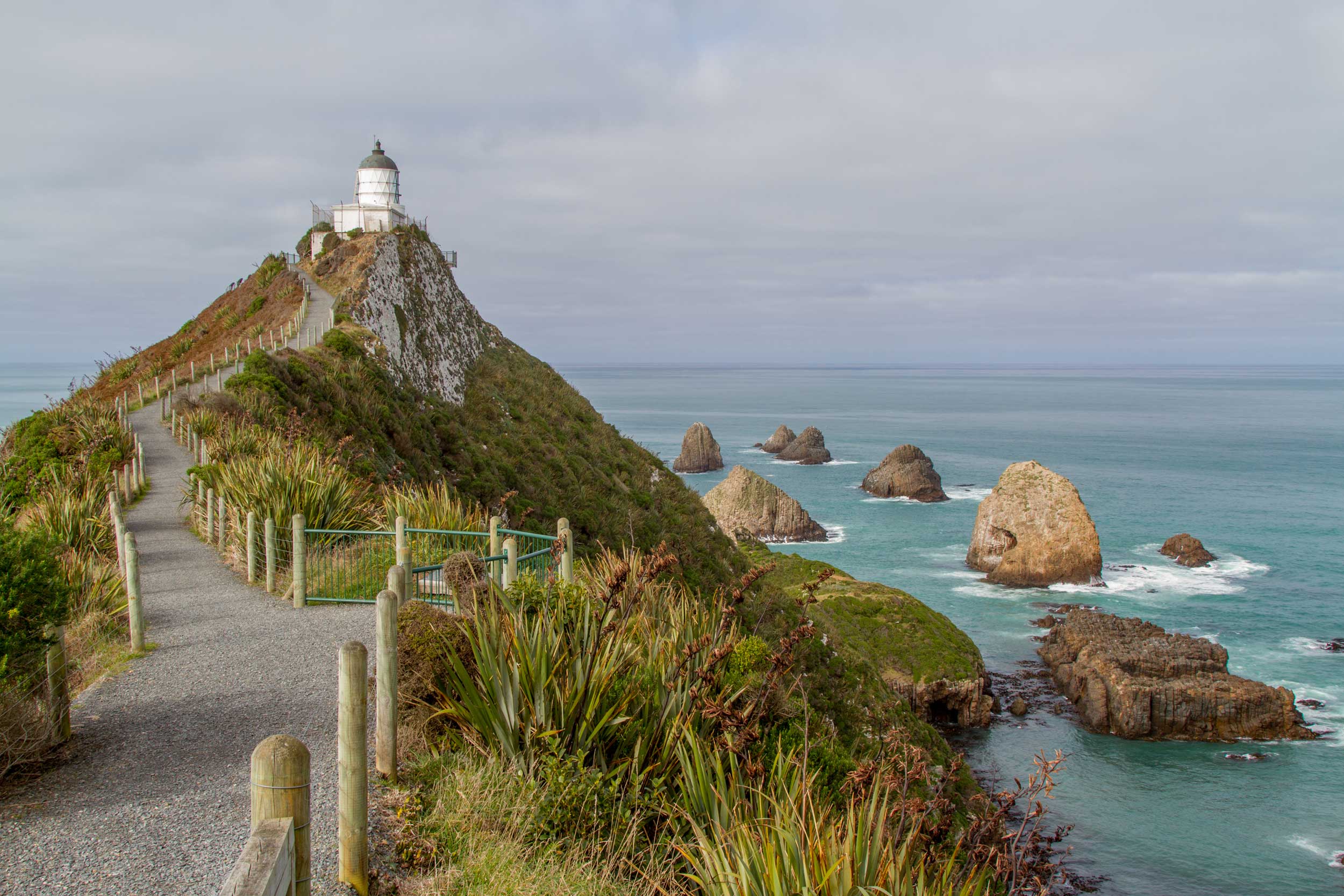 As the rain turned to sleet, we reluctantly bypassed the sights of Cathedral Caves and Lake Wilkie in favour of heading straight to the refuge of Curio Bay Salthouse, a simple beachfront cabin at the southern end of Porpoise Bay. The area has gained international significance for its fossilised forest, where, standing on the viewing platform, visitors can see tree fossils dating back to the Jurassic period — 160 million years ago — when the forest was alive, when New Zealand was part of Gondwanaland.
Our lodgings may have been simple but the view was spectacular; floor-to-ceiling windows framed the scene of ferocious waves crashing into the reef, foam bursting in clouds several metres in the air. Grateful that the cabin offered self-catering facilities, we settled in with a good wine and sat contentedly watching the power of the sea until darkness fell.
---
Fiona travelled to Southland in conjunction with Southlandnz.