Waiheke Island: A Wine Lover's Playground
Waiheke's idyllic 'winescape' features vineyards, winery restaurants and cellar doors overlooking the seascapes of the Hauraki Gulf and its myriad of islands. The island attracts the world to play, to sip and to enjoy an eclectic, creative lifestyle.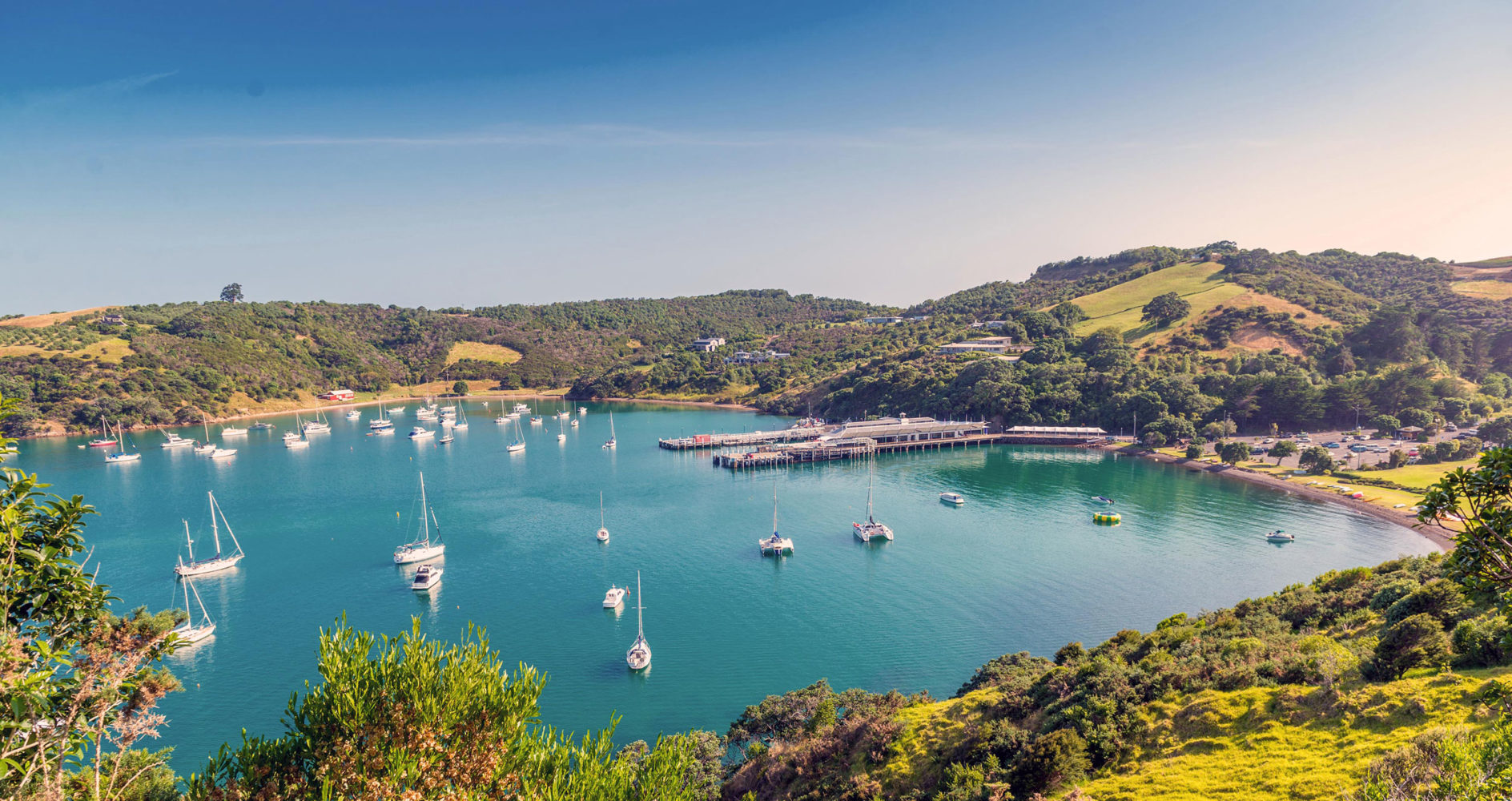 Just a 40 minute cruise from downtown Auckland, in the North Island of New Zealand, Waiheke has its own distinctive, relaxed vibe, in tune with the local island saying, 'slow down — you're here'. However, many of the island's residents are building their passions into acclaimed wine and food businesses. The world is noticing.
In addition to his work as an international wine consultant, Master of Wine Sam Harrop is a Waiheke winemaker, making tiny volumes of low-intervention single vineyard chardonnay and syrah. Tastings are by appointment and wines by allocation. He considers Waiheke Island an anomaly in the world of wine: "It is the only small wine producing region I have ever visited that can produce world class wine styles in every category, from pinot gris to cabernet sauvignon."
Although, at 36 degrees south, Waiheke's latitude could be expected to hinder the production of quality wine, in fact the surrounding water maintains moderate summer temperatures, enabling balanced and subtle cool climate wines to be produced. Further, Sam explains, cultural diversity plays a huge part, as "the island's passionate winemakers come from all four corners of the globe." He characterises the wines as "more delicate, shy and less intense than many of the other wine regions in New Zealand, and many have a fantastic capacity to age for many, many years."
Waiheke has just over 200 hectares planted in grapes. The vineyards are boutique and the grapes hand-harvested. The wine-making is proudly artisan and hand-crafted. Close to harvest time, pickers arrive, many from overseas, adding their own international colour to the island and to the season. The island's annual harvest begins in February and finishes earlier than other New Zealand wine regions. In celebration, the Waiheke Vintage Festival is hosted in March, when pickers may be seen in the vines and wineries are busy as grapes are sorted and pressed in the first crucial steps of the wine-making process. The festival emphasis is on wine discovery, with some added fun activities including grape stomping and music to sip by.

However, Waiheke is a year-round wine destination. In Surfdale, Goldie Wines — formerly Goldwaters — is the island's pioneer commercial vineyard. The Goldwater family hand-planted vines on gentle slopes overlooking Putiki Bay in 1978. The vineyard is now part of University of Auckland wine science centre. Stephen White of Stonyridge Vineyard in Onetangi was another with an early vision for what could be achieved setting the island wines apart: he was one of the early vintners to realise the island's potential for producing exceptional quality red wine in a classic style. The legendary Stonyridge Larose is recognised as the first of the island's red wines to gain acclaim.
Onetangi Valley is recognised as a favourable sheltered location. Several vineyards are clustered here, including Te Motu, Obsidian and Miro, along with Stonyridge. Te Motu was established by another pioneering wine family, the Dunleavys, who planted in the Onetangi Valley recognising the potential for growing and making quality red wine varieties. Te Motu restaurant, The Shed, under chef Bronwen Laight, is recognised as best rural restaurant.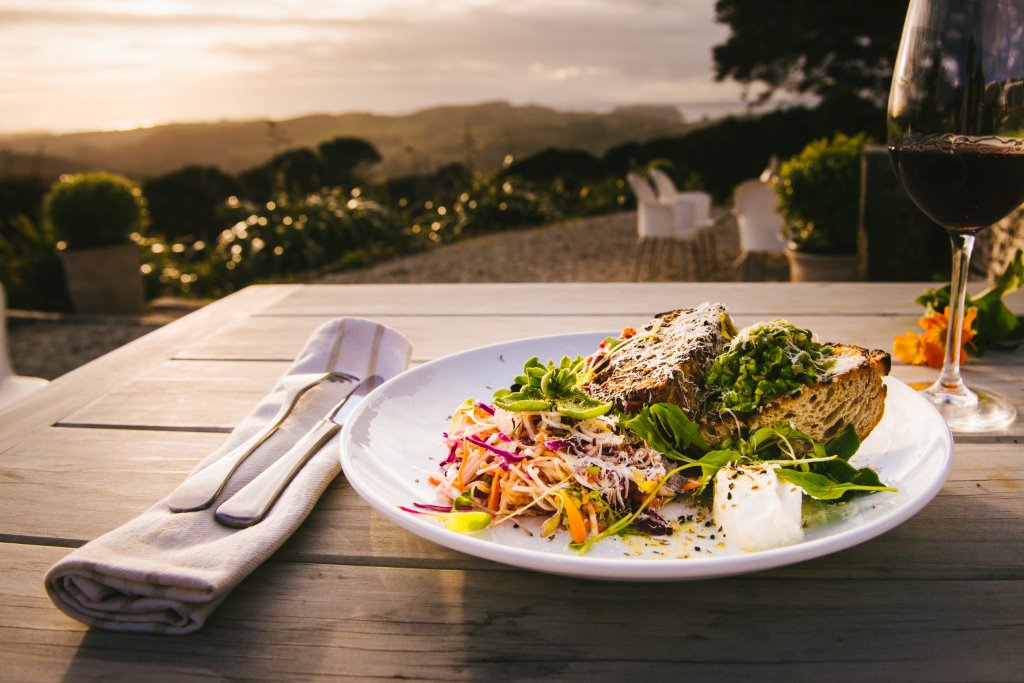 In contrast, Batch Winery, on the edge of Whakanewha National Park, is one of Waiheke's newer developments. The island's newest state-of-the-art gravity-fed winery is set at the highest vineyard location, with spectacular views and sunsets. Batch Vineyard is set on clay soils above sandstone deposits, sloping at up to 31 degrees.  Like the clay soils of Pomerol, these soils produce great wines precisely because of their aridity, which inhibits the growth of new shoots in late summer. In turn, this catalyses a series of biochemical processes that create wines with great depth and length of flavour.
At Batch, groups have the opportunity to tour through the new winery, unique on Waiheke. In other wine regions internationally, such as the Napa Valley, such an opportunity would need to be booked far ahead and cost considerably more. Restaurant Thomas's Bach reflects the spirit and culture of Waiheke's relaxed gatherings. The menu looks back to vintage New Zealand dishes, remaking these with a new and contemporary twist. The signature High Tea & Bubbles is a shared tier of plates served with the light, refreshing FIZZ sparkling wine made and bottled on-site. Food and wine experiences include tasting flights of three sparkling varietals, plus Batch estate and Thomas & Sons reserve wines. Recommendations include pinot gris, flora, syrah and cabernet sauvignon.
Another new vineyard and cellar door on Waiheke is Frenchman's Hill. Bringing a distinctly European flavour, Luc Desbonnets is well known for his experience at several island vineyards, now adding his own boutique vineyard on Putiki Bay. Luc and his wife, Anna, are often in attendance at the intimate cellar door. The boutique Te Whau Vineyard also sits on slopes that descend towards the edge of Putiki Bay.. Tony Forsyth shares his eclectic wine cellar with patrons to the Te Whau restaurant, another rural restaurant award-winner.
Poderi Crisci, in the Awaawaroa Valley, adds a taste of Italy to Waiheke. Italian traditions influence the wine-making and also the food: the long Sunday lunch is a tradition. Similarly, in Onetangi both Obsidian and Casita Miro also strongly reflect the European wine heritage. Obsidian successfully added Italian-style temperanillo and montepulciano to their quality red wine portfolio, gaining recognition early for these wine styles. Casita Miro features Spanish foods and serves wines and sherries to match.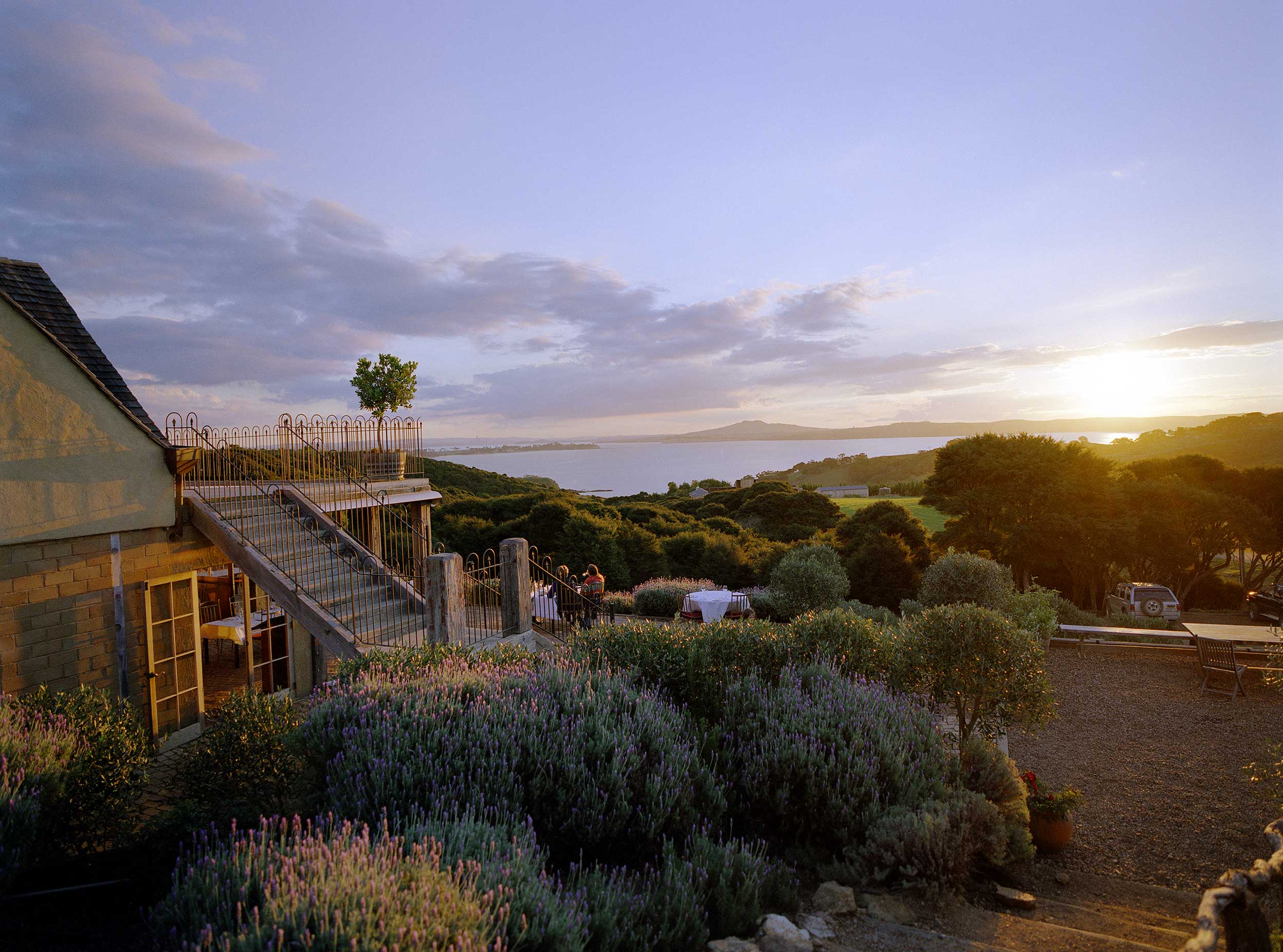 Meanwhile, over in Oneroa, Mudbrick, established 20 years ago, is world-recognised for its ambience, location and dining. Winemaker Patrick Newton has garnered awards including the Riedel New Zealand Young Winemaker of the Year and awards for Mudbrick's flagship red wine, Velvet. The kitchen team, under chef Matthias Schmitt, sends out exceptional quality with an innovative menu and beautiful presentation. The earthy brick restaurant overlooks a potager garden and beyond to stunning views across the gulf. Mudbrick was innovative in developing the garden years ago to source fresh vegetables, herbs and micro-greens.
Following Mudbrick's lead, several island restaurants have added edible gardens. One of the most charming such gardens on Waiheke is at The Boatshed, a boutique seaside hotel in Oneroa where in-house guests enjoy a menu set around the fresh produce for every meal of the day. An Italian vegetable garden is established at Poderi Crisci, and Cable Bay has recently added some of their own.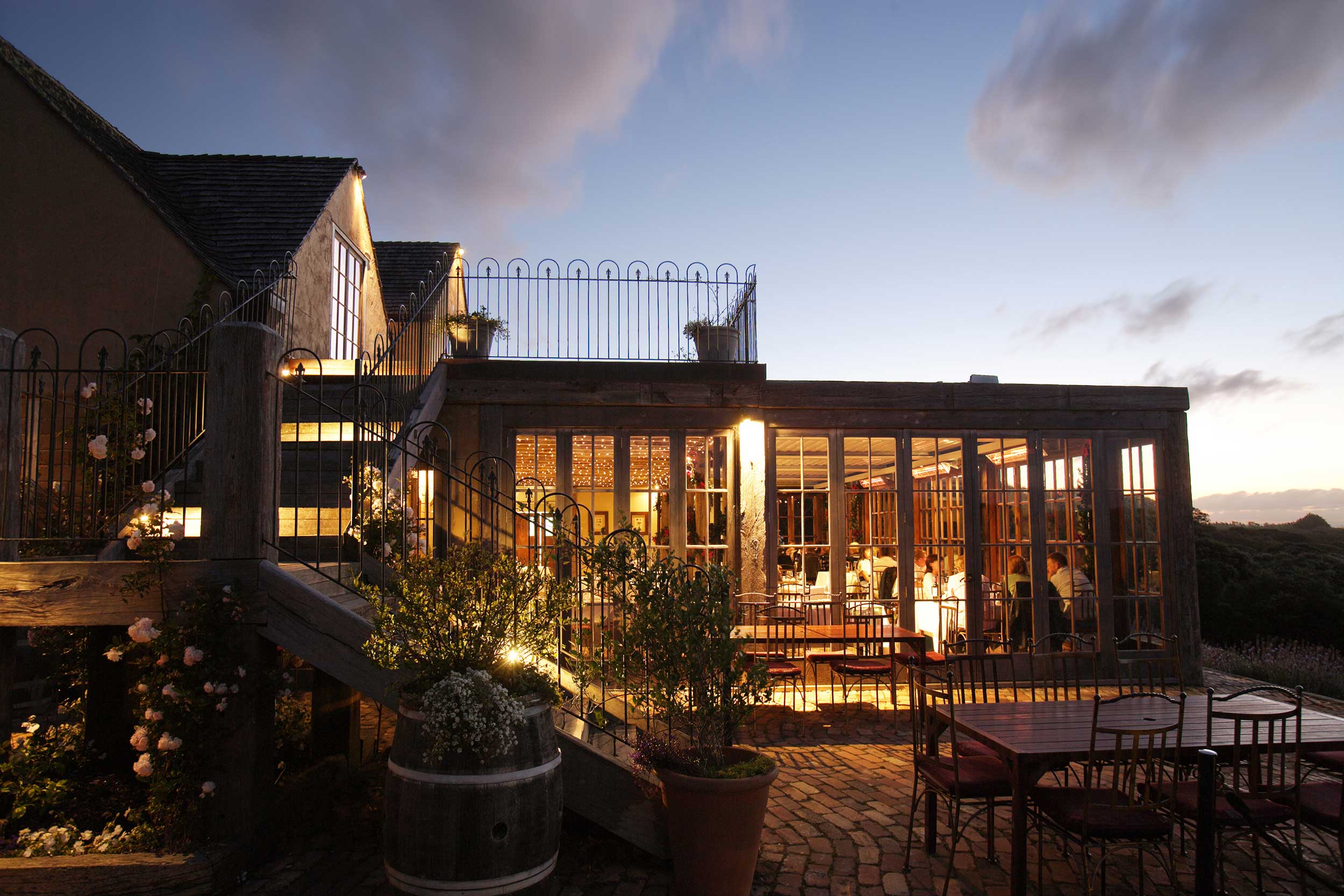 At its eastern end, the island's loop road runs past both Man O' War and Passage Rock. The latter, with its award-winning wines, is a family favourite for wood-fired pizza, and the former is situated on an expansive lawn facing Man O' War Bay, with a Tasting Room open daily to enjoy the winery's notable reds and pinot gris. As Waiheke's largest producer, the surrounding hill slopes were carefully researched then planted with blocks of individual varieties. Vines are also grown on neighbouring Ponui Island: Man O' War claims it is one of the only vineyards in the world where  harvest days are determined by the tidal arrival and departure by barge.
Kennedy Point, owned by Neal Kunimura and Susan McCarthy, is Waiheke's only certified organic vineyard. The cellar door is casual and understated, with places to sit under magnificent pohutukawa trees and an abundant olive grove. Kennedy Point Syrah and View East Syrah have won international plaudits at prestigious awards, adding to Waiheke's reputation for quality wine production. Waiheke's international reputation looks set to keep growing.