A Bygone Era Revived: The Venice-Simplon Orient Express
I am one of those people who is unable to relax until I get to where I am going. I don't do airports well and I thoroughly dislike the security check process. In fact, the whole 'getting there' experience turns me into a monster. For this reason, I decide to embark on the longest journey to 'get there' in my life, hoping to relieve the effects of overindulgence in an instantaneous lifestyle. My story begins aboard a rather mysterious aristocratic dream train: the Venice-Simplon Orient Express, on a 21-hour journey from Venice to Paris.
We arrive at Santa Lucia station in Venice around 9:30am and make our way across the Ponte della Costituzione bridge that connects Piazzale Roma to the railway station. Made of steel, local stone, a glass-panelled floor and framed by glass parapets, it's a bold contrast to the city's surrounding medieval architecture.
"Madame… please let me help you," says a finely dressed gentleman as he grabs the bags out of my hands. I'm a little concerned that he might run away with my bags, but am happy to oblige. I know he will ask for money at the end but it's a much better option than dragging my belongings myself. As soon as we reach the end of the bridge, he gestures with his hand, saying, "Now give me something." It's a surprisingly quick change from a kind-hearted gesture to a demanding display but I hand him something and he walks away. This experience certainly makes me wish I had not booked too late to accept the pick-up offered by Orient Express staff.
The red carpet is out on Platform 21, cordoned off by red ropes, and leads to two ladies sitting behind a little desk. They are dressed in impeccable uniforms: royal blue blazers with pencil skirts, white scarves sticking out neatly and pointed ballerina flats. They greet us, smiling, and ask for our names. Suddenly our bags disappear and we are whisked away to a waterfront café. Here, a section is reserved for Orient Express guests; a place to relax, sip bellinis and nibble on shortbread while the train prepares for departure. Looking around at the other guests, most of the men are dressed like they are ready for a game of casual Sunday golf while the ladies are all set for high tea at the golf resort's restaurant. They are mostly in their fifties and sixties; some of them may even remember the decline of the golden era of train travel in the 1950s.
It's time to depart and a long, blue train stands before us. The Venice-Simplon Orient Express is a sight to behold — without blinking, for it may disappear with the magical grace with which it appeared. A line of men stand in front of it, draped in train-matched toggery and 1870s kepis. They look part top-ranking military officers, part magicians; though their expressions are perhaps too merry for the former and their ride too Harry Potter for real war games. The train looks freshly painted with a glossy finish, gold writing and sparse embellishments, which I later learn are a result of the annual grooming the train receives at a specialist workshop in Clermont-Ferrand, France.
We have stepped into an alternate reality, a land of make-believe, where we can play kings and queens or act out characters from myriad films and novels depicting the Orient Express: the murderer from Agatha Christie's Murder On The Orient Express perhaps? Or James Bond in a tuxedo fight in From Russia With Love? These are just some of the scenarios I conjure up as a white-gloved hand reaches out to help me aboard.
The early 20th century comes to life as soon as we set foot on the train. We make our way down one of the corridors leading to our cabin feeling as if we have stepped into an artefact. Historic mahogany is used for the lacquered panelling that surrounds us, and a blue and gold diamond-patterned carpet covers the floor. It pays homage to the art deco movement of the 1920s, the beautiful mashing of styles: old, new and borrowed.
As we enter our cabin, the style becomes more evident. The walls feature restored marquetry designed by 1920s French designer Rene Prou while the seating that spans the length of the cabin is upholstered in a luxurious flowered material. The cabin's pink table lamp — also by Prou — sits alongside two crystal goblets, polished cutlery and a silver bowl overflowing with exotic fruit. Our personal steward pours us prosecco in time with the first chug of the train and, with our glasses in hand, we sink into our seat. The train begins moving slowly, gearing up to take us through time and space.
The cabin holds many surprises and I feel like a child as I examine every detail with intrigue. I open a set of wooden doors and reveal a washroom that holds a wash basin, round shaving mirror, holders for toiletries, mirrors on each door and compartments for accessories. I feel like I am a doll inside a miniature world and am incredulous when I discover amenities that include 'diamond stardust lotion'. I immediately smooth this magical potion onto my skin and await my Cinderella transformation.
Indeed, a one-night transformation, full of exquisite splendour and the razzmatazz of a time past, is a big part of the experience on board the Orient Express. This is exactly what American businessman James Sherwood had envisioned when he gave the Orient Express a new lease of life in 1977. After purchasing two pre-war sleeping carriages at auction, he continued hunting for railway carriage heirlooms, purchasing a total of 35 sleeper, restaurant, and Pullman carriages. He restored them to their original opulence and set about offering a brand new rail service. On May 25, 1982, the first journey from London to Venice was made. Today, the network serves eight prime destinations including Paris, Istanbul and Vienna.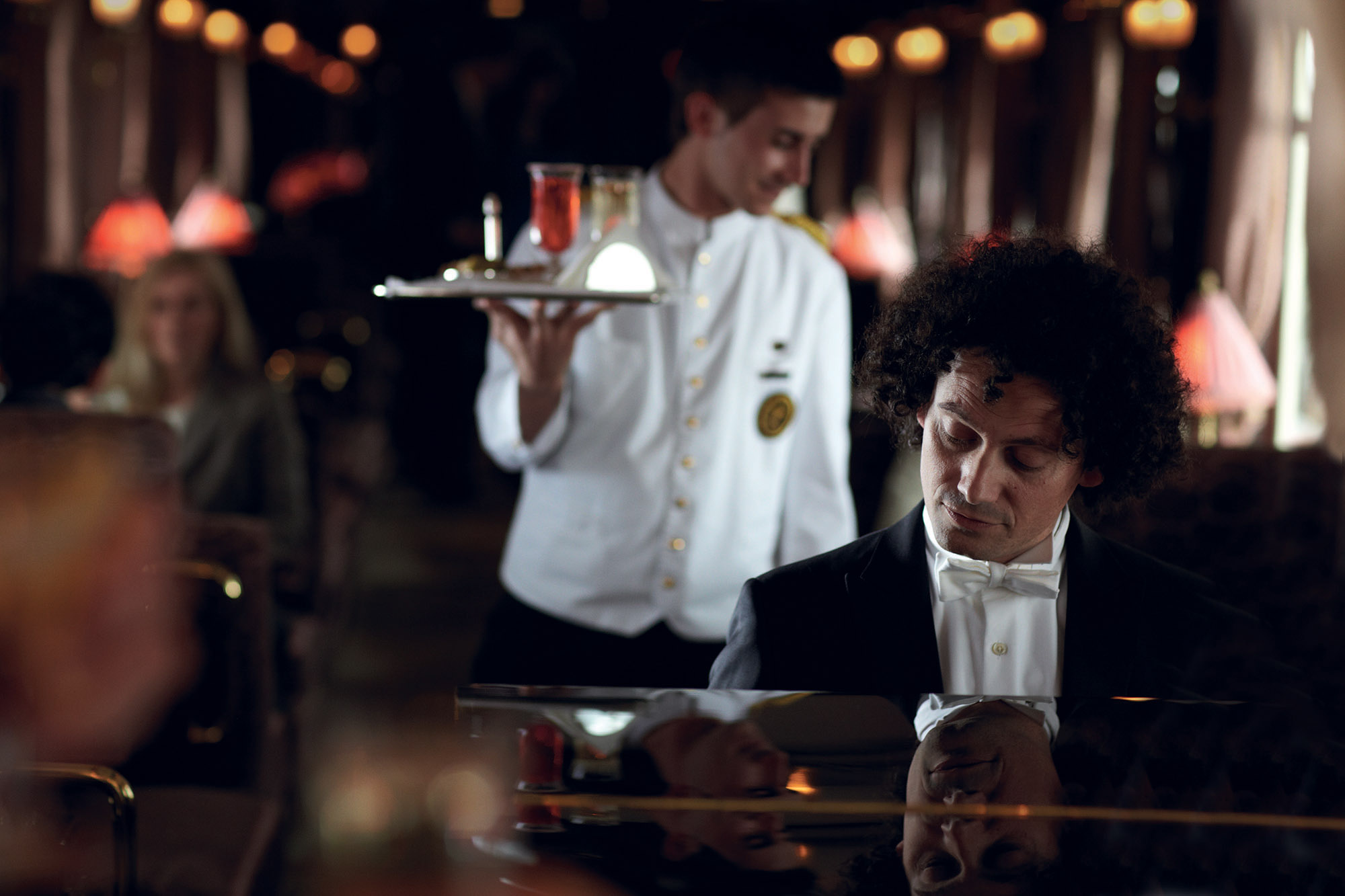 On board the Venice-Simplon Orient Express, guests can expect the finest dining and a hands-on, personalised service that is a rarity today. We spend hours writing letters and postcards that can be given to the steward to post; eating, drinking and making merry in the restaurant cars; sitting back as our eyes take snapshots of the backyards, mountains and vineyards of the foreign lands that pass by; and lounging in the glamour and style of The Great Gatsby, champagne in hand, listening to a masterful pianist take us back to the 1900s.
My journey on the Venice-Simplon Orient Express is just beginning but I have already well and truly embraced the old adage that travel is about the journey as much as the destination. That evening, as we make our way through corridors and carriages stalled in time, the intricate detailing, decorative upholstery, carpets and Lalique glass panels make us forget that we are, in fact, occupants of the 21st century. Like musical jewellery boxes with figures floating inside, every time we stop at a station, we open up for the viewing pleasure of those peering curiously through the glass. And for those who book a passage on the Venice-Simplon Orient Express, they can satisfy their curiosity by joining the revelry within.