Through the Treetops – The Ultimate Canopy Tour
We lift off from Advanced Flight's Onehunga base in an impressive black helicopter which swoops us over and out of Auckland. Phenomenal views of the city, its harbours, the Hunua Ranges, the Firth of Thames and small Waikato townships are laid out below us as we head towards Rotorua. It's the perfect way to start this adventurous day.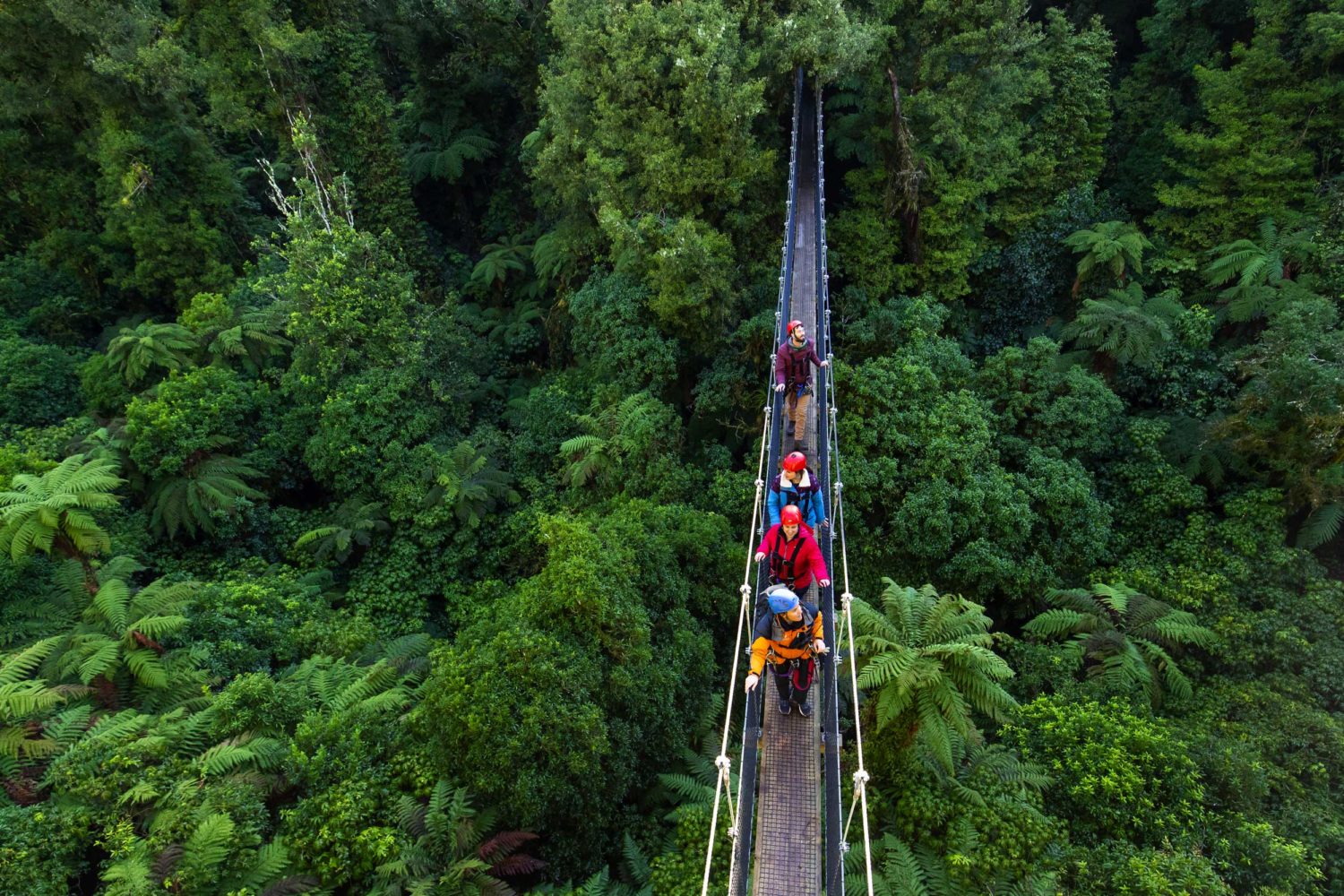 The Experience
We are met by James Fitzgerald, founder of Rotorua Canopy Tours, and escorted to their new headquarters. James shares his enthusiasm for the outdoor eco-adventure he set up in 2012 and our guides Spencer and Kris help us get kitted up in warm gear, helmets and harnesses. The sun is shining on a superb winter's day, but there is a chill in the air, and it will be cool in those treetops. It's not raining today but apparently, a wet weather day adds to the experience and the jackets provided will keep us dry as well as warm.
After a short briefing, clad in strapping and metal clips that will keep me safe, I feel well prepared for my first zipline experience.
During the drive up to the starting point, Spencer and Kris share easy banter and initiate a get-to-know-each-other activity. We are five females of varying ages and heritage, coming together to swing through treetops. We sense each other's excitement as well as a hint of apprehension. It's an easy walk into the forest and along the way we feed tame birds from our hands (Spencer and Kris have a stash of worms) and learn about the forest and its conservation, the eco-systems, the trapping of pests, and the creation of the ziplines, swing bridges and platforms. We're embarking on the recently completed Ultimate Canopy Tour, a 3.5-hour circuit with 1200 metres of ziplines. It's a larger version of the company's Original Canopy Tour.
Although guides will take photos at various points along the way, we are encouraged to take our own videos and photos as we fly through the trees. Kris warns that a phone dropped onto the forest floor is highly unlikely to be found. Special safety-straps are a great idea and can be purchased from the team in the office.
Once deep within the forest, it's time to traverse our first swing bridge. We are high up and the bridge swings, true to its name. The views are exceptional. We climb an imposing spiral staircase, and soon we are ready to do our first zipline. Our friendly and knowledgeable guides give us a full rundown on what we need to do as well as what they will be doing, one at either end, to help us. Kris zips across to the other side like the seasoned pro he is and prepares to operate the passive brake as we arrive, one by one, onto the platform from across the valley. This is a gentle 50-metre introduction, and the trickiest bit is getting the hang of squatting and letting myself go, trusting the harness will take my weight. I clutch the strap and pivot around involuntarily as I zip along the line, arriving backwards. It's a smooth operation, and I'm eager for the next one, which at 100 metres is double the length of the first.
Far from scary, it's fun whizzing through the trees and I attack zipline three with a yeehaa and a lighter grip on the harness straps. I even let go of the straps at one point and fly with a heightened sense of freedom. At 220 metres this is the longest so far. But, the best and most exhilarating is yet to come.
Next up is a traverse around the Rocky Knob; one by one we walk along the circular wooden platform that curves around a giant rock high up in the canopy. It is both terrifying and satisfying, and I clutch the rail tight. The view is utterly spectacular, and at one point, as I edge my way slowly around the platform, I can't see a soul. There is just me high up amidst a million trees. Kris takes a photo as I approach the platform; it tells the story.
We arrive at the longest zipline of them all; it's 400 metres. By now I'm feeling comfortable being clicked onto the line and positively energised about hanging off it. Safety is paramount, and Kris and Spencer are a professional and amiable guiding team.
I'm first up for this ride, and apparently the deal here is to fall off the platform backwards. Spencer shows us how it's done and, after watching him speed into the distance, I stand on the edge in preparation for my turn. A slight feeling of unease comes over me, along with memories of a bungee jump done years ago. But this is no vertical tumble towards water, it's a thrilling and rapid horizontal zoom amongst native forest. I wince slightly before thinking 'here goes', and letting myself fall purposefully backwards. Glee replaces trepidation, and I experiment with various positions as I whizz along — I start off lying flat like a torpedo, transform to a spread-eagled position, and finally tuck myself up for a faster ride.
This zipline has been constructed to incorporate a sister line parallel to it, but it is not in operation yet. What a thrill it will be to fly tandem with someone else alongside, hollering out to each other as greenery flashes by.
There are two more ziplines to enjoy, and several swing bridges to traverse. One of these is particularly mobile and jiggly, with lower side ropes. While we have walked freely across the others, we are harnessed to this one, and I'm relieved about that. At one point, I feel a tinge of motion sickness and acrophobia, but I keep my focus. I take determined steps, not daring to look down, and reach the other side with a sense of satisfaction and exhilaration. For me, this bridge was the most challenging part of the whole tour. It's as near to tight-rope walking as I'm likely to get.
Towards the end, a huge metal staircase leads us high into the trees. It's time for our final thrill, a controlled descent to the forest floor. Kris eases us down, and Spencer catches us "princess" style. After a circular group-hug photo opportunity, our magnificent Canopy Tour is complete and it's time to return home in our helicopter as the sun sinks low in the sky and the horizon shimmers.
The Background
Creating a zipline experience in native forest was James' dream and, once he'd found the perfect environment, he approached his university mate Andrew Blackford to become his partner in this new venture. James' ideas blended perfectly with Andrew's engineering expertise and, after months of planning and building work, the original zipline course opened in 2012.
The tour combines trust, thrill, education and camaraderie in a pristine, isolated setting. All the equipment is from US suppliers, and our two guides tell us they had a hand in building the structures. There are ziplines around the world and this one, within the canopy of regenerated native New Zealand forest, provides a well-designed and authentic experience.
The conservation efforts are as impressive as the circuit itself and a portion of each entry fee goes directly back into forest conservation work. There is an extensive predator trapping network which enables birdlife and eco-systems to thrive once again. Seeing before and after photos of the forest canopy is quite an eye-opener – the restoration work has meant that trees once stripped bare by pests are now on the road to recovery.
Tourism has helped restore this forest to its former glory and the Department of Conservation was so impressed with Rotorua Canopy Tour's progress and the wide enthusiasm for the project that, in late 2015, they formed The Canopy Conservation Trust, an organisation committed to creating a pest-free environment within the Dansey Road Scenic Reserve where the Canopy Tours zipline circuits are situated. This is a positive partnership with incredible results.
It's heartening that a tourism project such as this has enabled the forest to be restored and enjoyed by many in an innovative way. Playing around on flying foxes with the kids has nothing on this – but it's great preparation.
NB: You don't have to be an athlete or intrepid adventurer to tackle the course. Anyone with a reasonable level of fitness and agility, along with a sense of daring, will enjoy the outing immensely. I don't consider myself sporty and have a dodgy knee which can be limiting, and I coped fine. It's an immensely satisfying challenge.