Lovely Slovenia: what a bonny wee place it is, nestled between Italy and Croatia, Austria and Hungary. To give a sense of its compact nature, the capital Ljubljana is home to a mere 280,000 people and the Slovenian coastline runs for just 46 kilometres. It is possible to drive from one side of the country to the other in 3 or 4 hours, and even though there may be smaller countries in the world — Liechtenstein and Tuvalu spring to mind — few feel so delightfully cosy.
In this capital city, the centre of town is the town, and everything is 'within walking distance'. We parked our toothbrushes at the City Hotel, a contemporary place with a touch of the business traveller about it, but with obliging and helpful staff we could not fault. Even the castle on the hill overlooking Ljubljana is accessible by foot, though trudging uphill is not my idea of fun. Fortunately, there's also a children's railway and a funicular, which for the princely sum of 4 Euros (return) will whisk visitors up to the 15th century stronghold, renovated in the 1960s.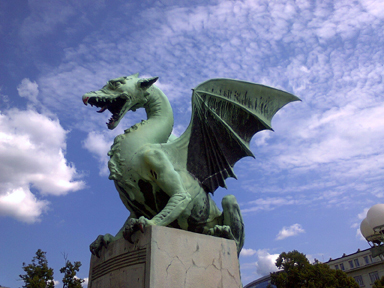 Well, more restored than renovated — there are no lava lamps, shagpile carpets or bean bags in any of the chambers that we saw, though it must be said, the wheel room laser light show is mildly psychedelic. It's an installation that pays tribute to the fact that the oldest wooden wheel and axle ever discovered (carbon dated to 5200 years old) were found nearby in the Ljubljana marshes. The castle is a cultural centre these days, where, for instance, classic movies are screened on warm summer evenings. It's also home to more conventional attractions such as a café and a wine bar: a far cry from its usage as a prison during the Second World War.
As befits fairy tale Europe, Slovenia is rich in folklore and legend. Indeed, the story goes that Ljubljana was founded by those Ancient Greek superheroes, Jason and the Argonauts. They did battle with dragons in Ljubljana, one of whom survived and is, to this day, still guarding the bridge across the river, with its gorgeous sheet-copper dragons. The river runs through the city like a Venetian canal. Flanked on both sides by restaurants, cafés and bars, it makes for a highly picturesque stroll before or after dinner. There are a number of arts and crafts shops, appealing handicrafts being yet another thing at which Slovenians excel. Not for them the retro kitsch found, for instance, in Prague, or the repetitious folkloric tat of Hungary.
As befits this air of fairytale Europe, Slovenia is rich in folklore and legend.
The Assumption Of Mary Pilgrimage Church on Bled Island in Lake Bled, located in the Julian Alps of northwestern Slovenia.
The Slovenes strike me as outdoorsy types. While Ljubljana is active enough on a Friday night, it tends to clear out on the weekends, as people head for the hills, or the coast; to the mountain hut or summer cottage — or just the seat of a ten speed bike. As they say, if you can't beat 'em, join 'em. Thus, we took a day trip to Lake Bled, with Slovenia Explorer. Bled is such a scenic spot that its picture-perfect Mittel-European imagery graces many a travel brochure. It's an alpine resort, built around a placid lake of cobalt blue. A 1000 year old hilltop castle overlooks the lake, and in its centre is a small island, home of the Assumption of Mary Pilgrimage Church. A Gatsby-style mansion also overlooks the lake. Now a hotel, this is the villa where Yugoslav strongman Marshall Tito used to party with Richard Burton and Elizabeth Taylor.
Bled is such a scenic spot that its picture perfect mittel-European imagery will seem all too familiar from travel brochures.
After an amble around the hilltop castle and a peek at Tito's villa, we took a flat bottomed wooden boat from the villa over the sweet, clear waters to the island. Once there, the pilgrimage began. In the church itself, there hangs hope on a rope: right in front of the nave, visitors can pull the rope which rings the bell in the tower, and make a wish. There are 99 steps which lead to the church, so we felt we had earned ourselves a little indulgence. Stopping at the town, it was time for a Muscat wine and a kremšnita, a suitably sinful vanilla and cream pastry.
The second leg of our journey took in the Slovenian coastline and Piran, one of the most charming coastal towns on the Adriatic, and undoubtedly the main attraction on Slovenia's limited shoreline. Picture a quaint coastal town of considerable antiquity: terracotta roofed, limestone houses surrounded by cypress trees overlooking the Mediterranean Sea. Imagine boats tied up at a jetty that finishes just where the market square, Piazza Tartini, begins, and a seafront promenade where people swim and sunbathe, lined with seafood restaurants. Think seafood platters and carafes of white wine; ice creams and beers.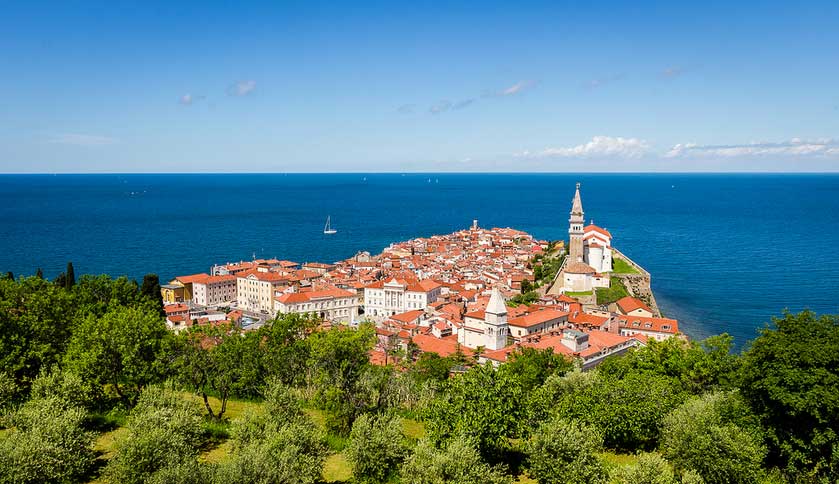 This is a place where every second building tells a story — the pink house on the main square is not only a delightful example of Venetian Gothic architecture. It was built in the 15th century by a merchant of Venice, for a beautiful Piranese maiden. The trader cared not that it caused scandal: the inscription above the Venetian lion relief reads Lassa pur dir — 'Let them all talk'. Also on the Piazza, it's only right that we should find a statue of violinist and composer Giuseppe Tartini, with Stradivarius and bow in hand. It's a nice change from the usual conqueror on horseback wearing plate armour and wielding a sword.
That said, the impish-looking Tartini had his dark side too. His best known composition is the 'Devil's Trill Sonata', which he claimed came to him in a dream, where he competed with Lucifer to see who was the best violinist. If that story sounds familiar, it's because the tale has travelled down to us over the years and even wound up as a country song called 'The Devil Went Down to Georgia', or more recently the Tenacious D track, 'Tribute Song'.
His best known composition is the 'Devil's Trill Sonata' which he claimed came to him in a dream, where he competed with Lucifer to see who was the best violinist.
Continuing with the musical theme, we chose a stay at Hotel Tartini. A bright, cheerful spot, its terrace bar has great views of the old town. Following the one inviolate rule of Slovenian travel — find out which restaurants the Italians are eating at, and go to them — we wound up more than once on the May 1 Piazza, the town's second largest square. It's picturesque too, in a slightly more understated way than Tartini. I glugged beers at the Cutty Sark pub and gorged myself on calamari and vermicelli frutti de mare at Fortuna Trattoria. The food was robust but effective, like the shot of grappa which came at the end of the meal.
After a few days sunning ourselves, admiring the architecture and views and exploring Piran's maze of shady back streets, plus making the odd excursion to a nearby attraction and drinking too much wine at lunch, it was time to end our ramble through Slovenia. With all these reminders of Venice — Piran was once a Venetian outpost after all — we decided to take the ferry crossing from Piran to the original city with Topline Cruises, before departing from Treviso airport. Soon we were sailing into Venezia, past Saint Marks Square and breathing in the "immense splendour of the place", as Evelyn Waugh put it. Yet the real highlight of it all was a not-at-all slovenly and really rather lovely Slovenia.