A 6-Day Cycling Tour of New Zealand's East Cape
Its isolation from the rest of the North Island — out on a limb and bypassed by the major highways — means the East Cape of New Zealand is seldom found on the itineraries of international tourists, despite its wild beauty and lost-in-time charm.
A tour of the East Cape offers a laid back, off-the-beaten-track experience of the county's North Island. The area reveals acres of rugged coastline, empty beaches and excellent surf, and the barely visited Raukamara Range is rich in pristine rainforest. Come here to visit 'the sunniest city in New Zealand' and learn about the vibrant Maori community. This is an area to savour, and what better way to do this than by taking a leisurely week-long bicycle tour.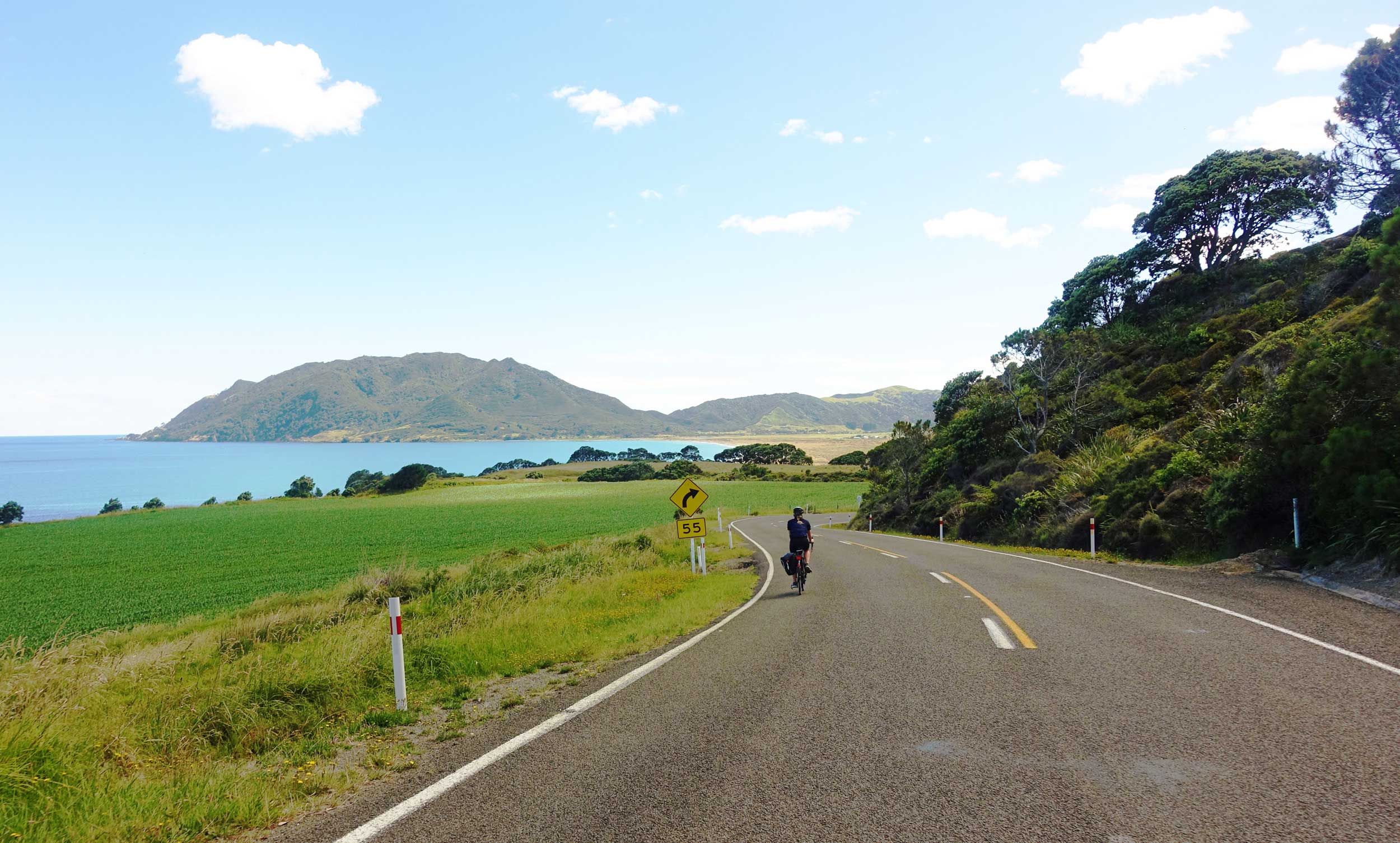 Pacific Coast Highway
State Highway 35, also known as the Pacific Coast Highway, runs for 327 kilometres from Opotiki to Gisborne. This distance fits reasonably into a week of cycle touring, with six days being ideal.
Bicycles and panniers can be hired from Gisborne or Opotiki, meaning the route can be started at either end. The Intercity bus shuttle that links Opotiki and Gisborne via the shorter, inland State Highway 2 can accommodate bikes, making it easy to complete the loop and return rental bicycles at the end of the week. The route outlined here begins at Opotiki.
The East Cape in 6 Days
Day 1: Opotiki to Omaio Bay
Distance: 54 kilometres.
Highlights: Opotiki is one of the older Maori settlements in New Zealand, and is a gateway to both the East Cape and to Whakaari (White Island), a perpetually erupting island out to sea, whose white smoke should be visible throughout this day's ride. Opotiki's museum offers insight into the history of the area. Stop at the lonely, flotsam-littered bays of Hawai and Torere en route.
Day 2: Omaio Bay to Waihau Bay
Distance: 47 kilometres.
Highlights: Papatea Bay is the first opportunity to see a marae (Maori meeting house). Visitors should not enter a marae without invitation; luckily the extraordinary carvings can be seen from outside. In Papatea Bay, the Hinemaurea Marae carvings commemorate Maori who died in the First World War in intricate and beautiful detail. Close by in Whanarua Bay is Pacific Coast Macadamias, a tree plantation with an excellent café. The macademia nut and honey ice cream is highly recommended.
Just after Papatea Bay, the road reaches the dreamy Waihau Bay, a tiny community strung along a jagged coastline. This was the filming location for Boy, for a well-known Kiwi movie about Maori culture. The town's church, set atmospherically out on a spit, and the quaint wooden post office both feature in the movie.
Day 3: Waihau Bay to East Cape Campground
Distance: 70 kilometres.
Highlights: Hicks Bay makes a good halfway rest stop. The beautiful beach is partly hidden by steep cliffs, perfect for a cooling lunchtime dip. Also worth visiting is Te Araroa, to spy what is allegedly the largest pohutukawa tree in New Zealand, at an impressive 350 years old, 40 metres wide and 20 metres high.
Just beyond East Cape Campground is the lovely East Cape lighthouse. Accessible only by a 20-kilometre gravel road from Te Araroa and 800 steep steps, the lighthouse is famous because it is situated on the easternmost point of the eastern most landmass in the world. This makes it the first place in the world the sun reaches each day — make sure to watch the sunrise here.
Day 4: East Cape Campground to Waipiro Bay
Distance: 75 kilometres.
Highlights: The unusual St Mary's church at Tikitiki is an essential stop. From the outside it appears to be a traditional church, but inside is a riot of traditional Maori woven panels, carvings and designs in the stained glass. It claims to be the only church of its kind in New Zealand.
The start of the hike up Mt Hikurangi, the highest non-volcanic peak on the North Island, can be reached from Ruatoria. This is a sacred mountain for the Ngati Porou people, and has fantastic views of the East Cape from the summit.

Day 5: Waipiro Bay to Tologa Bay
Distance: 53 kilometres.
Highlights: The east coast of the cape has some excellent surfing opportunities, particularly for beginner to intermediate surfers. Boards can be hired in two of the towns crossed in this day of cycling: Tokomaru Bay and Tologa Bay.
The recently refurbished wharf of Tologa Bay is reputably the longest in the Southern Hemisphere, and also one of the oldest. The town's cashmere factory is worth a visit.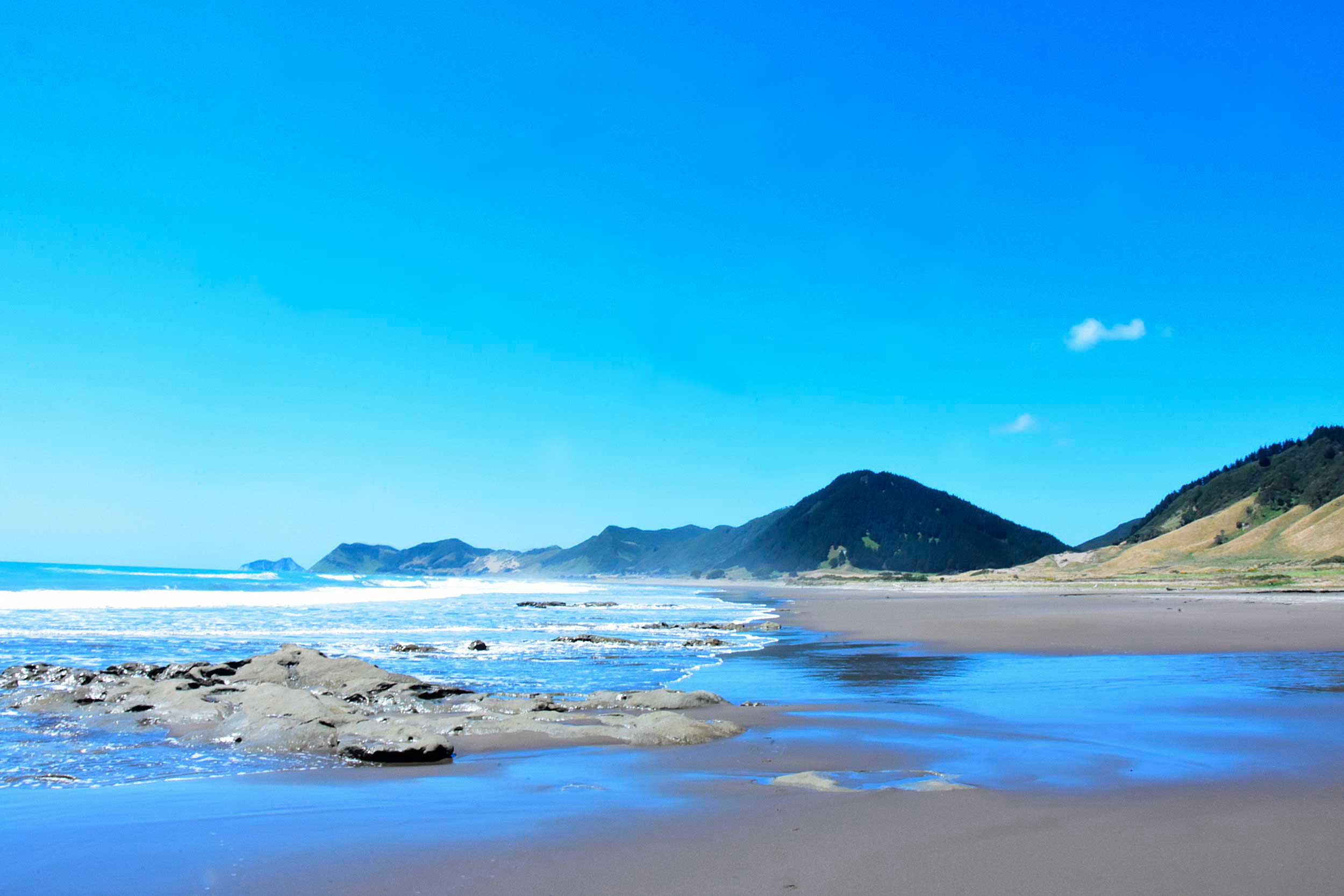 Day 6: Tologa Bay to Gisborne
Distance: 55 kilometres.
Highlights: The Te Tapuwae o Rongokako Marine Reserve in Pouawa is excellent, especially if fond of snorkelling. Its eight marine habitats are home to a diverse community of fish, sponges, corals and seaweed and are frequented by fur seals, dolphins, whales, stingray and many sea birds.
Whangara, a tiny township sheltered by picturesque rocky headlands, was the filming location of another award-winning Maori film, Whalerider. Visit the beautifully carved marae, with its whale centrepiece, which inspired the film. Close to this is another excellent surfing beach at Wainui.
Once in Gisborne, catch a ride to Rere Falls, a 60-metre natural rockslide. It is perennially popular with local kids who zoom down on body boards, and is still heaps of fun just in swimming gear.
Who This is For
The terrain, whilst rolling, contains few steep or long climbs, making it suitable for anyone of reasonable fitness.
Where to Stay
Excellent budget camping is available on the East Cape. Both Opotiki and Gisborne districts allow free camping for tents. Refer to their websites for the full list of free campsites, directions for responsible free camping, and to apply for a permit ($30 for up to 6 people for up to 10 nights). Commercial campgrounds, various motels and hostels are available in the larger towns. An app such as Rankers Camping NZ is invaluable for finding good campsites both in the East Cape and throughout New Zealand.
When to Go
Summer, which falls between December and March, sees the best weather. Bring waterproof gear whatever time of year it is as even the summer months see some rain.
ESSENTIAL INFORMATION
Flying with bikes is, in general, surprisingly cheap and easy. Check the airline's oversize baggage policy for guidance on how to pack up the bike, the fee and weight restrictions.
Be prepared to remove the pedals, wheels and seat, and detach the handlebars from the headset. The bikes should generally be in a cardboard or hard-shell box; cardboard bike boxes are available free from any bike shop.
If hiring a bike, remember that hire companies can be busy in the high season (November to April), so be sure to book ahead. Most bike shops require leaving a deposit of some sort, such as credit card details.
When undertaking a longer cycle tour, strive for the best bike quality and comfort available.
Campsites on the East Cape are large, so booking ahead is not usually required. The exception to this is during the school summer holidays (late December to late January).
Free camping and Department of Conservation campsites generally have quite basic facilities, so be sure to carry portable chargers for phones and cameras. Mobile apps such as Rankers Camping NZ list the facilities at each campsite.
Make sure to bring well-padded cycle shorts and petroleum jelly to avoid getting saddle-sore.
Bring swimming gear: many clean, beautiful rivers and bays can be found throughout the East Cape, and a swim is the perfect way to wake up in the morning, cool down at lunch and unwind at the end of the day.
Be sure to bring plenty of food and water for each day's cycling, including high energy, sugary snacks. Facilities can be few and far between en route.
USEFUL LINKS
www.gdc.govt.nz/summer-camping
www.opotikinz.com/visit/where-stay/freedom-camping