Made in Morocco
Sugar and spice are not what little girls are made of, but they do make Morocco tick. Mint tea, poured from great heights, is laden with sugar, and all manner of spices abound in the local cuisine. We're not talking hot, mouth-tingling spices that can be hard to handle, but the subtle varieties that deliver a flavour bomb. Having evolved through the centuries, Moroccan cuisine blends together elements of Mediterranean, Arabic, Andalusian and Berber cooking styles. The Moroccans really do know how to mix and mingle spices to best effect and it is hard to go past the magic conjured up by a tagine.
Marrakech: a thronging, thriving city that emits an unruly vibe, like a tiger that won't be tamed. It's a city where expectations are sure to be exceeded, with surprises around every corner. Nothing can quite prepare us for the magnificent mayhem that is the medina, where motorbikes, cycles, donkeys and wagons vie with locals and tourists for space in the narrow lanes. Shops, souks, spice stalls, and barbers; resident cats; local palaces: just about everything in life is woven together here.
Taxi drivers ply their business from salmon-coloured cars before cavorting onto the dusty roads. Horse-drawn carriage is a popular and rather charming means of transport for tourists. Men in loose, hooded djellabas rush past at pace and women in bright scarves meander by, many carrying trays of dough on their shoulders. Tall, slim young men greet us with smiles and compliments, cheery ploys they hope will lure us into their shops or allow them to be our guide.
Negotiating all this while finding one's way around the labyrinth of lanes requires wits and instinct, but it doesn't take long to get the hang of things. To wander through Marrakech is akin to walking across a busy roundabout, not sure which way to look or which route to choose as beautiful bedlam happens all around. Motorbikes are forbidden, but hundreds zoom by nevertheless, their riders not giving an inch — so it's a balancing act between saving ourselves from mishap and savouring what is unfolding in front of us.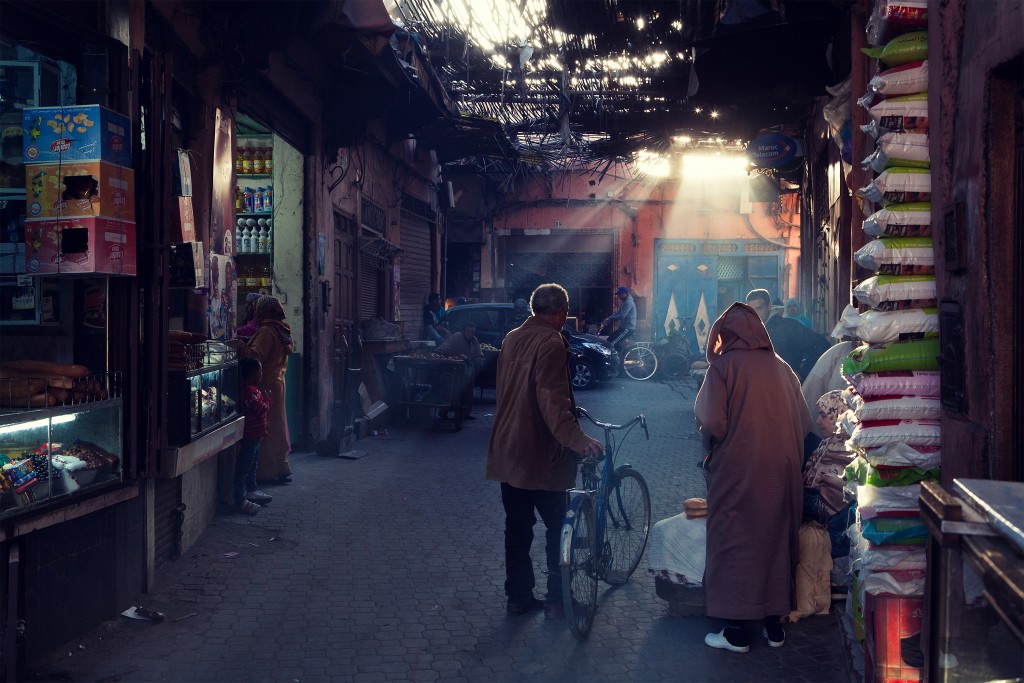 The 'big square' is a hive of activity and cacophony of colour under the hot midday sun, with snake charmers, music, food stalls, beggars and so much more. Tourists can't get enough of it all, and rightly so. When we stop and observe, sifting through the chaos, we can see the charm that resides deep in the heart of this amazing place. At dusk, as the day cools down, blue skies turn to orange and minarets light up. Everything steps up a notch, creating vistas and sensations that sink inside my core and will never leave me.
After a day out and about in the heat and chaotic beauty of Marrakech, it is easy to switch immediately into relaxation mode upon returning to our riad, the Sanssouci Collection's Dar Les Cigognes. What a special place in the world this hotel is, offering seclusion, security and refinement. Ideally located on the edge of the medina, the modest front door gives no indication of what lies behind it. When the magnificent internal spaces are revealed, there is audible catching of breath. A cloak of stillness envelops us. Chaos becomes calm. Heat fades away.
The excellent staff at Dar Les Cigognes ensure every need is met in the most professional and discreet manner. Rooms are tranquil and a perfect blend of comfort and visual beauty. All good things in life happen right here — rest, pampering, romance, fine dining and a sense of being in a true sanctuary. Excursions can be arranged to the mountains, the desert or the coast and access to both the medina and Gueliz, the heart of the modern city, is easy..
The gorgeous rooftop terrace, with its array of cacti and colour, looks out across the city with a birds-eye view of the cigognes (storks) after which the hotel is named. With giant nests atop the Royal Palace opposite, these large birds stand guard in pairs, primping and preening and literally shouting from the rooftops with their distinctive call. It's a sight to behold and a unique backdrop for a sumptuous breakfast or delightful dinner served in a private outdoor space.
Tagine (or tajin) is the best known dish from this part of North Africa, named after the earthenware pot in which it is cooked. Simple and clever design makes for easy one-dish cooking, infusing delicious flavours together. The distinctive conical lid, which fits snugly inside the base, traps steam as it rises within. Condensed liquid remains inside the pot, ensuring food is cooked evenly and swiftly, retaining moisture and enhancing taste. It's a Berber design of pure genius that can be found all over Morocco in bright colours and all sizes. Some pots are better than others when it comes to design and practical use, though — so it pays to put in the research.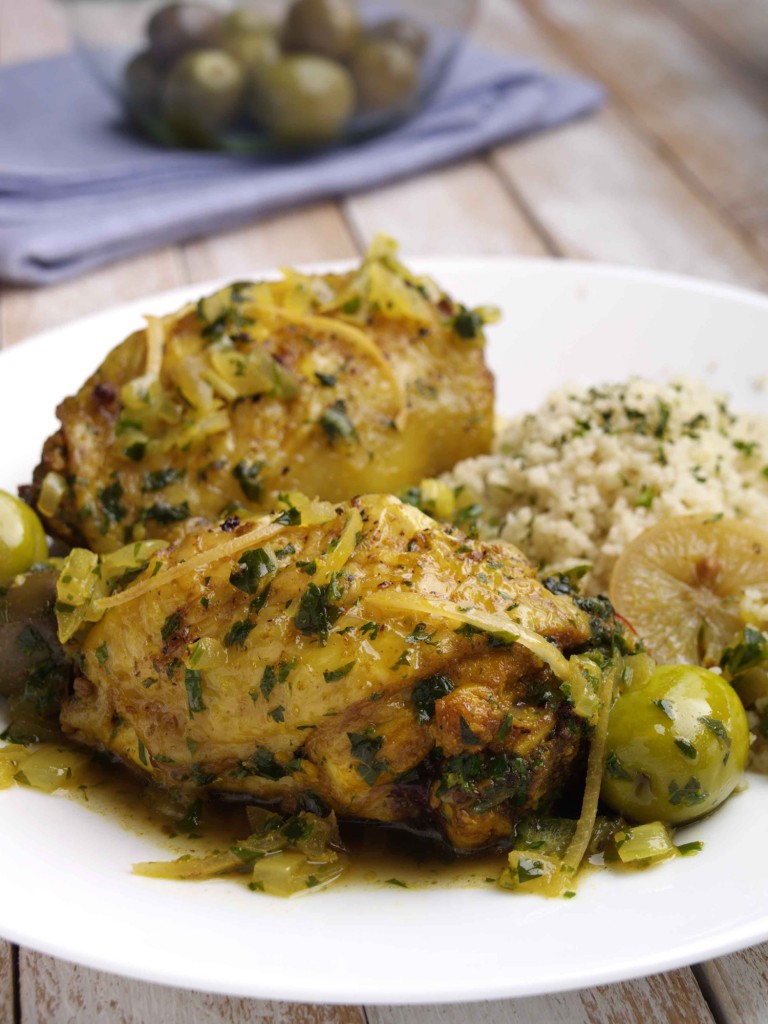 The opportunity to get a grass-roots introduction to the basics of this cuisine through a private cooking class at our hotel is welcome indeed. Pierre, the delightful hotel manager, begins by taking us on a market tour. Originally from France, Pierre has lived in Marrakech for 11 years and is the only foreigner fully qualified to guide tours in the city. We start in the mellah, the Jewish area just behind the hotel.
Taking a shortcut through a public hammam (bathhouse), we find ourselves in an underground public bakery where the locals bring their homemade dough, neatly formed into loaves, for the baker to finish in his oven. Around 4000 loaves are baked per day here, personal napkins denoting which belong to whom. Most homes do not have an oven, so each area of the medina has its own public bakery. We now understand where those women with trays of dough on their shoulders have been heading. It's a great service, but hot and unrelenting work.
Next stop is the food market, where we can select our own live chicken for dinner or have a slab of meat cut specially for us. Being some distance from the coast, fish is not high on most menus, but there is an area devoted to seafood alongside the various butcheries. In the late afternoon, the market is largely deserted, with several butchers taking a snooze and others cleaning their knives or scooping away entrails.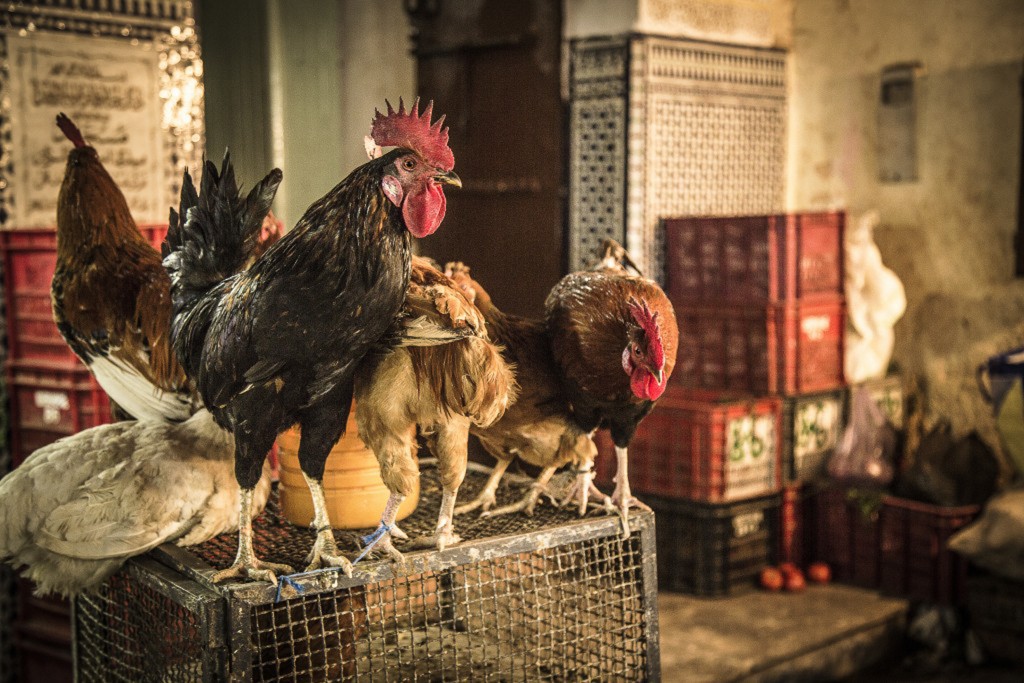 Huge baskets of fresh fruit and vegetables stand alongside sacks of spices in a rather shambolic way, but it all looks enticing. With no resources available for sprays and chemicals, all the produce is organic, local, and seasonal by necessity. Prickly pears (also known as Barbary fig or cactus fruit) are everywhere. They are a popular snack, sold from roadside stalls all over town, and people eagerly slurp them down by the dozen.
We are privileged to see the making of warka. This wafer-thin pastry, similar to phyllo, is made by specialists and used for delicious savoury pastries. Balls of dough are expertly spread onto a hot plate and then whirled by hand into impossibly thin and delicate round sheets. The skill of the warka-maker is not to be underestimated.
Next, it is on to the spice market, where tall cones of bright spices attract attention and jars full of coloured powders line shelves like a psychedelic apothecary. Ground spices of all varieties and combinations are available, or customers can select various roots and seeds and put together their own concoction, which will be ground for them right there and then. Cumin, saffron, cinnamon, nutmeg — these are all common spices used in Moroccan cooking, along with fresh parsley and coriander, dried fruit and nuts.
There are also some unusual offerings — chunks of cobalt blue, threads of green, buttons of yellow — and argan oil is available everywhere, used for cooking as well as anointing. We drink tea sweetened with a special leaf, which is becoming a popular sugar substitute due to an increase in diabetes in the country. We sip eucalyptus crystals infused in hot water, the cleansing zing enabling us to smell the spices even better.
Now it is time to get down to business — cooking in the kitchen of our riad with Pierre and Fouzia, the resident dada (female chef). A dada has a lifetime of cooking under her belt, starting out at an early age helping her mother, so it goes without saying that Fouzia knows what she is doing in a Moroccan kitchen. On the wall are photos of well-known international chefs who have graced this modest but well-equipped kitchen, privy to Fouzia's culinary secrets and no doubt sharing their own.
We don aprons and get stuck in with anticipation. Pierre is the conductor, Fouzia the quietly capable lead player, and we two travellers perform our parts when required. Each dada has their own specialties and ways of operating, and we watch Fouzia in action with admiration and respect, taking everything in. Gentle, smiling Sanae pops in from her office every now and then to see how things are going and join in regular bouts of laughter. And what would we do without twinkly-eyed Amir, who appears like a genie to manage such emergencies as empty wine glasses?
We begin by making couscous from scratch, realising, once we understand how easy it is to change semolina into appetizing couscous, that there is no need to ever use a packet of bland again. The secret lies in good preparation, rubbing, raking, soaking, steaming, sprinkling, oiling, smoothing, drying. The idea is to swell the grains with as much water as possible without creating a soggy, lumpy mess. A large flat bowl is required for rubbing and raking, and a couscoussier (a large double boiler-style piece of cookware) for the cooking process. We learn that authentically raking hot couscous by hand requires palms similar to a firewalker's soles. Using spoons is a rather safer alternative.
The main dish is a chicken tagine, with the Moroccan staple of preserved lemons. We prepare the vegetables, blend spices, garlic and ginger, and it all goes into the pot with chicken pieces. A casserole pot can suffice, but a tagine is a far superior option. And don't overdo the preserved lemon.
While our tagine is cooking, we assemble four different salads. Moroccan salads are often warm, vegetable-based affairs, rather than the crisp lettuce variety. The tomatoes here are large, dense and heavy, and lend themselves perfectly to being grated — a much easier way to get the grunt out of a tomato than the usual blanching and peeling. Grated tomato goes into most of our salads, including the tomato confiture, its sweet blend of honey, orange blossom and aromatic spices nothing short of sublime. It's a totally unexpected taste sensation from the humble tomato.
A courgette and egg salad is next, producing a delicate and unusual combination. The roast capsicum salad is the perfect blend of sweet, sour and piquant tastes and the aubergine caviar (zaalouk) is sensational. When class is over, we unwind with a drink on the roof terrace and Amir then serves our own creations to us in the courtyard as candles flicker, the fountain trickles and the blue sky turns to night. The meal is magnificent, even if we do say so ourselves, and soon enough it is 'midnight at the oasis'.
The following day we make a trip to the High Atlas Mountains, where the Berbers have lived for thousands of years. After some fairly intensive and highly scenic walking, we have earned a decent lunch and at a Berber guest house in the village of Imlil we get just that. A traditional Kefta tagine (meatballs, egg and tomato) is served on the colourful terrace, way up high, where our views are not dissimilar to those of the eagles soaring above. Morocco is intoxicating in its many dimensions, the food being no exception. Spicy, colourful, fragrant and delicious, it encompasses all the senses: definitely very 'Moorish'.