Colombia: Road Tripping From One Extreme to Another
In between near-death experiences I am dimly aware that the radio is playing Western music. While I mentally compose my last will and testament, Elton John sings about the circle of life. I'm in Cartagena, on the Caribbean Coast of Colombia, riding in a chuba — an open-sided bus painted in fantastic colours. It's making noises that suggest it's in the process of falling apart, and closer inspection confirms that indeed it is.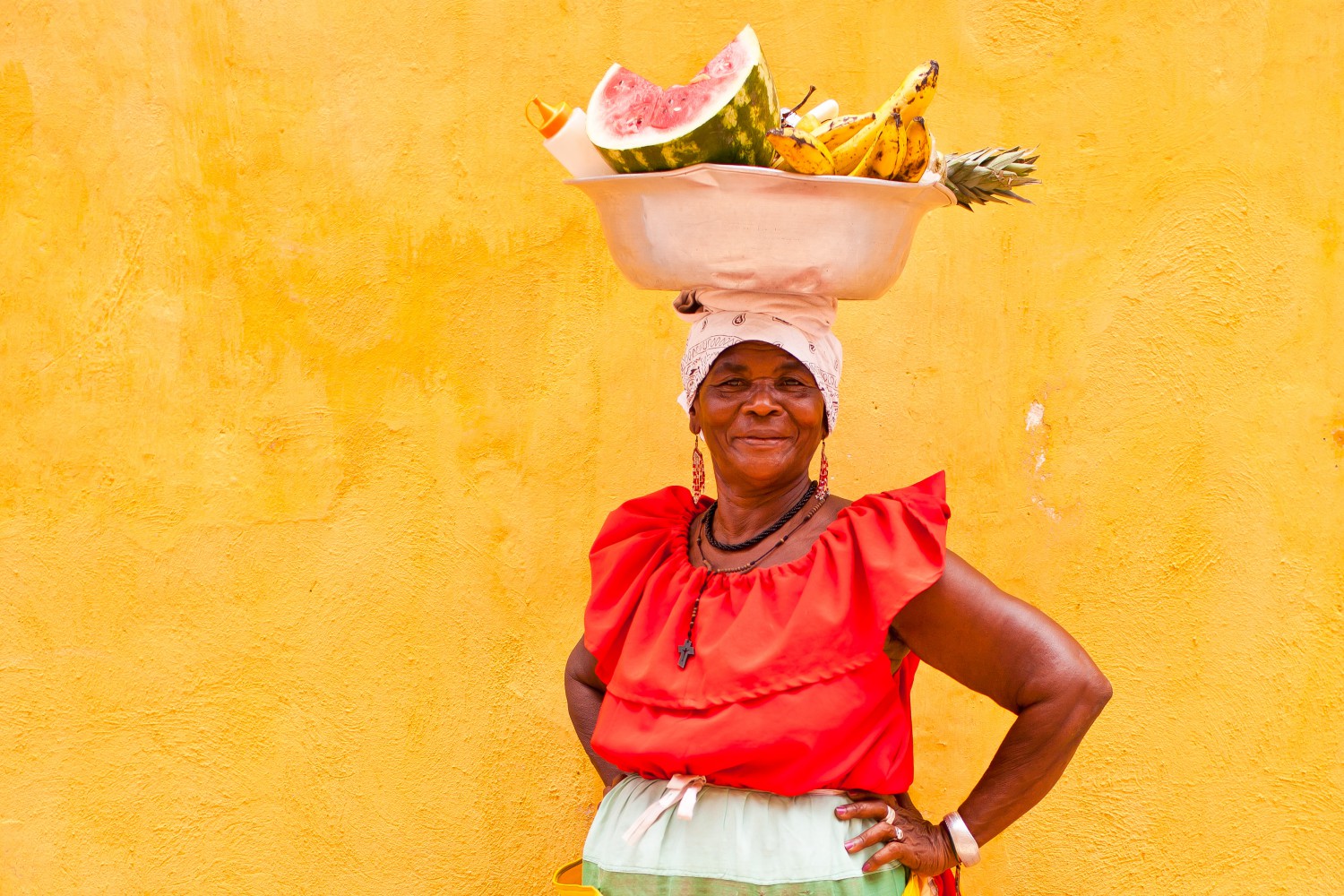 I notice that the driver is making good use of the horn — almost every time he overtakes other vehicles on blind corners — but by then I am too worried about the bus falling apart to be concerned about a head-on collision. Colombia is a destination that doesn't see much tourism. People often use the cliché of wanting to 'get off the beaten track' in Colombia, but I soon discover that finding the beaten track in the first place is the real challenge.
The experience on the bus has convinced me to rent a car, and it turns out to be a fantastic idea. Although the driving in Colombia is so reckless it has to be seen to be believed, it's still a fantastic way to see the country; detours invariably turn up quaint old villages, complete with cobbled streets, white-washed walls, and the ubiquitous town plaza and Catholic church. And it's in these sleepy villages that I find the South American experience I'd been craving: a donkey drawn cart idling down the main street, the owner in a sombrero and poncho just like an extra out of a spaghetti western; a man on horseback complete with moustache, cowboy hat, and revolver strapped to his hip; and tiny eateries serving traditional foods like arepas Colombianas — corn flatbread, and the Colombian national dish, bandeja paisa.
A curious thing about Colombia is how quickly the climate changes depending on the elevation. One minute I find myself driving in the rain through temperate green countryside, and ten minutes later I'm in the desert, driving past cactuses and lizards sunbathing in the blazing hot sun. It's totally bizarre, in the best possible way.
The highway I take to Barranquilla regularly cuts through mangroves as it winds its way along the coast. Initially nothing seemed out of the ordinary, aside from the astonishing volume of rubbish washed up in them, but then I notice that there are actually people living in the mangroves, in shacks connected to each other by greasy wooden planks. Heaven knows how they get by. I catch snatches of their lives as I pass by, like pictures in a kaleidoscope.
Nearby I learn an important life lesson: never eat roadside seafood. After stopping at a roadside stall I try a local delicacy, bomba, which comprises prawns, oysters, dried fish, crab meat, tomato sauce, onion, hot sauce, and some tiny things that look like miniature pipis. Served with crackers and coke, in the tropical heat it is delicious and refreshing; it also keeps me up all night with the worst case of food poisoning I've ever had.
There are more or less no foreign tourists in Colombia, and since I am a tall white man with blue eyes this means I have to get used to being stared at. While boarding planes, walking down the street, going into bars and onto beaches, and arriving at hostels, people turn as one to stare at me. Children point me out to their mums, or sometimes run away. I seriously doubt that even a Martian walking down the street would attract more attention; at times I feel a bit like a freak in a travelling sideshow.
One of the places I am not stared at though, is a little fishing village called Taganga. It's Colombia's version of Thailand's Ko Phi Phi Island, with a very similar relaxed vibe, and is packed with Americans, Brits, Aussies, French, Italians, and even the odd Kiwi. It is also the only place in Colombia where I am ever offered drugs. The dealers stand out, they dress very smartly, speak better English than most, are very friendly, and relentlessly pushy. An English couple I meet have become so tired of it all that they decide to paddle out past the breakers on their surfboards to get a rest. Their break is only short though. To their astonishment, they soon have someone shoot over on a jet ski and ask them if they want to buy some cocaine.
Near Taganga is Tayrona National Natural Park, which I have heard a lot about, and which turns out to be a must-see. To get there I take a long-boat packed with seasick American tourists, motoring past stunning scenery: coconut palms, huge granite boulders, and dense and impenetrable looking jungle that tumbles all the way down to deserted white sandy beaches. After a slightly hairy disembarkation from the ferry, during which we are almost washed up onto a reef, I go exploring, walking through a thin strip of jungle to a more isolated beach, always in earshot of the ocean to ensure I don't get lost. I am amazed to see the path come alive at every step as I scare dozens of geckoes, all running for their lives, and the path is intersected repeatedly by troops of leaf-cutter ants, transporting tiny pieces of leaf back to their nests.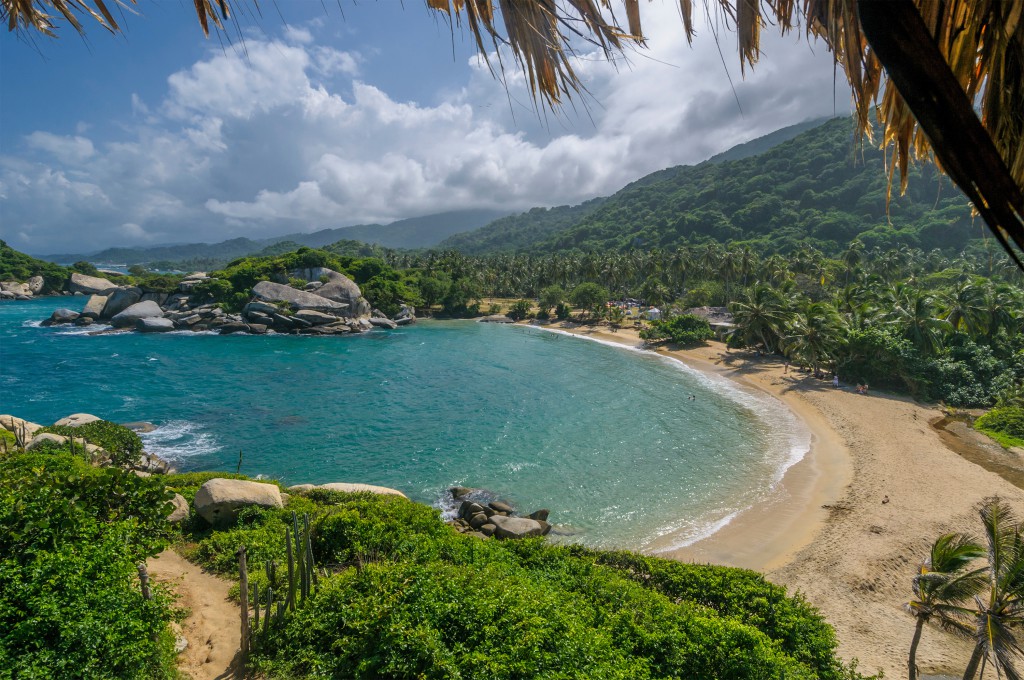 The park is beautiful. If only I hadn't struck holiday crowds, it would have felt undiscovered. It's completely untouched and very wild. My evening walk back to the bus through coastal jungle is unforgettable, and comes complete with bats feeding off the insects that I've disturbed, a bit like a spooky version of our fantail. Apparently there are howler monkeys and parrots in the jungle, and caimans and alligators in the streams and ponds. While I don't see anything more dangerous than a horse, I can certainly hear lots of strange animal noises, and the jungle is thick enough to make me imagine that I'm about to be devoured by a jaguar. I make it back to the bus uneaten though, and the following day I make my way to El Rodadero, Santa Marta, with its perfect beaches, penthouses, and nightclubs packed with Colombian beauties.
Colombia has the reputation of being the most risky of all the destinations in South America, and in many ways I think that's true. The country and the people can be wild, and it's only just starting to try and harness its tourism potential. The feeling in Colombia is hard to describe: there is an undertone of hope, and a belief that soon the rest of the world will know how great Colombia is. Colombians are desperately proud of their country, and even more desperate to shrug off the stigma left by drug-lords like Pablo Escobar. The country certainly has a dark side, but almost every country in the world has places that are off-limits to all but the very brave or very stupid.
I don't like to use that tired old expression about a country being one of extremes, but that really does sum Colombia up nicely. And it's maybe those very extremes that make the experiences so stark: one minute I'm driving past a street fire, in an area swarming with the desperately poor, two blocks later it's a safe and affluent area swarming with police; one morning, I'm stepping out of virgin tropical rainforest onto a pristine and deserted beach, that evening I'm in a packed nightclub sipping aguardiente, the national drink.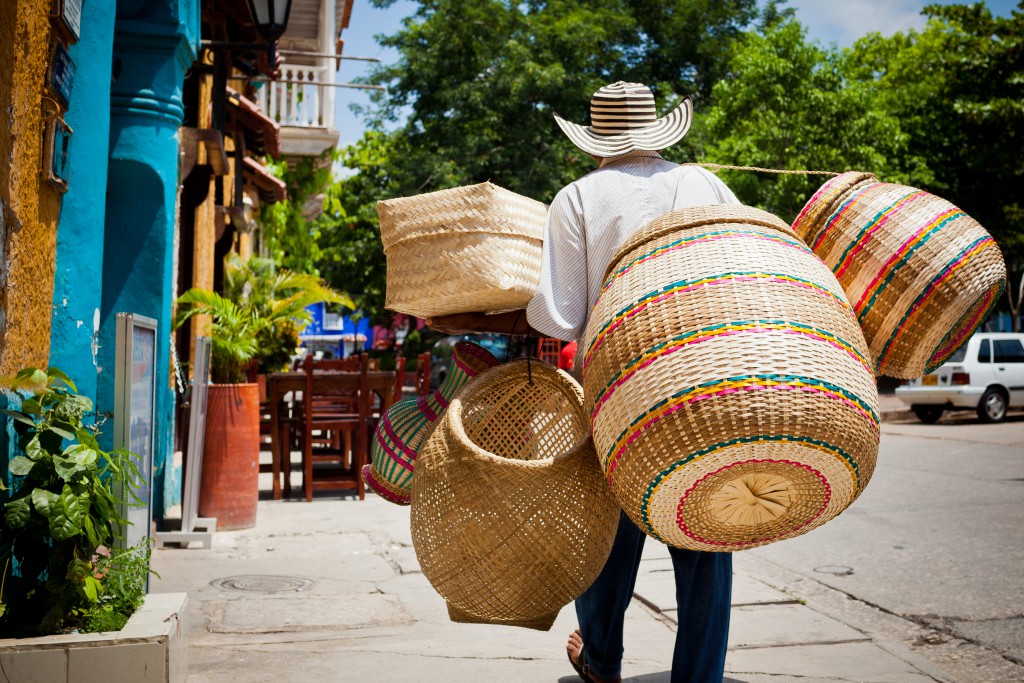 It's my last night on the coast, and I'm at a small restaurant and bar in the historic centre of Santa Marta, the oldest settlement in Colombia. The waiter hands me a michalada — a glass of cold beer with lime and salt on the rim. I gulp it down gratefully and enjoy the cool breeze coming in off the ocean as I watch the sun sink into the Caribbean Sea. I order another michalada and watch the live vallenato band, which are being enthusiastically cheered on by a group of exuberant Frenchmen. What's that you say? Am I hungry? Yes a little, what would you recommend? The bomba? How about we make it a hamburger?