King of the Jungle:
Gorilla Trekking in Central Africa
Stand in the presence of one of Earth's most critically endangered animals. Gorilla trekking leaves individuals with a profound sense of awe, having assisted in the species' preservation while following precipitous tracks through dense rainforest.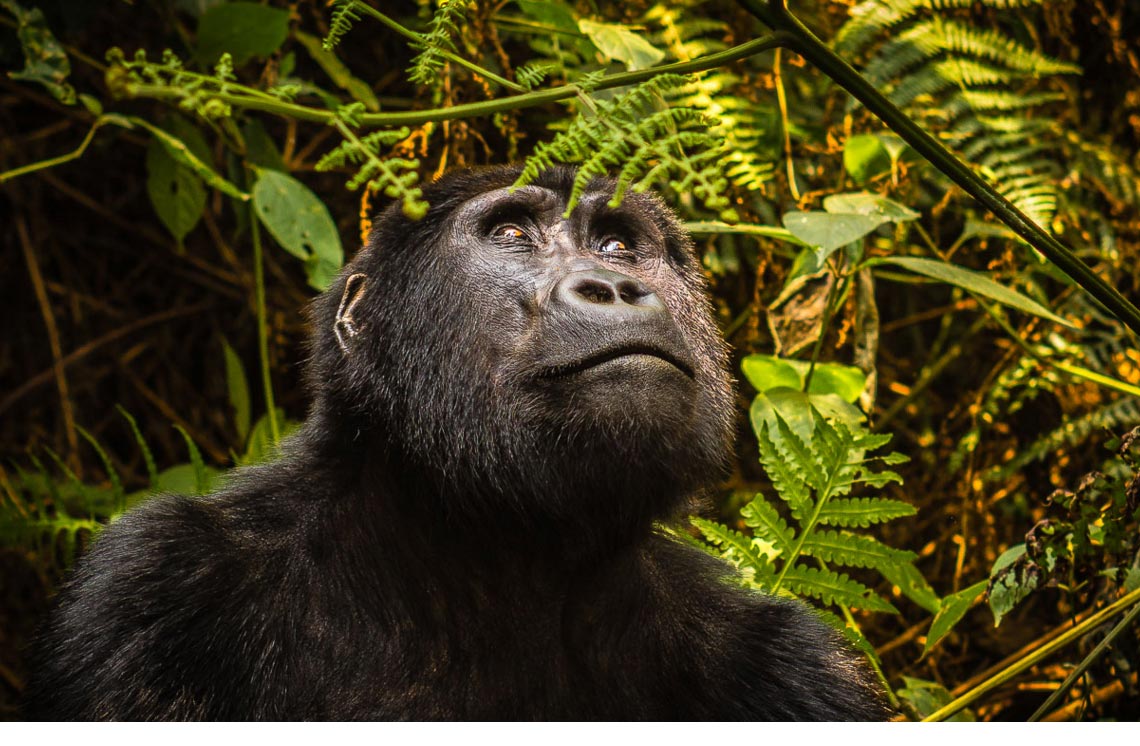 The History
Exchanging a gaze with gentle, vegetarian beings who share our human intelligence and sense of curiosity is an experience to remember forever. Listed with World Wildlife Fund as Critically Endangered, the current total population count is 880. These great apes inhabit the dense rainforest and steep volcanic mountain domes in the neighbouring Central African countries of Democratic Republic of Congo, Rwanda and Uganda.
Eco tourism ventures in equatorial Africa bring attention to their plight, and help support the rangers who protect the thousands of hectares of conservation land. Advocates and protectors of mountain gorillas continue to fend off illegal loggers and charcoal harvesters, not to mention poachers and the international operations who entertain mining interests in the gorilla's sacred, mountainous home.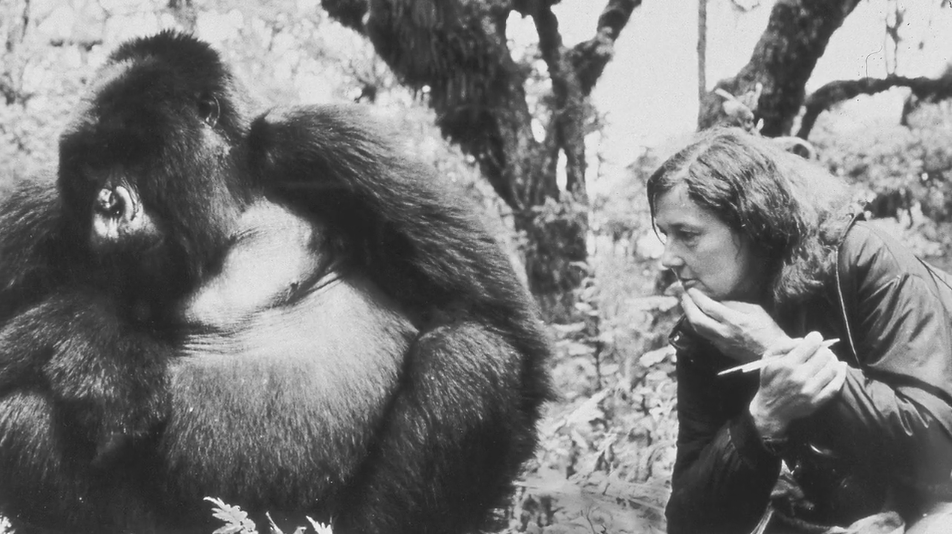 The doomsday plight of the peaceful and physically imposing creatures was first brought to public attention by American primatologist turned fierce activist Dian Fossey, whose actions were immortalised by Sigourney Weaver in the 1988 film drama Gorillas in the Mist. When Fossey's groundbreaking editorial was published in the January 1970 edition of National Geographic, it touched the world, inspiring a greater effort to protect the much maligned species.
Now, adventurous souls can continue Fossey's legacy, retracing her footsteps in the green mass of rainforest, bamboo forests and high-altitude mountains through Rwanda's Volcanoes National Park and Uganda's Bwindi Impenetrable National Park. Deciding on which country to visit for the mountain gorilla trek experience depends on a variety of factors including individual fitness, terrain preference, accessibility and where one's wanderlust is taking them before and after the trek. Rangers keep park HQ informed by radio of the gorillas' whereabouts, ensuring regular sightings for trekkers.
Who This is For
Gorilla tracking is for those willing and able to climb steep hills and trudge through dense undergrowth whilst retracing the steps of primatologist and ape activist Dian Fossey and applaud her and primatologist Jane Goodall. This in-depth naturalist trek could be added on as an extension of the traditional Big 5 safari with the added attraction of helping to revive an endangered species through eco-tourism.
Bwindi Impenetrable National Park | Uganda, East Africa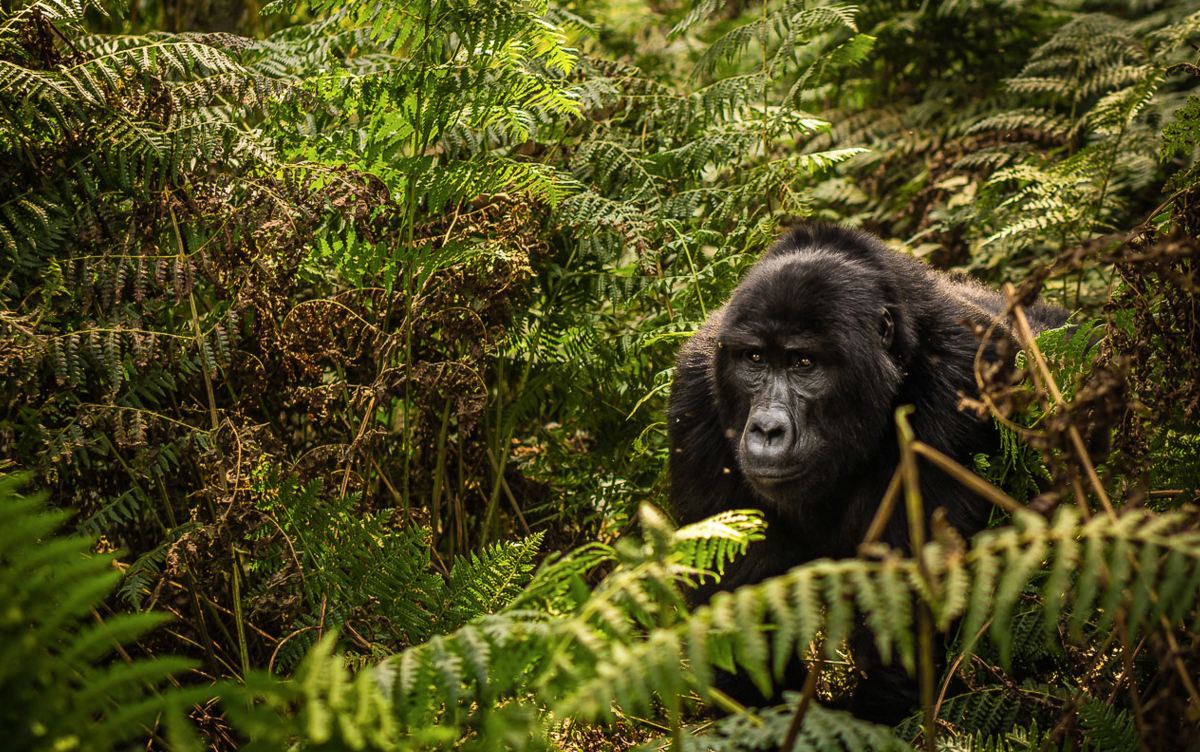 Entering Bwindi Impenetrable National Park feels a lot like how time travel ought to. The scene is practically plucked from the Mesozoic era. Three hundred and thirty one square kilometres of protected forest were established in 1991, and today this serves as one of the oldest, most diverse ecosystems thriving in Africa today. Not just a sanctuary to mountain gorillas, Bwindi is home to at least nine other primate species, too many birds to name, the giant forest hog, antelope, fish and hundreds of butterfly species. This is raw jungle, real jungle and it more than delivers on naturalist thrills.
The mountain gorilla trek times are longer than those in Rwanda's Volcanoes National Park, enabling more of the park to be experienced on foot. The terrain is expansive and wild, perfect for the frequent adventurer, although challenging for those of moderate to low fitness levels.
When to Go
The best times to visit are January to February and July to August. Rains are heaviest from March to early May. While you can essentially visit at any time of year, rain makes it tough going underfoot. Beware of the mud. Coincidentally, the rainy period presents overcast conditions suited to photography and the vegetation is at its most vibrant then.
Where to Stay
Gorilla Forest Camp is a welcome place to retreat to, post jungle hike. Stay in beautiful thatch roof bungalows set on a flat ridge high in the forest. There's a small spa to ease tight bodies back to normal and most guests feast among the stars each evening. Book a 3-night stay to make the journey worthwhile.
How to Get There
A visa is required to enter Uganda, available on arrival.
Travel from Uganda's Entebbe International Airport (EBB) to Bwindi by chartered plane. Alternatively it is a 10 hour drive to Bwindi Impenetrable National Park by car. If road tripping, stop for a halfway overnight stay at Lake Mburo National Park. For visits during the rainy (mud) months, request a four-wheel-drive vehicle. Reserve the park entrance permit closest to camp and book both at least 4 months in advance. Hepatitis A, Typhoid, Meningitis, Rabies and Anti-Malarial meds are recommended.
Volcanoes National Park | Rwanda, East Africa
Rwanda's spirit name is "Le Pays des Milles Collines", the Land of a Thousand Hills, in reverence to the chain of the Virunga volcanoes that punctuate Central Africa's landscape. The Volcanoes National Park (Parc National des Volcans) dominates the landscape of small Rwanda, intermittently interrupted by grasslands, plateaus and highland, and tea plantations.
Volcanoes National Park was once the home of Dian Fossey and where she first made headway in her research. After her death, the park has continued to operate in accordance to her high standards and rangers carry on the famed primatologist's mission to rejuvenate the mountain gorilla population here. Those who come to see them have had nothing but praise for Rwanda's focus on responsible tourism.
As for the terrain, it's less arduous than what's offered in Uganda. Treks are also shorter in length, mostly due to the close proximity of the gorilla families. Some prefer the 'wilder' challenge of navigating jungle within Bwindi Impenetrable National Park, Uganda. At Volcanoes National Park. rangers allocate groups to gorilla troops according to fitness levels.
When to Go
December to early March or June to September are the best times to visit.
Where to Stay
The staff at Virunga Lodge know how to spoil their guests in a setting which demonstrates the intrinsic value in luxury of space. Aside from the main lodge, there are eight elegant bandas (thatched bungalows), kitted out with hand woven rugs, four poster, mosquito-netted beds, and hand-carved armchairs. Aside from expansive views of twin lakes Ruhondo and Bulera, the communal dining each evening is a true jewel in the Virunga crown. Who better to share tales of gorilla encounters with than other nature-loving guests. The lodge is an hour's drive from the park headquarters.
How to Get There
Volcanoes National Park is located two hours' drive north west from the capital Kigali. A three-night stay is recommended, however it can be done in two or alternatively, as a day trip from Kigali. All treks start from park headquarters in the village of Kinigi.
A Yellow Fever vaccination is required to enter Rwanda. Travellers arriving at Kigali International Airport without a valid yellow fever certificate will have to pay USD$40.00 for a vaccination on arrival.
ADVENTURE KIT
A good camera is a non-negotiable while on safari. But only pro photographers need to do battle with heavy gear while jungle trekking for 6+ hours. Especially when the Fuji X-T2 can easily be tucked into a day bag. Its image quality equals the results of a DSLR, it has a powerful telephoto lens and loads of other pro features that make its water sealed camera body seem like an added bonus.
Prevent any lost luggage disasters by opting for a rugged expandable carry-on option like this one from Tumi. Comes with protective corners and bumper guards.
You'll need a zinc-based sunscreen for days spent out under the hot African sun. EltaMD's UV Clear Broad-Spectrum sunscreen is a proven performer, and contains hyaluronic acid to moisturise while you're breaking a sweat.
Patagonia Alpine Houdini water resistant jacket. It's available for both men and women.
Leica Ultravid Blackline 42 HD-Plus binoculars. For spotting birdlife while trekking and getting a crystal clear view of the king of the jungle.
Travel to Africa usually requires more than one flight, in which case it pays to tuck one of SK-11 Facial Treatment masks into your carry-on. Loved by the most frequent jet-setters, it provides intense hydration and will ensure you arrive looking fresh and ready for adventure.
This Chinti and Parker cashmere travel set makes getting beauty sleep easy while journeying through foreign lands.