The Experience
As a competitive sport, freediving has been referred to as experiential, extreme and 'a dance with death inducing depths'. As a non-competitive pastime, however, the practice is far less treacherous and with the proper safety training and self-awareness there is a safe, peaceful side to freediving.
The dive isn't an anxious struggle to stay down for as long as possible. This defies the point of freediving, and uses up precious energy. A successful dive rests on the trained ability to relax the body and mind, becoming a closed circuit of energy as the air from one breath is held.
Once a desired depth is reached, there is freedom to experience feelings of weightlessness, transcendent silence and time to get to know the usually foreign water world. Enthusiasts frequently liken the experience to the meditative oneness that is achieved by advanced disciples of yoga. For a few minutes, a diver becomes just another sea creature, interacting with the marine environment in a way not possible with tanks and a ready supply of surface oxygen.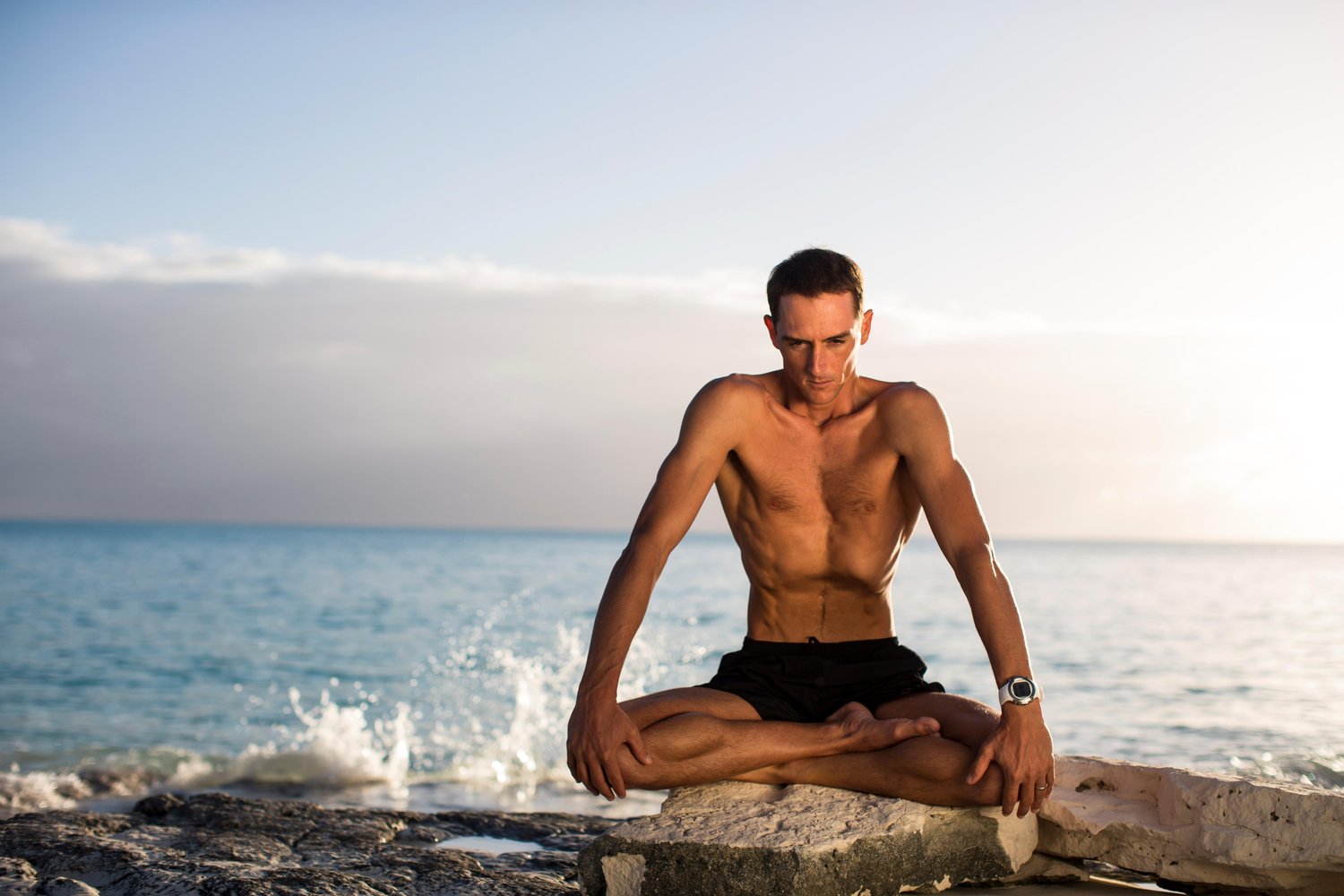 The act of freediving is far from complicated; gear necessities are minimal and it has been practiced for centuries. In the transition from ocean spectator to just another fish in the sea, full concentration is required, making for a monastic, otherworldly experience. The sport truly demonstrates what the body is capable of in its brief departure from the surface.
…I'm putting on another guise and transferring from one environment to another; it's very much a case of leaving one environment or world and entering another.

WILLIAM TRUBRIDGE, CURRENT FREE IMMERSION WORLD RECORD HOLDER
Who This is For
Freediving is for those with an affinity for the aquatic world who wish to experience peaceful encounters with dolphins, sharks and other marine wildlife, and want to learn how to harness the breath as a tool for relaxation.
---
Vertical Blue | Long Island, Bahamas
William Trubridge is also the founder of Vertical Blue, a freediving school located on Long Island, Bahamas. This is where Trubridge has set historic world records for the sport in Dean's Blue Hole and hosts extensive learning for those wishing to learn the art of breath-hold diving.
Beautiful Bahamian location aside, Vertical Blue combines theory, yoga, static apnea training and deep water plunging to huge success. The mental with the physical, discipline with the play, all learning is integrated. Theory sessions go further than the facts, delving into the physiology and practice of freediving. Once divers have plunged into the sea, there is ample individual in-water instruction, and Trubridge himself is often the one giving it.
How to Do It
Vertical Blue offers four-day beginner and five-day intermediate courses, as well as the free diving master class. The latter is offered once a year and includes guest instructors, usually other world record holding freedivers like Umberto Pelizzari. Individual goals can be accommodated for within reason. Skills taught in the beginner and intermediate courses include pyramid interval training to build base apnea fitness, infinite regression through yogic postures and contingent programming of the unconscious mind.
Where to Stay
Cape Santa Maria's beachfront gazebos allow for ample post-dive contemplation, with views out over a powdery, white sand beach. On request, said gazebo can also be transformed into a sunset dining room.
When to Go
Weather in the Bahamas doesn't vary greatly temperature wise from season to season, however hurricane season is officially between June 1 to November 30. December to May is traditionally the best time to visit. Avoid North American school holiday periods for better rates and availability.
How to Get There
Daily flights operate from the USA to the Nassau, the capital of the Bahamas.
---
Apnea Total | Koh Tao, Thailand
Founded by Spanish freediver Eusebio Saenz de Santamaria, Apnea Total is one of the world's largest freediving education systems and has a stellar reputation. Eusebio and his wife Christina are both regular participants in the sport's competitive world, and are the pair behind One Ocean One Breath, a freedive, photo and video partnership. Their imagery has been featured on Discovery Channel, National Geographic and The Guardian, whose audiences are drawn to the couple's love of the ocean and considerable artistic talent for capturing the freediver in motion.
How to Do It
At Apnea Total, divers can book in for the 2-day introductory course, with subsequent offerings scaling right up to a two week instructor program. Those who learn with the school praise its low student to instructor ratio of 2:1. For the novice, day one begins in the classroom. There is time to cover breathing, equalisation and kicking techniques, hydration, diet and other essentials which will equip students for an afternoon water session, reducing any nerves through the power of knowledge. Day two involves another morning lesson before visiting a local dive site for underwater exploration of corals, tropical fish, caves and possibly shipwrecks when conditions allow. By the end of the second day, many students feel comfortable diving to depths ranging from twelve to twenty metres. Post-course, freedivers receive certification and are given access to online education material so that they may maintain their newfound skills.
Where to Stay
Casas Del Sol's selection of four private villa residences are perched on the hillside above the main town and beach of Soiree, which is also home to Apnea Total headquarters. The spaces have a sense of raw luxury that goes above and beyond usual island accommodation. King sized day beds are encased in marble framing, the floors are polished concrete, traditional Thai carvings sit beside floating wooden staircases and high ceilings afford panoramas of the bay below. Villa rental comes with complimentary taxi transfer from the Koh Tao ferry pier on both arrival and departure, and it's just 5 minutes by scooter to the beach below. Casas Del Sol is owned by Christina Saenz Santamaria, Eusebio's wife and fellow freediver, who is doing a fine job of providing for the Koh Tao experience both above and below the surface.
When to Go
January through to March is the best time to take to the water here. February is noted as having the clearest water. Avoid visiting from end of November to mid December during Koh Tao's monsoon season.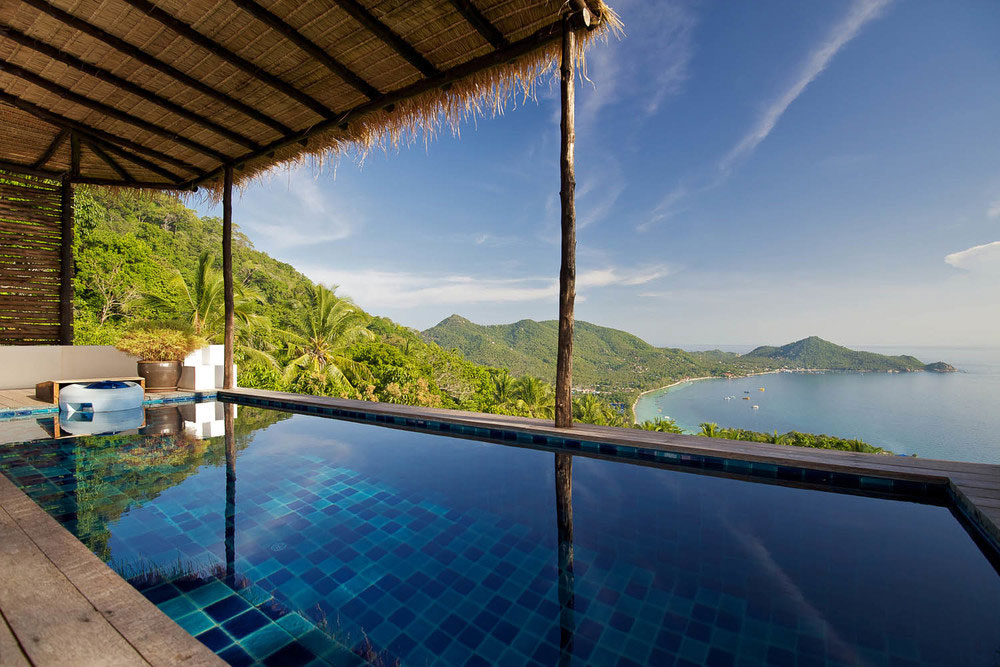 How to Get There
Daily high-speed ferry services leave from mainland town of Chumphon and neighbouring islands Koh Samui and Koh Phangan. Visit Lomproyah or Seatran Discovery for timetable details. Alternatively, fly from the mainland to Koh Samui, from where it's a short ferry ride to Koh Tao.
ADVENTURE KIT
The Olympus TG-4 waterproof camera. A rugged accessory equipped with powerful imaging technology.
Tudor Pelagos Dive Watch. Guaranteed to a depth of 500 metres, this timepiece is geared for maximum saturation.
Sharkskin Chillproof Long-Sleeve Top with neoprene neck seal and thumb loops to stop sleeves from riding up. Available in both mens and womens styles. Their Covert collection goes the extra mile too. Made with HECS conductive carbon fibre material, it reduces the human body's electrical signal, enabling one to become less detectable to marine life.
Film underwater adventures on Go-Pro's HERO4 Black. The 4K Ultra HD feature enables seriously smooth video capture.
The Manual of Freediving by Umberto Pelizzari. The number one best selling text on freediving, and the only comprehensive manual for the beginner to intermediate freediver.