Tea and Tourism: Sri Lanka's Boutique Hotels Make an Old World New
The years have not been entirely kind to Sri Lanka. The uprising of the Tamil Tigers, the closing of rail lines, the devastation of the Boxing Day Tsunami. Tourists could fairly have concluded that there were more welcoming places on the planet.
If there has been a determined fight against this perception it has been waged by the genial and determined Chandra Wickramasinghe, a Colombo travel agent who formed Connaisance de Ceylan in the 80s, eventually establishing a chain of seven largely boutique hotels spanning the island of his birth, with a keen eye on the most evocative and appealing corners of the teardrop-shaped land.
One has to climb high in the lush tea plantations of Nuwara Eliya in the central west for Chandra's most recent and possibly most desirable acquisition under the banner of his Theme Resorts and Spas. With just five rooms, the estate now known as The Scottish Planter Glendevon Bungalow has long been a fixture in this realm of planters and pickers. Built as a stone cottage along the lines of the traditional architecture of Scotland, its first owner was one Geo Armitage, who passed it into the hands of the Anglo-Ceylon Tea Company.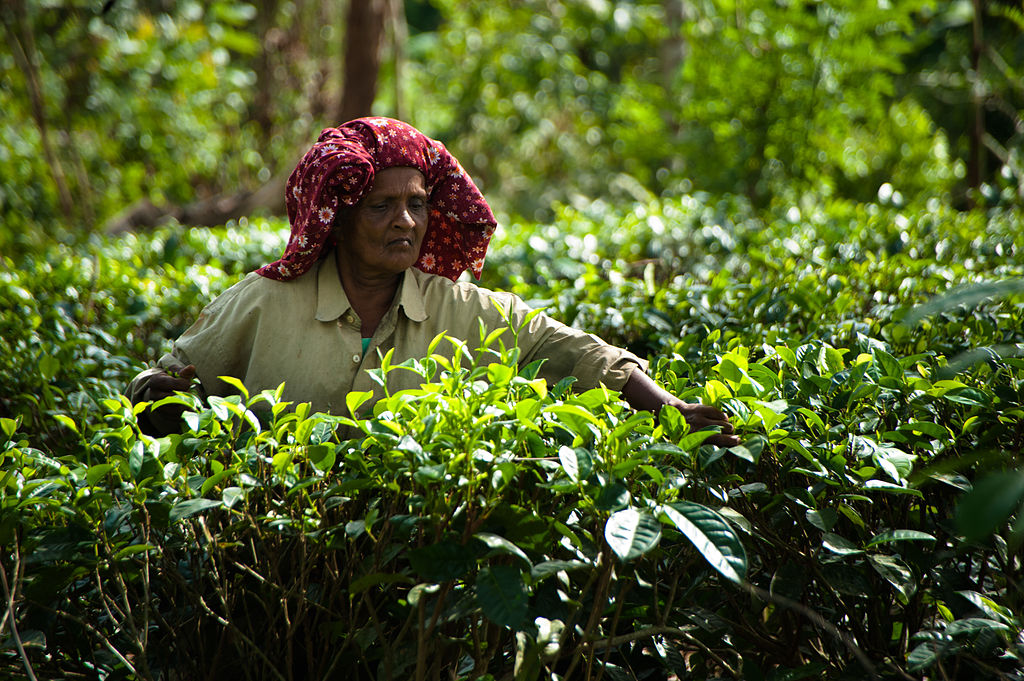 There are more than 30,000 years of recorded history in Sri Lanka, with remnants of the early 'Balangoda Man' and of hardy hunters and gatherers. There have been 181 kings and queens and an astonishing array of legends and fables; there have been settlements of the ancient Sinhalese, forts of the Dutch and Portuguese. However, it was with the arrival of the British during the Napoleonic Wars, and their conclusion that the uplands of the island — which they named Ceylon — would be suitable for rubber, coffee and particularly tea cultivation, that the indelible image of the place was stamped on international consciousness.
By the middle of the 19th century, Ceylon tea — as much the resonance of the name as the actual substance — was pivotal to the British Empire. A small cadre of white planters, overlords of indentured Tamil labourers from Southern India, shaped the island in their own likeness. Though they have long decamped, their mark is inescapable in the factories, cultivated fields and extended families intertwined with the land, who have known nothing else but tea and all its connections, for generations.
Inside Glendevon Bungalow, in the spacious and elegant rooms which have been sympathetically restored and reconfigured to meet contemporary elite hotel standards within a framework of colonial charm, are remnants of the tea culture, from original planter's artefacts to promotional posters of the day. Guests who come seeking a near-incomparable historical ambience — and a serenity which allows there to be Honeymoon Suite — stroll, cycle and hike the gentle hills, occasionally interacting with villagers. The Liddesdale tea factory, with processes largely unchanged for 100 years, welcomes visitors, and for those who feel the need for a connection with the bustle of a degree of civilisation, the substantial town of Ragala is a short drive away.
The planters' mark is inescapable in the factories, cultivated fields and extended families intertwined with the land, who have known nothing else but tea and all its connections, for generations.
In the evening, a chill largely unknown in the rest of Sri Lanka descends. Temperature played a large role the establishment of the Nuwara Eliya area, overlooked as it is by Pidurutalagala, the highest mountain in the country. Like the British Raj in India's Simla and the French colonialists in Vietnam's Dalat, British civil servants sought it out as cool retreat for their tender sensibilities. That it happened to be the most important location for tea production in Ceylon was rather fortuitous. The main city, some 20 kilometres away, was known as Little England, when the Brits could still call the shots on such things, and is today visited by busloads who seek out a series of quaint buildings, including a well-preserved post office that could well be in Sussex or Lancashire. There is even a Windsor Hotel.
With original floors, massive four-poster beds, white linen breakfasts with tea pickers in ready sight, open fireplaces, Sri Lankan cooking classes for those addicted to the taste of it all, and a spa, Glendevon Bungalow is an environment which will encourage any families who stay to feel like they're at home, just as the original inhabitants did well over a century ago.
Although Kenya has now risen to the top of the international tea production rankings, the industry in Sri Lanka employs over a million people and accounts for about a quarter of the global output. Its origins were in the city of Kandy, the second largest metropolis in the country and the location of Glendevon's 'sister lodge', Mountbatten Bungalow, so named for having functioned as a war office during the Second World War and being one of the residences of Lord Louis Mountbatten, the first Earl Mountbatten of Burma. Originally owned by The Mount Pleasant Tea Company, this six-room, six-chalet establishment — with similarly spacious traditional leanings to Glendevon — sits atop the city, exuding elements of Victorian grace and beauty intertwined with an upmarket boutique hotel approach.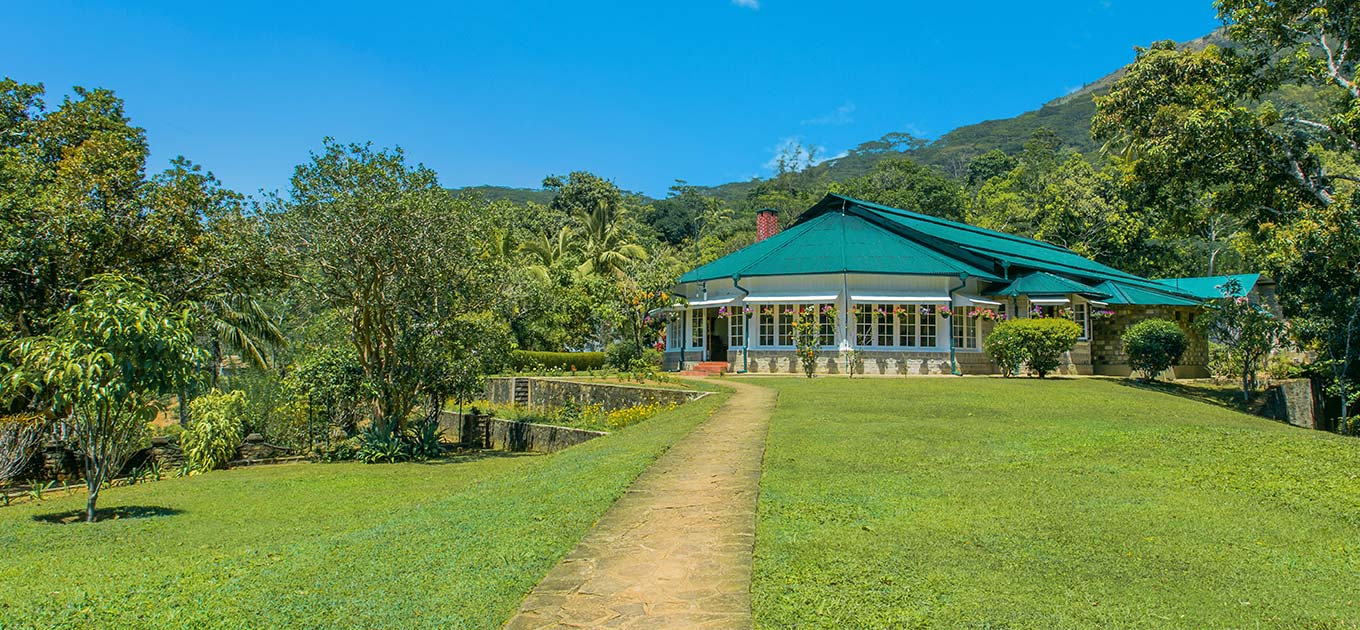 A Scotsman of some foresight by the name of James Taylor grew tea commercially in Kandy from 1867 on a 19 acre coffee estate called Looleconder, after a baleful fungus came close to wiping out the coffee crops. A switch to tea saved the planter's day, and within a decade Taylor's green bushes were flourishing on 5000 acres in the hills of Kandy and Nuwara Eliya. It was a move hailed by Scottish novelist Sir Arthur Conan Doyle with the words: "Not often is it that men have the heart, when their one great industry is withered, to rear up in a few years another as rich to take its place, and the tea fields of Ceylon are as true a monument to courage as is the Lion of Waterloo."
If Chandra Wickramasinghe, who also operates larger five-star resort hotels such as Maalu Maalu on Pasikuda Bay and Aliya in the cultural triangle near Sigiriya Rock, has recognised a desire on the part of visitors to Sri Lanka to be transported to another place and time — to touch a past that incorporates all the comforts of the present — then his logical next step has been to help save a heritage home in the very heart of Colombo that has been a home to five generations of a family.
Adrian Mahes Basnayake could have yielded to offers from developers to have an apartment building or office complex rise on the site of his magnificent home at 129 Kynsey Road in the capital. Instead, taking the admirable view that "the world does not need another skyscraper," he spent five years painstakingly restoring and expanding the house where he had raised his two children, channelling proceeds from his successful career in pharmaceutical supplies. With eight rooms named after strong women in his family line, who had once called this 'heritage home' their home, Maniumpathy took shape. Adrian's daughter, three years into a medical degree in Australia, chose to come home and take over the running of a grand dwelling that, had it remained as a family residence, would have required five or six servants — a burden that Adrian was not prepared to pass on to his family in an era removed from the days of privilege.
Chandra and Adrian are banking on the fact that not only aficionados of boutique heritage properties but businesspeople more generally given to chain hotels on their visits to Colombo will be won over by a place where Sri Lanka's past has been artfully preserved, with grand dining tables, polished wood staircases, free-standing bathtubs, well-stacked bookshelves, classic furnishings and family portraits taking pride of place. Adrian feels that keeping this landmark property open acknowledges those who appreciate "not only beauty but architecture, hospitality, graciousness and an old way of living."
Maniumpathy is taking on the big name hotels, with a pool and spa, an instantly popular restaurant, Wi-Fi, a 24-hour front desk, private parking, a strolling garden and special touches such as Bakelite telephones and vintage lamps. In the heart of Colombo, it is within reach of art galleries, shopping centres, chic emporiums and national monuments. It is five minutes away from the Royal Colombo Golf Club, and the airport is a drive of less than 30 kilometres.
These three heritage properties will not be the last for Chandra's Theme group. His antennae waves constantly. "I want to expand the Sri Lankan experience for those who are just coming to know us after 30 years of war, and I try to do something different each time. I establish hotels in a primarily Buddhist country, with people who work hard and bring a gentle quality to everything they do, and I think that sets us apart. There is much good that I can do, in places where people have hardly seen a tourist." Chandra's philosophy, of "preserving though sensitive development," definitely has appeal.