Ratua Private Island: Redefining Luxury
The gypsies of the sand have come out to dance on our private beach, right on cue with the setting sun. The lighting is sensational, with hues of rouge, the stage full of movement and the dancers a little mischievous. They scatter about, popping out of the sand, then burrowing in. They are searching for something and it seems they are in quite the hurry to find it.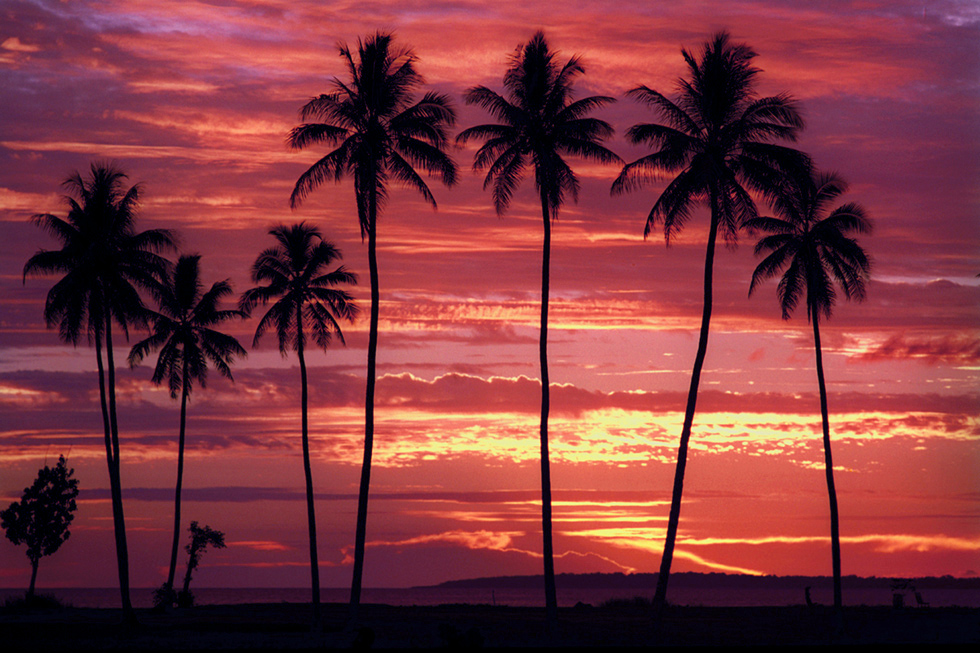 The gypsies I'm speaking of don't waste time carrying their homes on their backs all day. Once they have outgrown their living quarters, they simply dispose of them and find new ones, sometimes kicking the other occupants out. We watch as one little guy comes out of his shell and crawls up to another – he uses his pincers to knock, the shell wobbles ever so slightly and upon realising that someone's home, the little guy sprints away. Quick as a flash, he is back in his own shell. The whole process has to be quick because once a shell is left, it isn't long before someone else claims it.
Sometimes empty shells are far too big for them. An interesting phenomenon takes place when this happens. The crab stops close to the shell it has found and waits for other crabs to come along. Soon, there is an army of crabs and they begin lining up in order of size. The biggest crab waits closest to the shell and the smaller crabs follow. They wait as long as it takes for the right sized crab to come – one that will fit perfectly into the shell. Then the magic happens. The right sized crab takes lead at the head of the pack and crawls into his new home. The crab next to him crawls into his abandoned shell and a domino effect comes into action.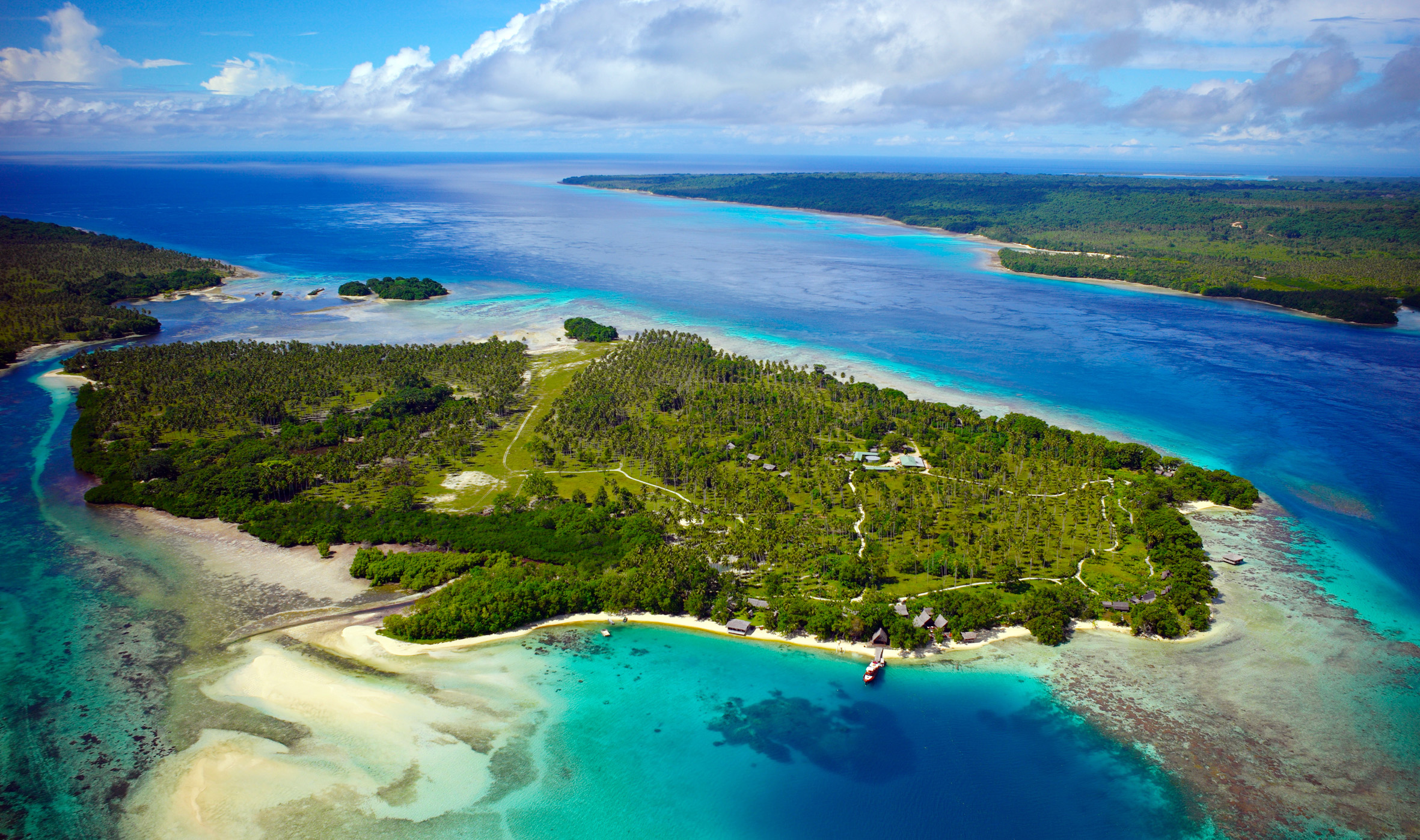 Our gypsy-crab show lasts about an hour and as soon as the sun sets, they take a bow into the sand and disappear. We clink our flutes in appreciation of a spectacular display, lie back on our loungers and listen to the lapping of waves. It is only our first night on this private island and nature has already presented us with even more magic.
Magic has been at play since our boat journey to Ratua Private Island just a few hours ago, via a private boat from Espiritu Santo – an island that is just a 45-minute flight from Port Vila, Vanuatu's capital. Our little boat jets its way through turquoise waters and remote islands whilst providing a continuous supply of fresh ocean spray and glamorous fan-in-the-face wind. After about 35 minutes, our boat begins slowing down and we can see a jetty in the distance. As we cruise closer, we hear the soft strums of a guitar and people singing. Soon, the music becomes louder and more energetic and a whole lot of people come into view, standing at the edge of the jetty, ready to take us in.
A cheerful man, well-tanned and in the best mood I have ever seen anyone greets us "Welcome to Ratua. I'm Bong," he says as he helps us onto the jetty. We are handed glasses dressed in tropical attire filled with refreshing pineapple juice. It does not feel like the usual check-in and there are no real formalities – in fact, there is hardly a reception. We follow the jetty, onto an open bungalow furnished with a table and a few armchairs, a blackboard that informs of the available activities and a single distressed-wood table at the far end of the space. The setting is not one we might expect if we are looking at luxury through generic eyes. It is of a different luxurious nature and certainly not for guests who are after modern furnishings, air conditioning, pools, gyms, TVs, and the sterile settings of cookie-cutter luxury contexts. Here, character shines through – it shines through the wood which shows beauty through 200 years of age, the lizards that poke their heads through the cracks and scare the hell out of me every step I take, right down to the staff whose carefree nature and smiles are contagious from the moment we step off the boat.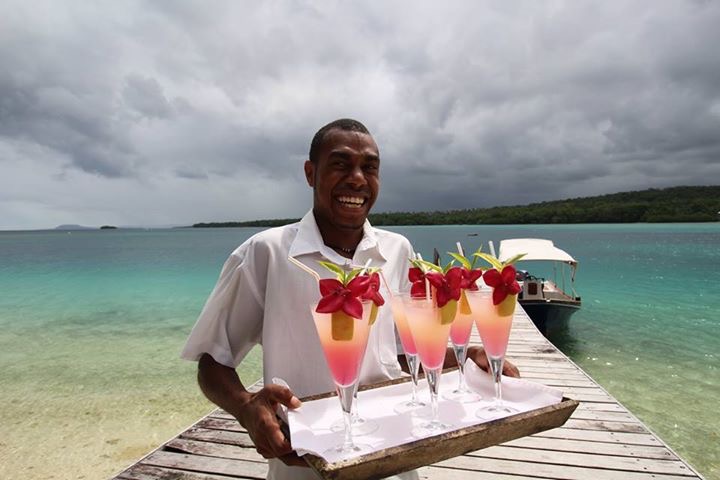 Bong Sarmiento, the general manager, guides us to our room – one that is furthest from the central living spaces of the island, located in the South Point Village. There are two other villages that accommodate guests: West Point Village, our neighbour, and Fish Village. "You are in the Pig House," he says as we make our way down a wooden path surrounded by bush. Not sure what to make of the statement and slightly alarmed, we laugh a little and keep walking. The path goes on for while and there is an abundance of Nature's sounds to be heard. I keep a close eye on every bit of foliage in order to ensure we are not going to be ambushed by giant blue crabs. I have heard about the plentiful supply of this variety in Vanuatu and I am in no mood to have one of them cross our paths. Luckily, the only things that pop up every few metres are little clearings that house beautiful wooden red-cushioned day beds. Short, long, wide, extra cushioning, none at all, each bed along the way is a little different to the other. I daydream about testing each one like Goldilocks – with a cocktail at hand.
Arriving at the Pig House we are pleased to find we won't be sharing our living quarters with any farm animals. The bedroom and bathroom are separate dwellings, joined by a covered wooden pathway. Our luxurious four-poster bed, made up with white Egyptian cotton sheets visually interplays with our glassless windows. The mini bar is nowhere to be found – because it's hidden inside its own wooden compartment. Every detail has been taken into account in order to fully immerse guests within nature. Our bedroom opens up onto a verandah, followed by a garden, a little jetty that cosily fits two loungers and a private beach.
Waking each morning is like waking up in heaven – stirring inside our muslin cloth fort, allowing the canopy to come loose at the base of the bed and opening up the wooden doors to welcome in our piece of island paradise. The view of the sea framed by lush tropical trees and our own little jetty is one that could never get tiresome. My toes certainly enjoy the warm tropical breeze that works its way over them and with that, I drift into another sleep.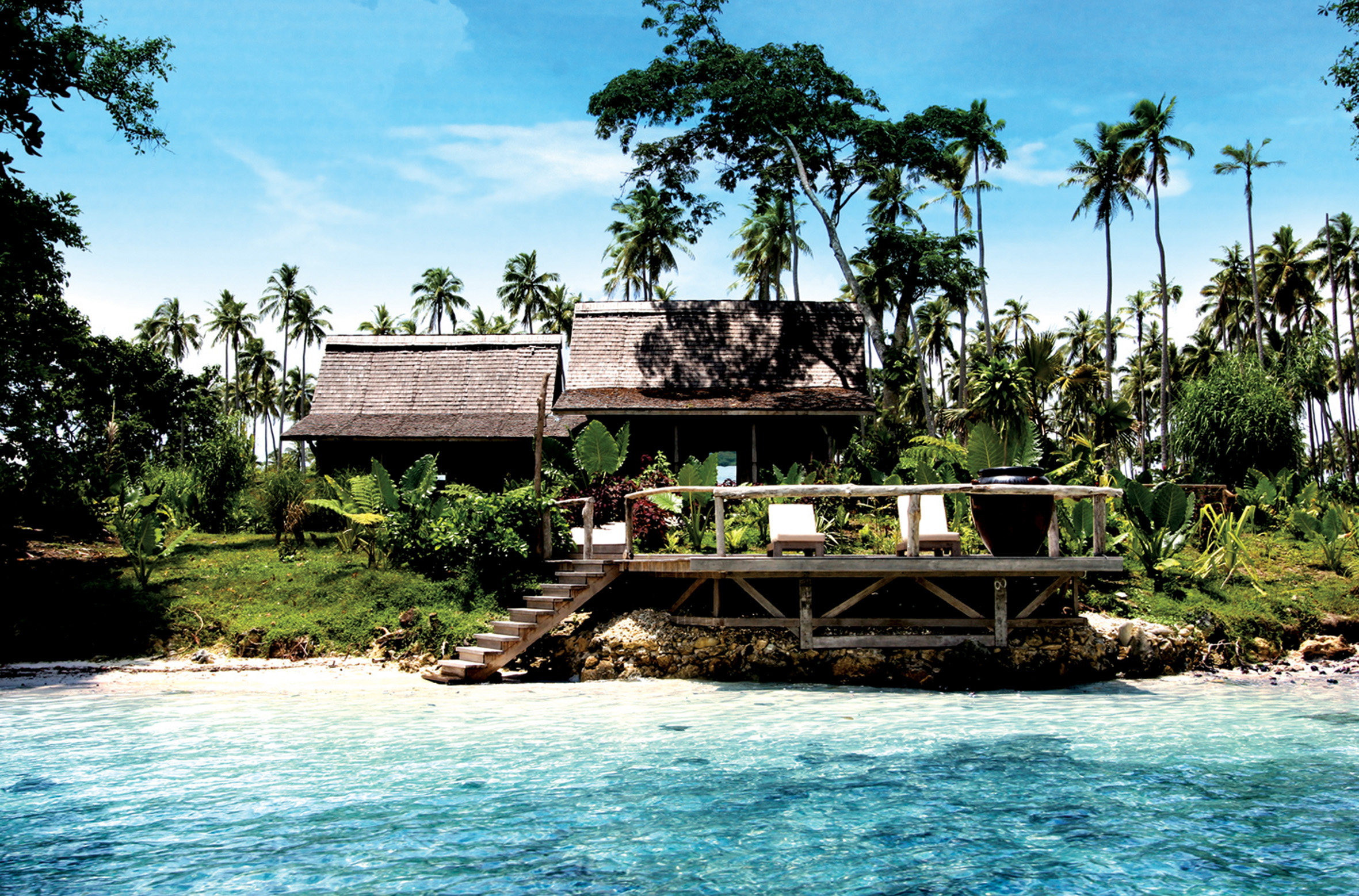 If we aren't being lulled into a dream on day beds and loungers scattered about the island, we are having island-style barbeques on the beach, biking through the coconut plantations, kayaking through nearby Malo Island's blue holes, walking through jungle or swimming with turtles and discovering a colourful underwater world. One that steals my heart is swimming with horses – something I have not come across before and it intrigues me.
The first part of swimming with horses is getting to know our beautiful friends. The moment we arrive at the stable, my eyes are fixated on one lady; she's white with brown spots shaped like walnuts. Our horse trainer, Johnny, tells me her name is Domino and that she's one of the owner's favourite horses. Every time the owner is on Ratua, Domino is the horse she rides. My partner is given a brown horse named Albinos – who is rather plain but nonetheless good-looking.
Domino and I take some time getting to know each other. It has been a while since I went horse riding so I want her to feel comfortable with me. After a bit of banter and stroking, I hop on, and away we go, making our way through the coconut plantation and in the direction of the water.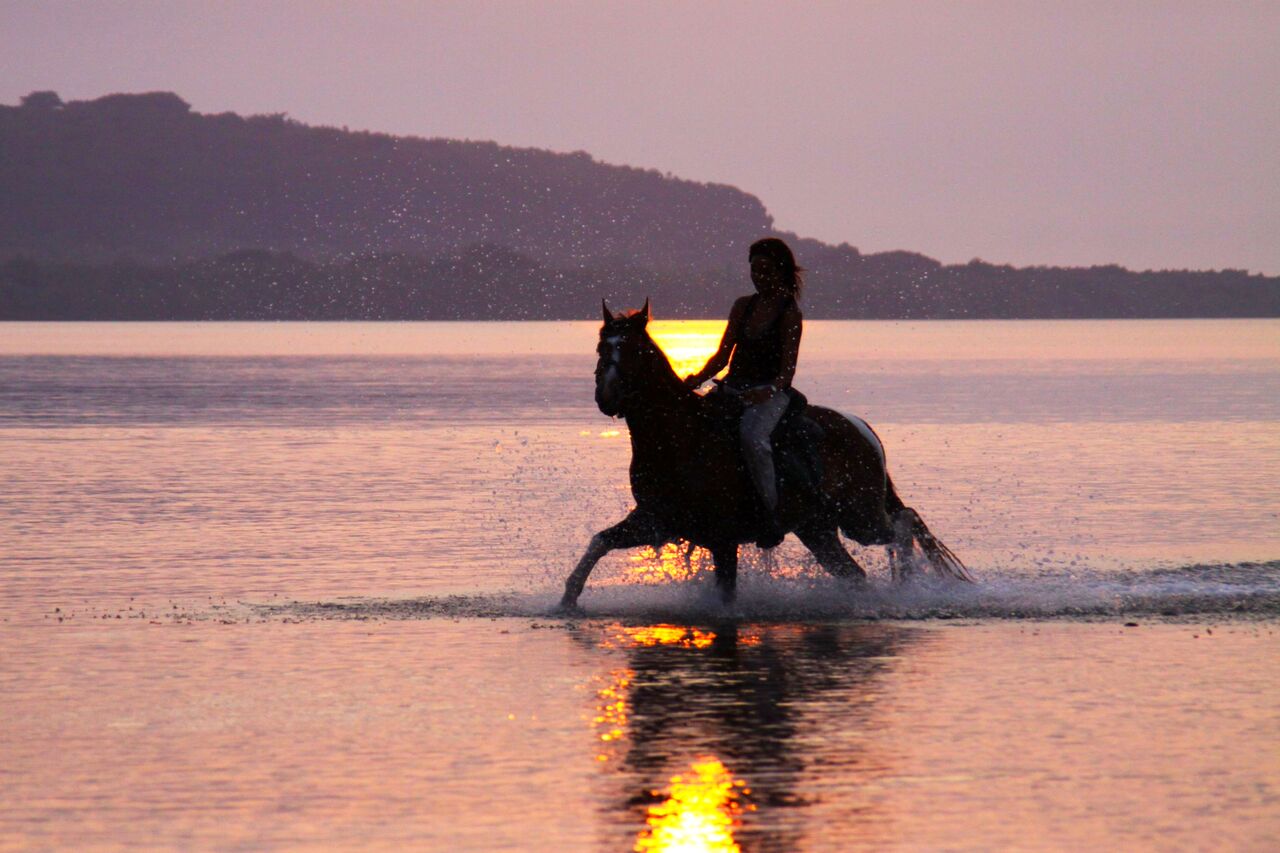 I realise very quickly that little Miss Domino is wild at heart. Every time I try to guide her somewhere, she goes in the other direction and every time my partner takes his horse for a canter, she follows suit and canters like a wild woman. I begin feeling a little uncomfortable about this whole water-horse scenario because if I can't get her under mutual agreement now, I'm not sure I will have much luck in the water.
"Give your horses a little kick to get them into the water and the moment they get deep enough, they will start swimming on their own. As soon as they do, grab a hold of their manes", says Johnny, as we stand at the water's edge. The horses are reluctant and they don't seem like they actually want to get in but with a bit of motivation, they agree.
I hold on tightly as Domino gets deeper and deeper. I feel her body slowly rise and I know her feet are no longer touching the sea floor. All I can hear is the sound of her heavy breathing and water whirling as she surges forward. The further we paddle from the shore, the tighter my mane grasp gets and the more I try to squeeze my legs around her body. She feels it and I can tell she is finding it difficult to swim. I loosen my grasp and let go of my body so I'm floating on top of her and barely holding her mane – just enough to guide me. She feels me relaxing. I feel her easing up. An experience that felt forced is now a dream. We begin enjoying each other, without the distraction of other horses or other people. I am fully present and so is she.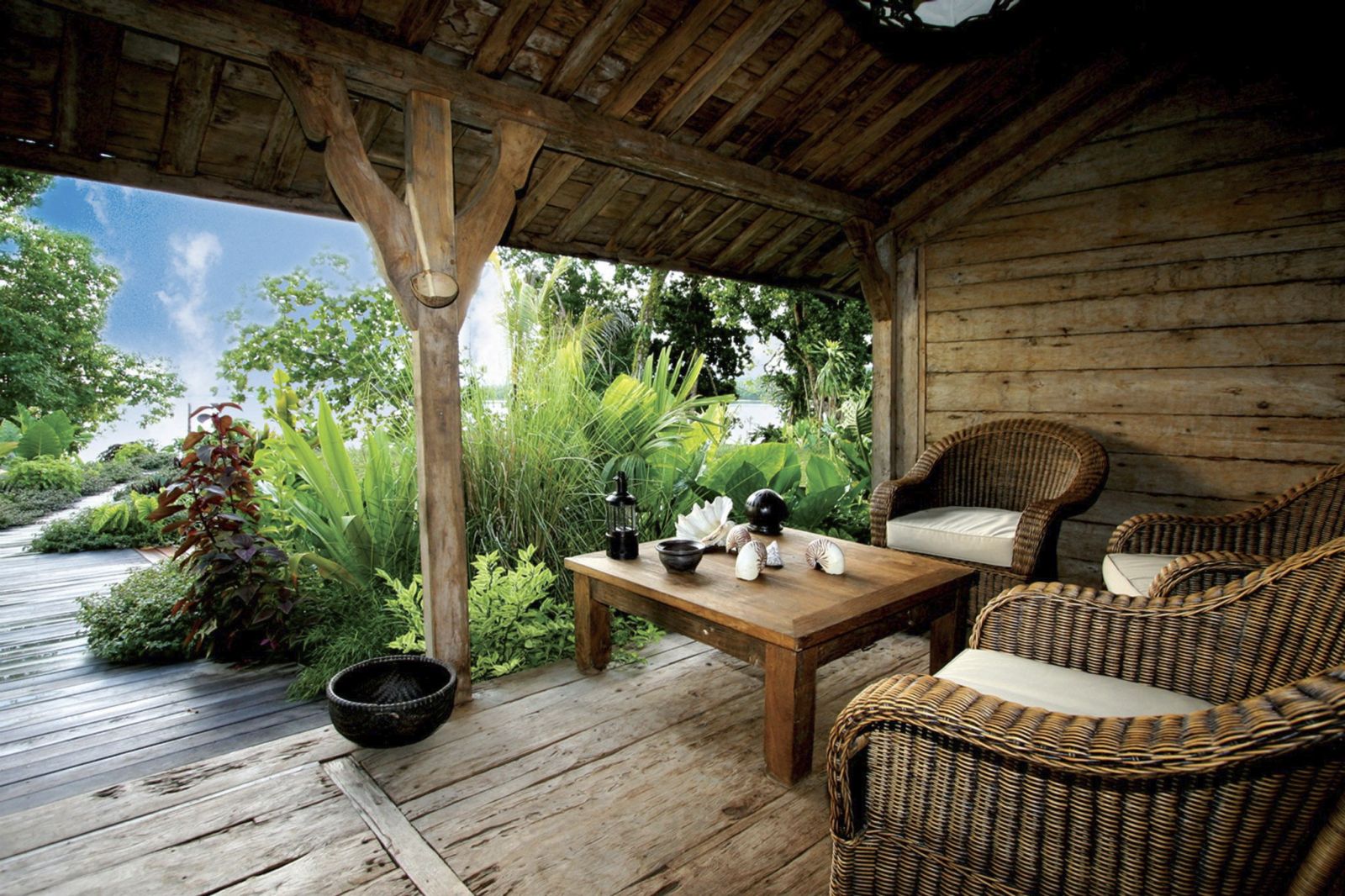 This is what luxury is at Ratua Private Island. It doesn't come in the shiny, new or latest form. It doesn't come in bone china and diamond stardust facials. It comes in experiencing Nature in her raw state, learning from her and internalising these experiences.
Luxury is the very reason a French billionaire and his wife kept this paradise a secret for so long. After discovering the island in 2005, they adopted it ­– only letting family and friends in on the treasure. They knew that they had to protect Ratua from the moment they saw the island and they spent countless hours trying to find the best way to live on the island without destroying its beauty.
They settled on renovating 40 200-year-old Indonesian bungalows and blended them into Ratua's natural surroundings. The whole idea was to have as little impact on the natural landscape as possible so it remained as intact as the day they discovered it. From here, they adopted a philosophy around self-sufficiency and shed their attachment to mass consumerism. In this way, the focus became more about happiness, experiences, respecting the destinations cultural heritage and giving back to both the society and environment.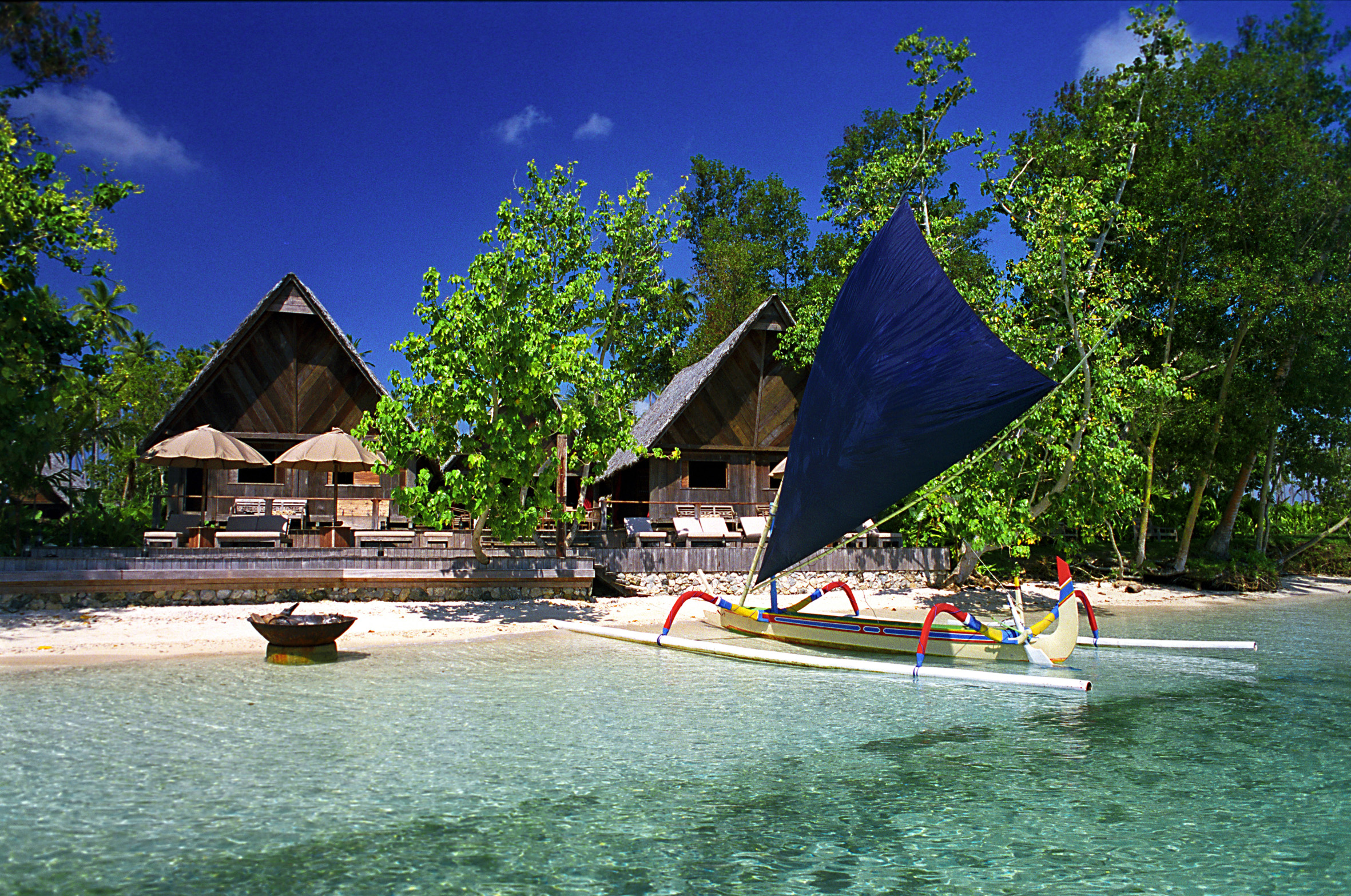 Gratitude has certainly been shown on this island. When the decision was made to share its beauty with the world, its adoptive parents decided to donate 100 per cent of its profit to supporting surrounding communities. This led to the development of Ratua Foundation; a group that is devoted to building schools, protecting the environment and investing in cultural projects that benefit the community.
We have the opportunity to visit one of Ratua Foundation's schools on the island of Malo. It is very simple, like many of the schools in Vanuatu. There are a handful of classrooms: wood and concrete sheds, painted in a cream colour sit on a field of grass. The interior walls are painted bright yellow while large blue communal tables furnish the space. I look out through a glassless window of one of the classrooms and ponder the glimmering ocean. These children have ocean views and nature right at their doorstep. It's an experience a lot of children in western society don't have and the type of luxury worth protecting.
Back on the island, we sit at the Yacht Club, cocktails at hand and realise just how lucky we are to be able to enjoy life's luxuries in its many guises. It's a privilege not be taken lightly. It's also refreshing to know that all the money we spend will be given back to the people and environment from which we have borrowed it. I am yet to come across a resort where this is the case. Some hotel chains come in and rob the destination of what rightfully belongs to them and the money leaves the local economy rather than enhancing it.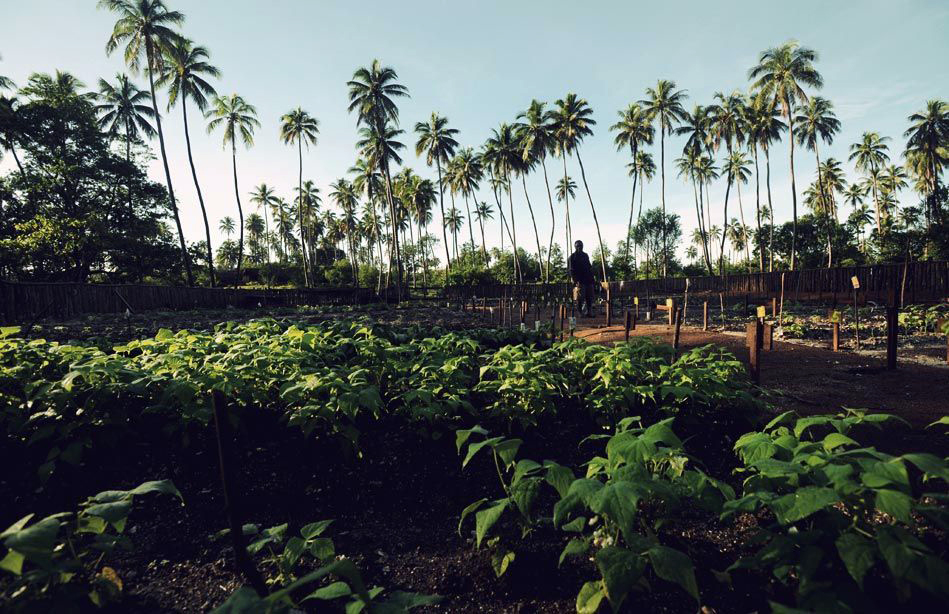 As yet another rouge-hued sunset approaches, we are offered a selection of pre-dinner canapés. A favourite being pulled pork crostini, that seem to taste even better since we know where they are coming from. The disconnection between the food we consume and where it has come from does not exist here. Guests can visit the animals at any time to see how they live – a connection that is lost in the supermarket of the mass consumerist. All the fruits and vegetables on Ratua are grown in their own gardens. Livestock is bred on the island with the help of local villages and seafood is sourced from local anglers who cruise by each morning to sell their best catch. "It isn't everyone's cup of tea and we have had complaints," says Bong. "Sometimes if we don't have something that a guest wants because it isn't in season or it's not available they haven't been happy but this is the way it is here – it's part of our philosophy. Our aim is to become a completely self-sustained island and to be carbon neutral."
We certainly aren't complaining as we relocate ourselves from the bar to a table overlooking the ocean for dinner and the Ratua String Band are getting ready to play. The band itself comprises staff that work on the island and who double up as band members.
The band begins playing, a cool breeze blows behind them and their Hawaiian shirts waver. Island time has truly set in and they can feel it just as much as we can; their faces light up with joy, there's energy in every strum and the beautiful pitch of each voice comes together in harmony. Bong tells us that the band has just released an album as well. In fact, they were given time off work to go and make it all happen.
By connecting guests with nature, offering time to unwind from a materialistic world, giving back to its environment and people, and blurring the boundaries between work and pleasure, Ratua Private Island has created a lifestyle where wellbeing is at the forefront and redefined our out-dated understanding of luxury.
---
Getting there: Fly with local airline Air Vanuatu
For more information on Vanuatu click here