Married to the Maldives
Once upon a time, a visit to the Maldives was all about enjoying the destination's captivating beauty and doing as little as possible in the process. While there are still plenty of guests who arrive with that intention, an increasing number want to balance relaxation with activities that excite, inspire and even educate.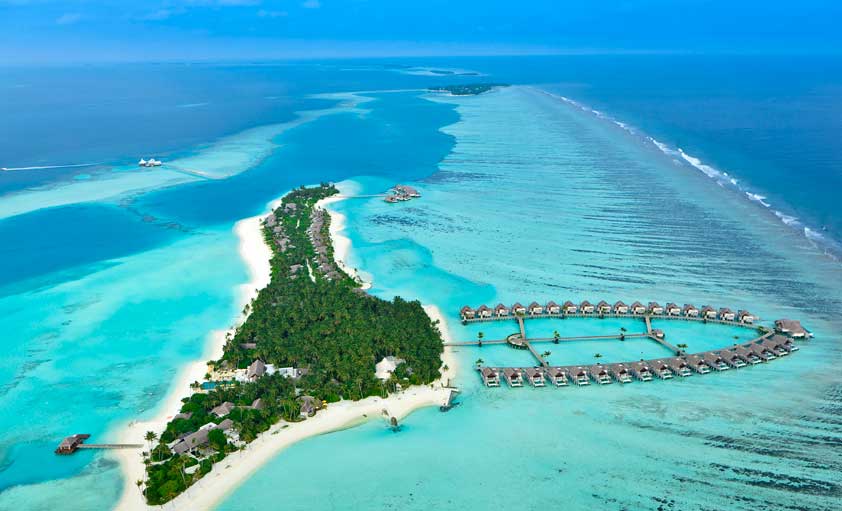 ---
Per Aquum Niyama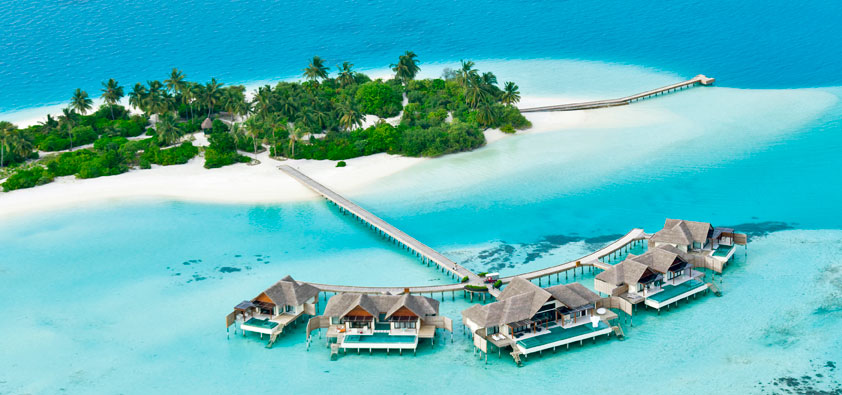 Per Aquum Niyama is an island that's always reinventing itself. In fact, it's technically two islands: Chill, home to the resort's original villas and restaurant, the Lime Spa, and SubSix, the underwater restaurant and event space located below its own pontoon 150 metres off the white sandy beach; and the recently-opened Play, an island that adds new restaurants, activities and accommodation options ideally suited for families and the active. For couples looking for romance, but who don't want to while their days away by the pool, it's ideal.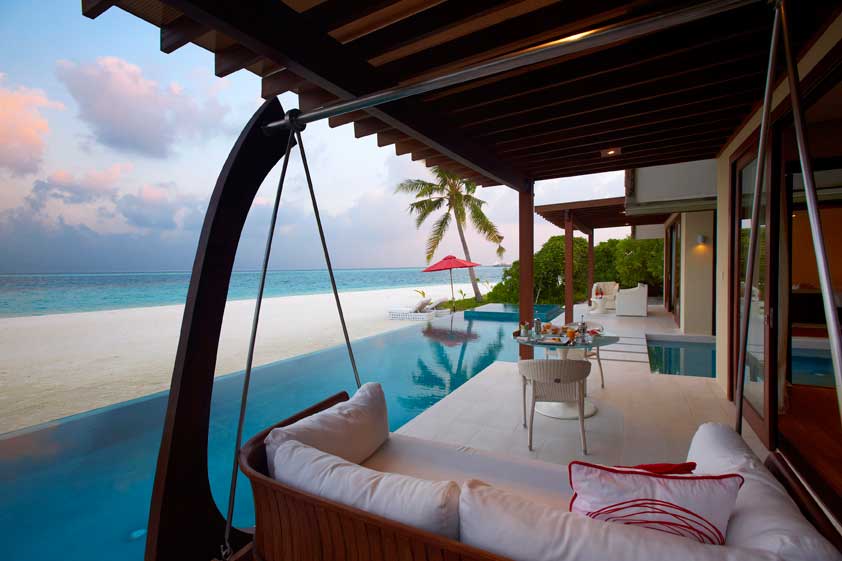 We check in to our beach pavilion with pool as the sun hangs low, signalling the end of another day in paradise. Our room is spacious and modern without being flashy: there's a separate master bedroom, an elegant garden at the back complete with outdoor shower, a spacious bathroom with a deep soak tub, and a cavernous lounge that looks out across the sea. The pink sky is captured in a reflection that runs the length of our private plunge pool, the mirror-like waters of the lagoon only metres away across a pristine, deserted beach. There is time for a dip and a chilled glass of champagne before we make our way, guided by our Thakuru butler Milo, to the Tribal restaurant and a chance to learn African Latino cooking techniques."
Chef Ken Gundu, twice named best chef in the Maldives, is from Botswana, but spent many years in Belize. Tribal, one of the innovative restaurants at the resort, allows him to blend his influences from Africa and Central and South America. During the cooking class, we learn the different spices and herbs used in Tribal's dishes, many plucked straight from the resort's organic gardens. We then attempt to recreate the likes of shrimp salbute tortillas and fluffy escabeche fish, under Ken's watchful eye. At the dinner which follows, a Maasai warrior serves us phenomenal food that whisks us far from the usual resort buffet.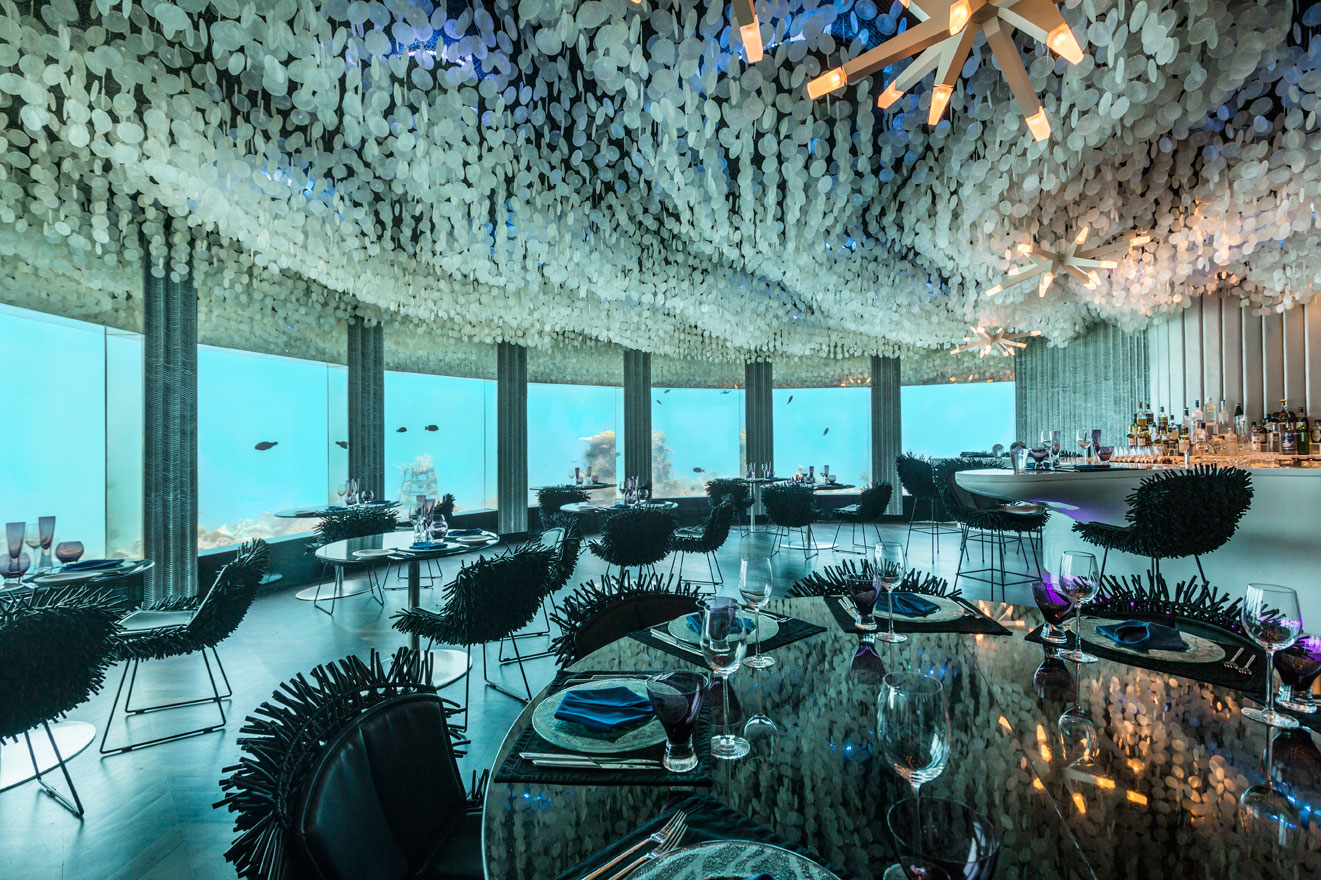 There is only one real way to do breakfast in the Indian Ocean, and that's 7 metres below the surface of a stunning turquoise lagoon in SubSix, which also features a chic restaurant and cocktail lounge above called Edge. As clown- and parrotfish swim by, my wife Maggie and I are treated to a champagne-laced mid-morning soiree, one of several enchanting encounters the resort plans for visiting lovers.
After breakfast, we cruise back to the main resort pier to don flippers and masks. We are heading out — this time above the water — to Niyama's own private picnic island, for a spot of guided snorkelling and a romantic picnic lunch on a deserted shaded beach. We race across the still lagoon and watch as couples and families start their day under the sun, taking a dip in the lagoon or breakfasting at Blu, the resort's new Mediterranean-themed all-day dining restaurant, wreathed around one of the most beautiful infinity pools in the Maldives.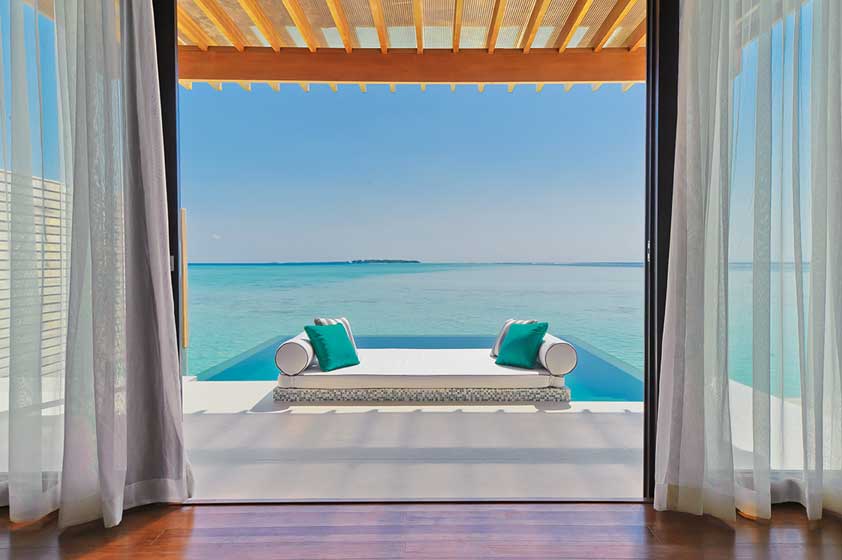 The colours of the island — red and yellow umbrellas, brilliant white sand, lush green canopies, impossibly blue water, and the yellow of an arriving seaplane — are intensified as they can only be at the heart of the Indian Ocean. It makes every return to the Maldives like a first encounter.
The perfect counter-balance to a day spent on the beach is a treatment at the resort's Lime Spa. The key here is heritage and innovation in equal measure: visitors can try a host of signature treatments using island coconut oil or Maldivian sand, align their chakras in SubLime — a serene garden with sauna and steam rooms and pools — and fight off the jetlag with one of the 'After Dark' rituals that promise to send us directly to a tropically-inspired Cloud Nine.
That evening we head to the trees and Per Aquum Niyama's newest creation: Nest. This unique restaurant features a menu packed with Asian flavours: there's a teppanyaki hot plate downstairs, but for a true experience, ascend the stairs to the canopy walkways which link the separate dining areas of the multi-level treehouse. Each private pod is suspended 6 metres above the lush island jungle and offers an enchanting and utterly romantic escape amongst the treetops.
---
Naladhu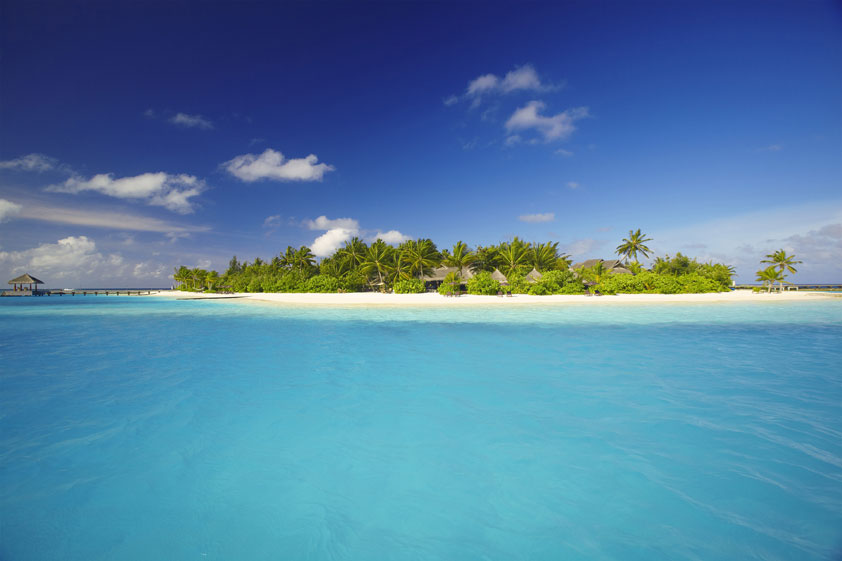 It's a quick seaplane flight and speed boat transfer to one of the Maldives' most revered hideaways. The tiny and unassuming, but indulgent, Naladhu is a tropical oasis by Anantara. The beauty of Naladhu is that not only do its spacious and beautifully-appointed beach and ocean 'houses' offer unparalleled privacy (sufficient  even for the late Saudi King, as well as a raft of millionaires and celebrities who regularly visit), but all the facilities and restaurants of Anantara Dhigu and Anantara Veli just across the lagoon are also available.
We're welcomed to the pint-sized island with the ringing of a traditional gong as Zahid, our shy but charming butler, leads us down manicured paths and through lush gardens to our beachfront abode. It is one of just 20 retreats at Naladhu, perfect for sun lovers and beach bunnies. With the décor of a sophisticated summer home, complete with elegant hardwood touches, walk-in wardrobe, a full wet bar with private wine cellar, and cutting-edge technology, the bungalow-style suite is ideal for couples looking to retire from the world beyond. French doors open onto a shaded sala with swing seat, a private plunge pool and a path that leads to a 30-metre stretch of idyllic sand. The bathroom is semi-open air, with a deep soak tub, and outdoor wall shower.
That evening, we dine under the stars at Naladhu's sole restaurant, The Living Room. It has the ambience of a tropical private members' retreat, complete with its own glass-lined wine cellar. Long, lingering breakfasts at The Living Room are also a highlight of any Naladhu escape.
But it's not all somnolent living. The next morning, we meet with the team of TropicSurf at their centre at Anantara Veli. After a quick briefing, we're hitting the sun-kissed beach, practicing our 'chicken wings', our 'lizard legs' and finally our 'pop'. Within 10 minutes, we're paddling surfboards across the tranquil waters of the lagoon. Maggie proves a natural, and with a push from our South African instructor, rides all the way into the beach. Even if I'm no Kelly Slater, the experience is exhilarating. TropicSurf offer everything from beginner classes right through to seaplane surf safaris on remote breaks.
After all that exertion, we elect to spend the afternoon in the cool of the Ocean Retreat, Naladhu's intimate wellness retreat and certainly the most exclusive spa in the Maldives. With just one treatment room, the Ocean Retreat offers a range of half-day spa rituals, single treatments that include soaks, scrubs, massages and wraps, and even spa cuisine. Take a dip in the private pool, serenaded by the thundering surf that hammers against the sea walls as the therapists prepare, and then surrender to signature treatments like the Elemis Deep Tissue Massage or the Ocean Signature Massage, which uses a blend of oils to stimulate circulation and promote deep relaxation.
That evening, positively floating through the coconut palms that fringe the tiny resort, we are led to the end of a pontoon where Zahid has prepared a candlelit dinner for two. Surrounded by the tranquillity of the lagoon, we watch stars emerge from the indigo skies and dine on locally caught lobster as if we were the last people left in the world. For those looking for a destination dining concept that's bound to set hearts aflame, this is it.
---
 Per Aquum Huvafen Fushi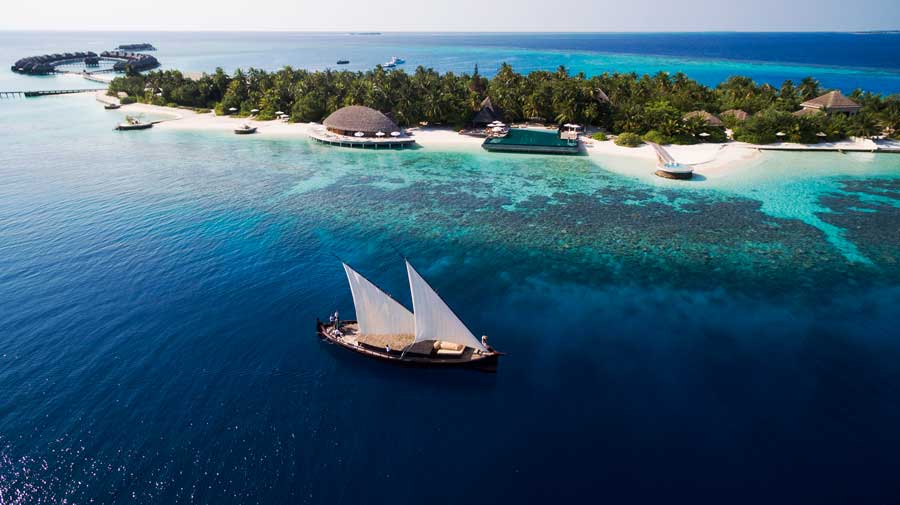 Award-winning Per Aquum Huvafen Fushi, also in the North Malé atoll, is legendary among the luxury resorts of the Maldives. If Niyama is the modern face of the Indian Ocean and Naladhu is the best of tropical escapism, then Huvafen Fushi is the grande dame, a resort that regularly welcomes power brokers, captains of industry, international celebrities and travellers with a taste for the finer things in life.
Home to just 43 private bungalows and pavilions, as well as the world's first underwater spa, Huvafen Fushi has welcomed everyone from George Clooney and Kate Moss to Stefano Gabbana and John Galliano. Tom Cruise and Katie Holmes had their honeymoon here, and for good reason: the resort offers intimate, personalised luxury without the hype of city hotels.
Chinay, our ever-smiling butler who has been at Huvafen Fushi for 7 years, explains the resort's amenities as he serves champagne during a sunset cruise on one of Huvafen Fushi's traditional dhoni yachts. It's a magically romantic experience as we circumnavigate the island, the sky above turning a fiery peach hue before the inky darkness of night consumes it. That night, under a canopy of stars that reaches to the horizon, we sip cocktails at Raw, a super-sexy lounge with al fresco seating, before dining at Salt, an innovative seafood restaurant with tables perched above the lagoon, open kitchens and an enviable caviar selection.
The next day, it's hard to draw ourselves from the luxury of our ocean bungalow. Thoughtfully appointed, spacious and supremely private, the overwater villa faces the infinity of the Indian Ocean rather than the lagoon, ensuring no unwanted visitors as one might find at more crowed resorts. The main bedroom is cathedral-like, with soaring ceilings and polished wood floors, while the bathroom features a Jacuzzi that could accommodate a cricket team. Outside, on a three-tiered private deck, is an infinity plunge pool and a duo of sun loungers.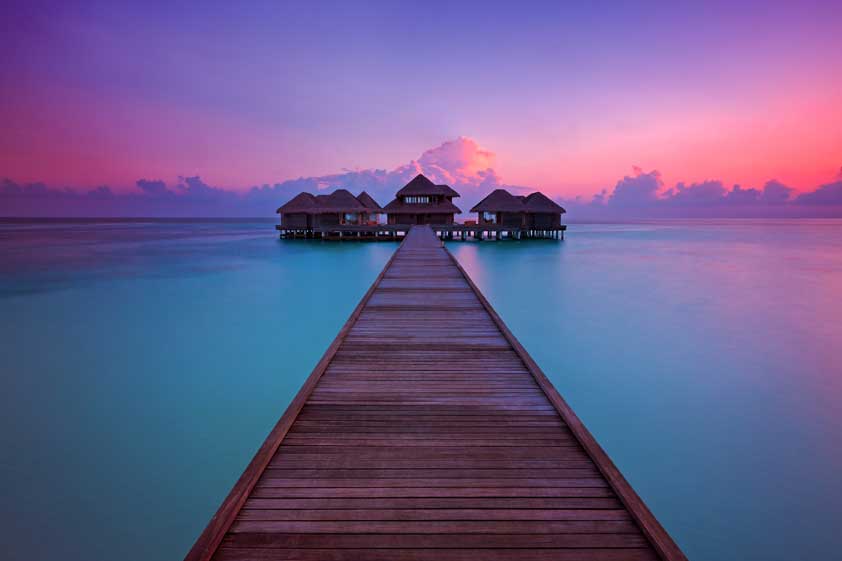 We eventually emerge, if only to replace our solitude with more of the same, beginning with a spot of luxurious pampering at the Lime Spa's breathtaking underwater treatment room. The space is surrounded by a vibrant house reef packed with inquisitive tropical fish. This is followed with a private champagne picnic on a secluded sandbank. Chinay and his team ferry us to our private white sand retreat by dhoni and leave us in the shade of an umbrella with a sumptuous lunch.
That night, our last in the Maldives, we celebrate in subterranean style with a private wine-paired dinner at Vinum, the resort's unique underground wine cellar; home to 6000 bottles and a dedicated sommelier. Then it's time for a return visit to Lime's underwater spa suite for a private exploration of the resort's reef systems with the knowledgeable resident marine biologist. Donning goggles so that we might capture the fluorescent brilliance of the coral under UV lights is a mesmerising experience — just one of a beautifully-curated collection that lovers can look forward to at three of the Maldives' most iconic and innovative retreats.