There are moments when it feels like the Jordan unfolding before our eyes is doing so on a large screen. The country is not just cinematic as a metaphor, but in reality, for we have been seeing it for decades through the eyes of film directors and cinematographers.
At Wadi Rum, the red desert area stacked with dramatic soaring stone outcrops such as the imposing Seven Pillars of Wisdom, one's frame of reference is, inevitably, Davis Lean's epic movie Lawrence of Arabia, when a classic steam train comes chugging across the landscape. More people have seen the UNESCO world heritage treasure Petra, one of New Seven Wonders of the World, in the movie Indiana Jones and the Last Crusade than up close and personal.
In more recent times, Kathryn Bigelow took out the first Oscar for a female director with The Hurt Locker and then returned to Jordan to shoot the equally acclaimed Zero Dark Thirty. Australian actress Naomi Watts visited to film Fair Game, along with Sean Penn. Film folk come to Jordan for the same reason travellers — around 10 million a year — do. Not only is it evocative of the Middle East as we imagine it, but it's also pivotally positioned in the region: replete with stirring natural terrain and historical sites, modern infrastructure, and political and economic stability.
The country's visitor flow is multi-layered. There is active health tourism centred upon the Dead Sea, historical and archaeological tourism to myriad ancient settlements, and religious tourism motivated by sites that can be directly related to events and figures from Christian and Jewish scripture. A well-established biblical pilgrimage trail sees groups fly into Amman and cross by road into Israel, after seeking out Holy Land highlights on the Jordanian side of the river after which this nation was named.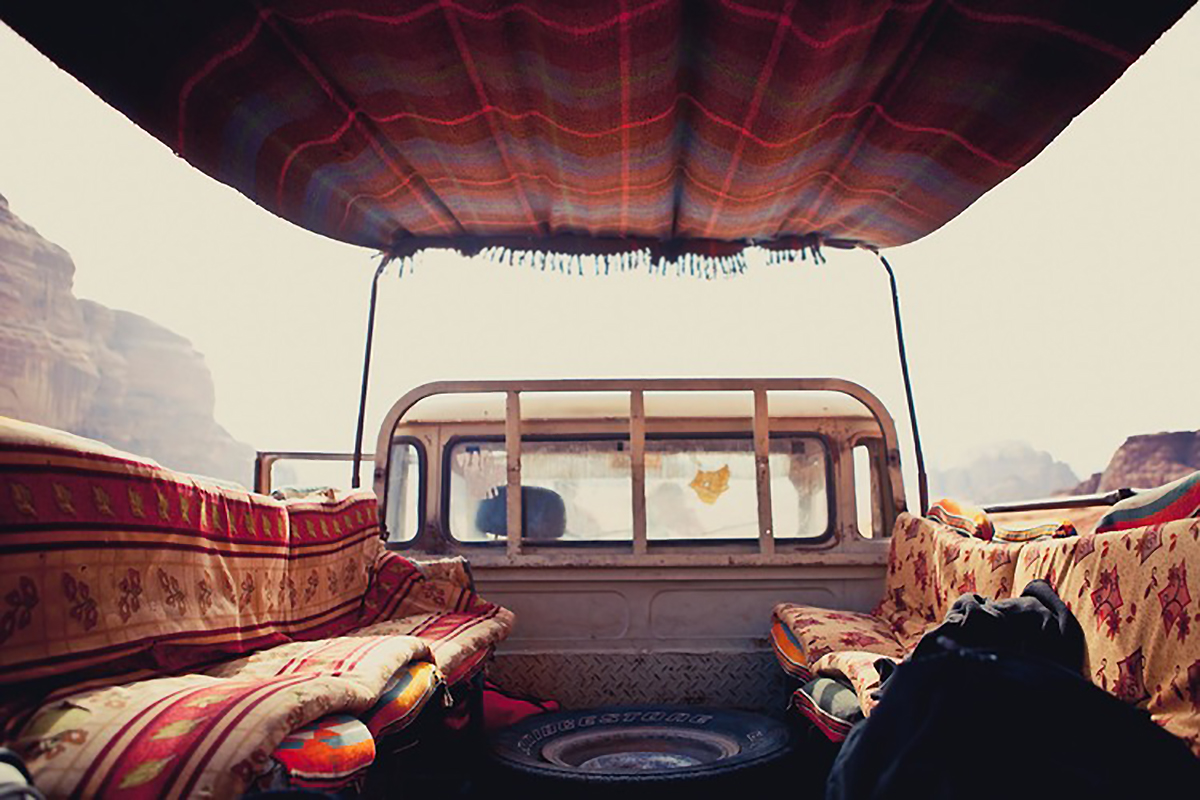 They find their way to Mount Nebo, where Moses sought a view of the Promised Land before his death. They visit areas where the Children of Israel were led by Joshua into that elusive land, Jabbok, said to be where Jacob wrested with God in the form of an angel. The city of Salt houses the tombs of Job and Jethro, along with Herod the Great's hilltop fortress Muwakir. This is where his daughter Salome's 'Dance of the Seven Veils' led to the beheading of John the Baptist, who had baptised Jesus down at the Jordan River.
This is where his daughter Salome's 'Dance of the Seven Veils' led to the beheading of John the Baptist, who had baptised Jesus down at the Jordan River.
Spread across Jordan are Crusader castles, ruined Hellenistic-Roman cities, desert citadels, and the religious sites of Mahis. There are palm-filled wadis, Bedouin encampments with their attendant herds and sacred hillside caves. Other highlights include Umm el-Jimal, the 'Black Gem of the Desert', where some of the remains of its black basalt mansions and towers still stand three stories high; and the Madaba Map, a sixth century mosaic unearthed from the floor of a church. Jerash, part of the Decapolis — a confederation of 10 Graeco-Roman cities — is one of the strongest drawcards, with its Corinthian arches, colonnaded streets and outdoor theatres.
But nothing begins to match the splendour of the towering and imposing Petra. This complete Nabatean city, carved into a mountainside, can only be reached through a narrow gap between mountainous walls. Evocatively changing colour over the day, it is particularly striking around sunset when the rock is of a red-pink shade. Petra encompasses a monastery, royal tombs, a Roman theatre and the High Place of Sacrifice. The remnants in the region speak of active human settlement spanning 2500 years, and modern eco-resorts take advantage of the ambience of it all.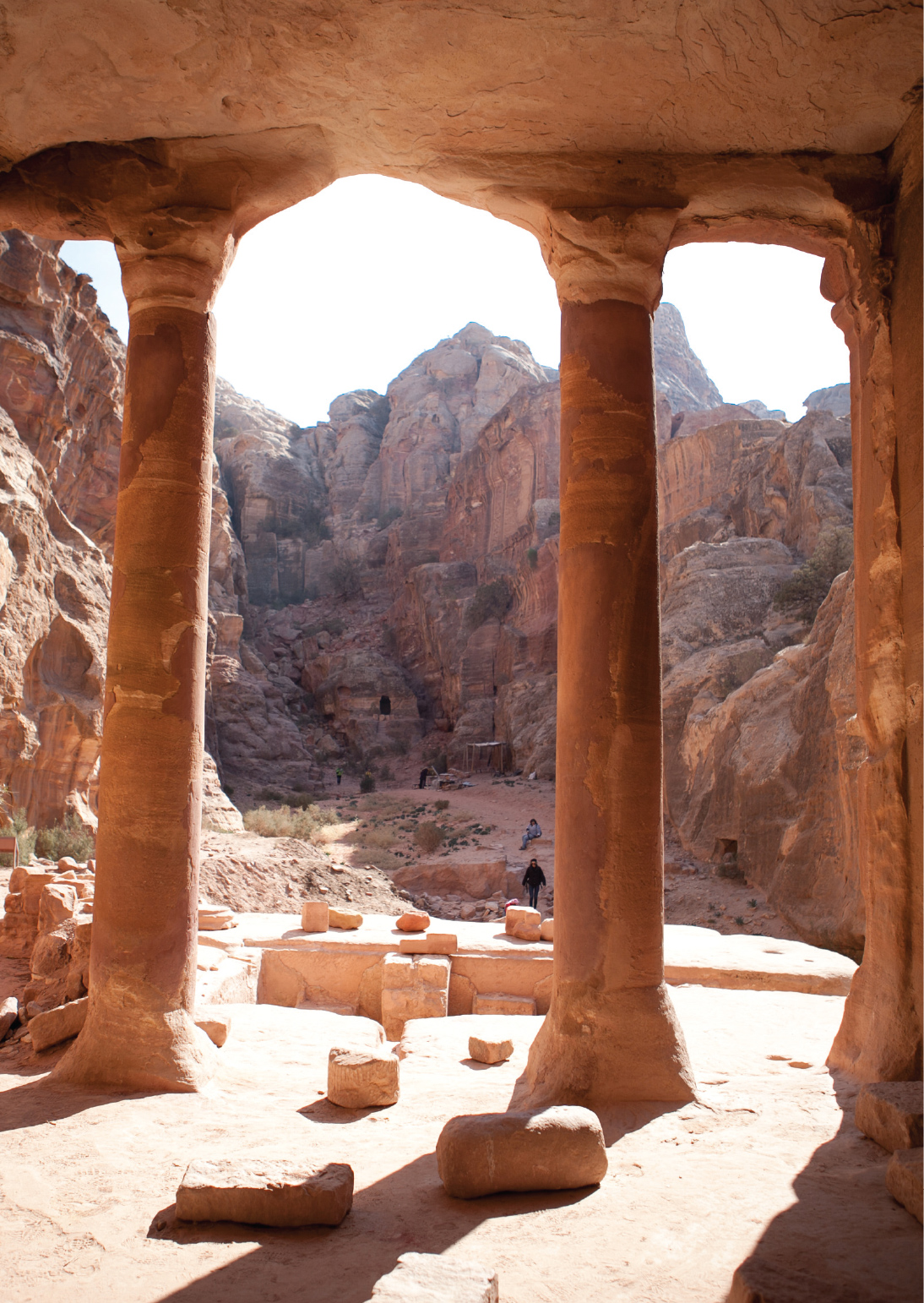 There is no shortage of adventure travel companies keen to whisk us off into the sandy heart of a nation that may appear small on the map but looms large when we traverse it. If it's history we want, we'd be well advised to gather three like-minded souls and head off on a four-wheel-drive adventure, retracing the path of the Emperor Hadrian from the north of the country to the south, calling in at legionary fortresses. Groups larger in number, say 25 people, can form a camel caravanserai across the desert, camping out each night and retracing the steps and strides of Lawrence and the Great Arab Revolt. If the loping gait of a camel is not kind to our internal organs, horses will take us along parts of the ancient Silk, Spice and Frankincense Routes up in the north. A popular 4-day journey through the Eastern Desert on sleek Arabian steeds re-enacts the original Arabian Pony Express mail service of the seventh century.
Let it be known that it is not only history that Jordan offers a visitor. Amman, the capital and home to most of the country's 6.5 million population, has a young tone, with plentiful clubs, restaurants, bars and cafés, hotels, Turkish baths, pastry shops and more internet cafés than anyone can count. There are elements of Beirut and even some touting of the city as a 'new Dubai'. Similarly, the seaport of Aqaba, popular for water sports and famed for its diverse marine wildlife, is seeing many billions worth of development, and its rave and dance parties staged by international DJs are famed throughout the Middle East. On holiday weekends it's almost impossible to move in the place.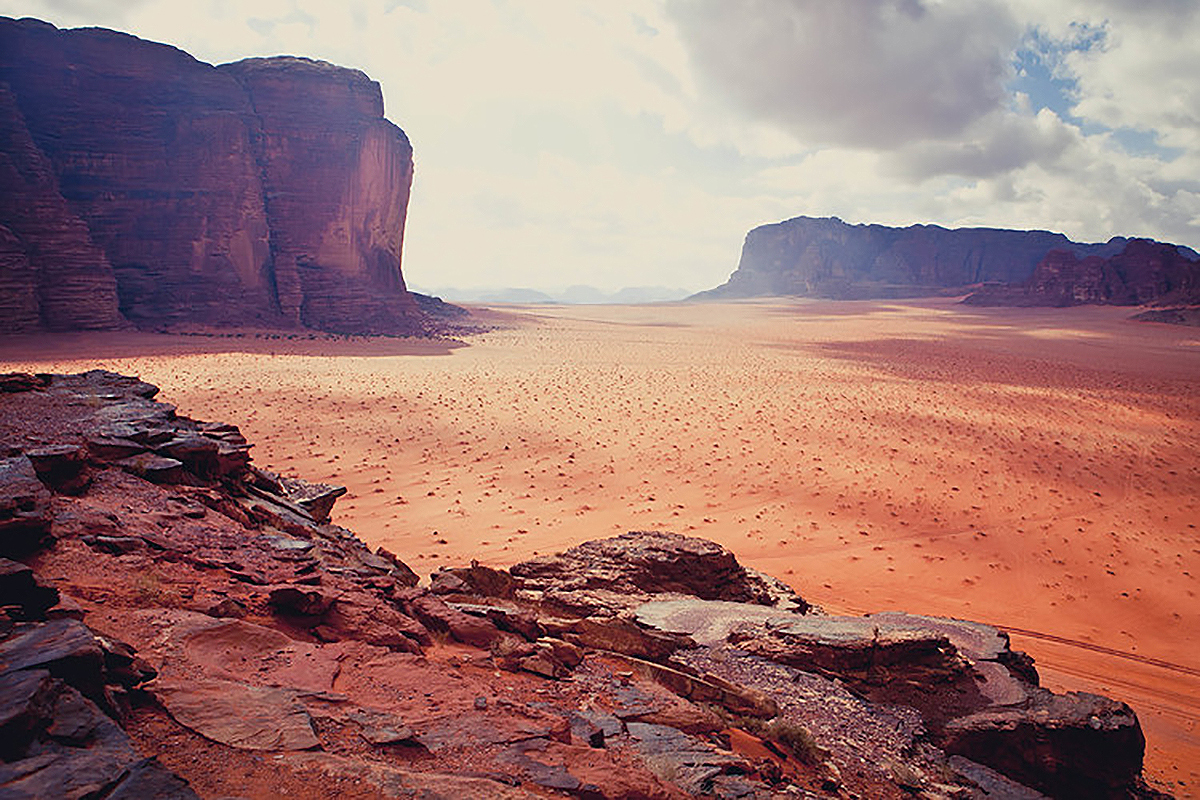 However, most of the world-class resorts that draw the leisure set are found by the Dead Sea, the intensely salted body of water that washes up on Israel on its other side. The only depository of the River Jordan, it is the lowest point on earth at more than 400 metres below sea level, and dropping by a metre each year. The Dead Sea may be said to be the oddest of luxury beach resorts. There is an almost juvenile glee in being plastered with thick black, oozing mud and timidly entering water so harsh in its impact upon lips or any tiny scratch that it produces an audible gasp. All that's required is to effortlessly float on one's back. Standing up, one leg at a time, is not unlike getting off a massage table (though with nobody to help). A long time is spent showering off mud and salt on the shore, and the novelty of the experience does tend to wear off fairly swiftly. The cabanas and beach clubs beckon.
With a new, ultra-modern airport and swift transfer times, Jordan is easy to access. On many levels this tiny land is an oasis of calm and ease. Certainly one's vivid screen recollections are kept safe within its borders.